The 2020 Grammy Awards were a somewhat somber occasion this year, taking place at the Staples Center in Los Angeles just hours after L.A. Lakers legend Kobe Bryant died in a helicopter crash.
Bryant and his 13-year-old daughter, Gianna, were among the nine victims who died in a crash that took place in Calabasas, Calif. on Sunday morning.
While many musicians remarked on the red carpet that the tragedy made "music's biggest night" bittersweet, the show did have moments of levity.
In the end, the night belonged to Billie Eilish, who spent about as much time on stage as host Alicia Keys.
Here's a recap of the ceremony's most talked-about moments.
1. Kobe Bryant is honored at the top of the show: After many stars memorialized to Bryant on the red carpet, Lizzo kicked off the 2020 Grammys by announcing, "Tonight is for Kobe," and host Alicia Keys paid tribute to the NBA star in her monologue.
"We're literally standing here, heartbroken, in the house that Kobe Bryant built," Keys said. "Right now, Kobe and his daughter Gianna and all of those that have been tragically lost today are in our spirit, and our hearts and our prayers."
Keys asked the crowd to take a moment to remember Bryant, and was joined on stage by Boyz II Men to sing their hit, "It's So Hard to Say Goodbye to Yesterday."
"We wanted to do something that could describe, a tiny bit, how we all feel right now," she explained. "We never imagined in a million years we'd have to start the show like this."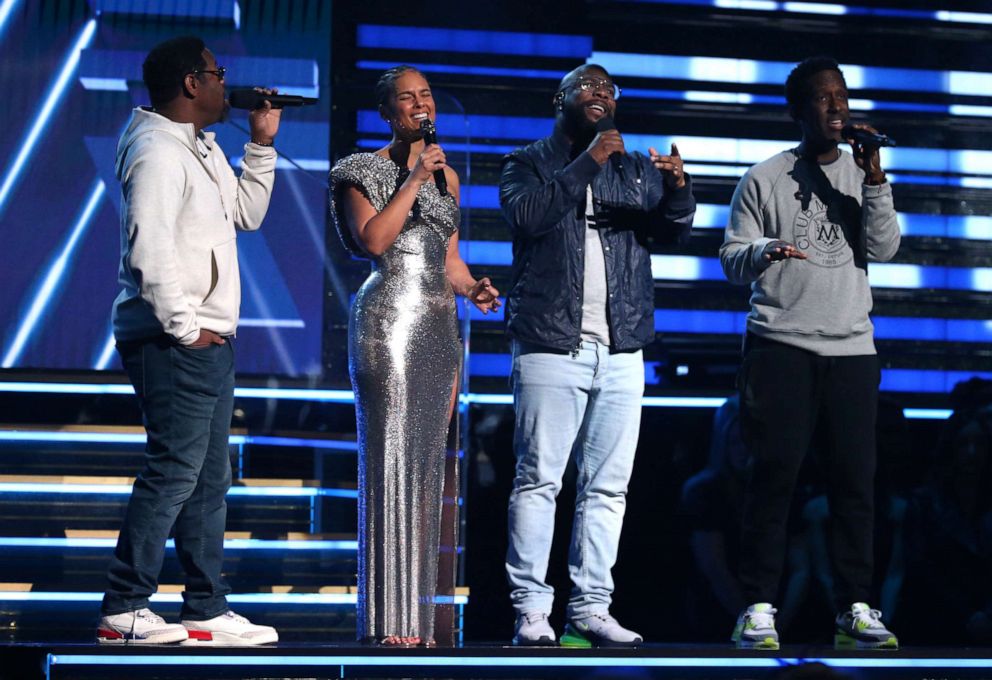 2. Stars remember Prince and Nipsey Hussle: It's been almost four years since Prince died, and to honor the late singer, Usher, FKA Twigs and Prince's longtime collaborator Sheila E. took the stage for a performance of the late singer's hits "Little Red Corvette," "When Doves Cry" and "Kiss."
Later in the show, Nipsey Hussle, who was fatally shot in Los Angeles last March, was remembered in a tribute by Meek Mill, Roddy Rich, John Legend, DJ Khaled, Kirk Franklin and YG. At the end of DJ Khaled's song, "Higher," on which Hussle was featured, the late rapper's photo, along with Bryant's, was shown. "Higher" later won the award for best rap song, and Khaled dedicated the honor to Hussle.
"We all love him, we all miss him," Legend added.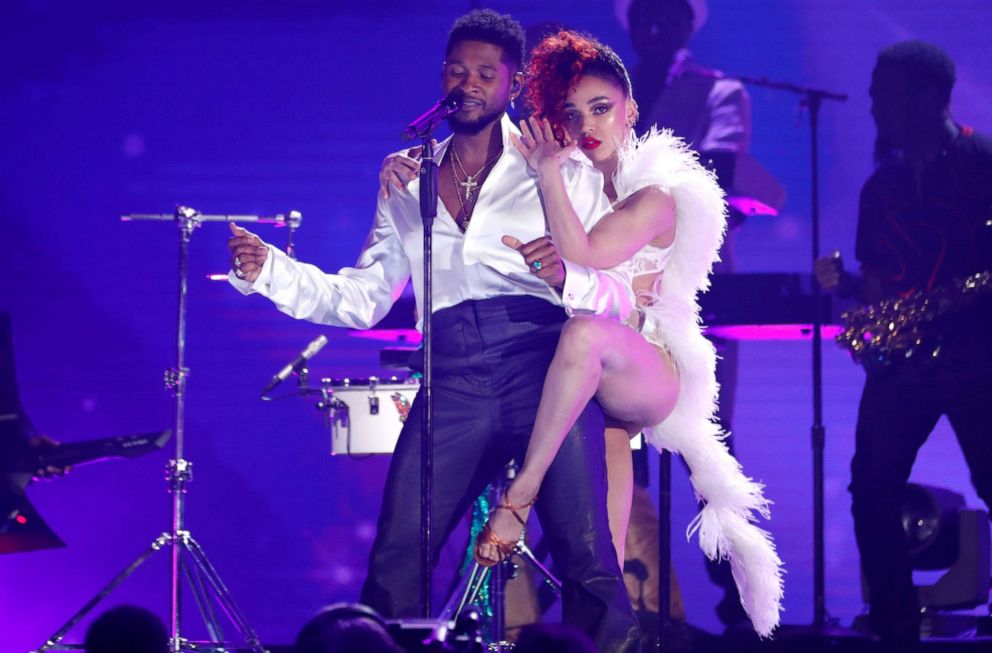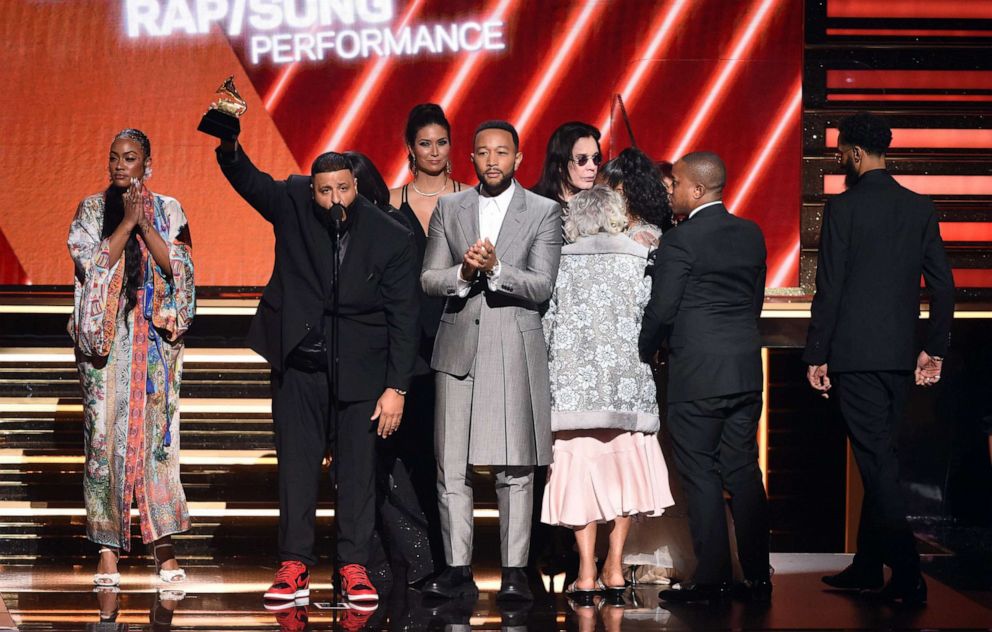 3. Performances from every genre rock the Staples Center: For many, the biggest reason to tune in to the Grammys is to watch the performances, and this year, they didn't disappoint.
Lizzo started the show by belting out "Cuz I Love You" and "Truth Hurts," followed by real-life couple Blake Shelton and Gwen Stefani singing "Nobody But You."
The Jonas Brothers serenaded the crowd with "Five More Minutes" and "What's a Man Gotta Do," and then Tyler, the Creator performed "Earfquake" and "New Magic Wand" with Boyz II Men and Charlie Wilson.
Later, Lil Nas X and Billy Ray Cyrus brought down the house with their hit "Old Town Road," along with BTS, Mason Ramsey, Diplo, Young Thug and Nas. Ariana Grande sang "Imagine," "7 Rings" and "Thank U, Next," and Demi Lovato moved viewers with her emotional new song, "Anyone."
Other performers included Camila Cabello, Tanya Tucker, Rosalia, H.E.R., and Gary Clark Jr., among others.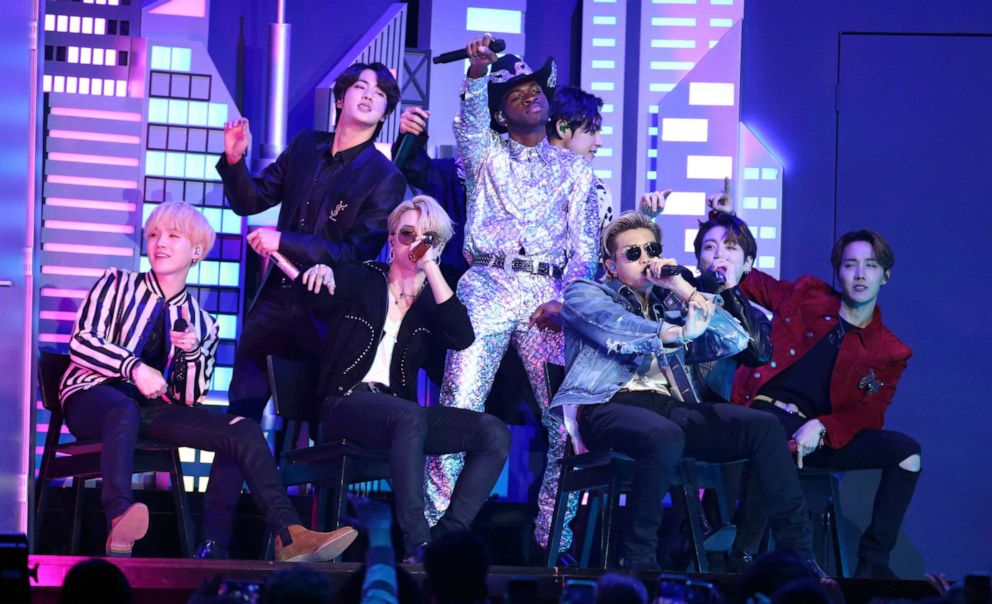 4. Demi Lovato returns to the stage: Just before her overdose in the summer of 2018, Demi Lovato wrote a song called "Anyone," which she recently described as a "cry for help." The 27-year-old singer took the stage at the Grammys for her first performance since her hospitalization, delivering an emotional performance that brought her to tears.
"Anyone, please send me anyone. Lord, is there anyone? I need someone," she sang.
The crowd gave her a standing ovation.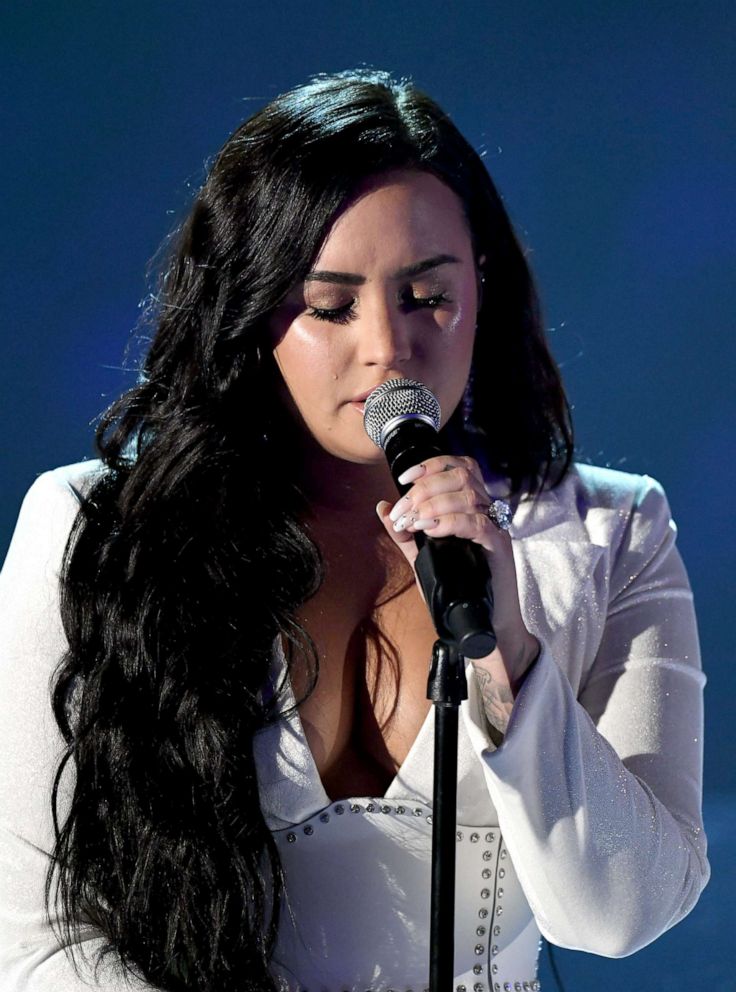 5. Billie Eilish wins big: At just 18, Billie Eilish has accomplished things most musicians can only dream of. The singer picked up five of the six Grammys for which she was nominated on Sunday, including best new artist, album of the year for "When We All Fall Asleep, Where Do We Go?" and song of the year and record of the year for "Bad Guy."
In her acceptance speech for record of the year, Eilish said she thought Ariana Grande deserved the honor, and she laughed when she picked up album of the year.
"Thank you," she said, simply.