Optometrist suing Gwyneth Paltrow over ski crash testifies
Gwyneth Paltrow's two children, daughter Apple Martin and son Moses Martin, had their depositions read on Tuesday during the civil trial regarding the 2016 ski accident involving their mother and Terry Sanderson.
Moses Martin, 16, who was 9 at the time of the crash, said in his deposition which was read in court that he "did not see the actual collision happen," but remembered skiing with his ski instructor, Eric Christiansen, on the Bandana run at Deer Valley Ski Resort in Utah, when he followed Christiansen over to where his mom was.
Moses said he "saw my mother and a person behind her who had crashed" on the ground. He added that the person who had crashed into his mom was a man and they were "decently close" apart.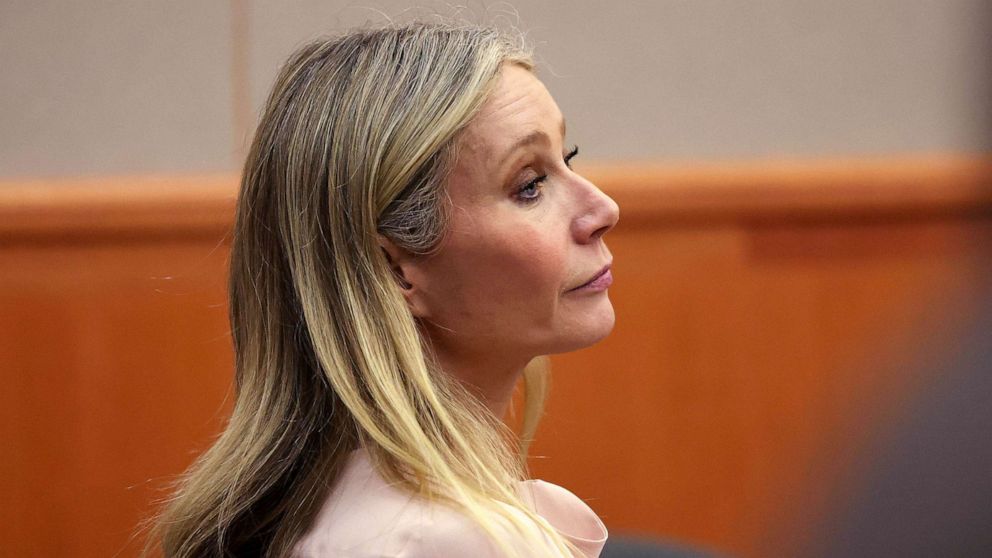 Paltrow's son added that when he followed Christiansen, he heard his mom yelling "something along the lines of 'What the F-word, you just ran into me.'"
Moses said he also didn't remember Christiansen as angry at the time of the collision because he was "addressing the situation very calmly" and "tried to help everyone get out of the situation safely."
In her deposition, Apple Martin, 18, who was 11 at the time of the crash, said she did not see the collision, but remembers the events following it.
Apple, who said she was downhill on the bandana run close to the lodge at the resort, said she was on her way to lunch with her instructor when she heard a woman scream, but "it wasn't very clear."
Paltrow's daughter said that she didn't know a ski collision occurred until her mother arrived at lunch and said someone ran into her and that they "ran right into my back."
After lunch, Apple said she recalled getting back on the mountain for more runs while her mom went to get a massage. She said she was worried about her mom because she had "never seen her shaken up like that."
"She was very clearly visibly upset and she was in a little bit of pain," Apple added.
Apple Martin and Moses Martin were originally expected to testify in court, but due to time constraints of the case, Paltrow's attorneys opted for the teens' depositions to be read for the court.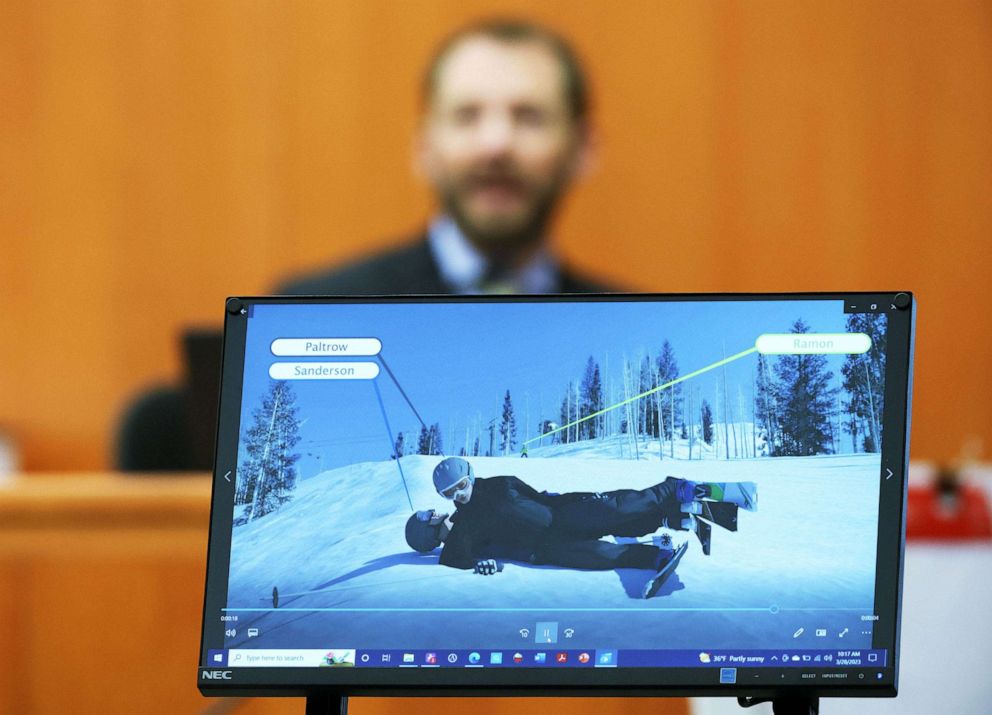 Paltrow's husband, Brad Falchuk, who was her then boyfriend at the time of the collision, may or may not testify in the trial due to time. The judge told the jury on Tuesday that all parties involved agree that he did not see the collision happen.
The civil trial, concerning a ski accident involving Paltrow and Sanderson which occurred Feb. 26, 2016 at Deer Valley Ski Resort in Utah, began March 21 and is expected to conclude on March 30.
Throughout the trial, the jury heard both Paltrow's and Sanderson's account of the accident, with each party accusing the other of being the cause of the ski crash.
Sanderson, a retired optometrist, filed a complaint in January 2019 in which he accused Paltrow of having "skied out of control" into him and "knocking him down hard, knocking him out, and causing a brain injury, four broken ribs and other serious injuries."
The following month, Sanderson filed an amended complaint in which the value of damages he is seeking in the lawsuit changed from $3.1 million to $300,000.
Paltrow filed a countersuit in February 2019 in which she claimed it was Sanderson who "plowed into her back," delivering a "full 'body blow'" which left her "shaken and upset" and with "relatively minor" injuries.
The Oscar-winning actress and Goop CEO called the lawsuit against her an "attempt to exploit her celebrity and wealth" in her countersuit. Paltrow is seeking "symbolic damages" of $1 "plus her costs and attorneys' fees" for defending herself against "this meritless claim."