Jeremy Renner is on the mend from his snow plow accident earlier this year -- and he's got an adorable cheerleader supporting him along the way.
The "Avengers" star, 52, took to his Instagram story on Wednesday to share a sweet note his nephew wrote to him as he continues to heal.
"I am very lucky because my uncle is hawk-eye," the note read, referencing Renner's role in the Marvel Cinematic Universe as Clint Barton, aka Hawkeye.
The note continued, "I am also very lucky that my uncle is alive from his accident."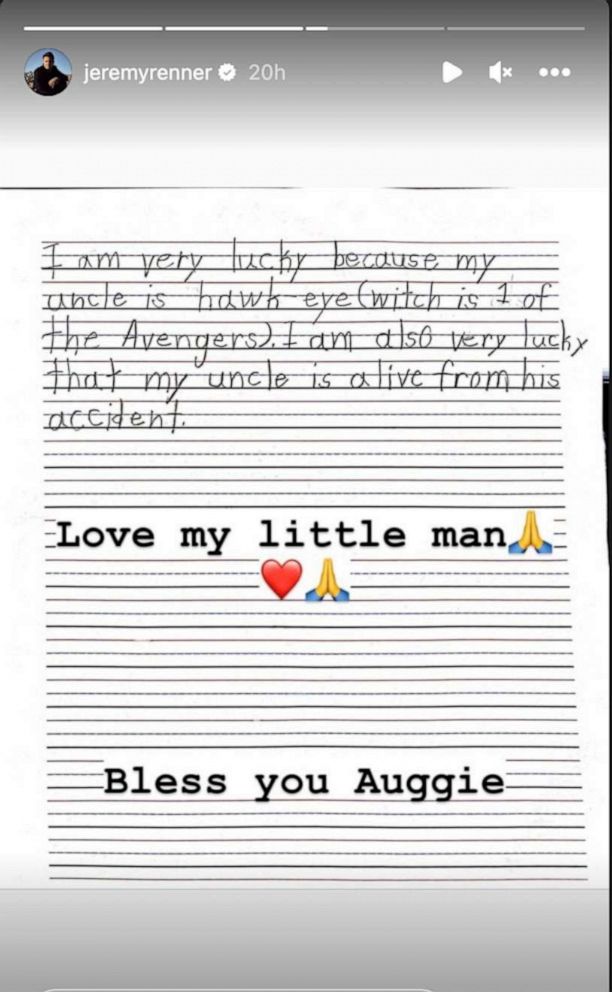 Renner, clearly thankful for the kind words, responded, "Love my little man. Bless you Auggie."
In the next Instagram story post, Renner shared a snapshot of two stuffed animals hugging each other and captioned it, "My inside feelings."
The posts come just months after Renner was involved in a New Year's Day snow plow accident where he broke more than 30 bones.
In an Instagram post on Jan. 21, the actor revealed he was finally out of the hospital and back at home recovering.
"I want to thank EVERYONE for their messages and thoughtfulness for my family and I …. Much love and appreciation to you all," he wrote in the caption. "These 30 plus broken bones will mend, grow stronger, just like the love and bond with family and friends deepens. Love and blessings to you all."