Netflix postpones 'Ma Rainey's Black Bottom' event after Chadwick Boseman's death
Get ready for dramatic fireworks. "Ma Rainey's Black Bottom," the engulfing film version of the great play by August Wilson — the late Pulitzer Prize-winning "theater poet of black America" — means to shake you. And does it ever, using humor, heartbreak, betrayal and sudden savagery to do it.
Catch "Ma Rainey" on Netflix and you'll see Viola Davis and the late Chadwick Boseman give the performances of their lives. This you do not want to miss.
Count on their artistry to keep you riveted from start to finish. Davis plays the real-life Ma Rainey, the Georgia singer dubbed the Mother of the Blues. Boseman invests body and soul into Levee, the hot-headed trumpeter who dares to lock horns with Ma in a shabby Chicago recording studio where they're paid to make music the way the white bosses want it.
The time is 1927, but the bristling racial tensions feel as timely as ever.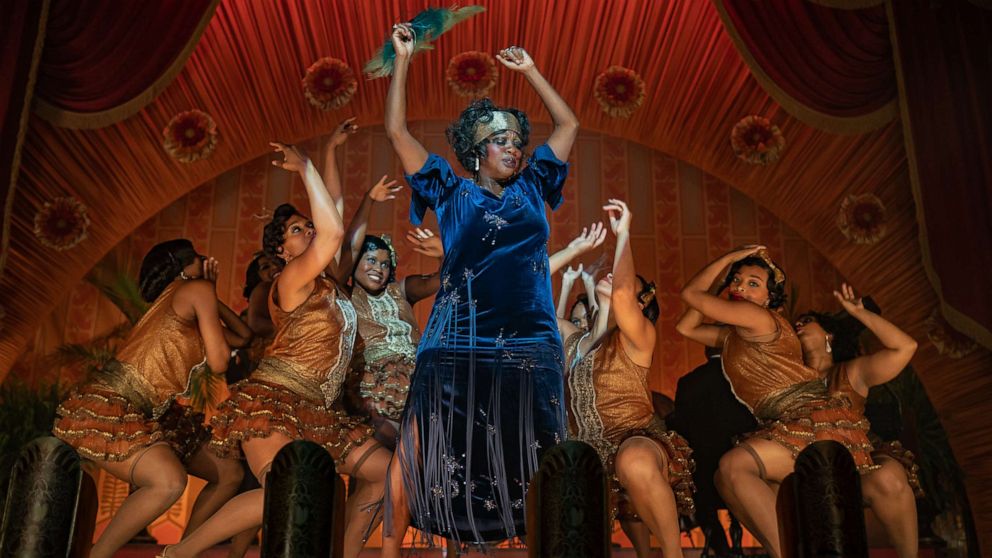 Produced by Denzel Washington and directed by theater legend George C. Wolfe from a script adapted — if not always smoothly condensed — by Ruben Santiago-Hudson, "Ma Rainey's Black Bottom" is part of the playwright's 10-play chronicle of the Black experience through each decade of the 20th century.
Washington has vowed to bring all 10 plays to the screen. He started by directing and starring in 2015's "Fences," for which Davis won an Oscar as his wife. "Ma Rainey" triumphantly continues Wilson's attempt "to document the physical, emotional, mental, and political strivings of Black life in the wake of emancipation."
That's a tall order. Though the film opens up the play by taking to the Chicago streets where Ma can't hail a cab, flashing back to her performing roots in Georgia, "Ma Rainey" is most thrillingly alive when it doesn't even try to disguise its theatrical origins.
All praise to Davis. With body padding, gold teeth, and thick eye makeup dripping down her face in rivulets of sweat, Davis is barely recognizable. Though her vocals are mostly dubbed, Davis adopts Ma's hip-swinging, hot-mama attitude with music she calls "life's way of talking." She's a force of nature — even more so offstage.
When Ma sashays late into the studio, accompanied by girl-toy Dussie Mae (Taylour Paige), she's ready to berate her white manager (Jeremy Shamos), bark orders for a Coke and demand that her nephew (Dusan Brown) record the spoken intro to "Black Bottom" despite his constant stuttering. Ma is testing her power against the white producer (Jonny Coyne) she can control only as long as her records sell. Ma knows the system, but she also knows her value and this diva is not going down without a fight.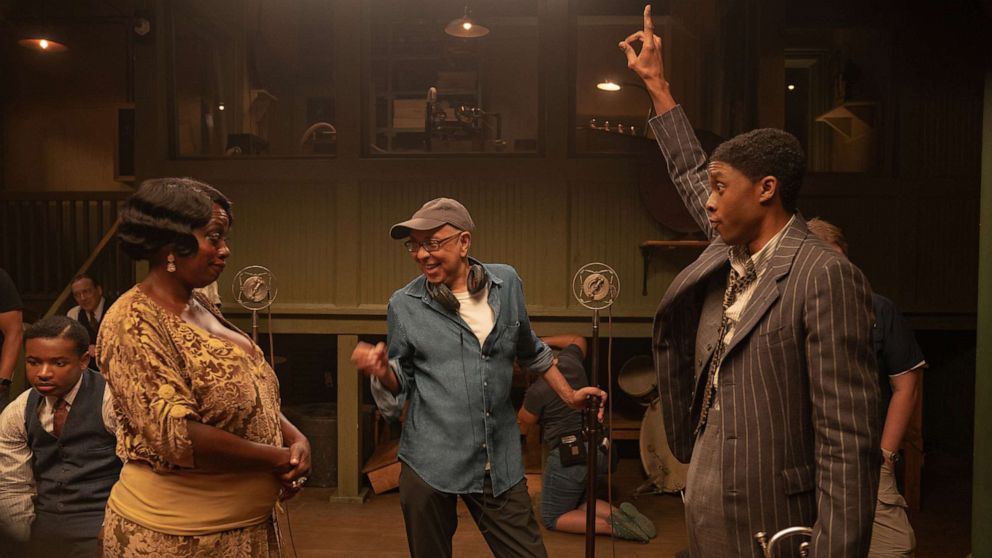 In the studio, her regular band members —Toledo (Glynn Turman, so good), Cutler (Colman Domingo) and Slow Drag (Michael Potts) —do it her way.
It's Boseman's Levee who tests Ma's patience, pushing to modernize her outdated "jugband" music, coming on hard to Dussie Mae and threatening to start his own band. As the men wait for Ma to start laying down tracks, they trade stories that resonate with Wilson's street poetry.
Boseman is simply off-the-charts in a display of acting prowess that will be talked about for years. Whether he's playing the ladies' man in his snazzy new shoes, buying into false promises from white employers or cursing an absent God for allowing the brutal attack on his mother that scarred his childhood, Boseman hits the screen with hurricane force.
His death in August from colon cancer at 43 cut short a career that saw him soar as Black Panther, Jackie Robinson, James Brown and Thurgood Marshall. Shockingly, the Academy has never nominated him. If there's any justice, he'll receive a posthumous Oscar — only given previously to Peter Finch ("Network") and Heath Ledger ("The Dark Knight") — for the film Boseman's widow said he was proudest of.
For good reason. "Ma Rainey's Black Bottom" is a proud achievement for all concerned. You can feel each member of the cast and crew rising to the level of the material created by Wilson. Any way you look at this gut punch of a movie, it will knock you for a loop.