The best moments from the 2019 Oscars
With the 91st Academy Awards now in the rear-view mirror, there are a lot of stunning moments from Hollywood's biggest night to look back on and appreciate.
Lady Gaga, Rami Malek and Spike Lee all took home their first Oscars, with Lee literally jumping into dear friend Sam Jackson's arms after the big win.
But the performances also were stellar, with Queen kicking things off with "We Will Rock You" and with Bette Midler later taking the stage to sing a nominated song from "Mary Poppins Returns."
And how about the pace of the show with no host, running just over three hours, with fewer jokes and skits and a greater focus on the movies themselves.
Here are the top 5 moments:
The performances 'rocked you'
Talk about an opening! Adam Lambert and Queen opened the show with "We Will Rock You," then moved into "We Are the Champions."
It was a moment of true chills when Lambert sung the iconic words, "no time for losers" because "we are the champions of the world."
But along with Queen, we got performances from Jennifer Hudson -- "I'll Fight" from "RBG," Bette Midler -- "The Place Where Lost Things Go" from "Mary Poppins Returns" -- and Lady Gaga and Bradley Cooper -- "Shallow" from "A Star Is Born."
Gillian Welch and Dave Rawlings also sang "When a Cowboy Trades His Spurs for Wings" from "The Ballad of Buster Scruggs."
The winners, moving speeches and more
It sure was an exciting show with some empowering victories. Regina King kicked it all off with best supporting actress for her role in "If Beale Street Could Talk."
On the actors' side, it was Rami Malek and Mahershala Ali's year as both men took home best actor and supporting actor, respectively. And in the biggest category of all, best picture, "Green Book" stunned the crowd as it took home the last award of the evening.
When Spike Lee won for adapted screenplay, he literally jumped into Sam Jackson's arms to celebrate his first win. He spoke about his grandmother, who put him through school, and his African-American ancestors, especially during Black History Month.
When Lady Gaga won best original song for "Shallow," she thanked her sister, her co-star and director, Bradley Cooper, and finally she told people watching at home, "If you have a dream, fight for it!"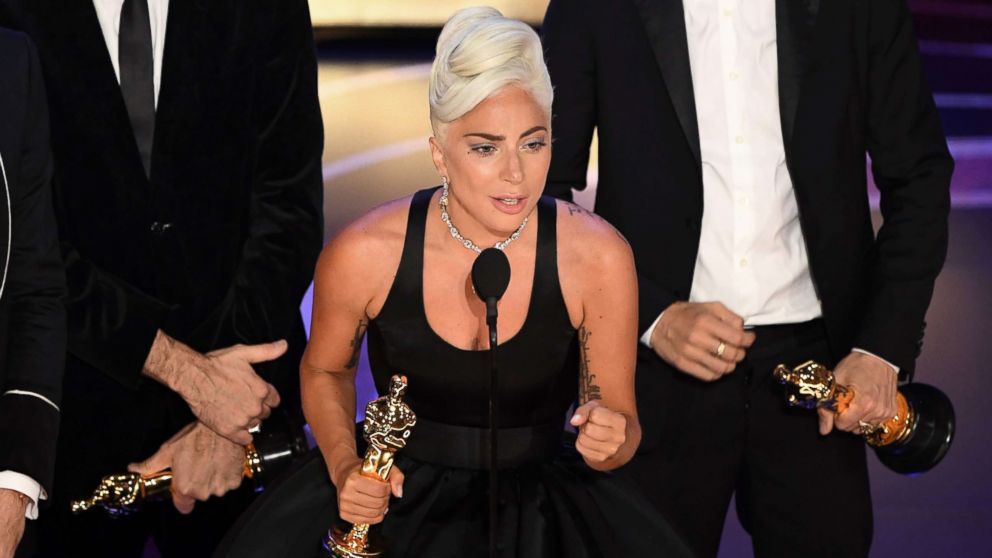 "It's about how many times you stand up and are brave," she added.
Rami Malek spoke about his father, who never got to see him act, and how he's looking down on him right now. He also spoke about being a first-generation American and "could not be more grateful to each and every one of you."
No host, no problem
In addition to Lambert and Queen opening the show, the first group to grace the stage was a special trio of funny ladies.
Tina Fey, Amy Poehler and Maya Rudolph stepped out to present outstanding supporting actress right after a short montage of 2018 films.
"We are not your hosts, but we are going to stand here a little too long," the ladies joked.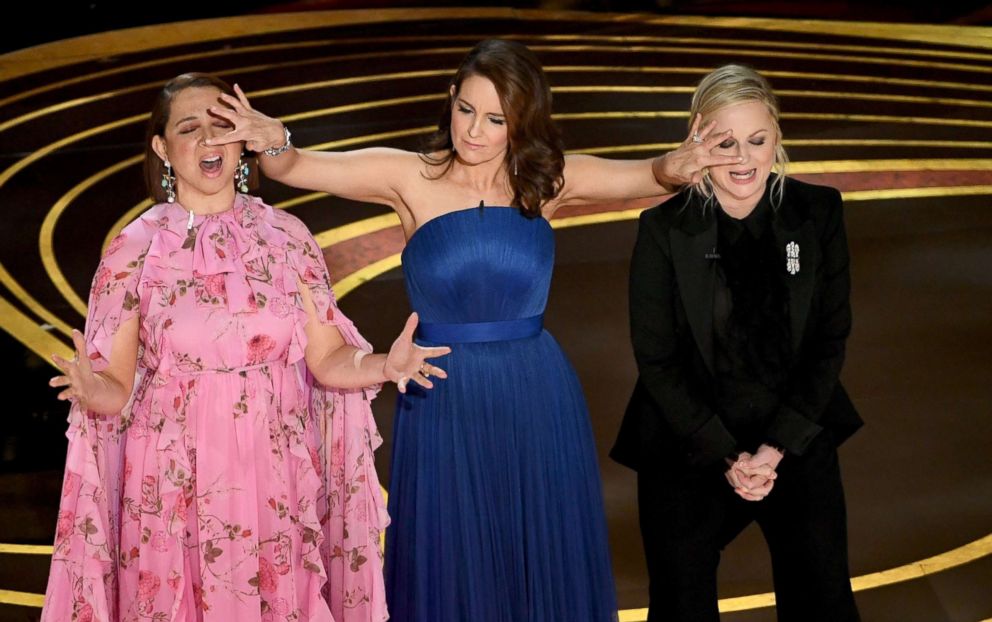 They gave a mini monologue like a host may have delivered but with repeated jokes about not being the hosts for the night. They also riffed on President Donald Trump's wall and current events like the Fyre Festival, telling the audience to look under their seats for the infamous cheese sandwich from the failed music event. Then it was right into the nominees for best supporting actress.
This was a sign of things to come as the lack of a host paved the way for a quick, witty, powerful show.
There weren't many skits or dragged-out jokes, just a night celebrating the actors, actresses and films.
Serena Williams, John Lewis, Barbra Streisand and more
The Academy chose the likes of Serena Williams, John Lewis and Barbra Streisand as representatives outside the film industry to speak about the power of this year's eight best picture nominees.
"When we're young, we all have dreams of what we can accomplish in life," Williams said of "A Star Is Born."
The tennis icon also spoke about the highs and lows of stardom for the film's main character, played by Lady Gaga.
John Lewis received a standing ovation after he stepped out to talk about "Green Book."
"I can bear witness that the portrait of that time and place in our history is very real," he said of his brothers and sisters "treated like second-class citizens."
"Our nation bears the scars of that time, as do I," he added.
Barbra Streisand had a humorous, yet powerful, story of how she connected with "BlacKkKlansman" director Spike Lee and how the two began an unlikely friendship over their love for the film ... and their hometown of Brooklyn.
'We're not worthy!'
Two more legends who made headlines Sunday night were Mike Myers and Dana Carvey, who brought back their "Wayne's World" characters to introduce "Bohemian Rhapsody" as a nominee for best picture.
It was fitting, as the movie ended up dominating the awards show with four wins.
They bowed down to Queen and yelled those classic words, "We're not worthy!"
Fans on Twitter were quick to ask when "Wayne's World 3" would be happening. Hopefully it'll feature a cameo by Queen.