Oscars by the numbers: A-list actress' look can cost $10 million
The #OscarsSoWhite movement gained a renewed sense of urgency this year, with the Academy facing backlash for a nearly all-white slate of nominees.
Cynthia Erivo, who was recognized in the best actress category for her role as Harriet Tubman in "Harriet," is the only person of color to be nominated in the acting categories, along with 19 white actors and actresses. Meanwhile, only men were nominated for best director.
"The Oscar nominations were disappointing, but not surprising when we think about what the [Academy] membership looks like," April Reign, the creator of the #OscarsSoWhite social media movement, told ABC News in early February.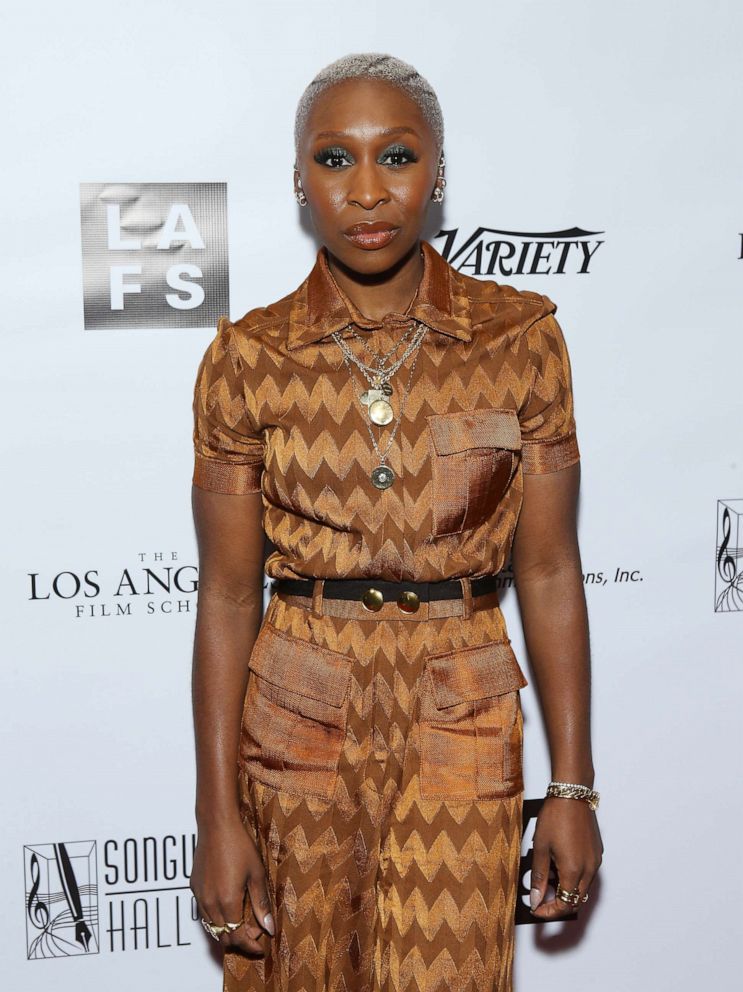 Five years ago, "#OscarsSoWhite took the power players in the film industry to task over the dismal representation of marginalized communities in Hollywood. Since 2015, the nominations have been debated by stars and moviegoers in the lens of this viral campaign," Reign said.
"#OscarsSoWhite is meant to encompass all races and ethnicities, all sexual orientations, all genders, all ages, First Nation status and disability -- visible and non-visible," Reign said. "I think people rely too much on the black versus white dichotomy."
In response to the backlash, the Academy vowed in 2016 to double the number of women and people of color in its ranks, announcing that the board approved a series of "substantive changes" to diversify the Academy's membership, governing bodies and voting members.
Pop culture expert Jawn Murray told ABC News in early February that although the Academy has made "great strides" in working to diversify its voting body since 2015, "it's still going to take time for the overall numbers of the voting body to shift and for the impact of the inclusive new membership to be felt overall."
"People vote for what they identify with," Murray said. "They vote for the stories and the performances and the projects that speak to them and what they can recognize, so if you have a voting membership that is made up of 60-plus-year-old white men, then the categories will often reflect what they're interested in."
An ABC News analysis of the number of people of color recognized in the five major categories since the first award show in 1929 shows that diversity in the Oscars is so stark that it will take decades of reforms in writing, casting and nominating for the slate of winners to begin telling a more inclusive story -- one that mirrors the rich diversity in America.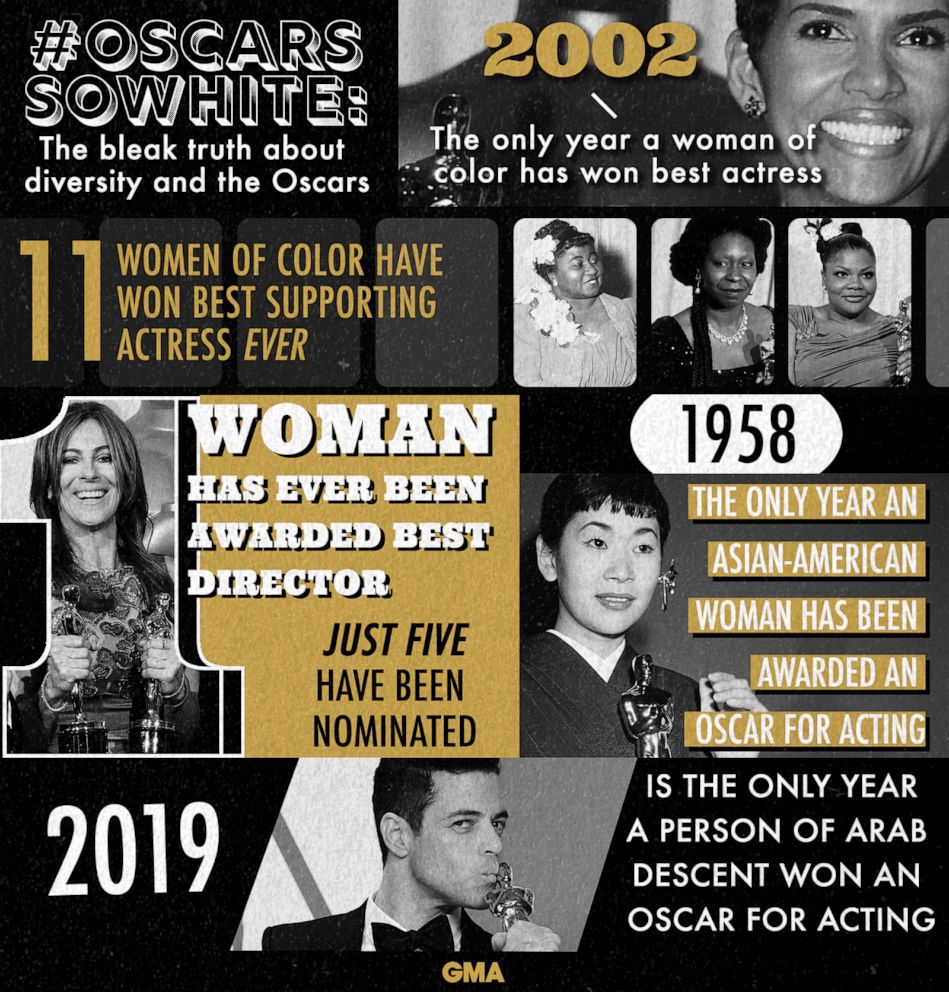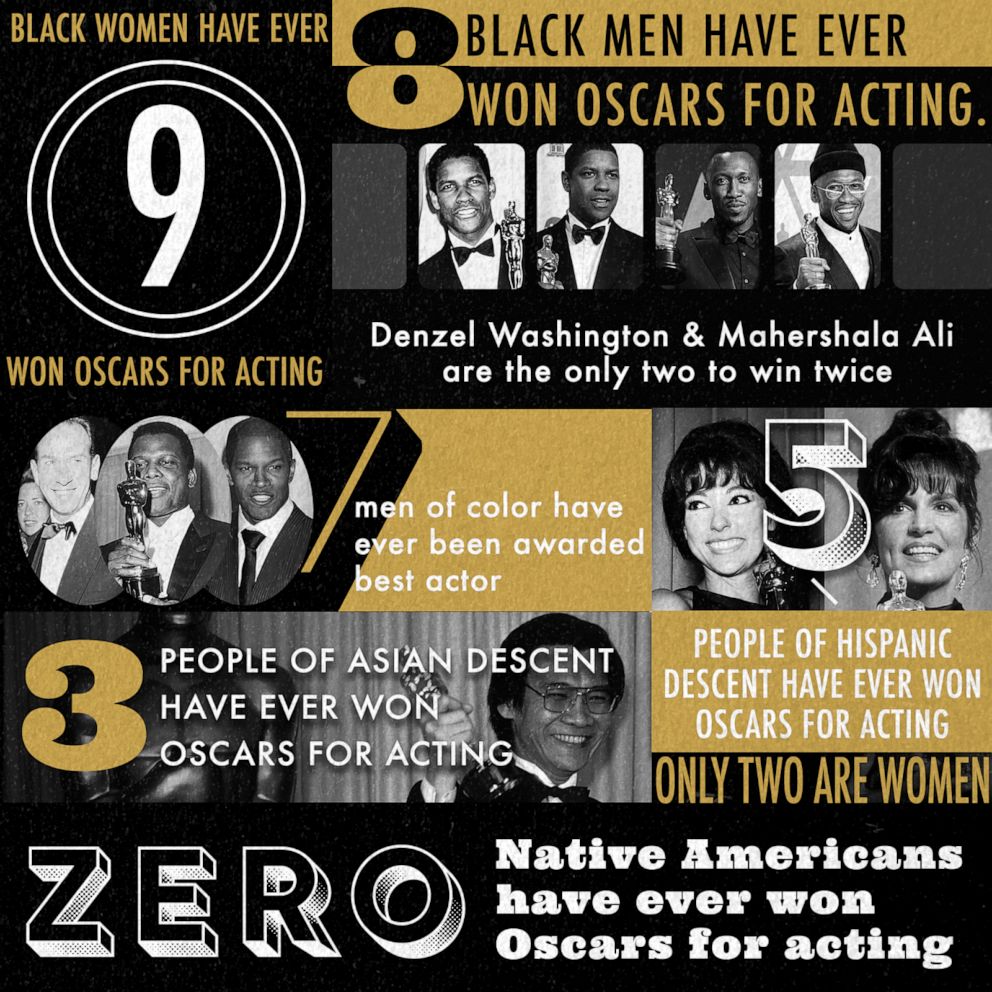 Here's what the data shows:
Best actress
The best actress category, where a woman's phenotype is an overwhelming part of casting, is the least diverse, with a single win in 91 years by a non-white actress.
At the 74th Academy Awards ceremony, Halle Berry became the first woman of color to win a best actress Oscar for her portrayal of Leticia Musgrove in the 2001 film "Monster's Ball."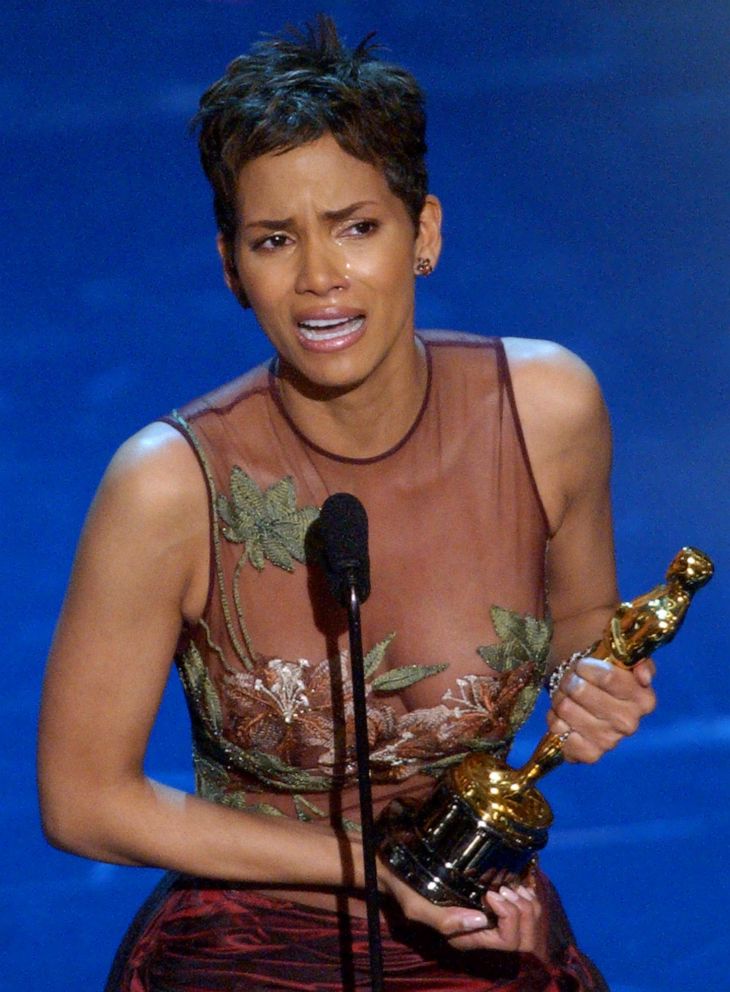 In a raw and tearful acceptance speech, Berry accepted the award and paid tribute to women of color: "This moment is so much bigger than me. This moment is for Dorothy Dandridge, Lena Horne, Diahann Carroll. It's for the women that stand beside me, Jada Pinkett, Angela Bassett, Vivica Fox. And it's for every nameless, faceless woman of color that now has a chance because this door tonight has been opened."
But nearly 20 years later, she is still the only woman of color to ever win an Oscar for a leading role, with 90 wins overall for white actresses.
Amid the#OscarsSoWhite movement in 2017, Berry reflected on that reality, telling Teen Vogue that she finds it "troubling to say the least," and striking a somber tone, she said that over time she realized that her moment "meant nothing.""I sat there and I thought, 'Wow. That moment really meant nothing.' … I thought it meant something, but I think that meant nothing, and I was profoundly hurt by that and saddened by that," she said, but added that it inspired her to "start being a part of making more opportunities for people of color."
Best supporting actress
Hattie McDaniel became the first African American woman and the first non-white woman to ever win an Oscar for acting when she was recognized for her role as Mammy in the 1939 film "Gone With the Wind," alongside Vivien Leigh and Clark Gable.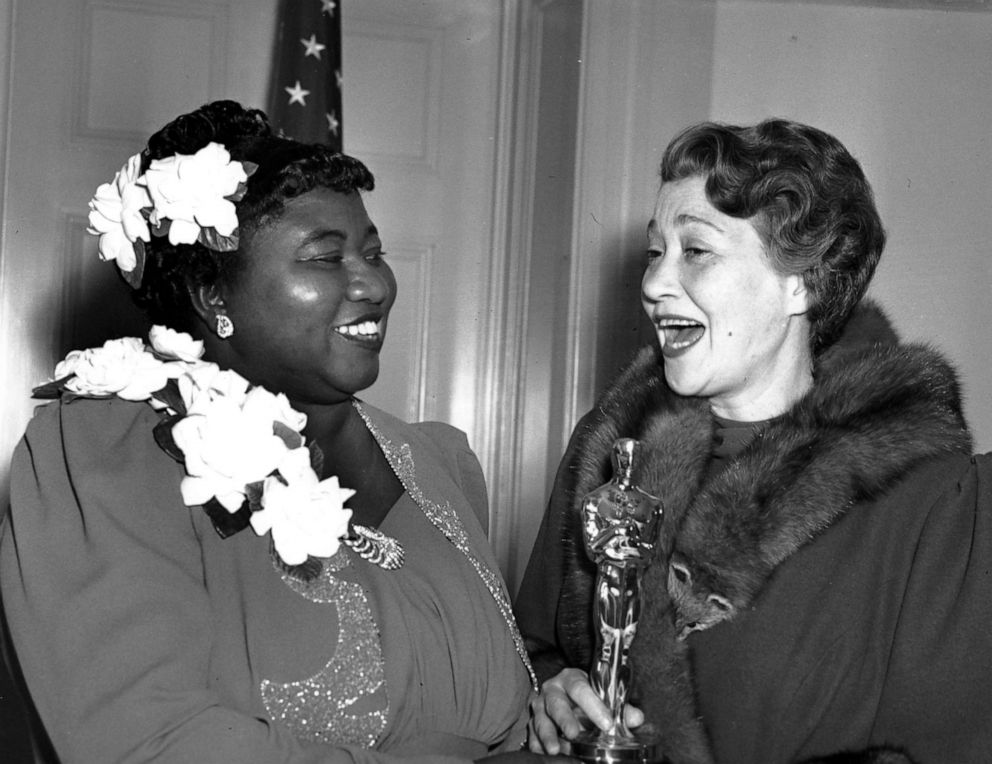 McDaniel arrived at the 12th Academy Awards, which were held at the segregated Cocoanut Grove nightclub, clad in a rhinestone-studded turquoise dress, with gardenias in her hair, but she did not sit at the "Gone with the Wind" table and, instead, was escorted to a small table with her agent and date.
In fact, the film's producer had to get special permission to allow McDaniel to enter The Ambassador Hotel for the awards show.
Eighty years later, only 10 more women of color have ever won the award for best actress in a supporting role.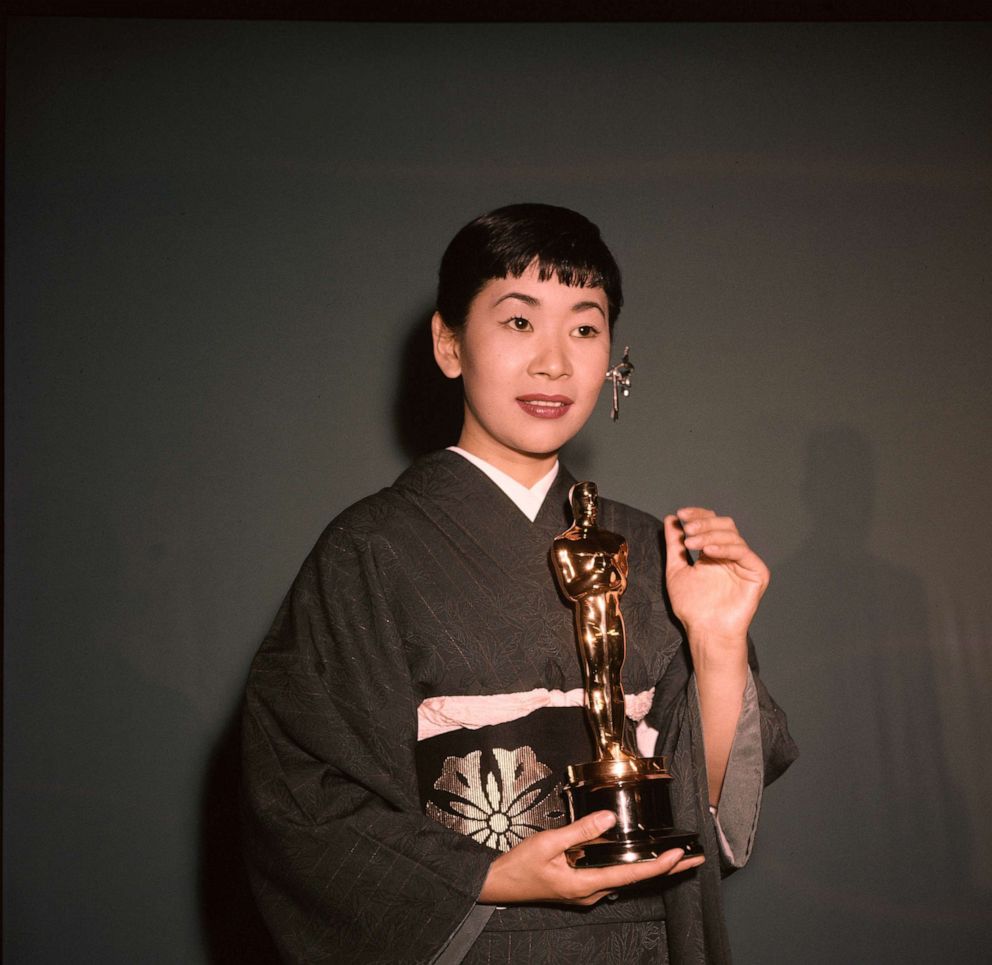 Japanese American actress Miyoshi Umeki became the first and only Asian American actress to win an Oscar for acting for her role as Katsumi Kelly in the 1957 film "Sayonara."
Puerto Rican actress Rita Moreno became the first Hispanic woman to win an award for acting for her portrayal of Anita del Carmen in the 1961 musical, "West Side Story." The only other woman with Hispanic roots to win an acting award is Mercedes Ruehl, who starred in the 1991 movie, "The Fisher King."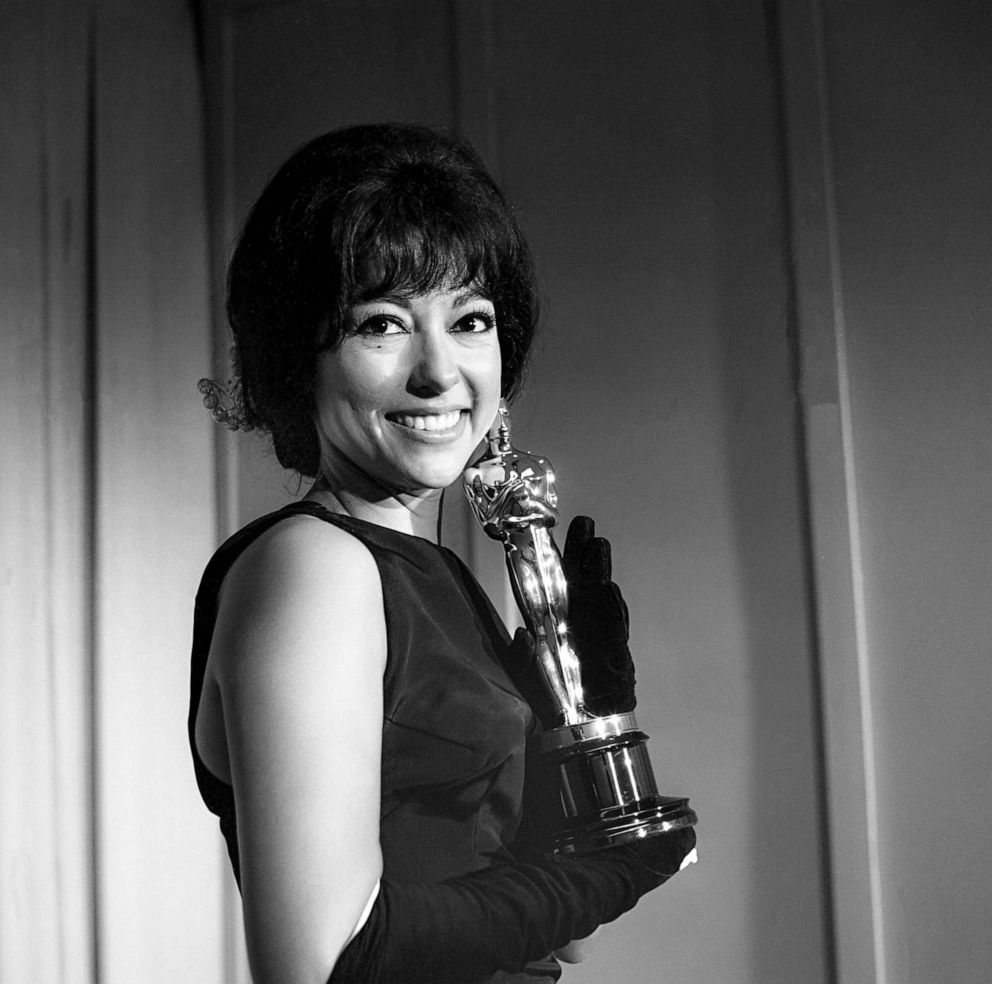 But it took over 50 years after McDaniel won for another black woman to win the award -- Whoopi Goldberg, who was recognized for her role as Oda Mae Brown in the 1990 film, "Ghost."
Goldberg's win was followed by Jennifer Hudson, Mo'Nique, Octavia Spencer, Lupita Nyong'o, Viola Davis and Regina King -- all of whom won between 2007 and 2019.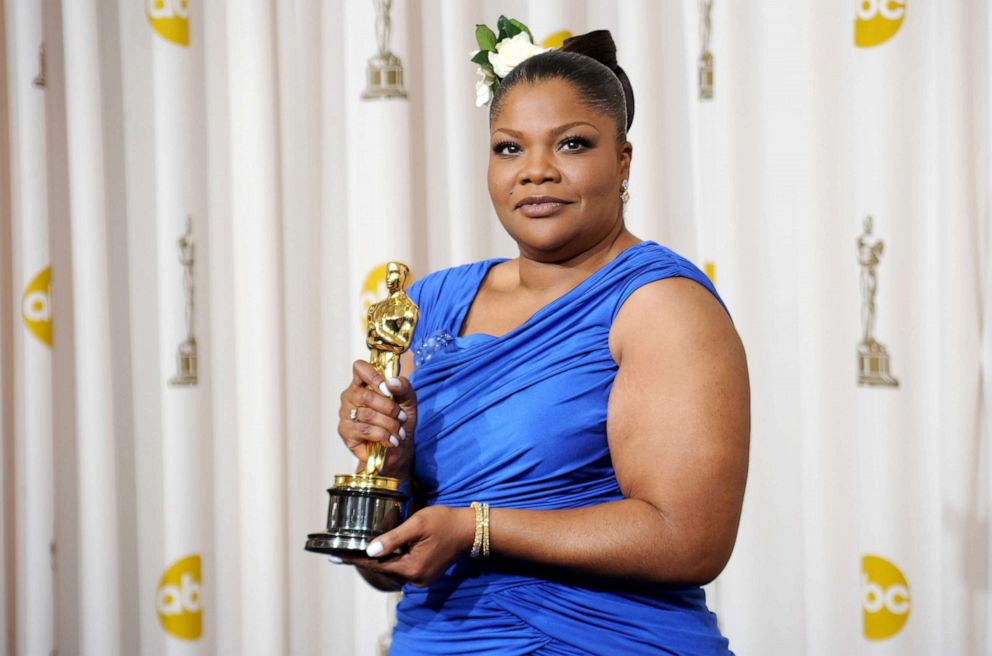 At the 2010 Academy Awards, Mo'Nique paid tribute to McDaniel in her speech and wore white gardenias in her hair: "I want to thank Miss Hattie McDaniel for enduring all that she had to so that I would not have to."
Best actor
Puerto Rican actor José Ferrer became the first actor of color to win an Academy Award for his leading role in the 1950 film, "Cyrano de Bergerac."
Nearly 70 years later, the award has only been given to six other actors of color.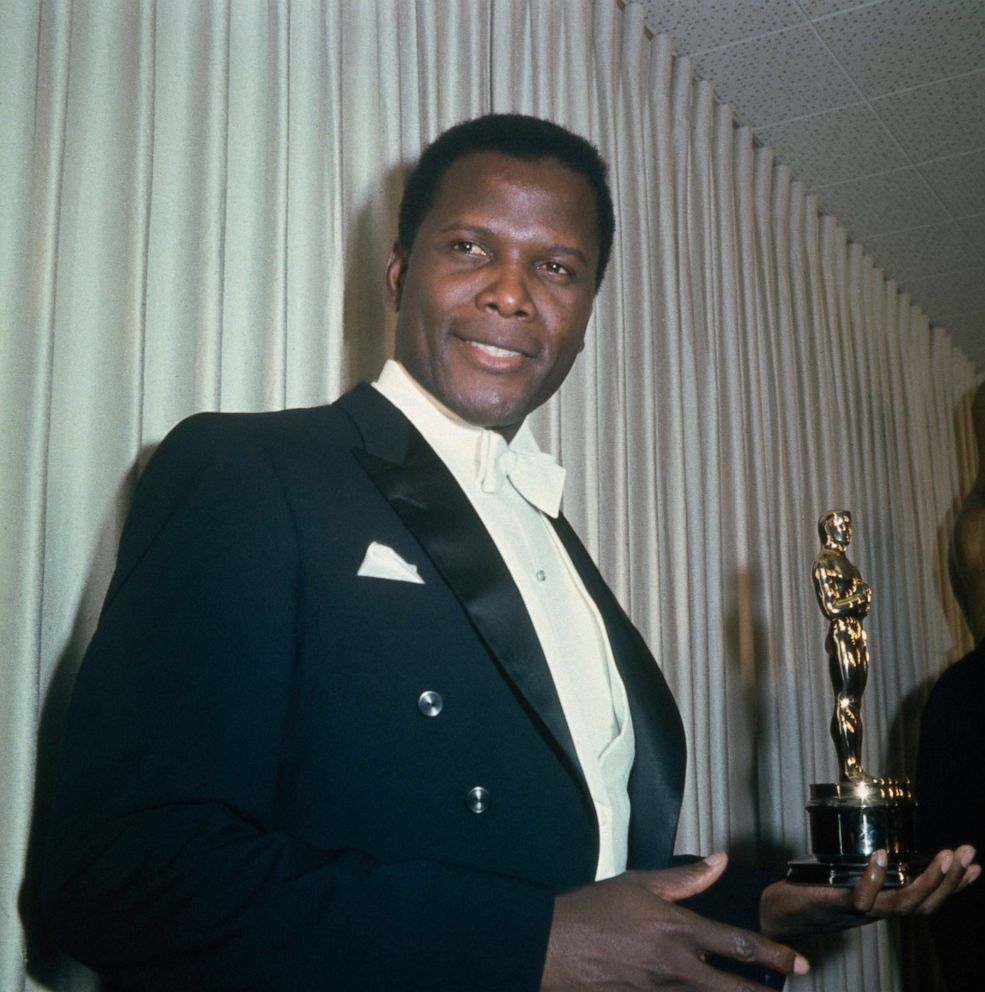 Sidney Poitier, who is Bahamian American, became the first black man to win an Oscar for his role in the 1963 film, "Lilies of the Field."
He was followed by Sir Ben Kingsley -- an English actor with Indian roots -- who won for his role as Mahatma Gandhi in the 1982 film, "Gandhi," and become the first, and so far only, Asian man to win in this category.
African American actors Denzel Washington, Jamie Foxx and Forest Whitaker secured wins in the 2000s for roles in "Training Day," "Ray" and "The Last King of Scotland," respectively.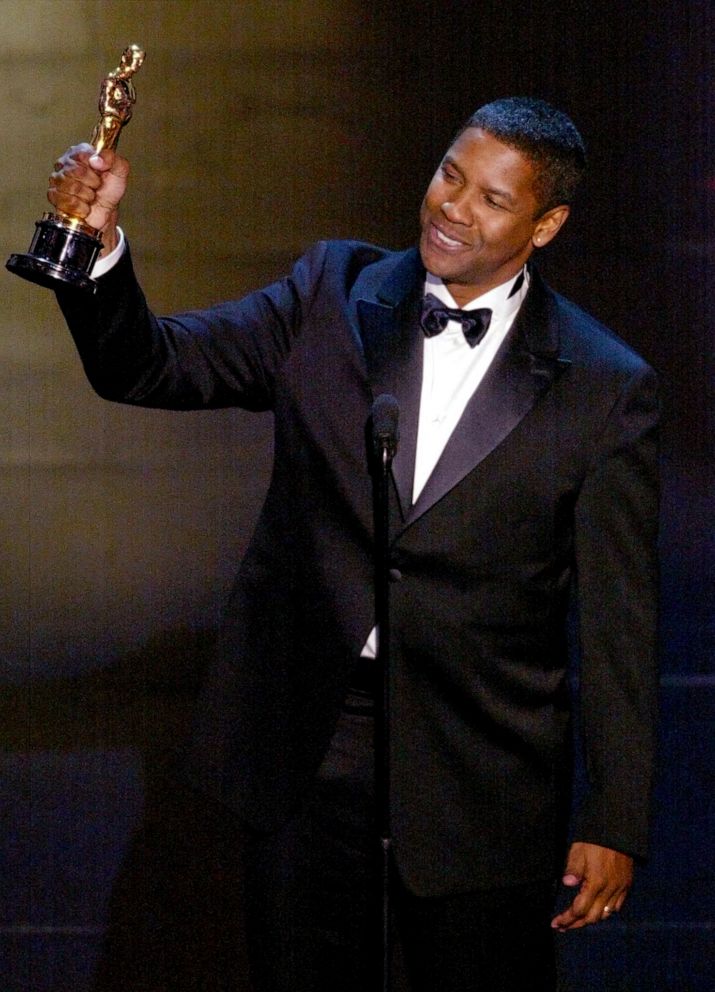 And most recently, the seventh win for a man of color went to Egyptian American actor Rami Malek, who became the first Arab American to win an Oscar for acting after being nominated for his portrayal of Freddie Mercury in the 2018 film, "Bohemian Rhapsody."
In his acceptance speech, Malek reflected on his struggles with his identity and paid tribute to the Queen superstar, noting that Mercury was also an immigrant: "Listen, we made a film about a gay man, an immigrant who lived his life just unapologetically himself and the fact that I'm celebrating him and this story with you tonight is proof that we're longing for stories like this."
And to applause, he closed with a nod to his roots: "I am the son of immigrants from Egypt. I am a first-generation American and part of my story is being written right now and I could not be more grateful to each and every one of you and everyone who believed in me."
Malek, who is set to star as the villain in the upcoming James Bond film, said that he only agreed to the role after he was assured that his character would not perpetuate stereotypes of Arabs as terrorists.
"I said, 'We cannot identify him with any act of terrorism reflecting an ideology or religion,'" Malek told The Daily Mirror in July 2019. "That's not something I would entertain, so if that is why I am your choice then you can count me out.'"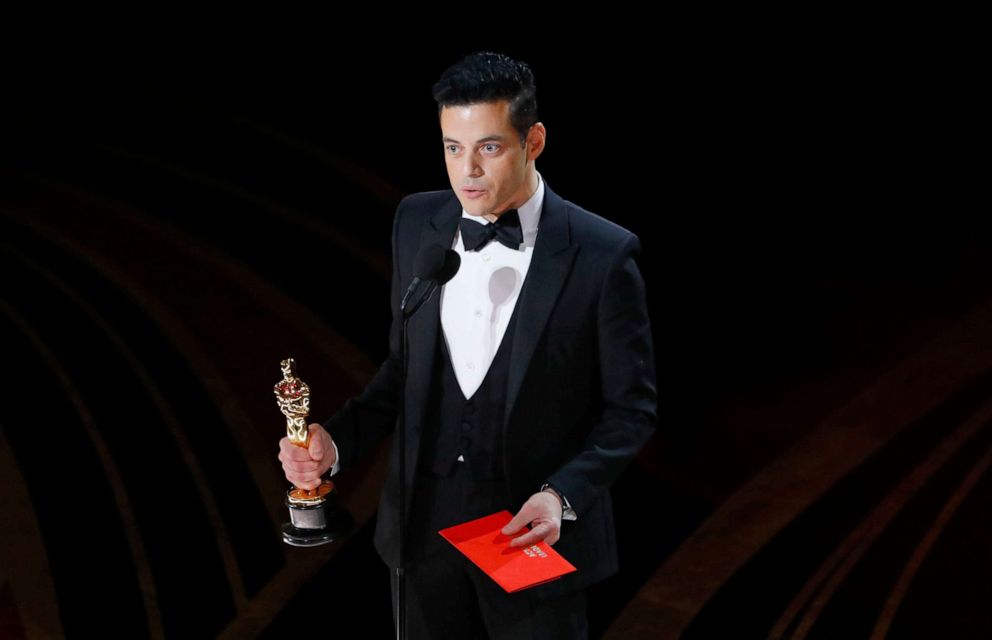 Best supporting actor
The awards for best supporting actor and actress were first awarded in March 1937 during the ninth Academy Awards. They have been won by people of color more often than awards for leading roles.
But still, only eight men of color have ever won an Oscar in this category.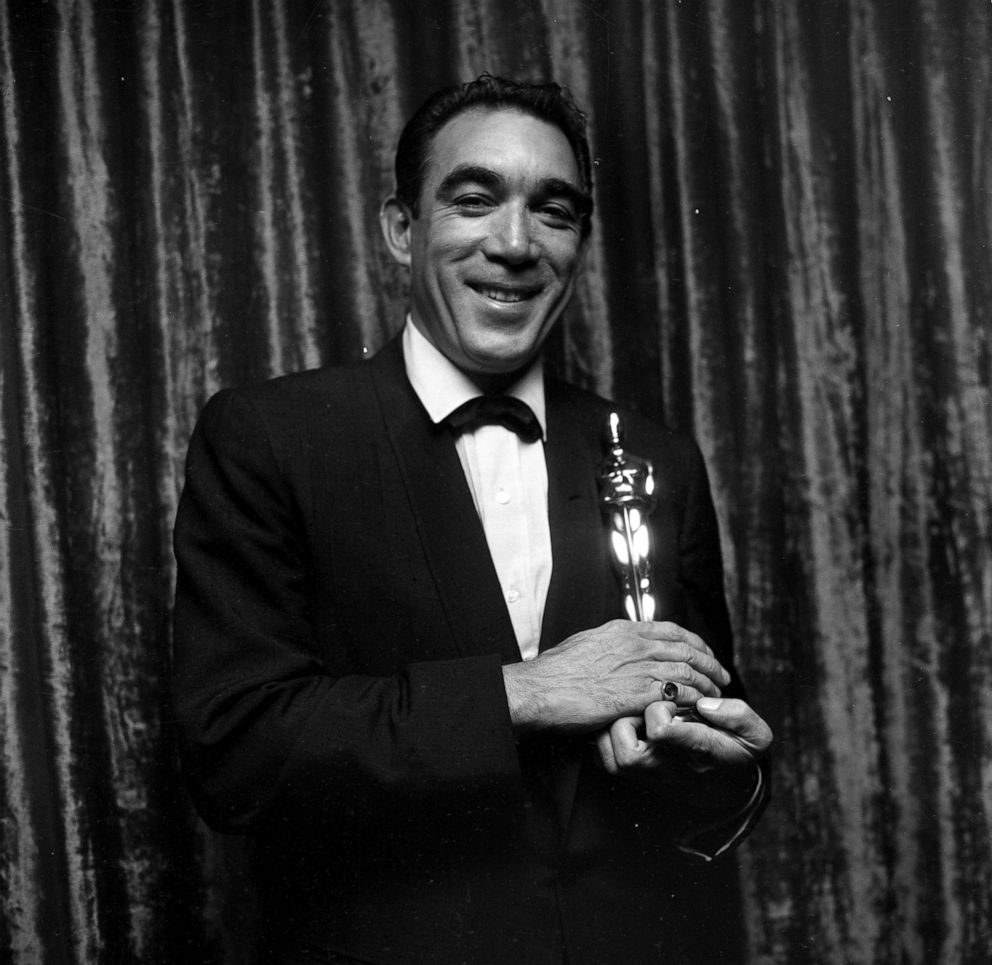 Mexican American actor Anthony Quinn was the first, winning twice for roles in the 1952 film, "Viva Zapata!" and, "Lust for Life," in 1956.
Most recently, African American actor Mahershala Ali made history, becoming the second black actor to ever win two Oscars for acting, following in the footsteps of Denzel Washington.
Ali won for his role as Juan in the 2016 film, "Moonlight," and then again last year for his role as Don Shirley in "Green Book."
Others who have won in this category include Puerto Rican actor Benicio del Toro, Cambodian American actor Haing S. Ngor and African American actors Morgan Freeman, Washington, Cuba Gooding Jr. and Louis Gossett Jr.
'Incremental gains
While reflecting on the wins and setbacks over the years, Reign said that despite "some incremental gains" over the past few years, the 90-year history of the Oscars is still so overwhelmingly white and progress should be assessed in this historical context.
"The issue is that people very often cherry pick results to fit their narrative," Reign said. "When 'Moonlight' won a few years ago for best picture everyone said, 'Oh well, #OscarsSoWhite is dead, we get it. How can you possibly complain after that?' But that's one film that represented one aspect of the black experience -- the black queer experience -- in 90 years. We truly have to keep all of these nominations and wins in context."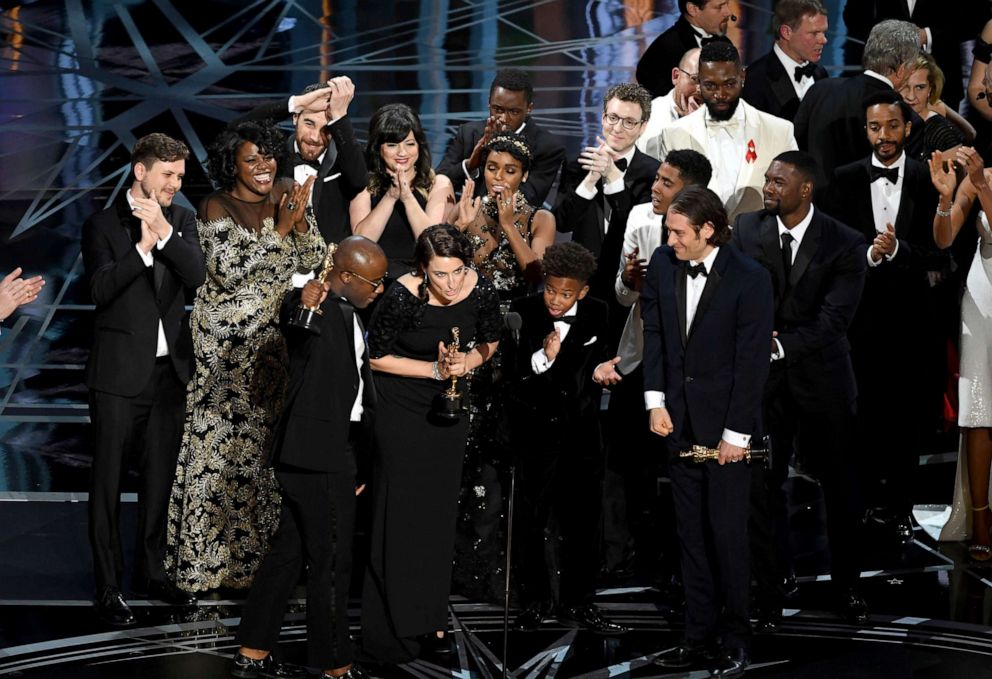 Murray said Hollywood today is "more diverse" than ever, and critically acclaimed, big-budget films celebrating diversity are being produced, but are often "ignored" by the Academy. This leads to the growth of awards shows that "tout themselves as a celebration of diversity and inclusion," he added.
Examples include the NAACP Image Awards, the American Black Film Festival (ABFF) Honors and the Asia Pacific Screen Awards.
"This is not a time where you only have films made by Tyler Perry and maybe, the occasional one by Will Packer. There is a surplus of stories appealing to people of color that are inclusive," Murray said, pointing to a surge in independent production companies like Michael B. Jordan's Outlier Society Productions, that are producing more inclusive works.
"There are roles both in front of the camera and behind the camera where people of color have been able to shine and I don't think we're in a position anymore where there aren't projects that can be recognized," he added.
'The Oscars are the end of the line'
In 2018, the Academy invited a record 928 new members to its ranks -- 49% women and 38% people of color. Invitees included hip-hop star Kendrick Lamar, Mindy Kaling, Kal Penn and Tiffany Haddish.
Following the new reforms, the Academy has met its goal of doubling the membership of people of color by 2020, which rose from 8% in 2015 to 16%. The number of women in its ranks, which started at 25% in 2015 and is now 32%.
The Academy will have met its goal of doubling the number of women by June when they welcome the new class of 2020, an Academy spokesperson told ABC News on Wednesday, adding that additional efforts continue and will be announced this spring.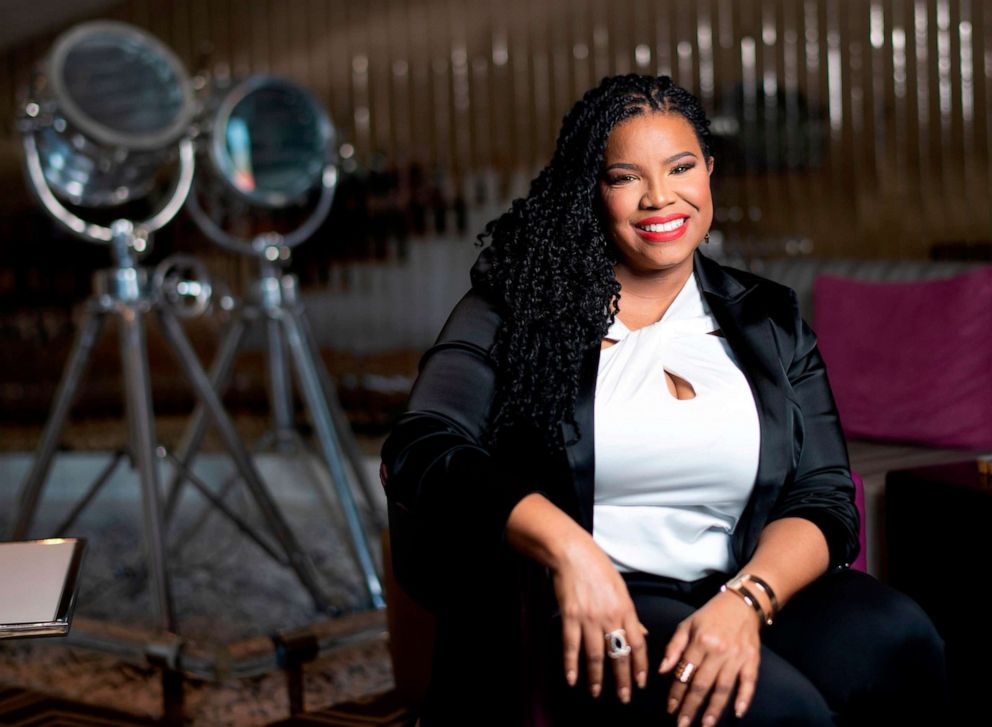 The Academy also changed its voting structure for the first time in 90 years, announcing that "each new member's voting status will last 10 years, and will be renewed if that new member has been active in motion pictures during that decade."
Reign said that while we "absolutely need to talk about the Oscars with respect to their representation, their voting structure, their membership," it's important to remember that "the Oscars are the end of the line."
"We need to have the conversations about who the writers are and what their characters look like," she said. "It's not just about are there enough black roles or Latinx roles or queer roles to go on, it's are you writing your scripts in an inclusive way so that almost anyone can play that role?" Reign asked. "And that opens up the network, that allows you to case a wider net when you are casting."
When African American director Ava DuVernay was asked in 2015 about her biggest frustration in Hollywood, she pointed to the fact that "only 4% of studio directors are women."
"It defies culture in so many ways. It affects the way we see ourselves and the way we are seen by others," she told The Hollywood Reporter. "For there only to be one dominant voice determining what's said and saying, it is something that all like-minded people who believe in dignity of everyone should be concerned about. That comes into play for women and for people of color."
A majority of lead roles are still written for white actors and actresses, while actors of color are often limited to smaller and stereotypical roles. Similarly, the vast majority of writers and directors producing films for large production companies are white males.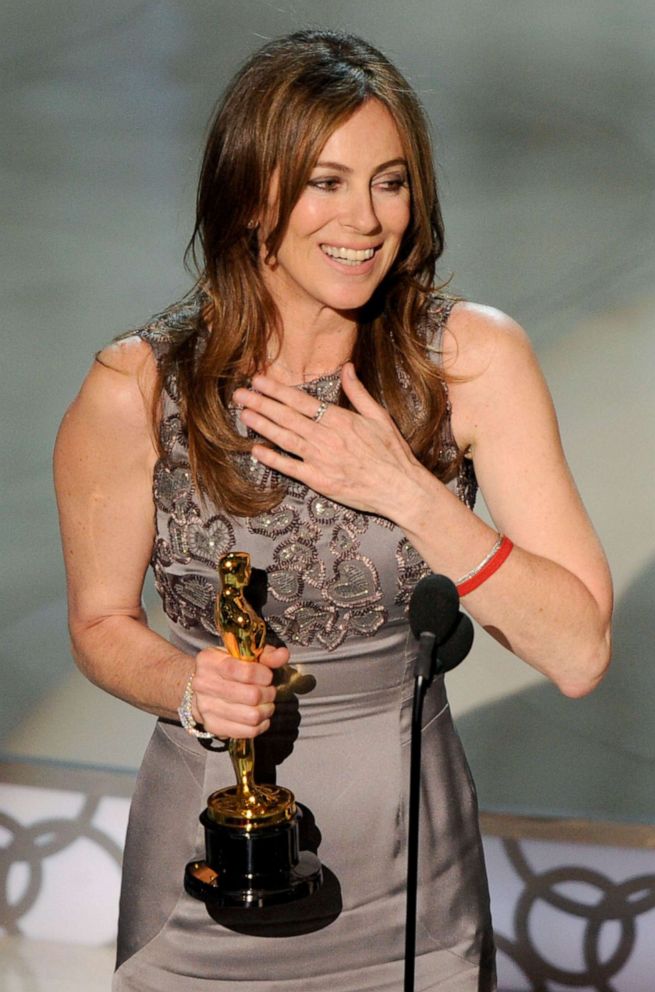 No Americans of color have ever won an Oscar for best director -- a powerful role that shapes a production. While it was awarded to a handful of international directors of color, like Ang Lee and Alfonso Cuarón in recent years, only one woman has ever won.
And following the 2020 Academy Awards, Kathryn Bigelow, who made history in 2010 for winning a best director Oscar for "The Hurt Locker," will still be the only woman to win because only men were nominated this year.
People of color have been so disregarded in casting over the years, that in many cases, even characters written as non-white have been given to white actors and actresses.
In 2001, Jennifer Connelly took on the role of Salvadorian Alicia Nash. In the 2007 film, "A Mighty Heart," depicting the life of journalist Daniel Pearl, Angelina Jolie was cast to play his wife, Marian Pearl, who is of Afro-Cuban descent. Jake Gyllenhaal was cast as Dastan in the 2010 film, "Prince of Persia: The Sands of Time." In 2012, Ben Affleck played Mexican American Tony Mendez in "Argo." In the 2013 movie, "The Lone Ranger," Johnny Depp played a Native American. In the 2015 film, "Pan," Rooney Mara played Native American Princess Tiger Lily, and in 2017 Scarlett Johansson was cast to play Japanese amine character Motoko Kusanagi in "Ghost In the Shell."
A year later, Johansson dropped out of the film "Rub and Tug" amid intense backlash from the LGBTQ community after she was tapped to play a transgender man.
In reflecting on the controversies in July 2019, Johansson told "As If" magazine that "as an actor, I should be able to play any person, or any tree, or any animal, because that's my job and the requirements of my job."
"I feel like [political correctness is] a trend in my business and it needs to happen for various social reasons, yet there are times it does get uncomfortable when it affects the art because I feel art should be free of restrictions," she added.
Asked about Johansson's remarks, Reign said that that she thinks her words are coming from "a place of privilege."
"Scarlett Johansson has no shortage of roles that are written specifically for white women," she said, "so why is it necessary for her to take roles away from women of color and marginalized women when instead, she can lift up those women and say, 'I don't have any personal experience as a woman of color or a disabled woman or a queer woman, but let me stand aside and amplify the work of these traditionally underrepresented women who do.'"