Meghan, the Duchess of Sussex, is proving that old can be new again in fashion, recycling a previously worn dress for the second time during her tour of South Africa with Prince Harry and their son, Archie.
Meghan, 38, stepped out Tuesday for a reception with youth leaders in Cape Town wearing a a striped maxi dress by Martin Grant.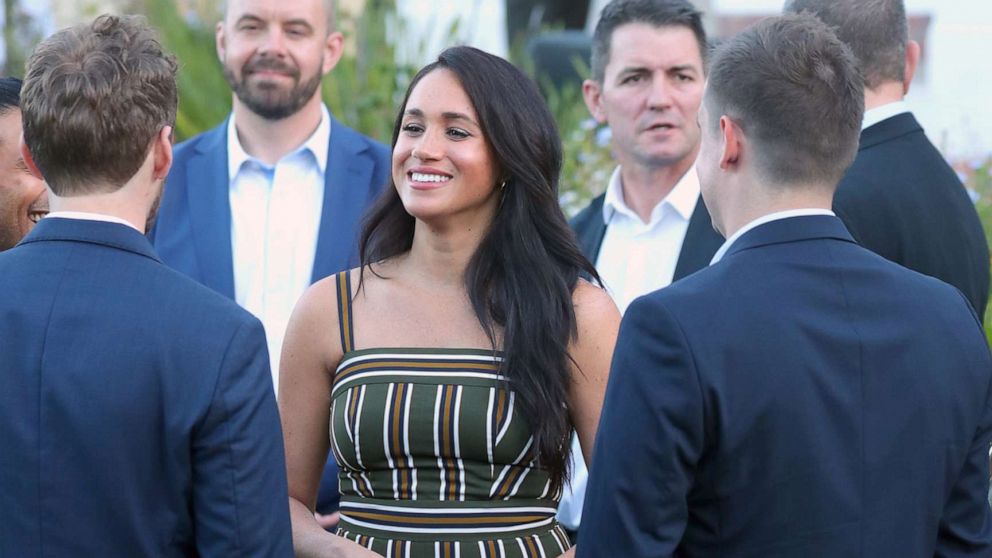 She previously wore the dress last October on her first royal tour with Harry in Australia. Meghan was newly pregnant with Archie at the time and wore the dress as she joined Harry and mental health advocates on Bondi Beach.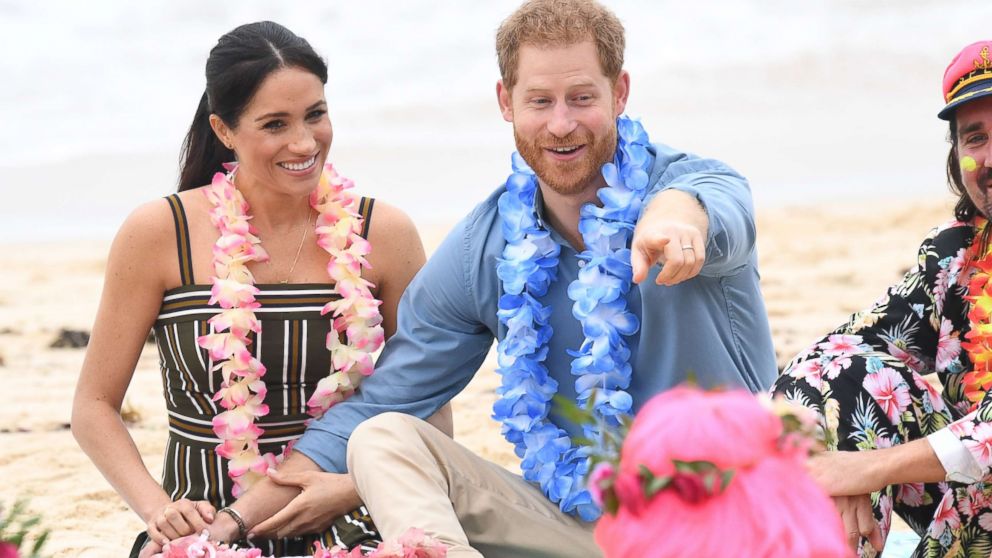 On the first day of the Sussexes' South Africa royal tour, Meghan wore a blue dress by Veronica Beard that she also wore on last year's tour Down Under, during the couple's tour of Tonga.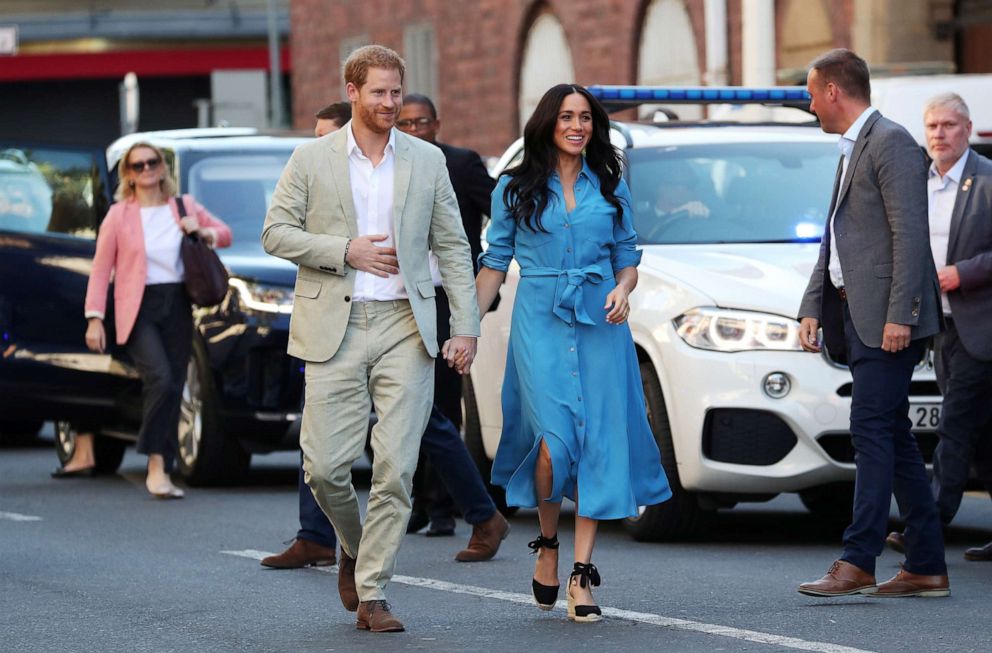 Earlier in the day Tuesday, Harry and Meghan joined surfers in Cape Town, South Africa, to talk about mental health, revealing they both practice meditation.
The parents of nearly 5-month-old Archie joined a welcome circle on Monwabisi Beach with Waves for Change, a charity that teaches local kids about mind and body therapy through surfing.
They also took part in a team-building activity that saw them on their feet and dancing, just like they did on day one of their South Africa tour in Nyonga.
One attendee, a former gang member who was helped by Waves for Change, told ABC News that Meghan "had some moves" but added, "Harry could do with some work."
Harry and Meghan both dressed casually for the beach event, with Meghan even wearing a denim jacket. She paired the jacket with what appears to be the white button-down Misha Nonoo shirt from her Smart Set capsule collection, black pants and woven leather flats.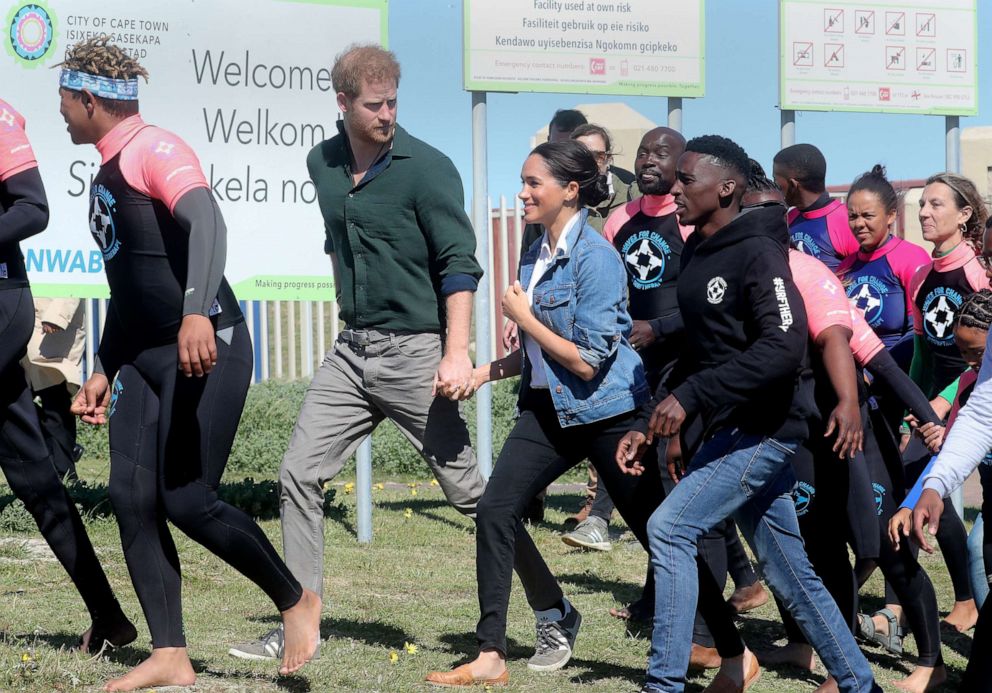 Talking about mental health remains a top priority for Meghan and Harry, who launched the Heads Together mental health initiative in 2016 with Prince William and Kate.
Meghan told a reporter on the tour that the most important thing is to get people to talk about mental health.
"You see that no matter where you are in the world, if you're a small community or a township, if you're in a big city, it's that everyone is dealing with a different version of the same thing," said Meghan. "Globally I think there's a bit of a consciousness crisis, and so the fact we're able to be here together to see on the ground so much good work that's being done, just because people are willing to talk to each other about it and someone's willing to listen is huge."
"And that can apply to being here, certainly can apply to being in London, L.A. – doesn't matter where you are we're all sort of trying to power through and find some optimism," she said.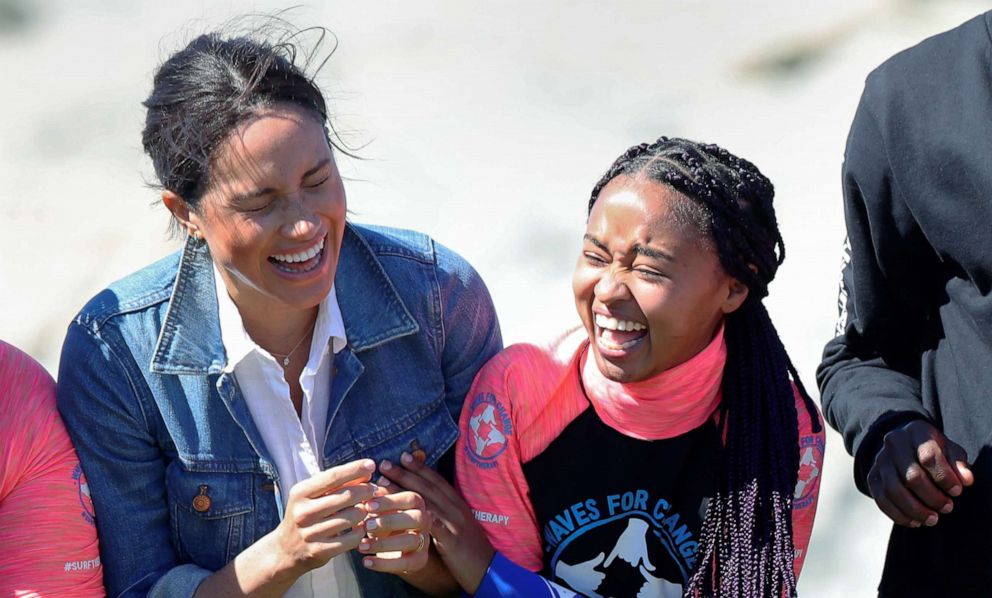 During their beach visit, Harry and Meghan also stopped by The Lunchbox Fund -- one of the charities the couple asked fans to donate to in lieu of baby gifts for Archie -- and joined the Commonwealth Litter Program to learn more about the impact of plastic waste on the ocean.
Harry later traveled solo to Seal Island with officers from the City of Cape Town Marine Unit (MPU), to learn about their role in combating illegal wildlife trade locally.
He and Meghan then reunited to visit Auwai Msoque, the oldest mosque in South Africa. Meghan changed into a long dress and wore a head scarf as she and Harry toured the mosque and met with local faith leaders.
The couple's second to last stop for the day was to Cape Town's Bo-Kaap neighborhood to mark South Africa's Heritage Day. The duke and duchess received a noisy welcome at the festive event, arriving to the sound of a marching band.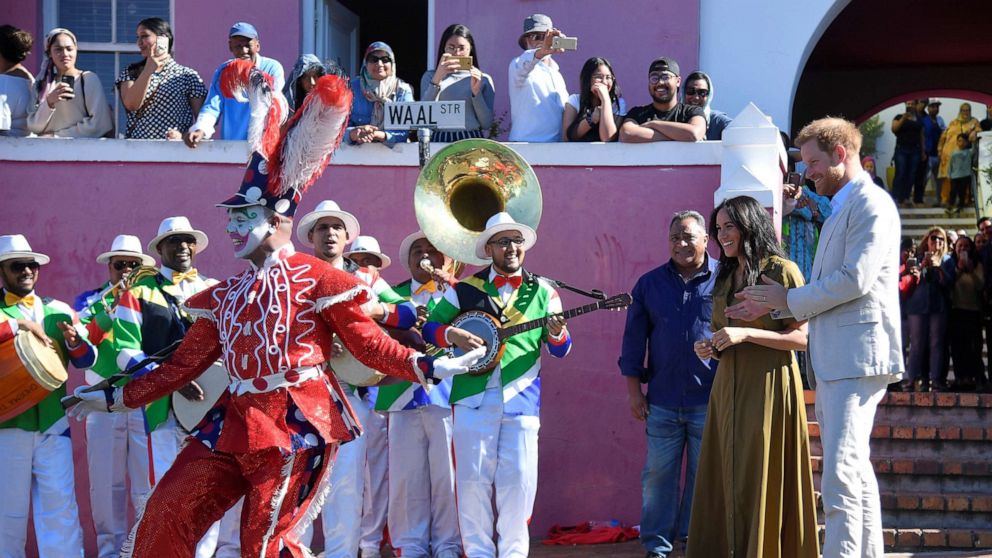 The couple ended their day at the reception with young leaders at the residence of the British High Commissioner.