Prince William and Princess Kate made a surprise visit to meet students and parents Thursday to tackle and discuss cyberbullying, one of their most important charitable initiatives.
Their latest campaign is an extension of "Stop, Speak, Support" which helps children cope with bullying, and the Duke of Cambridge's Taskforce on the Prevention of Cyberbullying.
It is an issue that has resonated and become critically important to Prince William and Princess Kate since becoming parents to their children Prince George, Princess Charlotte and Prince Louis.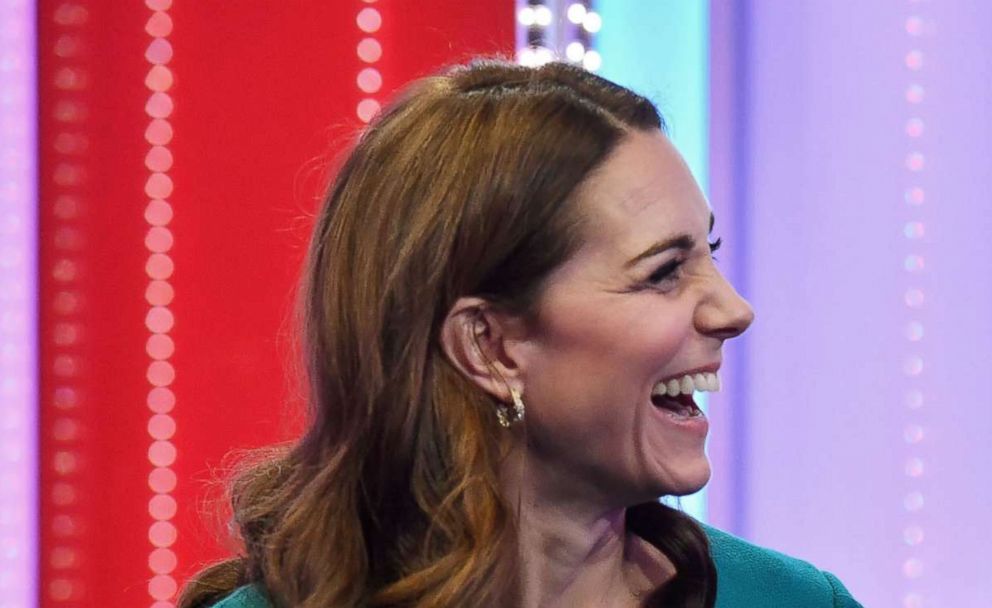 "I convened the task force because I was a new parent," William said Thursday at the BBC. "And I saw that my friends and peers were seriously worried about the risks of the very powerful tools we were putting in our children's hands."
Prince William gave one of the most compelling speeches of his career, lambasting social media companies like Facebook, Google and other social media giants who he doesn't think are doing enough to protect children from bullying, hate speech, trolling and privacy and are putting profits before the protection of young people.
"The noise of shareholders, bottom lines, and profits is distracting them from the values that made them so successful in the first place," said William, who was moved to act on the issue after speaking to many parents whose children had taken their lives as a result of cyberbullying.
(MORE: Prince Louis, Prince George and Princess Charlotte seen together in new royal family photos released for Prince Charles' 70th birthday)
The Duke of Cambridge's speech coincides with Anti-Bullying Week in the U.K.
Princess Kate wore a recycled dress by Emilia Wickstead, one of the British designers she relies on frequently for a variety of her most prominent engagements.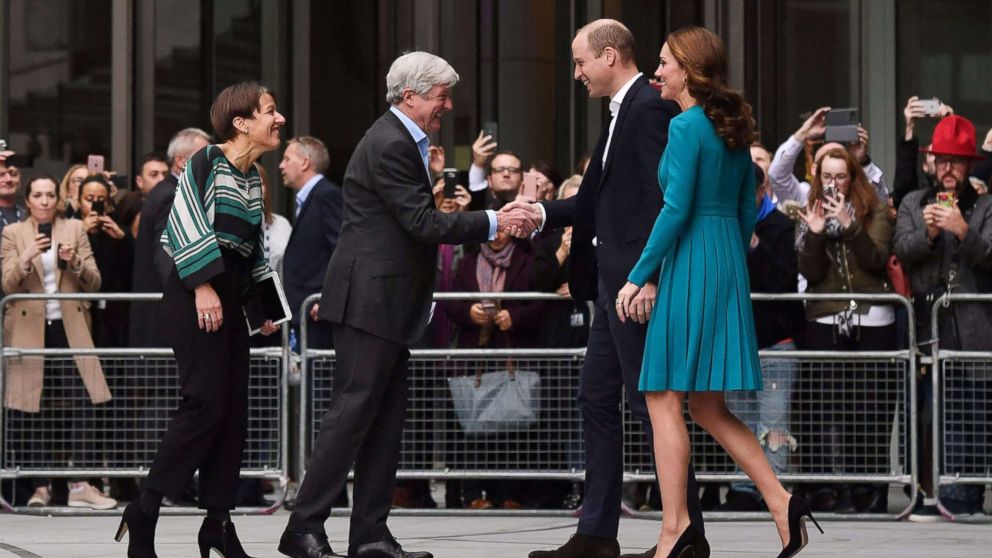 William and Kate's visit Thursday to the BBC follows a busy few days for the couple.
They spent Wednesday in Yorkshire, where they visited Centrepoint, the homeless charity that William took over as patron in 2005, following in the footsteps of his mother, Princess Diana, who served as patron until her death.
Both Prince William and his brother Prince Harry made private visits to the charity as children with Princess Diana and it has been particularly important for William to carry on her work on behalf of the homeless.
(MORE: Prince Harry describes the moment he asked Prince Charles to walk Meghan down the aisle)
On Wednesday evening, both the Duke and Duchess of Cambridge and Duke and Duchess of Sussex attended the birthday party thrown by Queen Elizabeth to celebrate the 70th birthday of William and Harry's father, the Prince of Wales.
Kate was dressed in an off-the-shoulder pink dress accessorized by a stunning pair of statement chandelier diamond earrings that she last wore to the BAFTAS in 2017.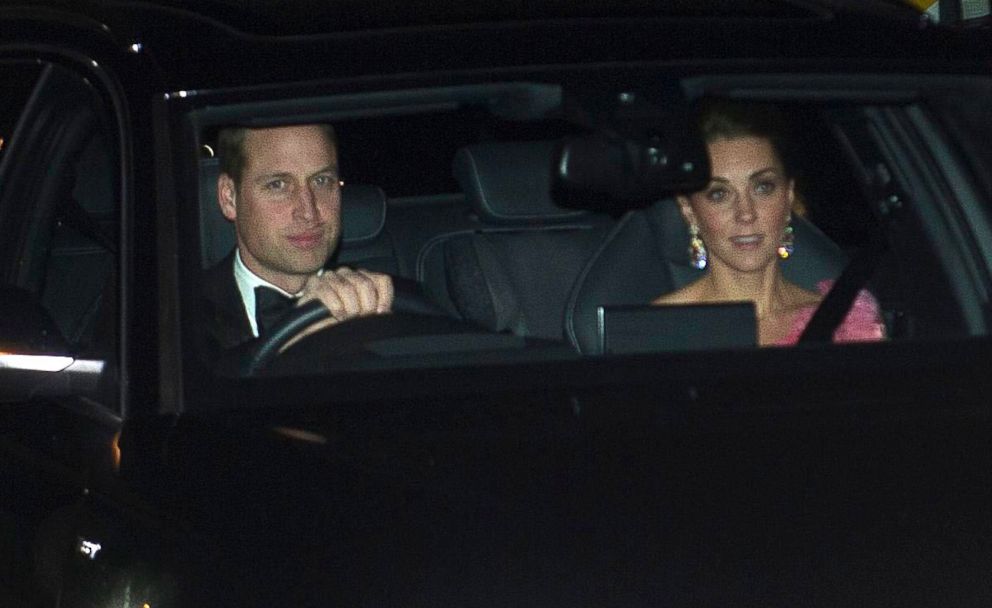 Meghan, the Duchess of Sussex, also wore a stunning pair of borrowed earrings which she was last seen wearing in Fiji.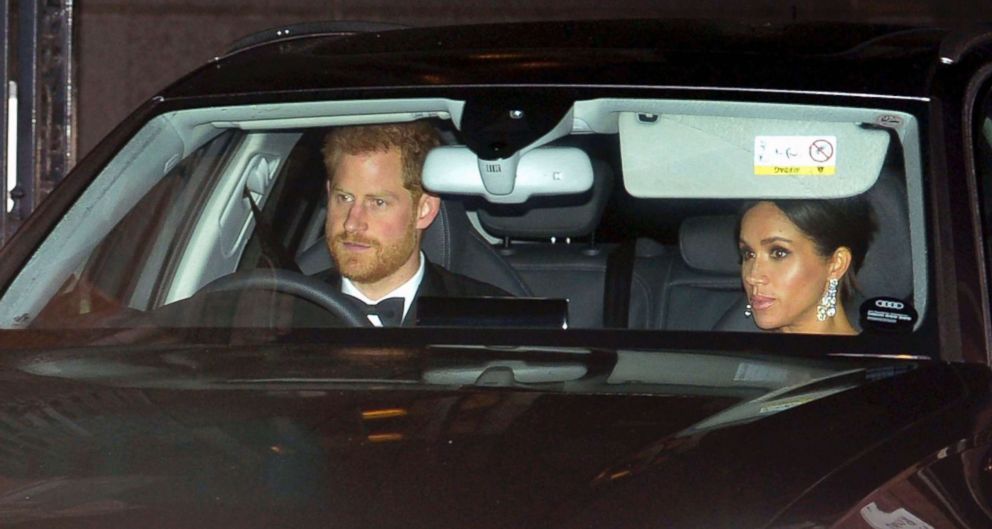 The Queen made a poignant toast to Prince Charles at the lavish black-tie event.
"Over his 70 years, Philip and I have seen Charles become a champion of conservation and the arts, a great charitable leader —- a dedicated and respected heir to the throne to stand comparison with any in history —- and a wonderful father," she said. "Most of all, sustained by his wife Camilla, he is his own man, passionate and creative. So this toast is to wish a happy birthday to my son, in every respect a duchy original. To you Charles. To the Prince of Wales."
The party was attended by numerous royal families around the world, including King Juan Carlos and Queen Sofia of Spain, Crown Prince Frederik and Crown Princess Mary of Denmark, Queen Rania of Jordan, King Harald and Queen Sonja of Norway and Prince Albert of Monaco.