Our favorite Ryan Seacrest moments for his birthday
Ryan Seacrest celebrated his last day as co-host of "Live with Kelly and Ryan" on Friday in an episode filled with memories from his six years on the show.
Kelly Ripa delivered a tear-jerking speech at the end of the episode in which she told Seacrest what he means to her.
"This has without question been the fastest six years of my life," Ripa said. "Although you and I have been friends for decades and decades, I feel like I have gained through this process a younger brother-slash-older son. That's how I feel about you. It's the weirdest feeling."
"For many years, Ryan's ability to be the person featuring the talents of other people, that's been part of his job, right?" she continued. "But on our show, I feel like you got to show off your immeasurable talents to the world, to our audience, to our viewers."
Ripa gushed about Seacrest "goodness, kind, charm, brilliance, authenticity and generosity" in her speech, getting teary-eyed but getting a few laughs in.
"We reserve the right as a company to troll you on all social media platforms and we will all keep our same mailing addresses in case there is ever a wedding invitation, just in case," she joked.
"But seriously, from the bottom of my heart and from the bottom of all our hearts, we just want to thank you for being wonderful, for being an original, authentic addition to this show," Ripa said, closing out her speech. "You are forever our family. We will never say goodbye to you. We will only say see you soon. I love you."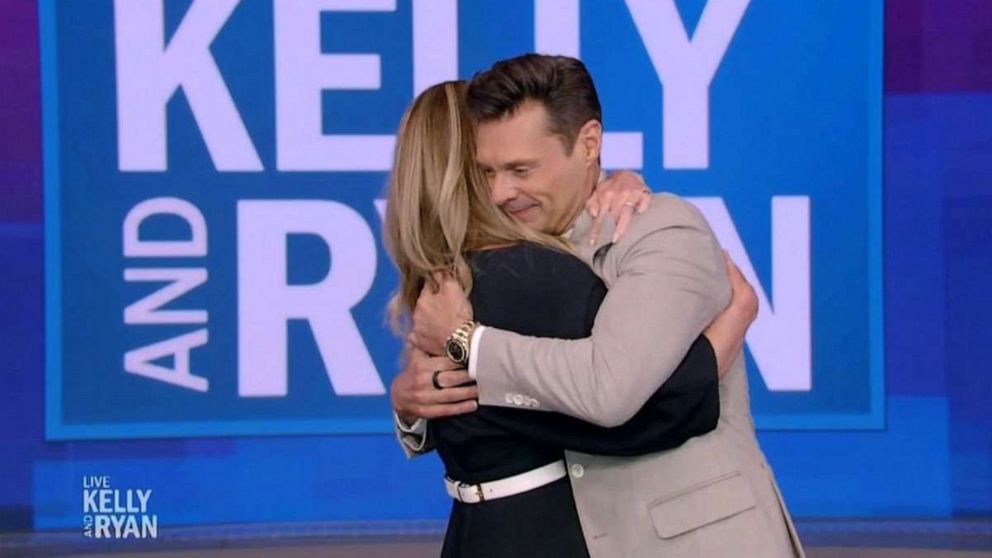 Seacrest hugged Ripa and said, "There is nobody in the world that can have you crying and then laughing and crying within two seconds."
He then delivered a farewell speech of his own, opening up about what Ripa and the show have meant to him the past six years.
"I'm a very lucky man, Kelly. I want you all to know it's not lost on me how fortunate I am," Seacrest said, noting the honor he felt in sitting next to her and connecting with viewers for six years. "I've spent my entire career talking -- talking on the radio, talking on television -- I mean, words are my bread and butter, it's my wheelhouse, but today it's hard to put into words how deeply I've appreciated being here and being with you, being invited into your homes every day to try and deliver a smile or a laugh or two."
Seacrest then joked that he's "blessed with so many memories -- I was refreshed on most of those memories moments ago." He said he'll "relish those memories and relive those memories forever."
"I so appreciate your leadership, your love, your wisdom, and I really do feel like a family member and we'll have that forever," he said, grabbing Ripa's hands. "And I will miss you the second we say goodbye today -- at least for the weekend."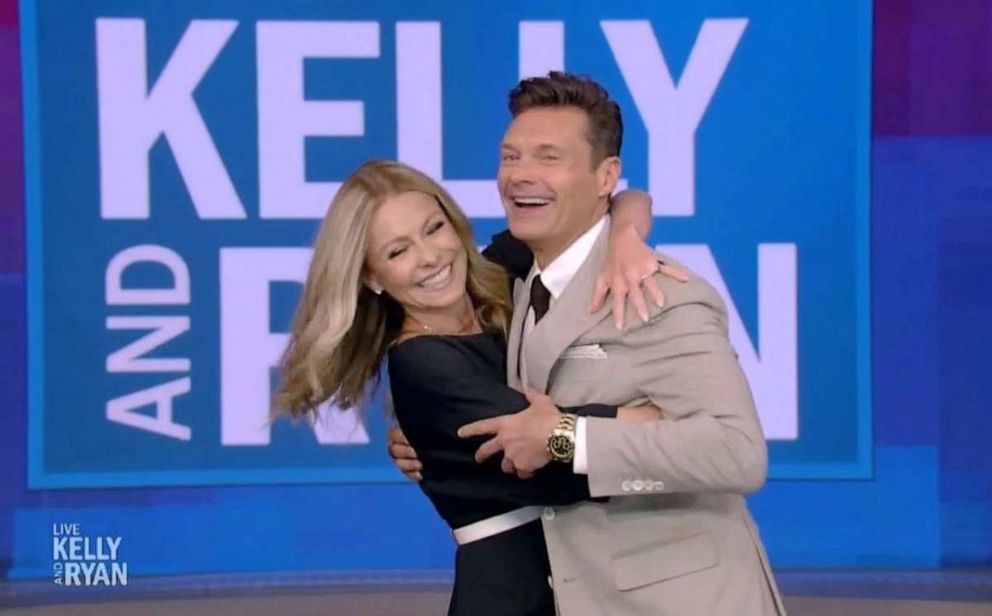 Earlier in the episode, Seacrest opened the show by joking about what his beloved co-host told him before they walked out for the show, saying, "Kelly turned the corner and said, 'Oh my gosh, am I going to cry?' I said, 'Maybe, because I am!'"
In the audience for the monumental episode were Seacrest's family, including his parents, his sister Meredith and his girlfriend Aubrey.
Another special guest for Seacrest's last episode of "Live" was first lady Dr. Jill Biden, who said it was "bittersweet" to see him leave.
Ripa also introduced various montages looking back at Seacrest's most memorable moments on "Live" throughout the episode.
"These six years together have been so much fun and you have made us all fall in love with you. I mean, I've been in love with you, but now everybody is in love with you -- and here's why," Ripa said, kicking off a montage of the pair's best moments from throughout the years.
"Over the past six years, you've given us more than just laughs," Ripa said, introducing a more serious montage of heartfelt moments. "Together, we've enjoyed the good times and we've supported each other during the tough times -- and I, for one, have grown accustomed to seeing your face every morning."
The episode ended with Ripa's husband Mark Consuelos, Seacrest's replacement, bringing out a sardine cake to celebrate. Seacrest also passed the baton -- in this case a mug -- to Consuelos to mark the changing of co-hosts.
Seacrest announced in February that he was leaving "Live" to focus on hosting "American Idol."
At the time, he called the decision to leave the ABC morning talk show, which he joined in 2017, a "tough" one to make and one that he and Ripa had "been talking about for a long time."
In a statement posted to Instagram after the announcement, Seacrest said he was "going to miss my work wife and the laughter we share."
Ripa shared a sweet Instagram post reflecting on her time with Seacrest, telling him "I am proud of you and am forever in your corner."
Consuelos also took to Instagram to congratulate Seacrest on his "next chapter" and to tell him "I love you like a brother."