A hospital's neonatal intensive care unit is often filled with newborns and infants fighting to live while being hooked up to multiple machines.
It can be a difficult place to be, but for one day in June, parents Lindsay and Tyler Staup wanted to make sure there was some joy and cheer at the NICU at Riley Hospital for Children at IU Health in Indianapolis, Indiana.
The Staups' daughter, Everly, has been living in the NICU since she was born on March 21 and to mark her 100th day there, her parents threw her a memorable party. The couple, both teachers, said they were inspired by their schools' own 100-day celebration traditions and wanted to create a similar, uplifting event for their baby girl.
"We thought we could tie in the tradition inside the NICU just to make it fun and joyful," Lindsay Staup said. "We were like, we had to do something fun, to just bring joy and create memories with her."
For her big day on June 29, Everly was dressed up in a glittery golden crown emblazoned with an oversized "100" on it, a custom white onesie and a sunny yellow tutu.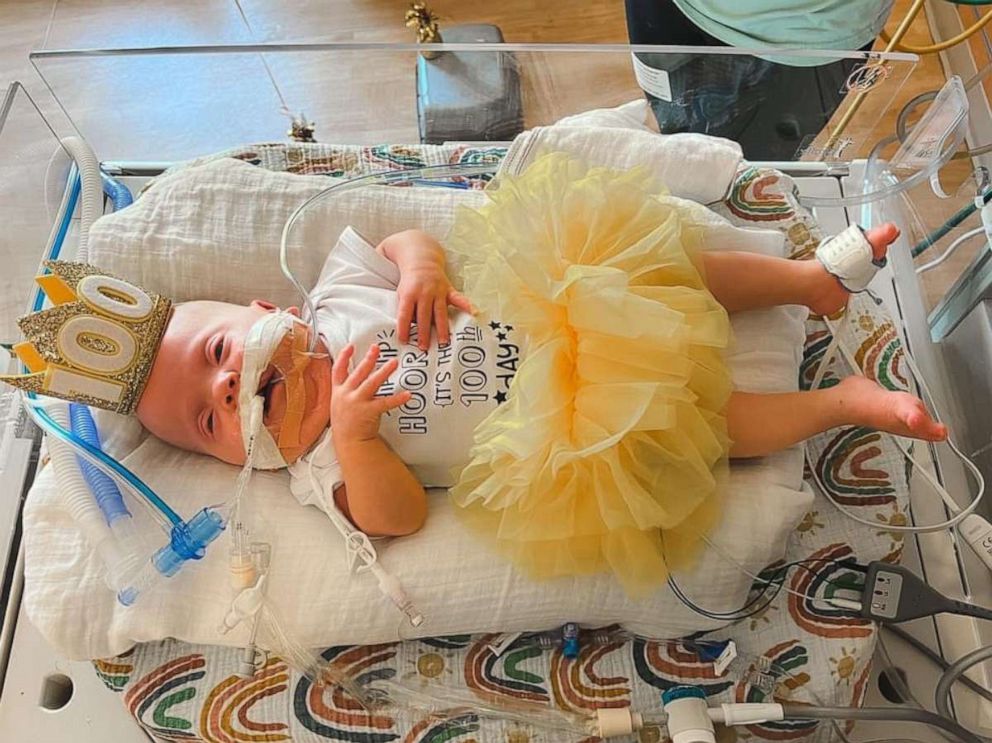 Her parents wore T-shirts that matched Everly's outfit and read "Hip Hip Hooray. It's the 100th day."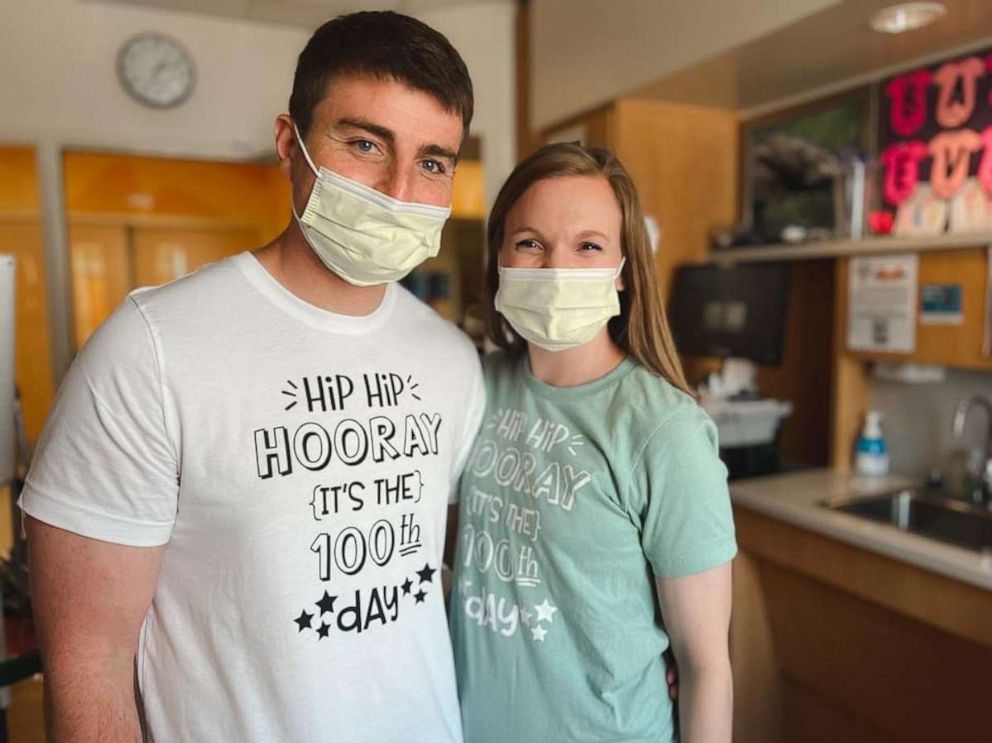 "We had a big ol' photo shoot. My mom was the one who designed her onesie," Lindsay Staup said. "She also designed us shirts and then we got balloons and we found this little 100-day crown. ... We made it fit for her head and everything."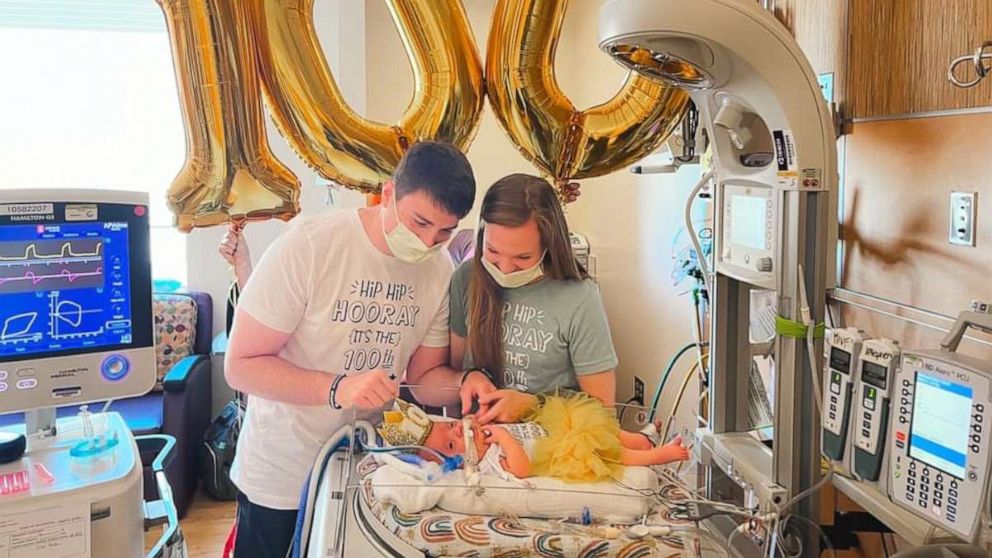 The doctors, nurse practitioners and NICU nurses at Riley joined in the fun on Everly's 100-day milestone, making the occasion "really special," according to her mother.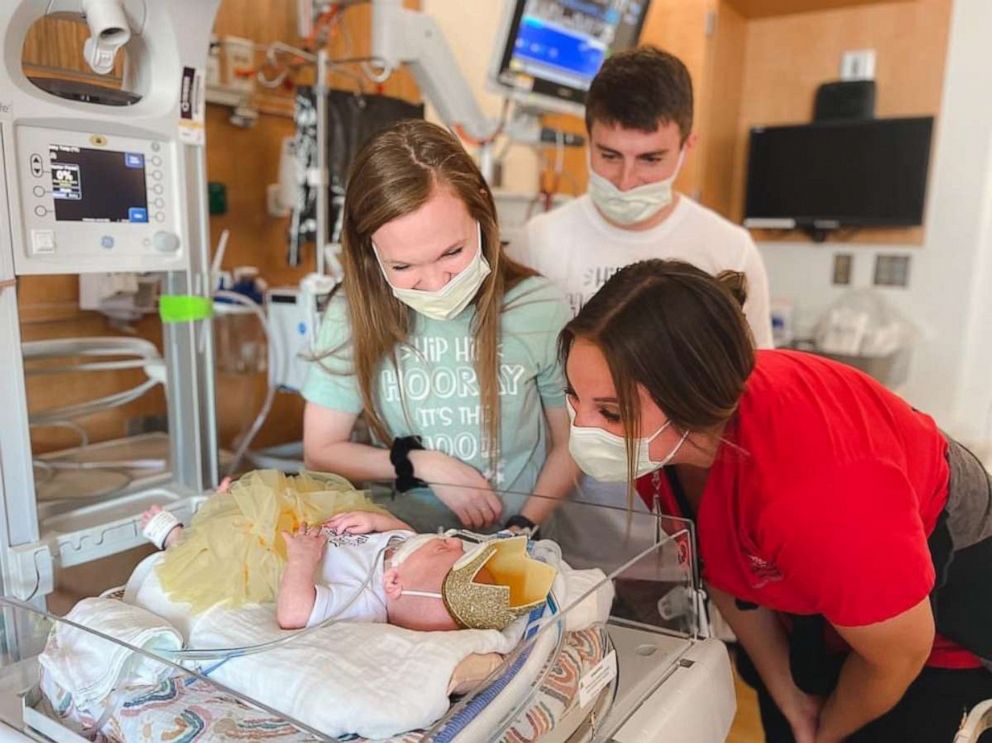 "At Riley, we have the best nurses and doctors here," Tyler Staup said. "We've loved all of them that we've had, and I'd say that they make us feel so welcome and they care for us and they care for our daughter, and it's just great to know, even when we're not here, that she's in wonderful hands because of the work that they do here."
"We can't wait to show her these pictures one day," Lindsay Staup added.
Everly has been in the NICU since she was born at 28 weeks and has received treatment for duodenal atresia -- an abnormality where the duodenum, or the first part of the small intestine, is blocked -- and various other complications due to prematurity, such as chronic lung disease.
Even though she's experienced setbacks and still has at least one more surgery to go, Tyler Staup said his daughter has remained resilient.
"Everly is very feisty and she's a strong little girl," the 28-year-old dad said. "She's been through six surgeries already in just over 100 days and she's made it through all of them. And we'll say that, you know, I don't know if us personally could have made it through. And she's shown her strength in so many big ways and we're just proud to be her parents because of all she's accomplished."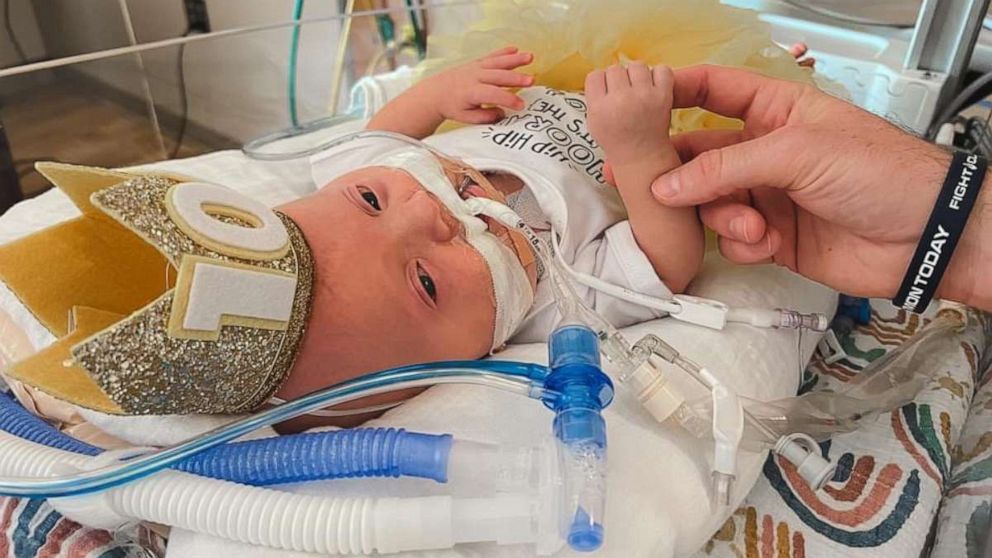 "I'm so proud of her," Lindsay Staup added. "She is just literally a light to the world. She's a huge miracle and she has faced so many obstacles and she always comes out better in the end. We're just so proud of her and she's helped us become better people. And I don't know, we've just grown so much in this experience and she has just shown us that good things can come out of bad situations. ... I just love her so much."
The Staups hope that by sharing Everly's story more widely, they can offer some hope to other NICU families.
"Everyone's got different stories with their babies, but just to hear something positive and maybe help other families see that they will get through it if they just keep their faith," Tyler Staup said. "Hopefully, it'll work out for everyone that has to go through something like this and hopefully someday, we can help families that have similar experiences like us."