Are your kids bored of the basic backyard activity games already? Look no further.
Susie Allison, the mom of three behind the popular website and parenting Instagram account, Busy Toddler, has launched a free summer camp at-home activity guide to salvage the season with weekly themes ranging from STEM to the arts.
This week's summer topic is "Water & Ice," which is all about hands-on play that sneaks in learning.
"There's a lot of learning kids can do and experience by playing with the solid and liquid form of the same material," said Allison, who has amassed over 1 million followers on Instagram with her genius and educational activity ideas. "This is a chance for hands-on, play-based learning as kids form their knowledge by doing and experiencing. Fun and play is exactly how we want kids learning this summer.".
Allison joined the science-loving Ginger Zee on the "Good Morning America" Instagram account to teach us how to make bubble foam with kids.
It will feel so fun - kids won't recognize that they're learning, Allison says!
Find full directions for bubble foam and two more "Water & Ice"-themed ideas, including baggie ice cream and an ice cube bin water table below:
Bubble Foam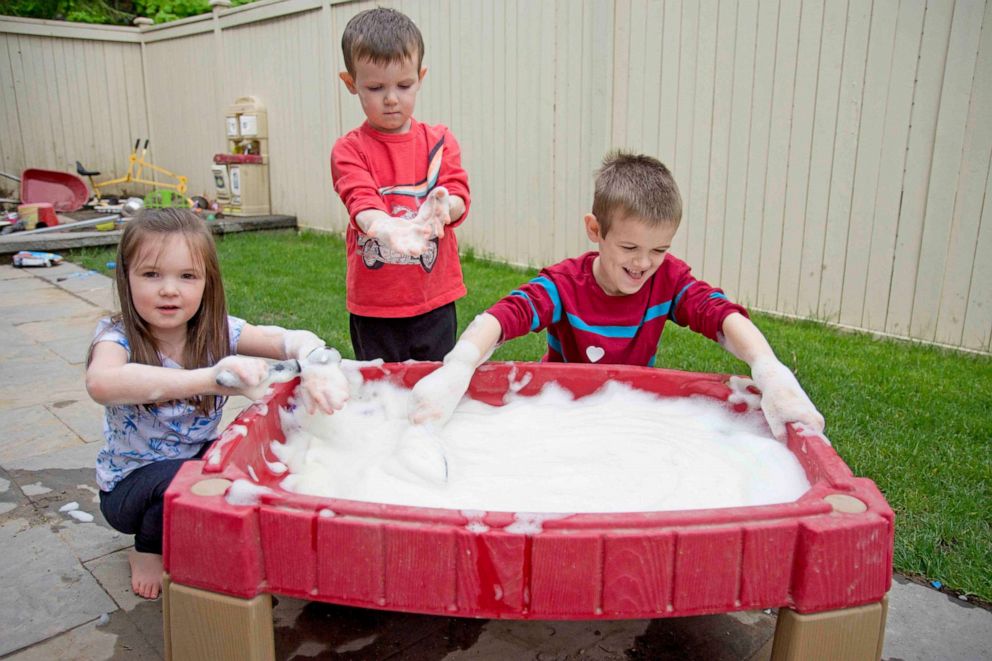 What you need:
1 cup of water
½ cup of tear free bubble bath
Food coloring (optional)
Hand mixer or blender
Water table or sensory bin
What you do:
In a bowl, whip together 1 cup of water with 1/4 cup of tear free bubble bath. Add a drop of food coloring if you'd like.
Beat with a hand mixer (or blender) on high until you form "stiff peaks." Pour into a water table or sensory bin to play.
"Bubble foam is the best! It's magical for kids to play with - so fluffy, soft, and fun. The transformation of soap and water into foam is such a 'wow' moment for kids. Making it is an activity in and of itself because the kids are so interested in the process," said Allison.
Tip:
Add in kitchen utensils, trucks, or plastic animals for kids to play with in their foam. This is a fun, sensory experience that kids will want to stop and play with.
Baggie Ice Cream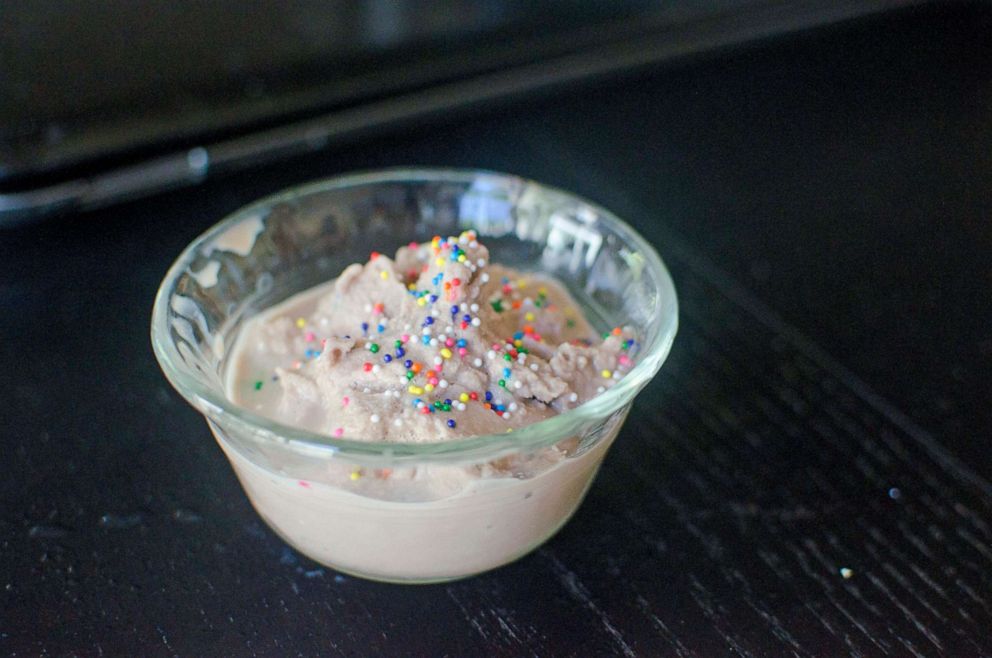 What you need:
3 plastic bags (2 small to medium, 1 large)
½ cup of heavy cream
½ cup of chocolate syrup
Ice
¼ cup of salt
Oven mitts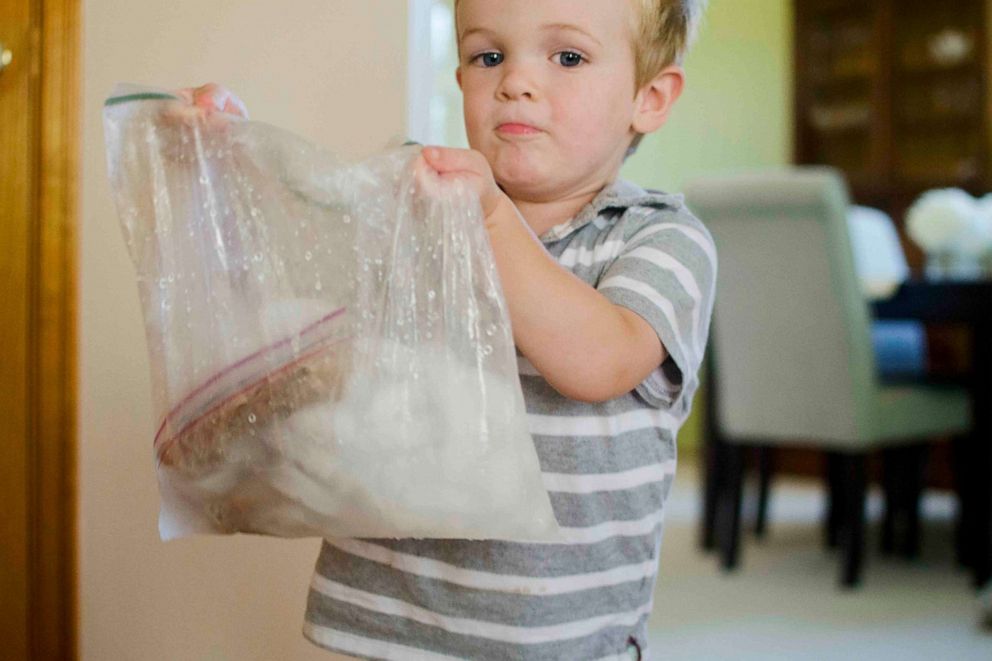 What you do:
In a small bag, put 1/2 cup of heavy cream and chocolate syrup. Set it up and place it in a second bag. Seal again.
Place those bags into a larger zipper bag filled with ice and 1/4 cup salt. Seal it up.
Using oven mitts for protection, shake the bag for 8 minutes. Carefully open the baggie to reveal homemade ice cream.
"This yummy activity is rooted in science as we transform a liquid into a solid. It's as great a learning activity as it is a delicious summer activity," she said.
Tip:
When it's time to shake the bags, I throw on some music for my kids and we have a kitchen dance party. It keeps the kids moving, the ice cream mixing, and everyone entertained.
Ice Cube Bin: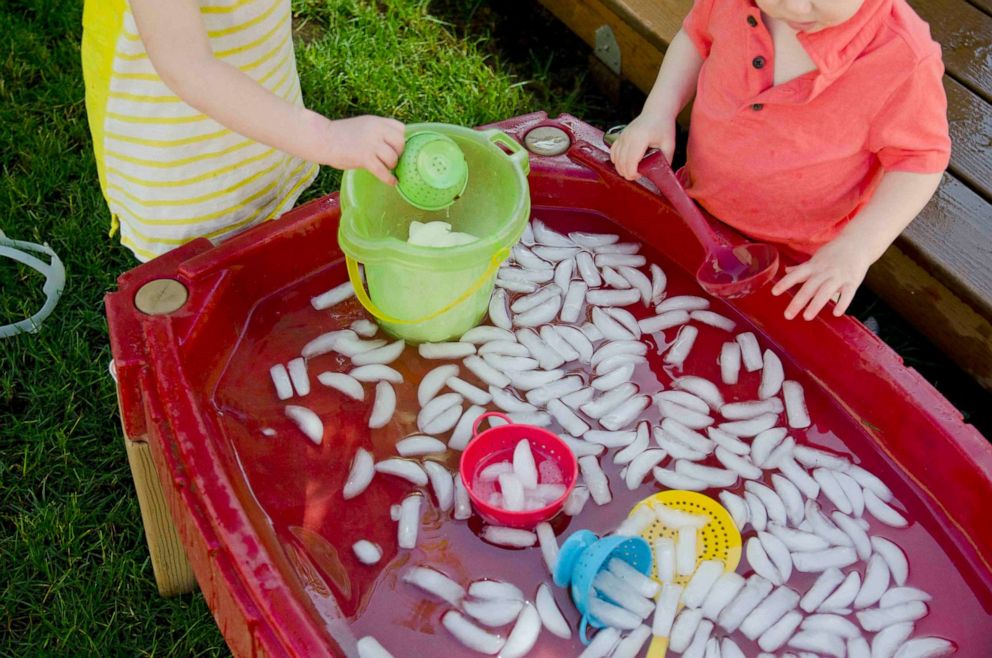 What you need:
Ice cube maker
Storage container or water table
Water
What you do:
Dump out the ice cube maker into a storage container or water table. Add a little water so the ice floats.
"This is a major sensory moment for kids: the cold ice cubes, the water, the tactile learning. Kids love exploring ice cubes - there's something magical about frozen water to kids," said Allison.
Tip:
Add in some kitchen utensils or tools for the kids to play with (like whisks, scoops, and bowls). Let them play "kitchen and chefs" with their ice cubes.
As the ice cubes melt, talk about it! The solid water is turned back into a liquid. How is this happening? Why is this happening? There's so much for kids to learn in this simple moment.