94-year-old grandma's dream comes true of wearing a wedding dress
Andrea Fabricius; Christina Bulgin
A couple from Canada helped a complete stranger honor her parents by building a recipe box out of wood samples she was planning to give away.
Christina Bulgin, 45, from Ottawa, lost both of her parents in 2016 and inherited many of their belongings, such as a box of her father's wood samples. Rather than let them sit around, Bulgin posted about the samples in her neighborhood's local Facebook group last month, saying that it was hard to give them up but wanted to offer them to anyone who would put them to good use.
"When you lose people, you have memories and photographs," Bulgin told "Good Morning America." "But when you have those possessions, it's almost like giving a piece of them away."
Bulgin's father, Mient, was a woodworking teacher and had a shop in the basement of their family home where he would constantly draft ideas for new builds such as guitars and a mother of pearl inlay.
"I grew up playing in my dad's shop around tools," Bulgin said. "So when you spend so much time together, working with wood and just associating my dad with wood ... it felt like giving a piece of him away even though it was just a box of wood samples."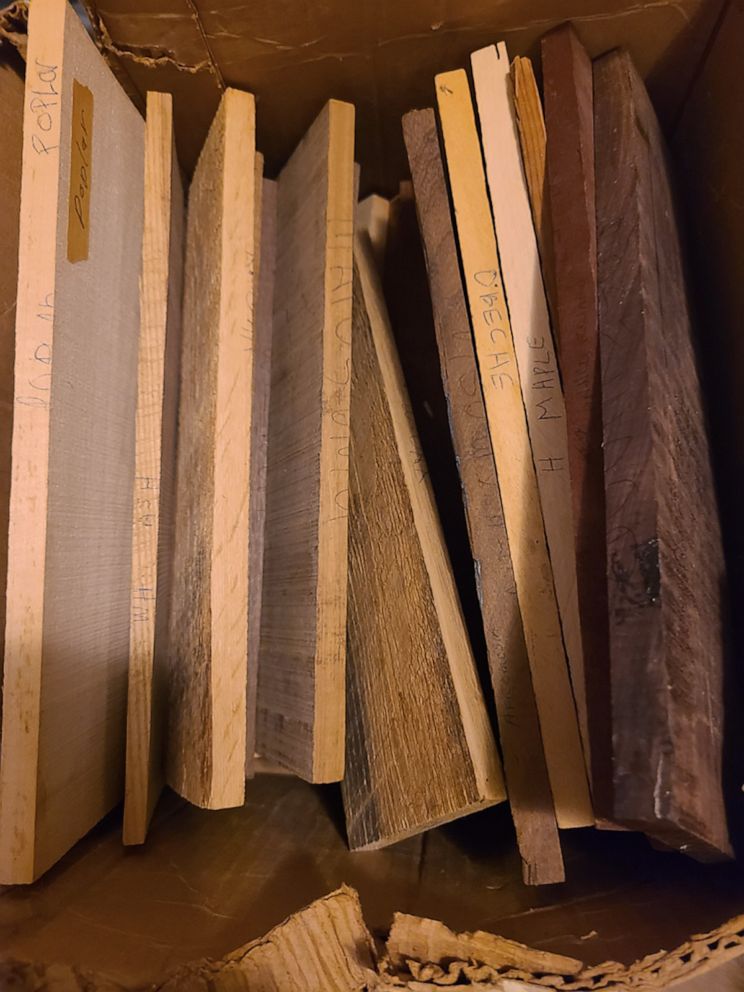 There was immediate interest in Bulgin's Facebook post, but the original person who agreed to take the samples ultimately decided not to take them so that another couple, May Di Loreto and George Nesrallah, could have them instead, as they wanted to make something for Bulgin to remember her father by.
"When I saw the samples, I thought about my father's watch," Di Loreto, 62, told "GMA." "I have it in a keepsake box. I thought well, if George could make something for her, maybe she could keep something of her father."
The couple are both retired, and Nesrallah, 71, used to work in the automotive industry but has taken up woodworking in his retirement.
"I was so grateful. What a beautiful, wonderful, healing thing," Bulgin said. "My first impression was to say, 'No, no, don't worry about me,' because I think that's kind of my tendency, but then I was like why should I not allow this beautiful man to use his hands to create something -- something he loves to do and he's learning to do in his retirement?"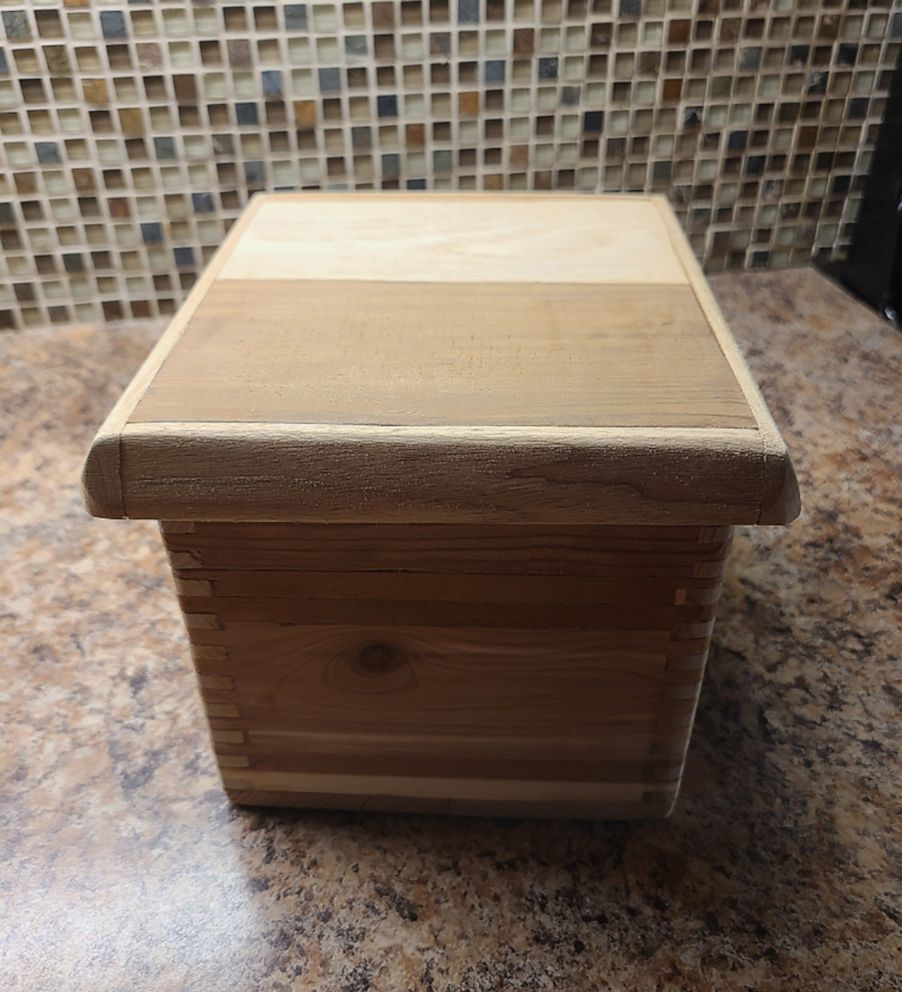 What initially was a way for Bulgin to remember her father became something that included her mother, Harriet, too. When the pair asked Bulgin what she wanted them to make, she recalled that her mother loved to cook and said a recipe box would "be a lovely thing."
"I got goosebumps just thinking that you could honor both parents at the same time," Di Loreto said. "So, George worked on it every afternoon, and he just perfected what he wanted to do."
Bulgin said she even gifted her daughter, who is 11, some recipe cards for Christmas one year because she likes to bake, so the recipe box is something they can treasure together.
"It's so beautiful," she said.
According to Nesrallah, building the recipe box took approximately two weeks, and every day it "drew him in to work on it and try to make something special."
"Just starting to do woodworking, it was difficult to decide on how to make the box," he told "GMA." "Each day something came to me and different pieces of wood just came together until it became a finished, one-of-a-kind keepsake box that hopefully Christina would enjoy."
On July 13, Bulgin said she drove over to their home to pick up the box, calling the meet "very emotional."
"There were tears, but it wasn't tears of sadness," she said. "It was tears of just gratitude and joy."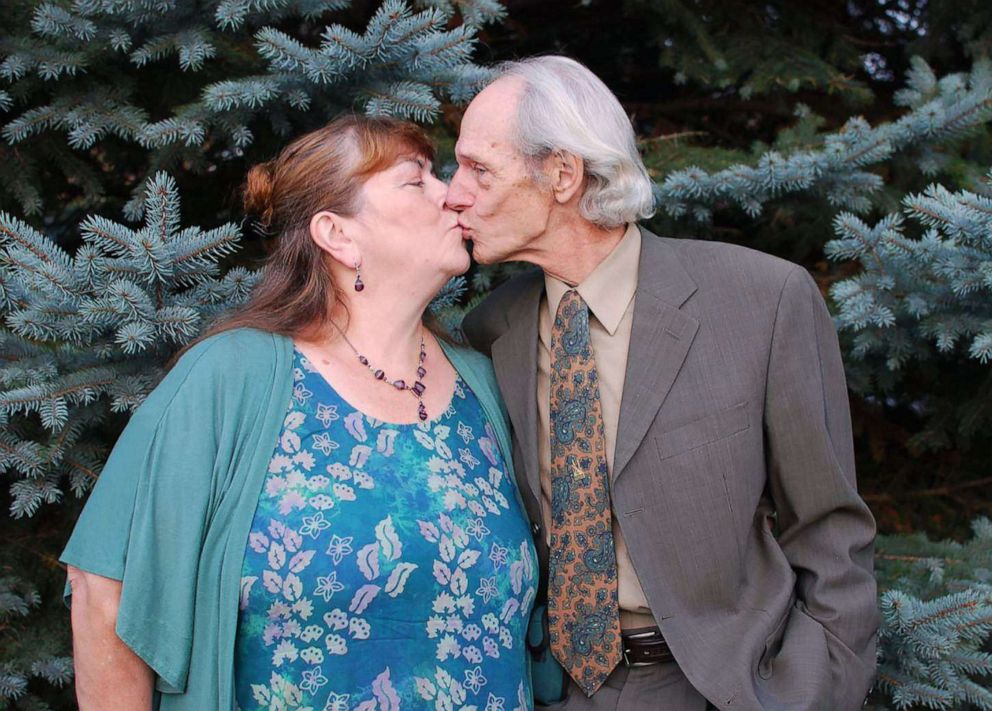 "When I saw the look in Christina's eyes when we handed her the box, it made me feel warm inside seeing how it made her happy," Nesrallah said. "I was trying to hide the tears because it made me so happy to give her a part of her dad."
Di Loreto and Nesrallah are the same ages now as when Bulgin's parents died, which adds an extra layer of connection between them all.
"I told her, 'Hey, you have second parents on Earth should you ever need anything,'" Di Loreto said. "We just wanted to make her happy."
"It's kind of like inherited parents," Bulgin added. "It's been really interesting and a beautiful way for strangers to walk in through each other's lives and intersect that way."