An Arkansas father is showing his love and support for his 1-year-old daughter in a very special way.
Kevin Stokes, 32, of Conway, decided to shave off all his hair -- dreadlocks that he'd been growing for the last 10 years -- to match his younger daughter, Nova, who lost her own hair after starting chemotherapy two months ago.
Nova was diagnosed in March with stage 4 neuroblastoma, a type of cancer that can affect young children's nerve cells, according to the National Cancer Institute. At the time, she was just 9 months old, and her parents would've never guessed the diagnosis she would receive when they noticed she didn't seem like herself one day this past spring.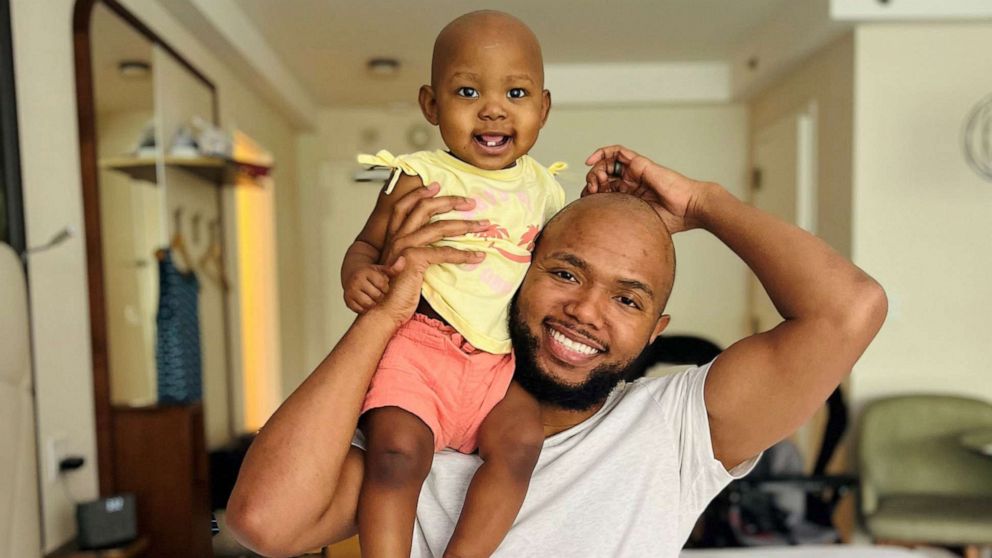 "All of that day, she [was] fine up until later that evening. She just seemed really tired," Nova's mother, Nicolette Stokes, told "Good Morning America." "We noticed that her stomach was kind of swollen so we took her into the emergency room because she was nearly unresponsive. And yeah, when we got the news, honestly we were devastated."
"It was really a shock to us because we knew she wasn't feeling well when we took her to the emergency room," Kevin Stokes said. "I think cancer was really the last thing on our minds when we spoke with the doctors."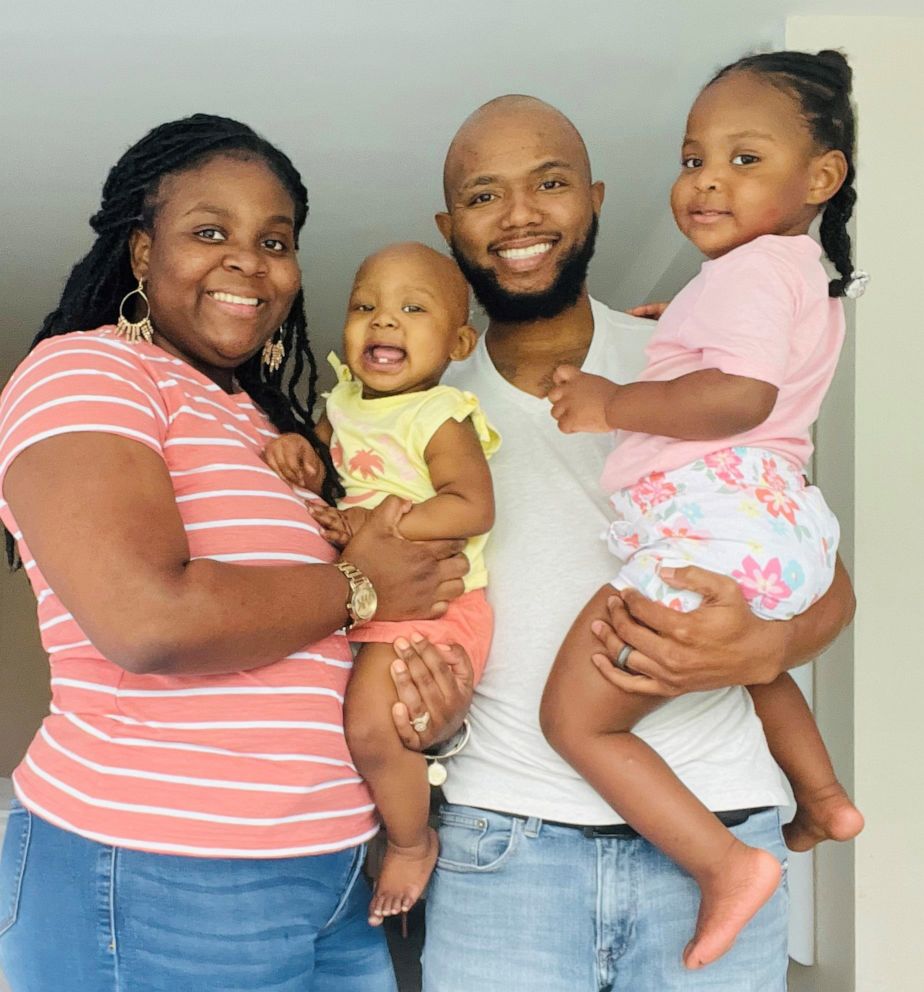 The Stokes sought out support groups for parents who have kids with neuroblastoma and started researching options for Nova. They decided to give their second daughter the "best treatment possible," and since May, Nova has been receiving treatment at Memorial Sloan Kettering Cancer Center in New York City.
After her first round of chemotherapy back in April, Nova quickly started losing her hair. Even though Nicolette and Kevin Stokes said they knew it was something that could happen, it was still startling to witness.
"That was a very emotional day for us," the father of two said.
"It happened so fast. Like, it honestly happened in a span of a day. It started to fall out the previous night, and then the next day, it was just like over half her head was bald, so we went and just cut the rest," Nicolette Stokes said.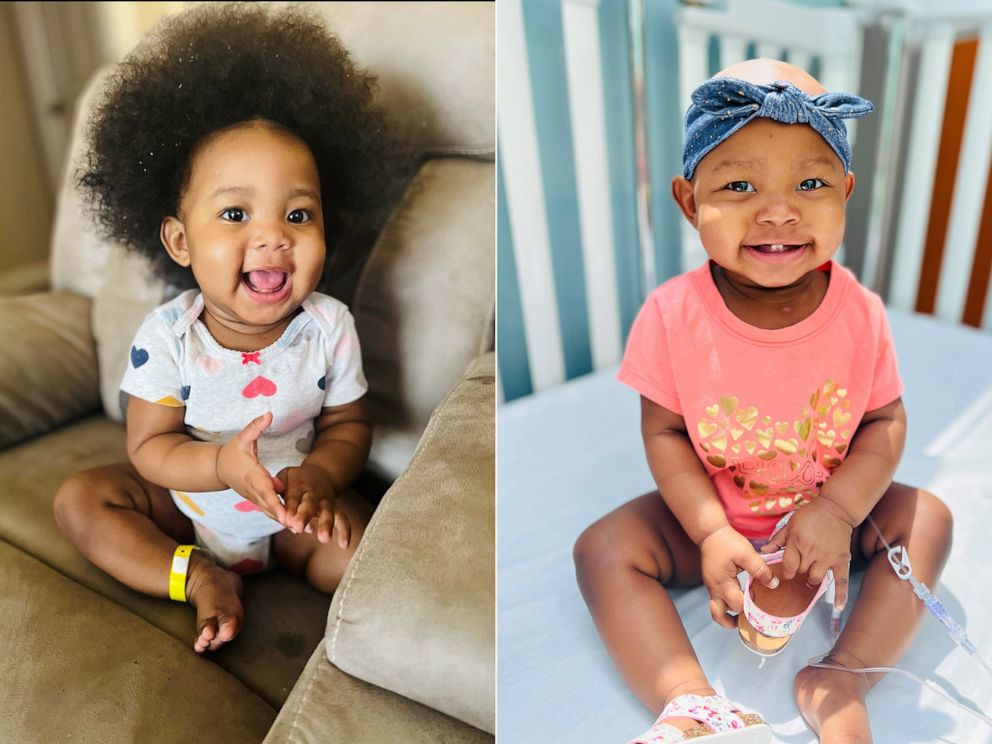 A month later, Kevin Stokes committed to cutting off his own locks -- a big decision, since he'd been attached to his hair for the last decade and it had become something others knew him by, as well.
"I started growing it in 2012. I've always wanted long hair growing up, so this was my opportunity to grow it out and I just kept growing it. And it meant quite a bit to me," he said. "I also didn't have any plans coming up to cut my hair. But when this situation came up on us, I just felt like it was something I needed to do."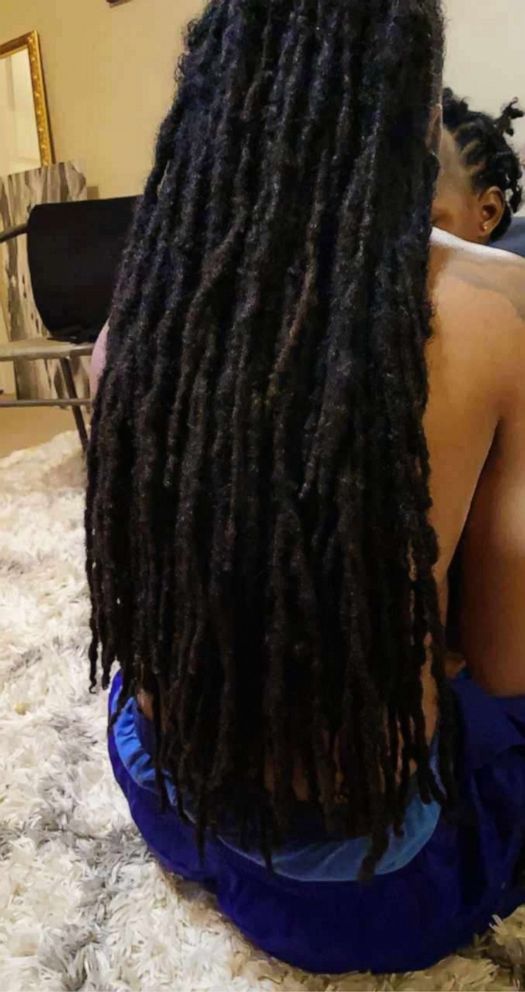 "I decided that I would cut my hair to support her and also bring awareness to neuroblastoma," he continued. "Because everybody always asks me, 'Why did you cut your hair? Why did you cut your hair?' and that gives me a chance to explain to them what we're going through and her diagnosis and her specific cancer."
The Stokes have been documenting Nova's journey on social media and shared a video of Kevin Stokes' hair transformation on TikTok, adding the caption, "Anything for baby Nova!"
Kevin Stokes said that when Nova first saw her dad's newly bald head, she was surprised. "[Both of our children] just stared at me. And then as I got close to them, smiling, I picked her up. She's like, 'Aw, this is daddy,' She started smiling and she touched my head and she was rubbing it and slapping it. So it was a shock for them but they came around to it."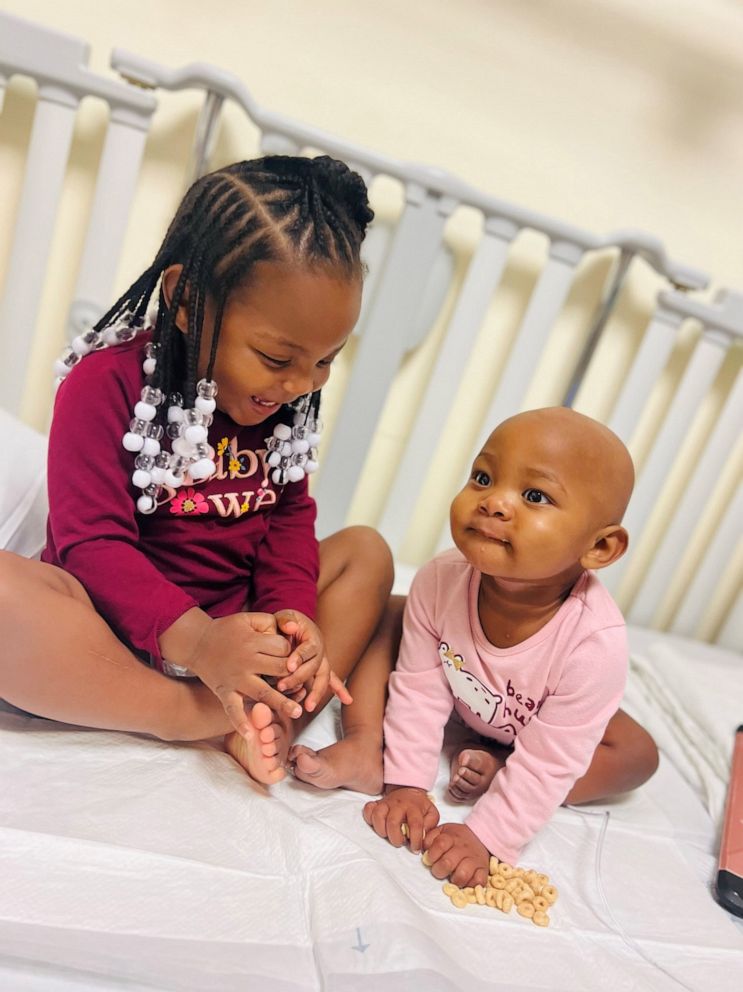 No matter what, Nicolette and Kevin Stokes want their kids -- especially Nova, who they say "always wakes up with a huge smile" and loves to dance to the "Encanto" soundtrack -- to know that they have their backs and unconditional support.
"We are going to do whatever it takes, ranging from researching all night, or whether it's moving to New York City on faith and just figuring out as we go, how we're gonna get her the help that she needs," Kevin Stokes said.