Go beyond markers, crayons and simple coloring books, and teach your kids some new art techniques with these three art projects.
With the closure of many typical summer camps, Susie Allison, the mom of three behind the popular Instagram and parenting blog, Busy Toddler, has launched a virtual summer camp guide to help parents keep their kids busy all summer long.
Allison, who has over 1 million followers with her fun and creative parenting hacks, separates the camp by themed weeks.
This week is Art Week.
"Art Week is magical for kids! This week is about opening them up to art that's not just on white construction paper," Allison told "GMA."
Find the full directions for splatter paint, tape resist art and pointillism below.
Splatter paint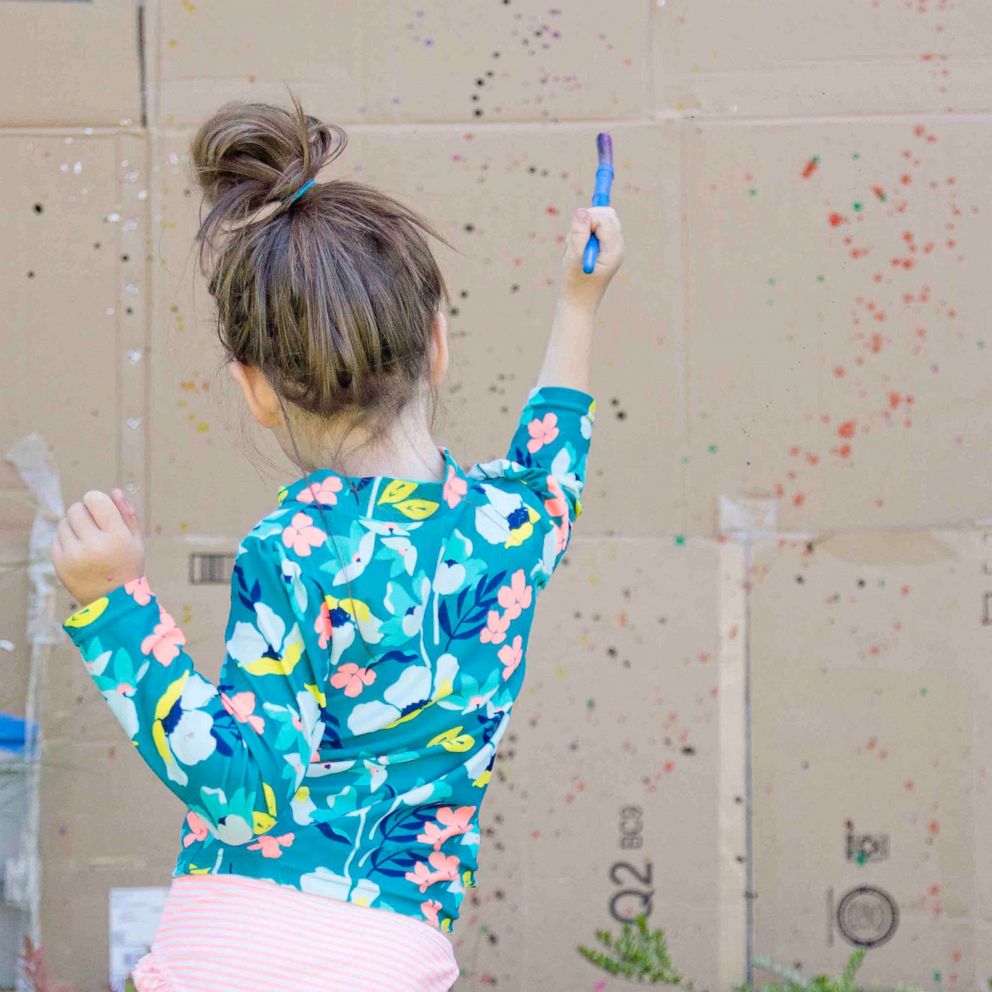 What you need:
Cardboard or large paper
Muffin tin
Paint brushes
Washable paint
Water
What you do:
Place cardboard or large paper on a fence, side of house, or the grass. In a muffin tin, place about 1 tablespoon of each washable paint color. Top with water. This creates a very liquid, mostly water solution colored with paint.
Because it's washable paint and water, it should come clean easily (although always spot test first to be safe).
Show kids how to generously load their paint brushes and fling the paint at the cardboard. The flicking moment to get the paint on the canvas can be tricky so make sure to model how to do it. Rinse paint off with the hose at the end.
"Of course it's messy… but it's also the stuff summer dreams are made of!" said Allison.
Tape resist art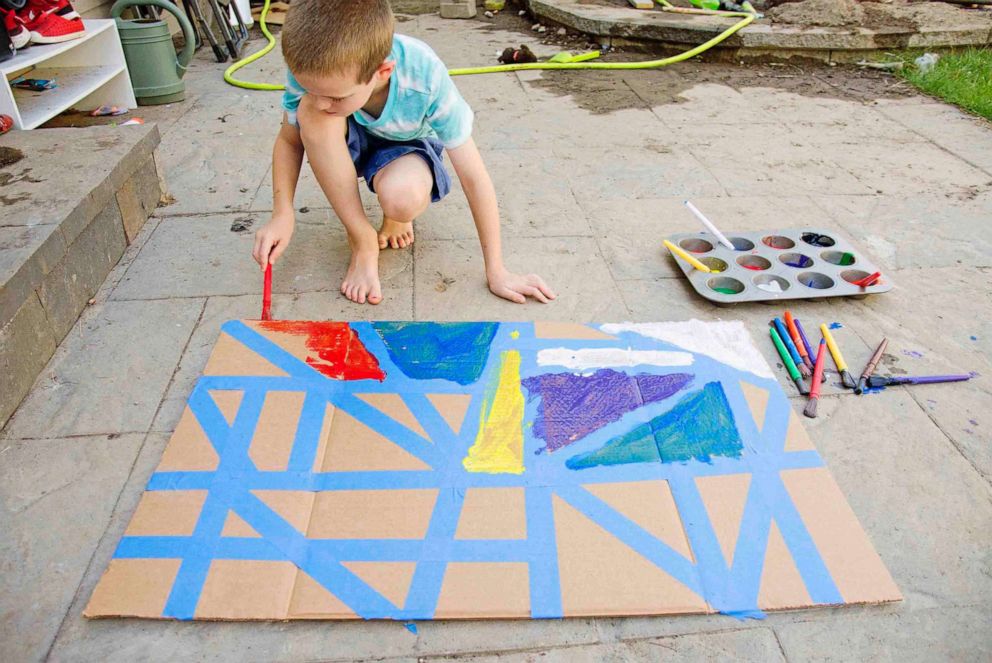 What you need:
Flattened cardboard box
Painter's tape
Washable paint
What you do:
Flatten a cardboard box. Using painter's tape, create shapes, lines, and a design across the box canvas - this can be done by the parent or an older child. With washable paint, let your child paint each shape. Once dry, peel the tape off the cardboard to reveal a wow-factor art moment.
"This activity is amazing because of its age range. From toddlers to adults, everyone can be successful and entertained with this way to paint," said Allison, who added that most supplies can be found easily around the house.
Pointillism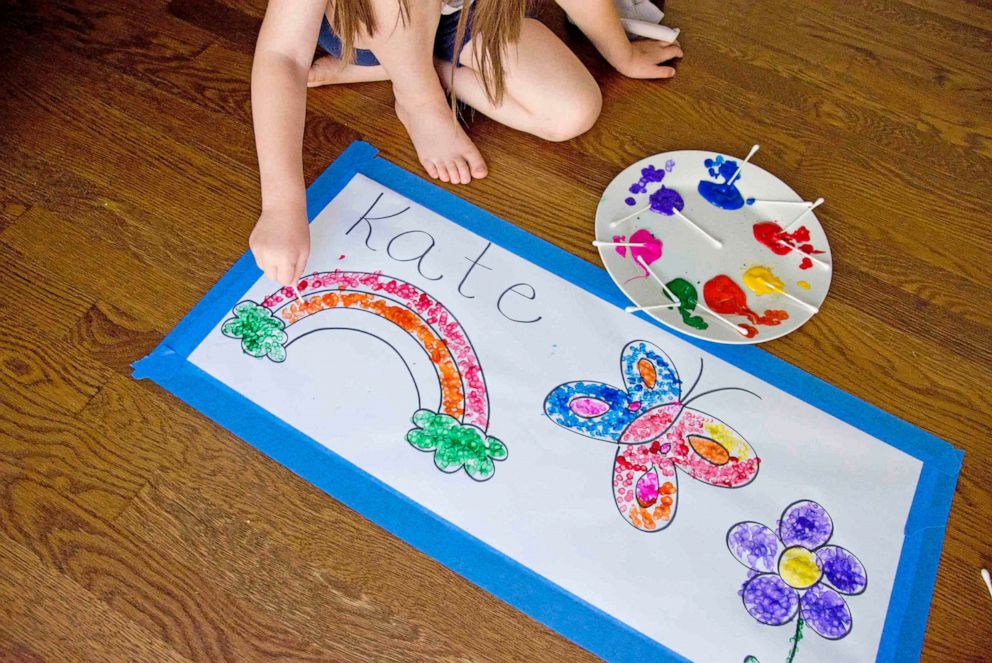 What you need:
White paper
Pen
Washable paint
Plate
Cotton swabs
What you do:
First, show your child some paintings using pointillism (just do a quick Internet search). Explain this art technique and show them how it looks in real life.
Then, on white paper, draw a few shapes or designs for your child to paint. Think simple designs: flowers, butterflies, rainbows. Invite them to help you decide what to draw. This doesn't need to be fancy. Simple is actually best.
Place washable paint on a plate and pair it with cotton swabs. Show your child how to delicately dip the swab in paint and dab it on the paper to mimic pointillism.
WATCH: Here are 3 crafty activities to try at home with your kids
"This can be an eye-opening moment to realize paintings can be made without smooth brush strokes," said Allison, who added that it's perfect for a long, slow summer day. "My 5-year-old worked for close to 45 minutes on this activity. It captivated her and appealed to her meticulous nature."
Visit BusyToddler.com for her full guide and more ideas.