This teacher rewrote 'Part of Your World' for her students
For most parents, the smaller the class size the better when it comes to early education.
But that apparently doesn't apply to Megan Jessens, who's got 80,000 students and is making a difference for each one.
A former kindergarten and now part-time pre-k teacher, Jessens goes live on her Facebook group, Miss Megan's Camp Kindergarten, each weekday morning at 10 a.m. ET for an hour. On any given day, thousands of kids are watching her go over the calendar, letters, sight words and more.
She does it while teaching and managing her own two young kids. She said that's been the most challenging aspect, but it's also helped her to "think outside the box" when it comes to parenting since she's doing it in front of a live audience.
It was for her daughters -- ages 6 and 4 -- that she started camp kindergarten in the first place.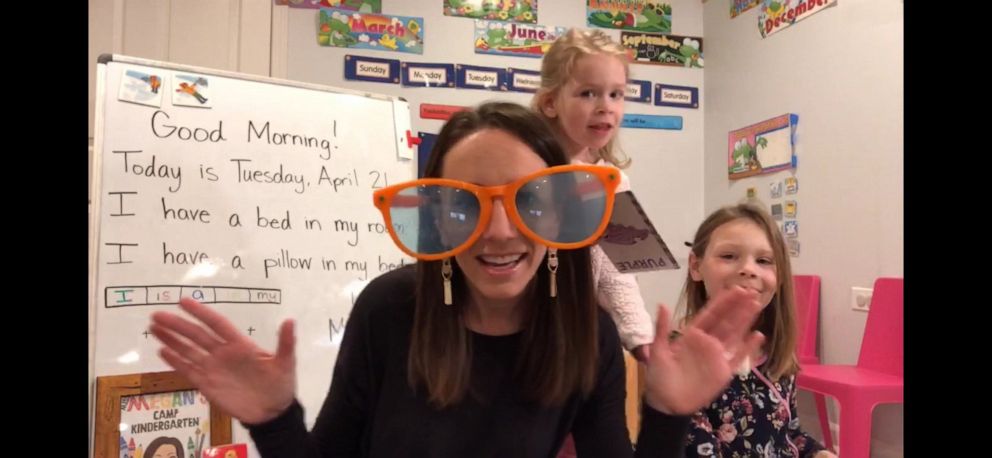 "I'm an advocate of routine and structure," she told "Good Morning America." "I knew for my own girls we would do better with a morning routine. It helps me, too."
Jessens thought she might be able to help out a few other kids too. So, she posted to her Facebook page to find out if anyone was interested. She had 15,000 people in her group before she ever went live.
By Monday, that number has grown to 87,000. It's one of the largest Facebook groups to form since the coronavirus pandemic.
"Now more than ever, people are turning to the tens of millions of Facebook Groups dedicated to every topic imaginable," Facebook said in an email to "Good Morning America. "In fact, in the U.S., we've seen more than 4.5 million people join COVID-19 support groups on Facebook."
In the six weeks since she began, Jessens said she's yet to receive any negative feedback.
"It's something for the kids to look forward to," she said, and helps to free up parents to help older kids with work while the younger children are engaged and learning. "It's a win-win."
Because most parents are not teachers, Jessens said, it's helped give some insight into what goes on inside a kindergarten classroom. She plans to keep up her classes through the rest of the school year with summer to be determined.
Jessen said she never anticipated the way her online class has taken off. But for her own family -- and the ones watching -- it's been a constant they can count on, she said.
"We get up, we get dressed and we go to class. It's the springboard for the rest of the day," she said.