Mom takes kids to jury duty
Moms always do what they have to do to get things done.
For one mom, that included bringing her 18-month-old triplets and then-4-year-old daughter to court with her when jury duty called.
Torrey Scow said when she got the notice for jury duty earlier this summer, she quickly realized that not only would her husband, Kory, be working and not available to stay home with their kids, but her mom, their most frequent babysitter, was also going to be out of town.
Unable to find another babysitter and worried about facing a $1,000 fine for missing jury duty, Scow packed her kids in a wagon with snacks and brought them to court.
"I told Kory, I was like, 'Don't worry about it. I'm just going to take them all in. I'm sure they'll send me right home anyways,'" Scow told "Good Morning America." "I didn't pack any shoes or anything. I did take snacks. We always take a bunch of snacks, thankfully."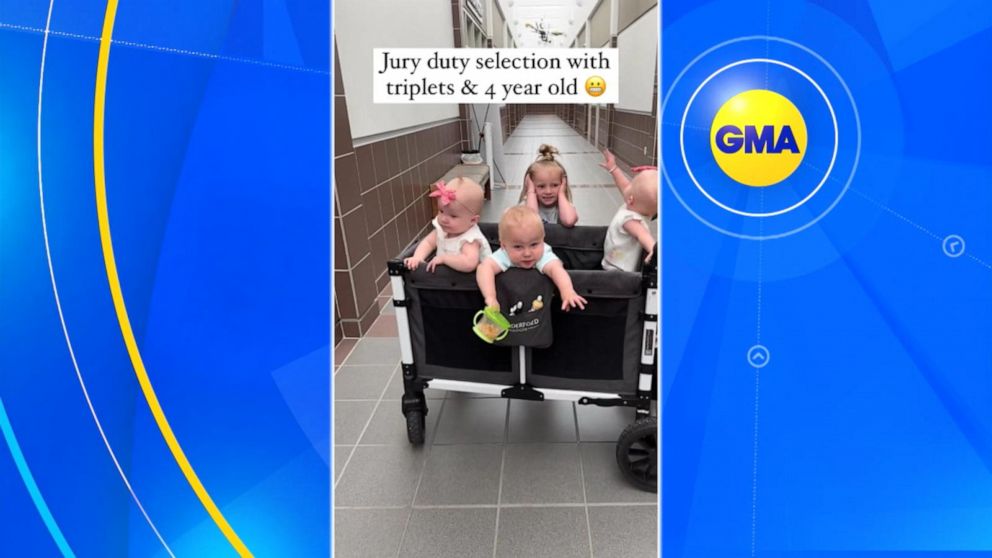 Scow said she didn't bring many toys for the kids and didn't put shoes on the triplets because she thought their time at jury duty would be very brief.
Scow said that to her surprise, even with four young kids inside a quiet jury room, she was not dismissed right away.
Instead, they were kept for about an hour in the general waiting area before being called in with a judge.
"I thought, 'Once we go in with the judge, she'll probably dismiss us,'" Scow recalled. "And we went in there, and she just kept going on and on with all these questions."
Scow described the chaos that ensued while the judge was questioning potential jury members, saying, "[The triplets] were walking up to the judge's table and everything, so I'd go grab one, and as I was walking back, another baby would be walking up, so I'd have to go grab that baby, and it was just like constant while everyone is just sitting there in silence."
Scow said as she was trying to both entertain and control her four kids, a police officer at the courthouse brought over a bin of toys for them to play with, which she said "helped immensely."
In the end, Scow said she and her kids were at jury duty for over two hours before they were able to go home.
In an Instagram video describing the day, Scow noted, "You have to realize that even me and Kory haven't even gone to church with all the babies with me and him for that long, because it's too much."
"I fed them more snacks than they've ever had in their entire life to keep them quiet," she said, later adding, "But we made it and we showed up."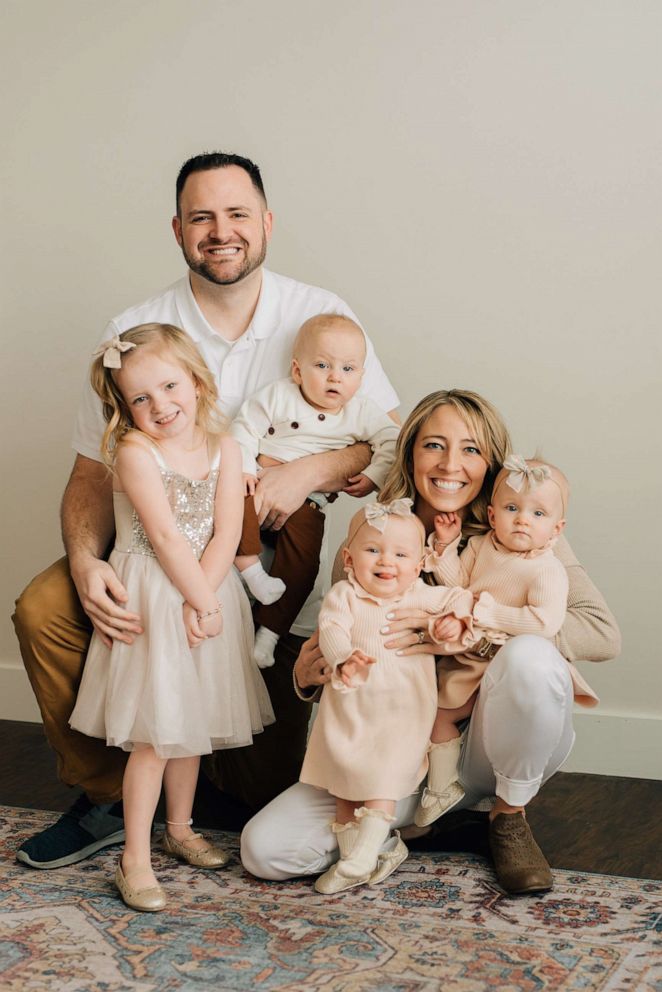 In addition to the police officer who helped by bringing toys, Scow said a person in the waiting room helped entertain her older daughter, Emory, now 5, while others commended her for even showing up to jury duty.
"People were so nice after," Scow said. "They're like, 'Oh, I admire you! I couldn't have done that.'"