A rare set of triplets are home from the hospital just in time for Thanksgiving!
Sami Hampton delivered identical triplets Gwynevere, Calliope and Scarlett via cesarean section at St. Vincent Healthcare in Billings, Montana, on Oct. 12 but it wasn't until Monday when all three girls could be discharged.
"I know just that these girls are just the biggest blessing, and I can't imagine our lives without them," Sami Hampton told "Good Morning America." "I'm so thankful and so excited and looking forward to this, and it's really helpful to have such a supportive partner and amazing dad to help us. It's just wonderful."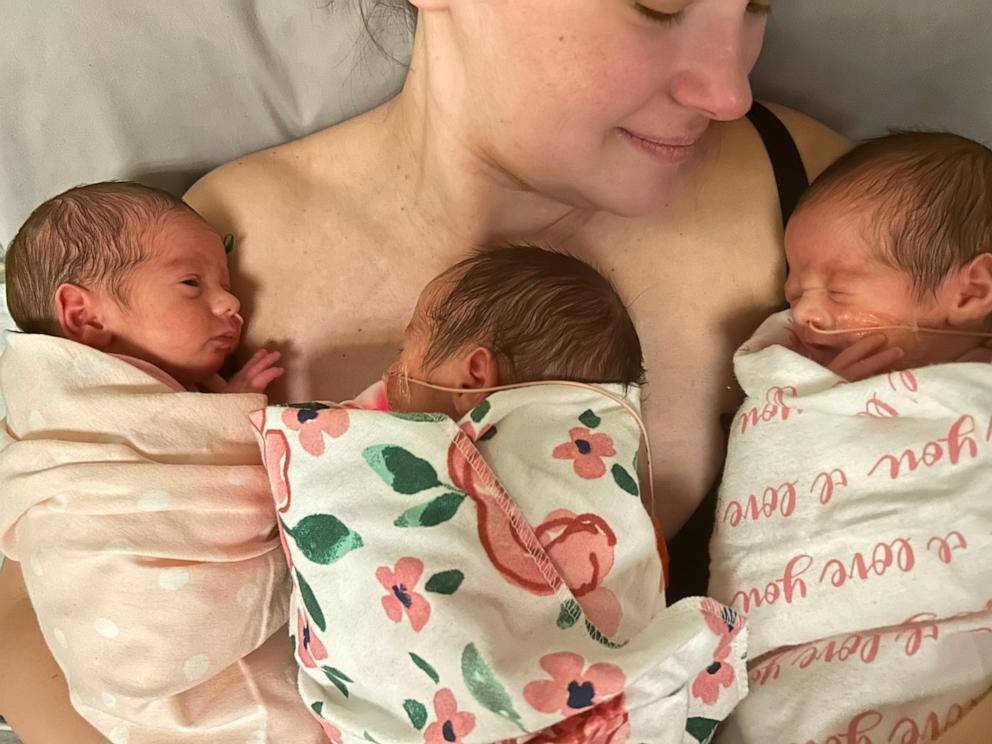 The sisters were a big surprise for Sami and her husband Theo Hampton, who told "GMA" neither of them has a family history of multiple babies. According to their doctor, Dr. Michael Gordon, a maternal-fetal medicine physician at St. Vincent Healthcare, the baby girls are monochorionic diamniotic triplets, meaning two babies shared a sac and all three shared a placenta, a case that's even more rare than a typical set of triplets.
"It's really uncommon," Gordon explained.
Gordon, who has been a maternal fetal medicine physician for the past two decades, said he has "seen almost every type of triplets there is" but he had never seen monochorionic diamniotic triplets like the Hampton triplets before, and doubts he would see another set like them again in his career.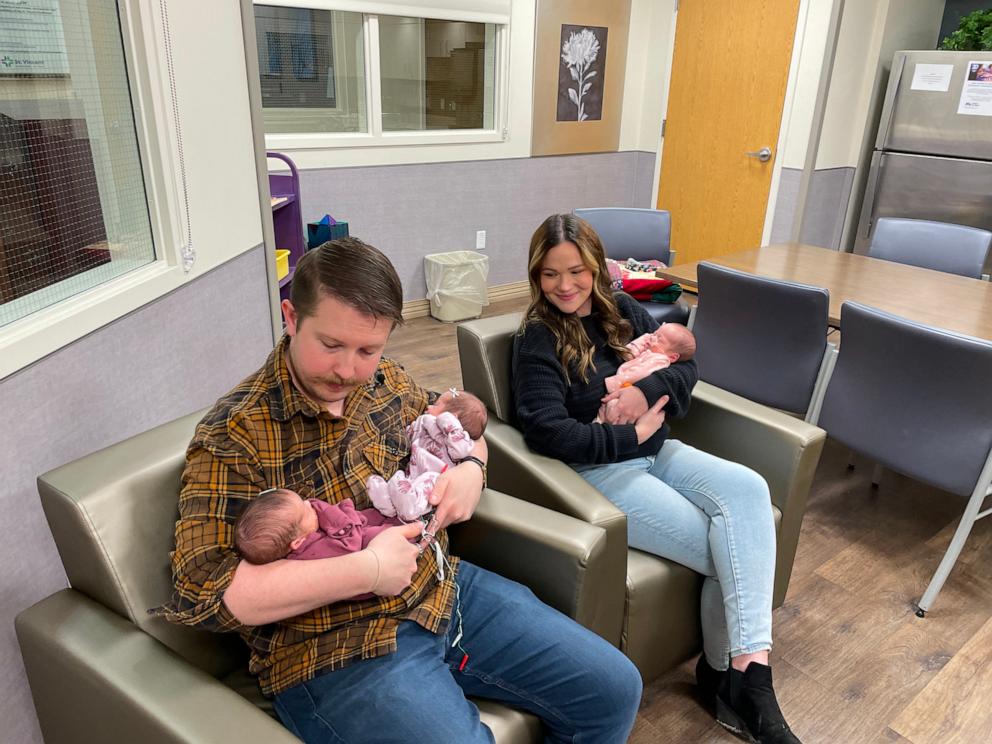 "They all had vascular connections and so they [were] basically sharing blood. And then the two were in the same sac and they're the ones that [can] have all the umbilical cords twisted around that have a risk of having a cord accident," Gordon said of one example of the potential complications that could've happened with the Hampton triplets.
Despite the long list of risks the Hamptons faced, Gordon credited their positivity and strength for the triplets' healthy outcomes so far.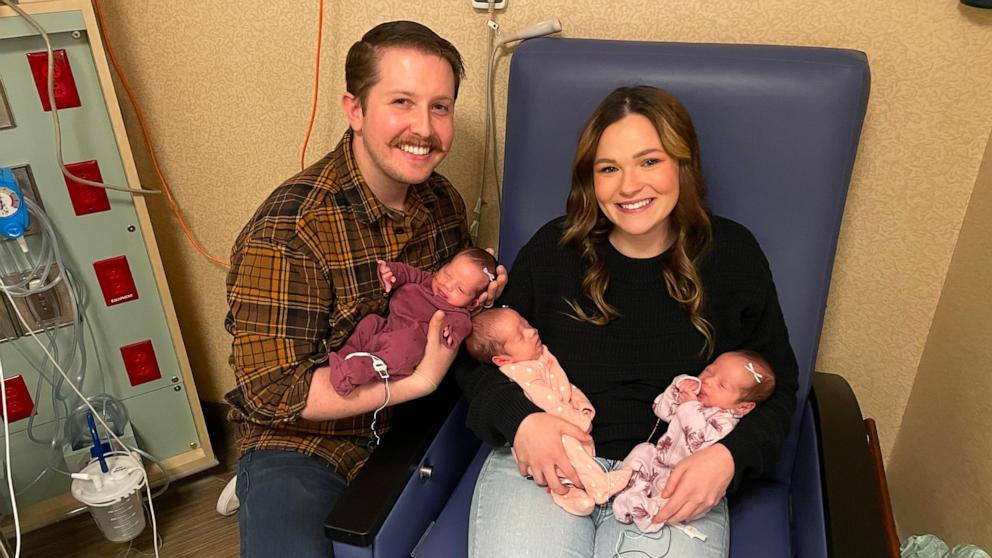 "I remember talking to Sami and Theo, the first day, I think it was a Friday -- it took about an hour and a half. We just kept going over risk [after] risk, and that young couple never wavered in their belief. They never wavered in their trust. And it was amazing how good a young couple they are."
Sami Hampton had to spend the last six weeks of her pregnancy in the hospital, starting on Aug. 30, but was able to deliver the girls a few days shy of 32 weeks. Now, the family all share October birthdays, with Sami Hampton's birthday on Oct. 1 and Theo Hampton's birthday on Oct. 27.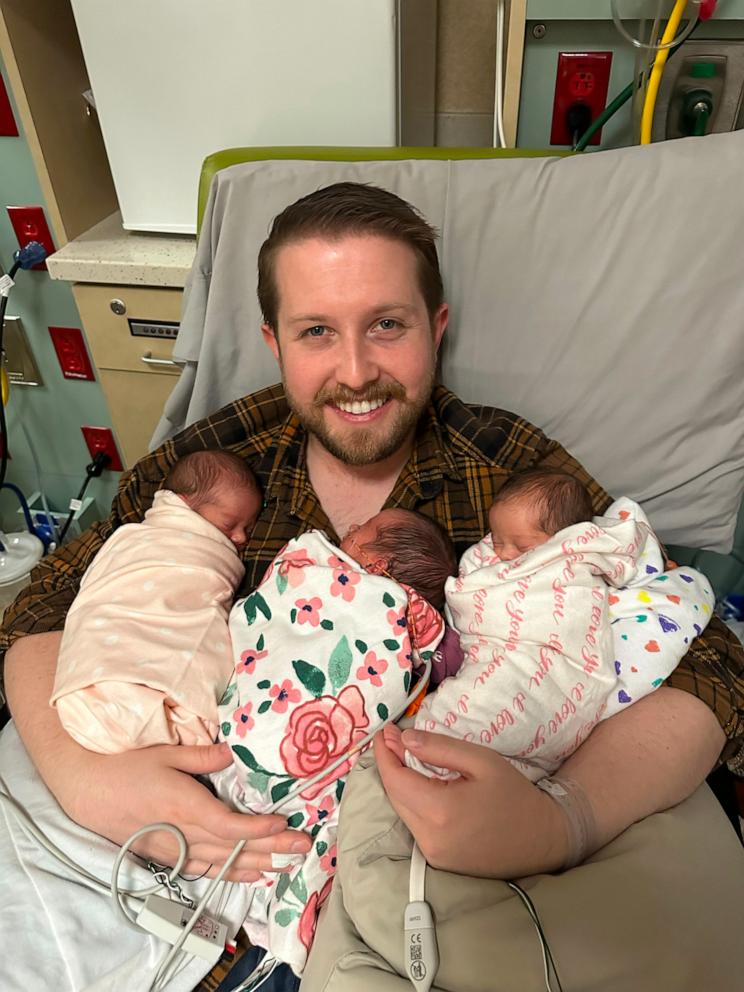 Theo Hampton said the baby girls, who had to spend time in the neonatal intensive care unit, continue to surprise him and his wife.
"They were born with no complications and they are all ahead of schedule from what we anticipated. We were honestly expecting to take them home more like mid-December, so even that got pretty quick," Theo Hampton said. "So, they've just been doing really great every step of the way. And for all their benchmarks, they've been killing it."
The Hamptons said they are grateful for their health care team at St. Vincent and feel "very lucky" and are "very excited" to start their new chapter reunited at home.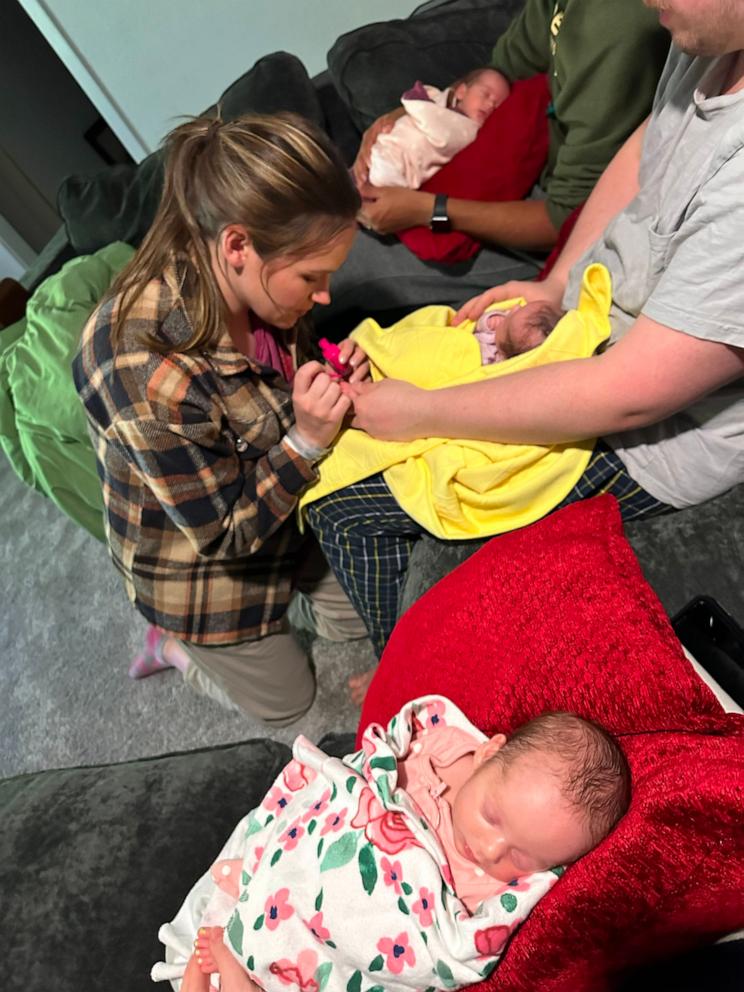 "From labor and delivery to maternity to the NICU, they all have been like, silently cheering us ... and they've been making sure that I've been taken care of and the girls are taken care of, and they've been really going to bat for us," Sami Hampton said.
"We've got lots of friends that are going to jump in and help us take care of them," Theo Hampton added ahead of the girls' homecoming. "So it'll be great."