Celebrity chef and restaurateur JJ Johnson has perfected "the simple art of rice," and his new cookbook is a love letter to the grain that has connected cultures and transformed cuisine for centuries.
Johnson joined "GMA" on Monday to demonstrate how to make the perfect rice, and explained his favorite techniques and how to prep ingredients in spice packets to develop rich flavors.
The cultural tastemaker and James Beard Award-winning chef is well known for his unique and innovative approach to African Caribbean cuisine. His highly-anticipated new title, "The Simple Art of Rice: Recipes from Around the World for the Heart of Your Table," celebrates Johnson's culinary philosophy that he has championed at his chain of multi-unit fast casual rice bowl restaurants, Fieldtrip.
Johnson's concept also champions sustainability, as he works with local rice farmers and producers to source the freshest ingredients.
Check out a few recipes excerpted from his new cookbook below.
Herbed Shrimp with Cilantro Lime Rice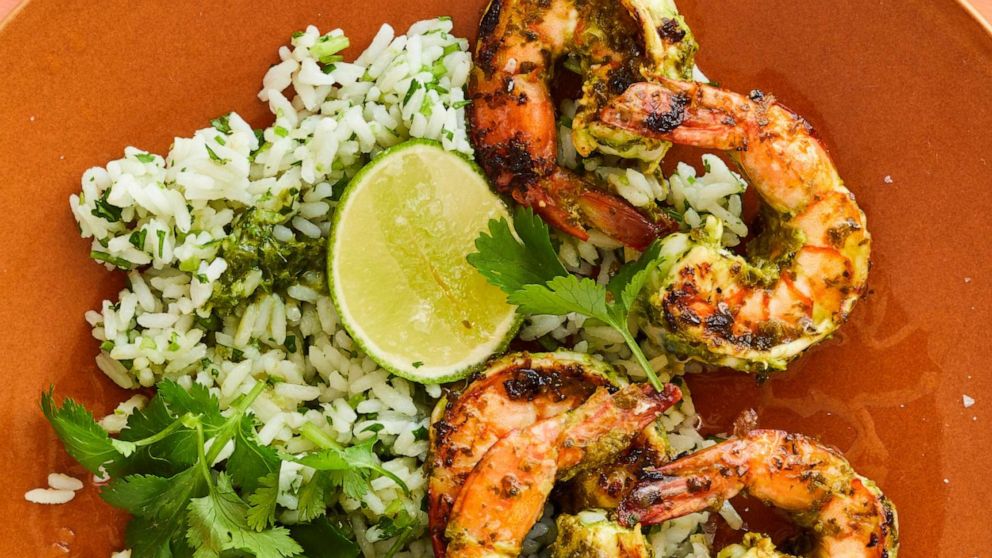 "I used to love the cilantro lime rice my mom made from a box when I was a kid. Now I like to make this fun dish for my family at home. The key, though, is using all fresh ingredients for the rice, including fresh herbs and lime juice. The versatile marinade also tastes great with chicken, swordfish or grilled vegetables."
Active cook time: 35 minutes (plus 30 minutes marinating time)
Serves: 3 or 4
Ingredients
For the herbed shrimp:
Grated zest and juice of 5 limes
1 bunch cilantro, tough stems removed
1 bunch Italian parsley, tough stems removed
1 bunch chives
1/2 cup extra-virgin olive oil, plus more for the grill
Kosher salt (preferably Diamond Crystal)
1 pound jumbo shrimp, peeled and deveined
1/2 teaspoon freshly ground black pepper
For the cilantro lime rice:
2 tablespoons unsalted butter
2 cups long-grain white rice, rinsed
3 1/2 cups water
1 teaspoon kosher salt (preferably Diamond Crystal)
1 bunch cilantro, stems removed, leaves chopped
Grated zest of 1 lime
1/4 cup fresh lime juice (from about 3 limes)
Directions
For the herbed shrimp:
1. To marinate the shrimp, add the lime zest, lime juice, cilantro, parsley, chives, olive oil and 1 teaspoon salt to a food processor and pulse to a coarse paste.
2. Place the shrimp in a bowl and add 1 teaspoon salt, the pepper and three quarters of the marinade. Toss well to combine, cover and refrigerate for 30 minutes. Refrigerate the remaining marinade in a small bowl for dipping.
For the cilantro lime rice:
1. In a medium saucepan, melt the butter over medium heat. Add the rice, stir and saute for about 4 minutes, until lightly colored. Add the water, stir, and bring to a boil. Reduce the heat to low, cover, and simmer for 20 minutes.
2. Remove from the heat and let the rice steam, covered, for 10 minutes.
3. Fluff the rice with a fork and add the salt, chopped cilantro, lime zest and lime juice.
4. Meanwhile, prepare a hot fire in an outdoor grill or preheat a large grill pan over high heat.
5. Oil the grill grate or the preheated grill pan. Grill the shrimp for 2 minutes on each side, or until cooked through.
6. Transfer the shrimp to a serving platter. Serve with the rice and the reserved marinade for dipping.
Israeli Rice Salad with Fennel and Mint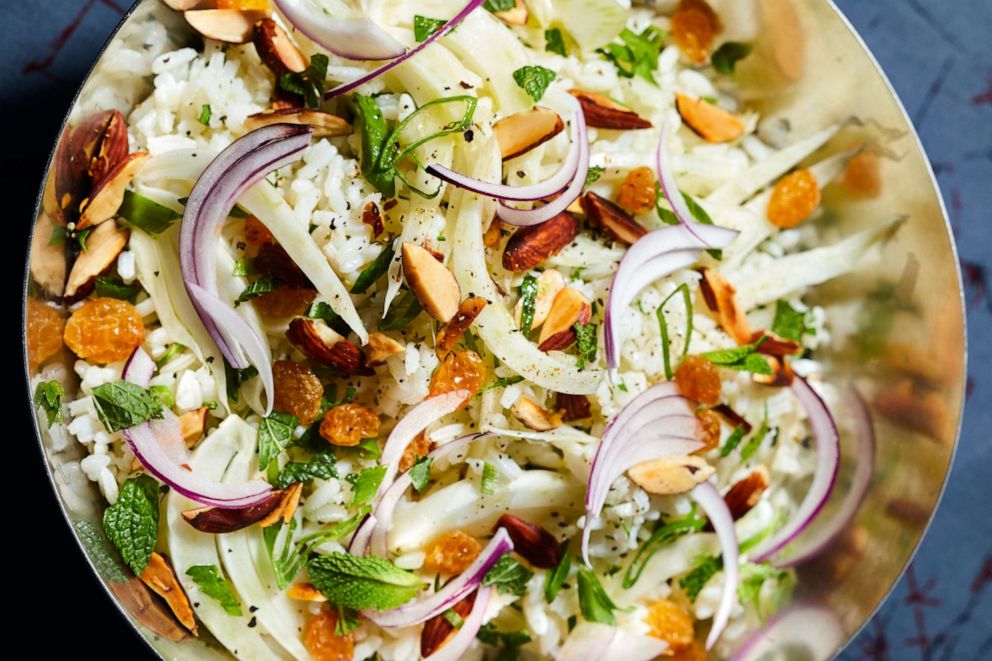 Active cook time: 55 minutes
Serves: 6
"In 2015, I cooked at the Waldorf Astoria hotel in Jerusalem under the mentorship of chef Itzik Barak Mizrachi. At that time in my career, I kept pushing boldness and rich spices in my cooking, but he taught me how to also use light, fresh, clean flavors. I developed this salad while working with him. It's not a traditional Israeli salad, but it incorporates many ingredients you'd find in that region -- in Israel, the produce is just spectacular. The crisp crunch of shaved fennel and the refreshing tang of citrus and mint make this salad a great choice for hot weather. Be sure to adjust the seasonings at the end -- the proper amounts of salt, lemon juice, and freshly ground black pepper will bring the salad fully to life."
Ingredients
1/2 cup slivered almonds
2 cups long-grain white rice, rinsed
4 cups water
1/4 cup extra-virgin olive oil
Finely grated zest and juice of 3 large lemons, plus more juice if needed
Kosher salt (preferably Diamond Crystal) and freshly ground black pepper
1 small fennel bulb, trimmed and shaved
1 small red onion, shaved
1/2 cup golden raisins
3/4 cup finely chopped fresh mint
1/2 cup finely chopped fresh Italian parsley
2 large scallions, thinly sliced
Instructions
1. In a small dry skillet, toast the almonds over medium heat until lightly golden, 2 to 3 minutes. Transfer to a plate and set aside.
2. Combine the rice and water in a medium saucepan and bring to a boil. Reduce the heat to low, cover and simmer until all the water is absorbed, about 20 minutes.
3. Remove from the heat and let the rice rest, covered, for about 10 minutes.
4. Meanwhile, in a small bowl, whisk together the olive oil, lemon zest, and lemon juice. Season to taste with salt and pepper.
5. In a large bowl, combine the rice, fennel, onion and raisins and toss well. Add the mint and parsley and toss again.
6. Add about half the lemon dressing to the rice, mixing well. Add more dressing to taste, taking care not to overdress the salad; you may not need all the dressing. Taste and adjust the salt, pepper, and/or lemon juice as necessary.
7. Transfer the salad to a serving bowl or individual plates. Garnish with the toasted almonds and sliced scallions and serve.
Za'atar and Turmeric Rice Spice Packet
"Za'atar is a popular Middle Eastern spice blend. For this packet, you can use a pre-mixed dry za'atar blend. With its earthy herbal flavors, za'atar blends beautifully with turmeric, which is prized for its anti-inflammatory effects and will give your pot of rice a vibrant golden color (be careful, it stains!). The cooked rice will be nutty, toasty, and a hint tangy. Garnish with lemon wedges and chopped mint for a bright, fresh finish."
Instructions
In a sealable bag, combine 1 cup jasmine rice, 1 teaspoon za'atar, 1/2 teaspoon ground turmeric, 1/4 teaspoon crushed Aleppo pepper or Maras pepper.
For garnish, optional, use lemon wedges for serving and chopped fresh mint.
Yellow Rice Spice Packet
"Yellow rice is found in many different cuisines. This easy spice mix gives you a flavorful and healthier version of a popular boxed rice. Turmeric tastes earthy and bitter and a bit peppery, but it is known most of all for its gorgeous golden color and its health benefits. It balances well with the granulated garlic and the sweet dried shallots. I love to pour the pan juices from roasting a chicken over this rice just before serving, topped with fresh parsley."
Instructions
In a sealable bag, combine 1 cup jasmine rice, 2 teaspoons dried shallots, 1 1/2 teaspoons ground turmeric, 1 teaspoon granulated garlic.
For garnish, optional, chopped fresh Italian parsley.
Reprinted with permission from "The Simple Art of Rice" by JJ Johnson with Danica Novgorodoff, Flatiron Books 2023. Photo credit: Beatriz da Costa.