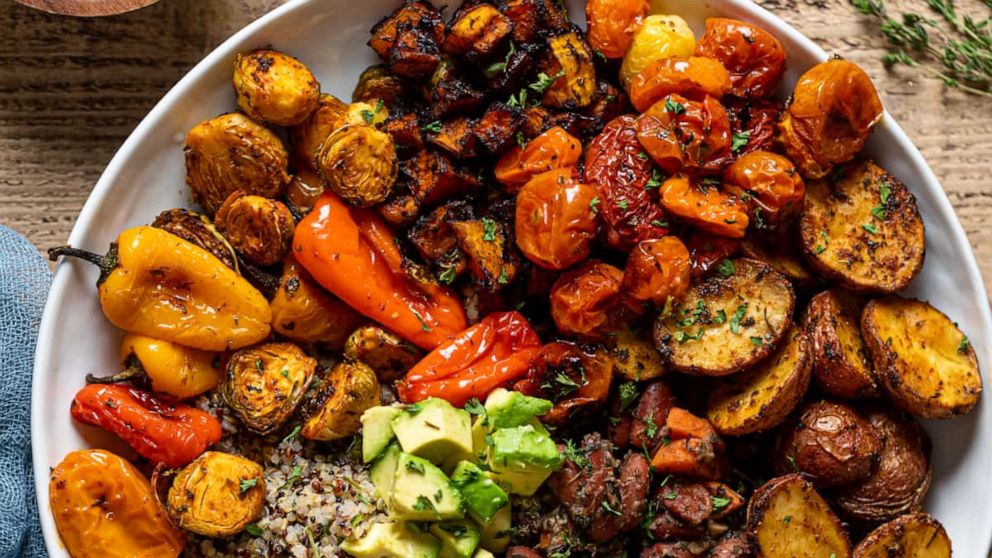 Spice up your weeknight dinner with this vegan power bowl that boasts bold flavors and ingredients to keep warm amid the winter chill.
"Good Morning America" Food is taking the guesswork out of dinnertime and helping you find delicious and fast dishes to whip up any night of the week.
Orchids and Sweet Tea food blogger and cookbook author Shanika Graham-White shared her vegan Jamaican power bowl recipe below.
"This Vegan Jamaican Power Bowl is the ultimate plant-based dish for the entire family. Notes of spicy, sweet, and savory which create a beautiful balance of texture and flavor in one bite," she said of the dish. "In the Jamaican culture, Rastafarians usually eat vegan bowls because a part of their belief is in consuming whole ingredients that are natural. And because I've known a few Rastas myself and love their philosophy on life, I'm paying homage to them with this one. In the words of a Rastafarian, 'Ital is vital," meaning that we should eat food grown from the earth, unmodified."
Prep Time: 25 minutesCook Time: 30 minutes
Ingredients
1 small butternut squash, peeled + cubed (About 1 lb.)
1 tablespoon extra virgin olive oil
2 tablespoons homemade jerk seasoning (recipe below)
Homemade jerk seasoning
1 tablespoon onion powder
1 tablespoon garlic powder
2 teaspoons cayenne pepper
2 teaspoons salt and black pepper
2 teaspoons dried thyme
2 teaspoons brown sugar
1 teaspoon ground allspice
1 teaspoon dried parsley
1 teaspoon paprika
1/2 teaspoon red pepper flakes
1/2 teaspoon ground cinnamon
1/2 teaspoon ground nutmeg
1/2 teaspoon ground clove
1/4 teaspoon ground cumin
Roasted veggies
2 pounds baby yukon potatoes (see notes)
1 pound Brussels sprouts, halved
8-10 mini sweet peppers, halved
1/4 cup extra virgin olive oil
1 1/2 tablespoons sea salt
1 1/2 tablespoons black pepper
1 1/2 tablespoons dried oregano
1 1/2 tablespoons dried basil
1 1/2 tablespoons garlic powder
1 1/2 tablespoons dried parsley
1 1/2 tablespoons smoked paprika
1 teaspoon red pepper flakes
Light stew peas:
1 tablespoon extra virgin olive oil
1 (15 oz.) can kidney beans, drained + rinsed
1 carrot, peeled and chopped
1 1/2 cups full-fat coconut cream or milk
2 tablespoons organic vegetable stock
2 garlic cloves, minced
1/2 red onion, diced
2 scotch bonnet peppers, left whole!
1 teaspoon sea salt
Pinch of black pepper
1 teaspoon dried parsley
1 teaspoon dried thyme
1/2 teaspoon smoked paprika
1/4 teaspoon ground all-spice
Cooked quinoa (cook according to packaging)2 cups herb-roasted tomatoesHass avocado, peeled and dicedHomemade dairy-free lemon garlic dressing