Watch this baby's hilarious reaction to 1st taste of ice cream
To celebrate National Ice Cream Day on July 19, some of your favorite spots are offering discounts and freebies.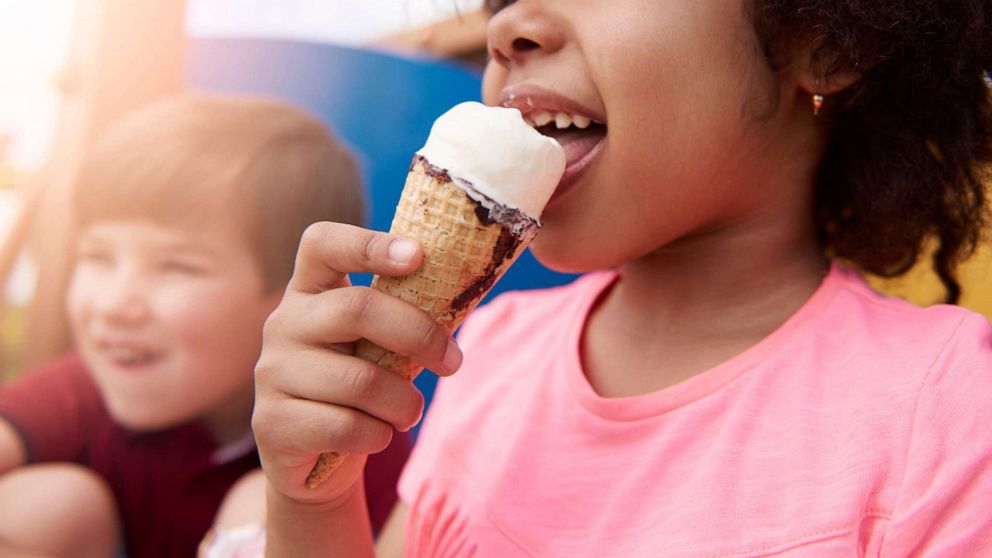 This holiday was started in 1984 under former President Ronald Reagan, who declared July National Ice Cream month and called ice cream "the perfect dessert and snack food."
(We agree!)
Here are the deals and freebies for National Ice Cream Day you can scoop up while supplies last. Check your local stores for participating locations.
Baskin-Robbins
On July 19 Baskin-Robbins is offering a free scoop on orders of $15 or more through DoorDash. Use the promo code BASKINSCOOP on DoorDash.com or in the DoorDash app to redeem while supplies last.
For those who can't make it on July 19, Baskin-Robbins is celebrating the entire month with free delivery on your favorite Baskin-Robbins scoop. According to the company's website, get your favorite Baskin-Robbins flavor delivered with $0 delivery fee on orders $15 or more through DoorDash -- a deal valid through July 31.
Dairy Queen
Due to COVID-19, Dairy Queen was forced to cancel Free Cone Day in March. To make up for it, on July 19 the chain is offering $1 off any size dipped cone through the DQ mobile app at participating locations.
Only one cone per customer, so choose your flavor wisely.
Friendly's
Not only is it National Ice Cream month, but it's Friendly's 85th birthday!
The double celebration calls for a sweet deal. From July 18 through July 19, BFF members get 85-cent cones. To sign up to be a BFF member, download the mobile app or sign up online before the weekend and get a free cone deal automatically.
GoPuff
While not a traditional ice cream retailer, GoPuff, the convenience store delivery service, is honoring the holiday with a pint-sized deal -- or two.
From July 13 to July 18, GoPuff is offering any two pints of Ben & Jerry's or Talenti Ice Cream for $10. On July 19, any two pints cost just $6.
Coconut Bliss
Hey, can't have dairy? No worries, Coconut Bliss, a dairy-free, plant-based ice cream, can help you celebrate anyway.
From July 17 to July 19, use code BLISSDAY15 to get 15% off your total online order of four or more products including bars, pints and sandwiches.
Cumberland Farms
In order to celebrate the holiday, Cumberland Farms is offering customers $1 off any "Ultimate Scoop Ice Cream" flavors for a price of $4.49 a pint!.
Customers can text the word SCOOPS to 64827 to receive $1 off.
So Delicious
So Delicious is another sweet option for all those who are dairy -free. To gear up for National Ice Cream Day, So Delicious is announcing their "Every Day is Sundae" campaign by partnering with a few famous foodies on Instagram.
From July 12 through July 19, So Delicious will be sharing dairy-free ice cream recipes. On July 19, 50 fans who comment and tag a friend on Instagram, have a chance to win two free personalized So Delicious Frozen Dessert pints.
Sensodyne
A toothpaste company is celebrating National Ice Cream Day? Why not! On July 19, customers who Tweet "#SensodyneSundae + #giveaway + [ice cream emoji]" will receive same-day delivery of a cooler bag that includes one pint of ice cream, an ice cream bowl, delicious sundae toppings and Sensodyne toothpaste (to prevent cavities after the treat, of course!).
The giveaway is while supplies last in New York City, Los Angeles, Chicago, San Francisco and Philadelphia.
My/Mo Mochi
Time to get your game face on, My/Mo Mochi is giving away 100,000 of its sweet Japanese-inspired ice cream balls to the lucky winner of their "Chompionship Games," a virtual competition on social media.
Hosted by Instagram star Baddiewinkle, My/Mo Mochi will be posting a daily challenge from July 12 through July 19. Players participate in the games by posting videos to TikTok or Instagram of them competing and tagging @mymomochiicecream and #MyMoChompionships.
One grand prize wInner will be selected at random to receive a year's supply of My/Mo Mochi on National Ice Cream Day.
Whole Foods Market
On July 15 through July 28, Whole Foods Market is offering 35% off Ice Cream & Frozen Treats for Prime Members.
Plus, the grocery retailer is teaming up with a sweets professional - Milk Bar's Christina Tosi. Together, they're sharing three unique ice cream sandwich recipes with mix-ins found at Whole Foods Market.
O'MY Dairy Free Gelato
Need a dairy-free option delivered right to your door?
O'MY Dairy Free Gelato is offering a 20% (+ free shipping) deal in July if you use the code SUMMER at checkout.
Insomnia Cookies
There's nothing quite like an iconic pair like ice cream and cookies. To celebrate its sweet, frozen-counterpart, Insomnia Cookies is releasing the Monster'wich on July 19.
On National Ice Cream Day, bring a friend because you can double the fun by buying one Monster'wich and getting another free.
The Ice Cream Shop
Celebrate National Ice Cream Day safely this year by staying home. The Ice Cream Shop is offering free deliver on July 19 from Uber Eats, Postmates, DoorDash and Grubhub. Find your fan-favorite brands like Ben & Jerry's. Talenti, Magnum, Breyers and Good Humor.
The delivery discount will be automatically applied to orders on UberEats, DoorDash and Grubhub. When using Postmates, use the code "ICECREAMNOW."