Whole ingredients packed with nutrients are a key component to cooking and eating like Padma Lakshmi. And the "Top Chef" host takes her home cooking to the next level with inventive flavor and texture combinations.
The bestselling cookbook author, TV host and food expert told "Good Morning America" all about her favorite pantry staples and shared some easy tips to transform everyday ingredients into delicious and healthy dishes.
Utilizing foods she typically has on hand and elevating them is "basically how I cook," Lakshmi said. "I'm a big believer in doing that because honestly that's how most people actually cook ... sometimes you're like, 'I don't want to go to the store, what can I make?'" She added, "the thing that you really need to have a little bit of [are] just a few fresh fruits and vegetables so that it doesn't go bad."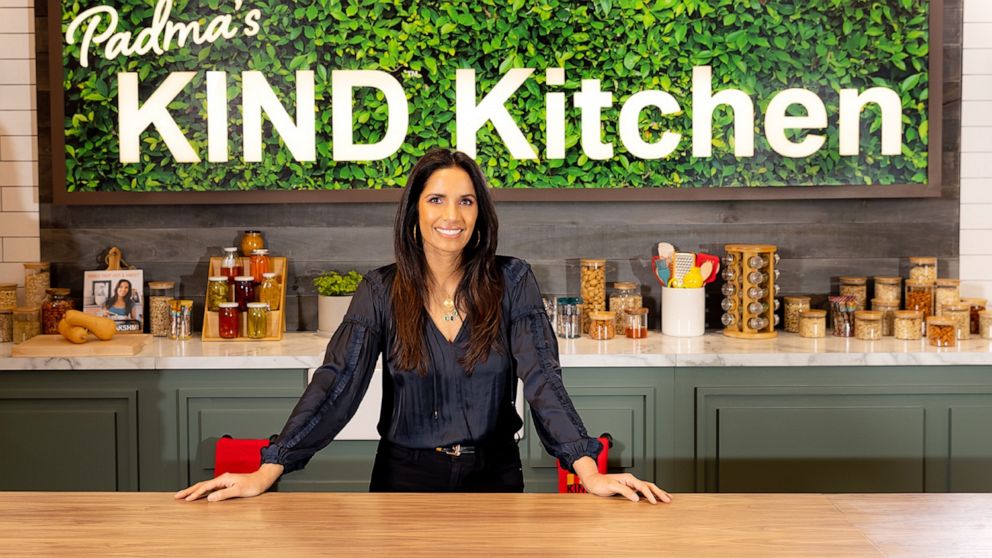 Lakshmi created a wholesome, snackable menu for a new pop-up kitchen inside New York City's iconic Chelsea Market as the first-ever culinary partner for Kind's secret farmers market -- an interactive and educational experience where visitors can shop fresh ingredients from grains and nuts to fruit, free-of-charge, as well as create acts of kindness and donate foods to local charity partners.
She created three recipes -- "two savory and one sweet," Lakshmi said of her lentil salad, roasted butternut squash toasts, and almond date bites. Check out all three dishes to replicate in your kitchen below.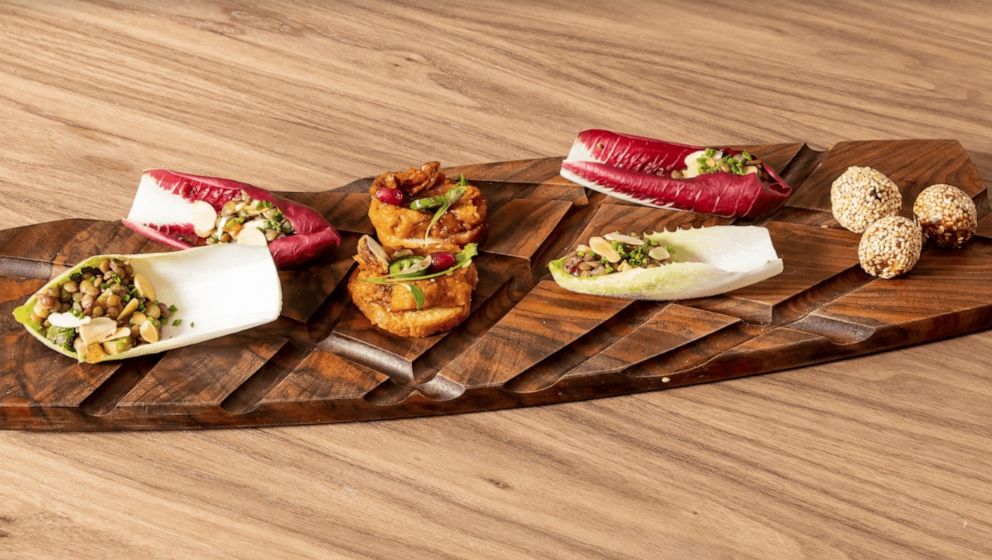 The "Taste the Nation" host also highlighted the importance of maintaining and respecting the integrity of ingredients -- like how she learned the art of making masa for handmade corn tortillas at Elemi in El Paso, Texas, on the show.
"I think it's important to have healthy things readily grabbable. And hopefully they're whole foods," Lakshmi explained. "Having things you can recognize things you can see and as close as they occur in nature."
Padma Lakshmi's Top Cooking Tips for Everyday Ingredients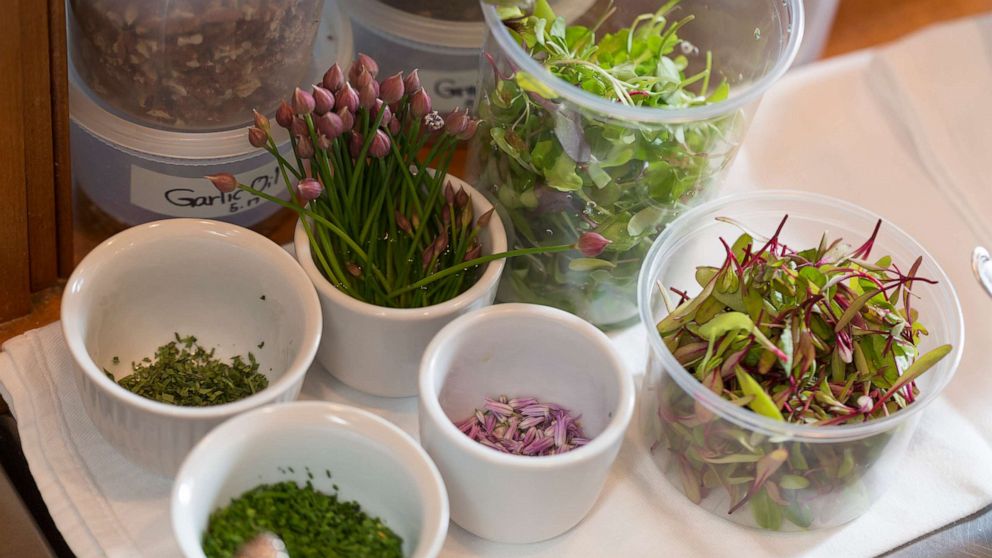 "I'm mostly plant-based when I'm not working. I have to eat so much for both my TV shows. I love lentil salads, I also love white beans, I make white bean salads in the same vein," she told "GMA."
Prep ingredients in big batches
"My big tip [and] what I always tell people is what big chefs do, they make their own mise en place ahead of time. On the weekends I will chop up onions, garlic, ginger, tomatoes, bell peppers, cause I know I'm gonna need them and just put them in containers and keep them in the fridge."
"You can even do that with roasting vegetables, just roast sheet trays of vegetables and you can just chop them up really big seasoned with olive oil, rosemary, thyme, salt and pepper and that's it -- keep those in containers and you can use it to make toasts, toss it with some beans, some lentils -- and then you've got a meal," she suggested.
Her top 3 spices and herbs to add to any pantry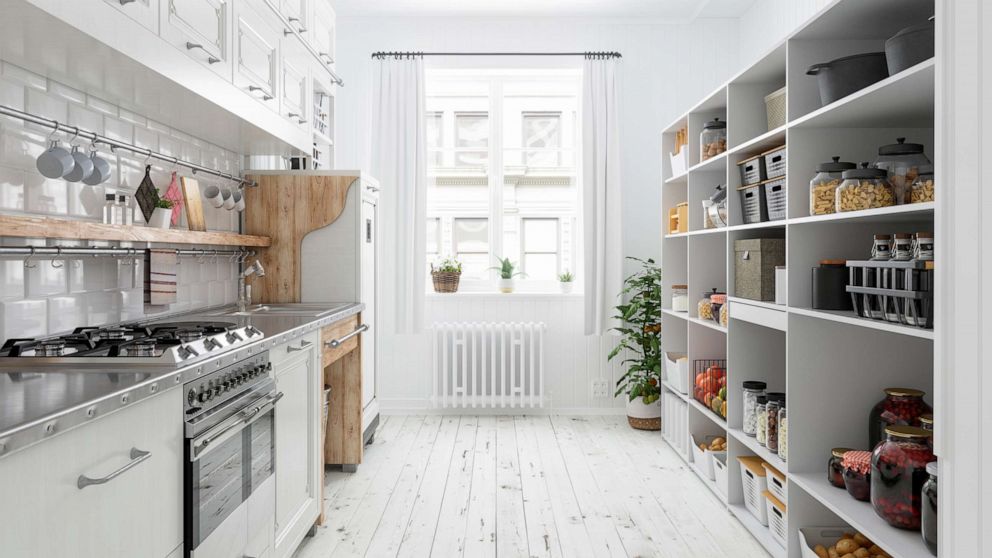 Lakshmi said her top three must-have spices: Herbs de Provence, "because that is like an all purpose Mediterranean seasoning -- just make sure it doesn't have salt," she said. Sumac, a fruity and acidic option that "looks beautiful with it's lovely burgundy color" that she suggests using for salad dressings "when you don't want something so acidic like vinegar or lemon juice -- it's a great way to add acidity without adding moisture to a dish also." And finally "a really simple blend that you can make at home of equal parts roasted coriander seeds and roasted cumin seeds." Once the two spices are dry roasted in a pan, blitz them in a coffee grinder or grind with a mortar and pestle and use it "like a faux curry powder" to add nice warmth to dishes."
Roasted Butternut Squash Toasties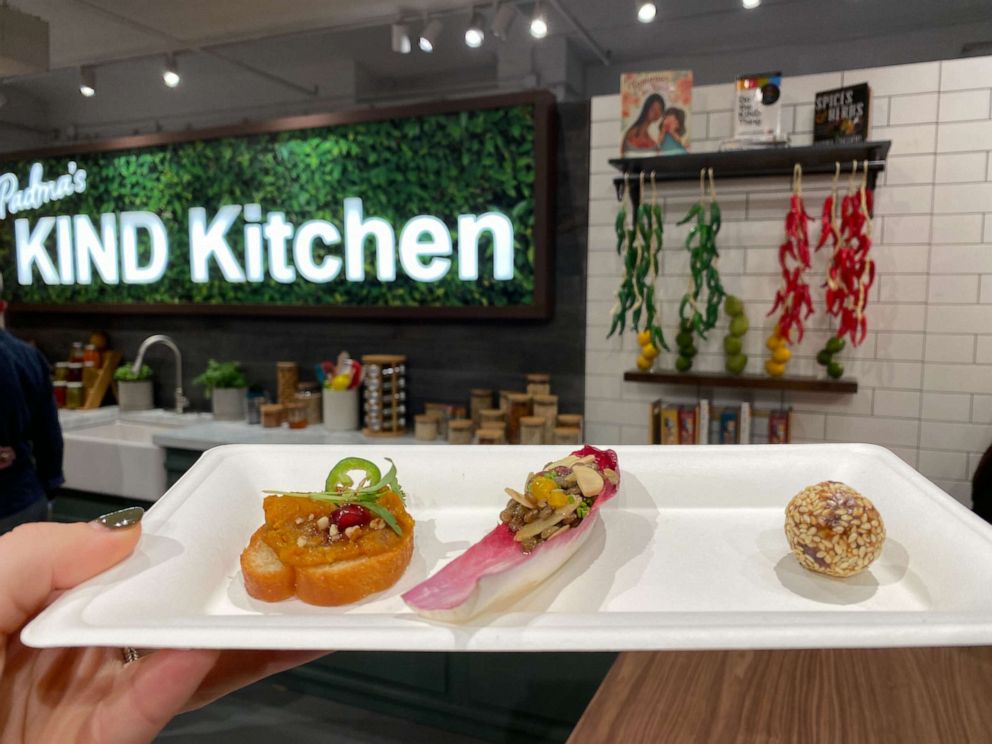 The second dish is one that Lakshmi said "I've been making all fall -- it's roasted butternut squash on sourdough toast with pomegranate molasses and toasted pecans and green chili. It's so simple and yummy."
Ingredients
1 butternut squash, about 2.5 lbs
Olive oil
Salt
1 large shallot, diced - about 1 cup
1 tablespoon garlic, minced
1 tablespoon ginger, minced
Freshly ground black pepper
6-8 slices sourdough bread
2-3 tablespoons za'atar
1 cup pecans, toasted and roughly chopped
2-3 tablespoons pomegranate molasses
1/3 cup of pomegranate seeds o 2 serrano chiles, sliced thinly into rings
Directions
Preheat oven to 425 degrees. Cut the butternut squash in half lengthwise, and scoop out the seeds. Drizzle with olive oil and salt, and roast in the oven for about 1 hour and 15 minutes, until fork tender.
Heat 2 tablespoons olive oil in a medium sauté pan over medium-high heat. Add shallots and cook until glassy, about 4 to 5 minutes. Add garlic, ginger and cumin, 1 ½ teaspoons kosher salt and ½ teaspoon black pepper, and cook for 2 minutes more. Add mashed squash mixture, sauté for 3 to 4 minutes more. Remove mixture from pan and set aside.
Wipe sauté pan clean, and heat a little more olive oil over medium heat.
Add sliced sourdough and cook on each side for 2-3 minutes, or until golden brown.
Remove toasted sourdough from pan, cut slices in half, and layer a heaping spoonful of squash mixture evenly across the top.
Dust the squash layer with half a teaspoon of za'atar, then top with about a tablespoon of pecans. Drizzle pomegranate molasses and lay slices of serrano chile rings on top. Dress with pomegranate seeds. Serve warm.
Lentil Salad on Leaves of Endive
Ingredients
2 cups beluga or French puy lentils, washed and drained
1 Granny smith apple, peeled, cored and cubed, tossed in 2 tablespoons lemon juice and covered with saran wrap to keep from oxidizing
1 yellow bell pepper, diced
1 large serrano chile, minced with seeds
1/4 cup extra virgin olive oil
1 tablespoon balsamic vinegar
1/4 cup lemon juice
1 teaspoon kosher salt, plus 1 teaspoon more for lentils while boiling
1 cup loosely packed, chopped flat leaf parsley
1/2 cup dried cranberries, halved
1/2 cup slivered almonds or dry roasted chopped cashews
A few good turns of fresh ground black pepper
1-2 white or purple endive, leaves separated for serving
2 tablespoons chives, finely chopped
Directions
Wash lentils and pick through any stones. Drain. In a deep pot, add lentils, 8 cups of water and 1 teaspoon salt and stir. Bring to a boil, then turn down to medium for a rolling heavy simmer. Cook lentils until just tender, about 20-25 minutes. You do not want the lentils to break or be mushy and cloud the water. You want them to remain whole and intact, so be careful to cook just until done but still firm. Drain, and rinse under cold water to stop cooking process. Drain well and set aside.
Combine all other ingredients except endive leaves and toss together well with lentils. Taste and adjust salt if needed. An additional squirt of lemon juice can also be added if needed.
Using a slotted spoon, spoon about 1 tablespoon of the lentil salad onto each washed and dried endive leaf. Top with chives. Arrange in a circular floral pattern on a large platter and serve.
Cranberry Almond Sesame Bites
Ingredients
8 medjool dates
1 teaspoon salt
1/2 teaspoon cinnamon
1/2 cup creamy almond butter
1/2 cup dry roasted almonds, roughly chopped
1/2 cup cranberries
3/4 cup toasted sesame seeds, divided
2 tablespoons honey
Directions
Add dates to a bowl and add enough boiling water to just cover the top. Leave for 5-10 minutes, until dates are soft. Remove from the water, pit dates, and transfer to a food processor.
Add salt, cinnamon and almond butter to a food processor along with the dates, and pulse until mixture is smooth. Add a tablespoon or two of the soaking water from the dates if needed.
Transfer date mixture to a clean bowl, and add the peanuts, cranberries, sesame seeds and honey. Mix until well combined.
Line a small sheet tray with parchment paper. Using a small cookie scoop, measure out mixture into a balls and roll in your hands until round. Transfer to a refrigerator, and allow them to set for at least 1 hour before serving.
The pop up farmers market also highlights statistics to shine a spotlight on nutrition problems nationwide, including that 88% of Americans do not eat enough fruits and vegetables, according to the CDC. Later this month the experience will also pop up at Houston's M-K-T in The Heights neighborhood.