This comedian is feeding thousands of frontline healthcare workers
Chris Rov Costa/Courtesy Lasagna Love
It all started with a short Facebook post in her San Diego moms group.
"Hi Mamas!" Rhiannon Menn, a mother of two, wrote on March 27. "If there are any mamas here that have lost income due to coronavirus, or who can't get to the grocery store because they/their babies are immunocompromised and you need food, my toddler and I are making some extra lasagnas this weekend to drop off to anyone who needs them."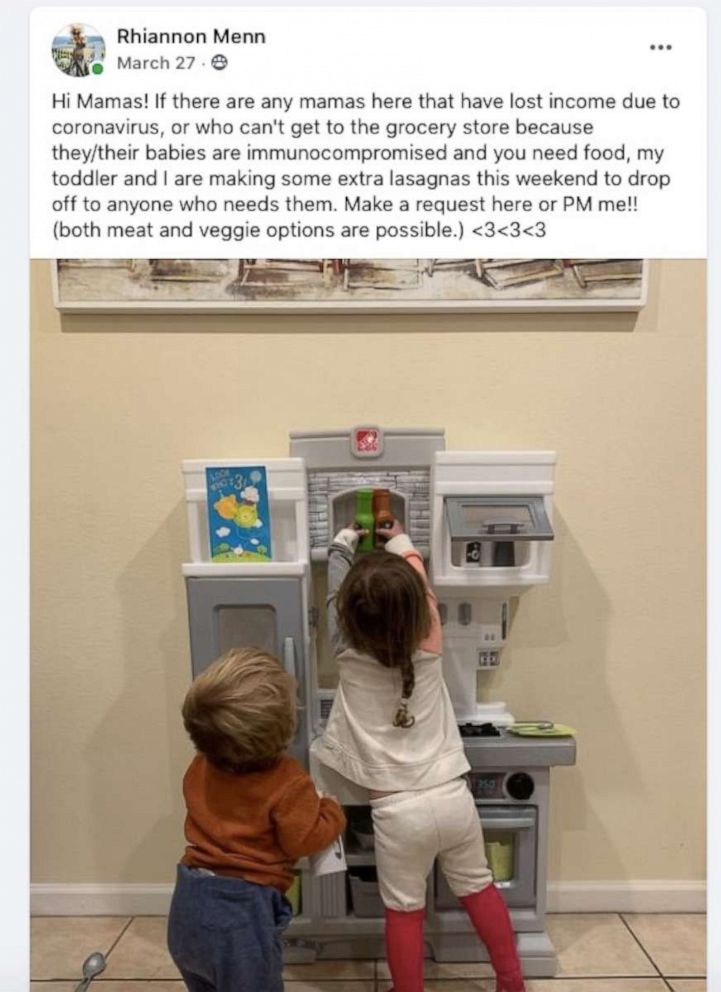 "I was feeling helpless and felt like there was something I could do," Menn, 37, told "Good Morning America" about cooking.
Menn, who founded a blog called Good to Mama dedicated to providing a space for mothers to be good to themselves, wrote the post because she said she knows the stigma many moms face about saying they need help.
"There is almost as if there is this societal pressure that moms have to do everything on their own and not ask for help," Menn said. "Some of its the pressure that we put on ourselves. The end result is that moms get into a really tough spot and don't know how to say 'Hey, I need a hand. Can you help me?'"
So Menn started making extra lasagnas with her toddler and delivered them to families in need due to financial, emotional or health-related circumstances.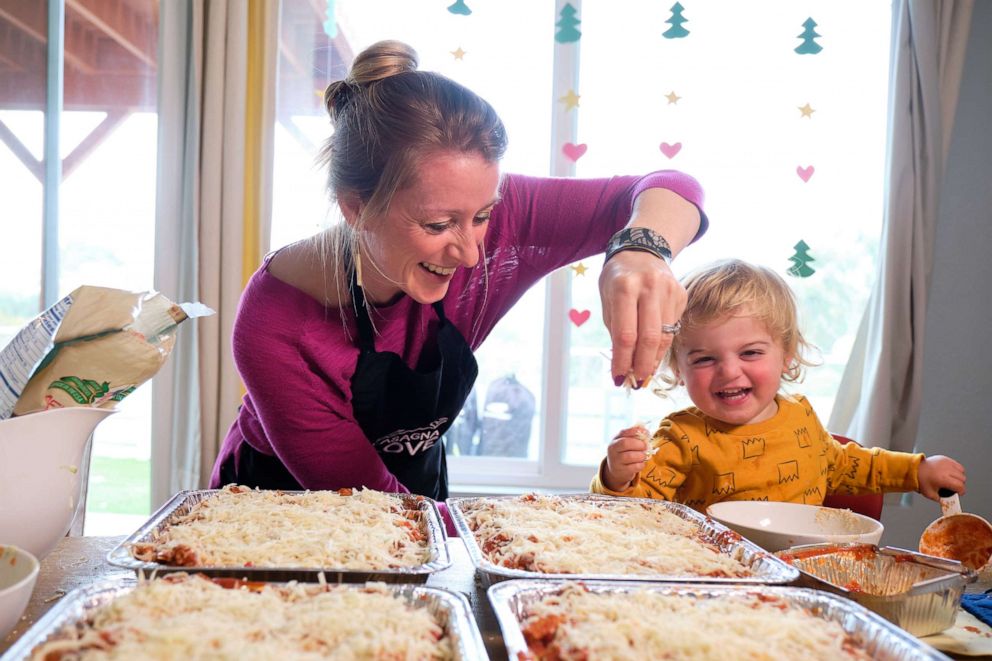 During their first week, Menn said they delivered seven meals, and it quickly snowballed from there.
People on social media began reaching out to Menn, offering to make meals, too, which is when Lasagna Love was officially born.
"It shows how many people were feeling isolated and that they wanted to do something and didn't know what to do," she said.
Menn assembled a group of volunteers to feed families in their communities all across the country to help address food insecurity during the pandemic. Even one homemade lasagna at a time would make a difference.
"Our mission is not only to help address the incredible rise in food insecurity among families, but also to provide a simple act of love and kindness during a time full of uncertainty and stress," according to the group's website.
By September, Menn said 500 volunteers had signed up to make lasagnas. Now, the movement has grown to 6,000 volunteers who are cooking up lasagna care packages in all 50 states over the holiday season. The group has local leaders who are also volunteers and match fellow volunteers up with requests locally for meals. Volunteers can sign up to cook once a month, four times a week or any interval that works for them.
"Lasagna Love has really become about spreading and scaling kindness. It's more than just delivering meals to neighbors, we are really starting a movement," Menn said. "I think the power of Lasagna Love is that we are touching so many people that they begin to spread the love down the line."
On Thanksgiving, Lasagna Love fed 1,000 families, totaling 4,000 people. Some Lasagna Moms even made turkeys for recipients and dropped off gifts for their children as well, according to Menn.
Spreading the 'Lasagna Love'
Amelia, a volunteer from Staten Island, New York, who asked to be identified only by her first name, got involved after seeing a post on social media.
"I immediately signed up to volunteer," she told "GMA." "I thought about all the mamas and papas who felt alone and did not know where to go. Let's face it, not everyone has the voice to ask for help."
She said she delivered to a family on Thanksgiving Day and hours later received a heartwarming thank you text. "Little did they know, I was feeling just as blessed and thankful to be able to share that with them."
GiGi Keith, a volunteer from Virginia, said she was inspired to get involved because she herself received a lasagna from a neighbor 20 years ago after her divorce. At that time, she and her two teenage children were eating crackers for dinner and worrying about what their next meal would be, she said. Fast forward to today, she delivered lasagnas to families experiencing hardship.
"I know what it means to be hungry," she said. "I've had plenty, and I've been in need. Life is hard, but when you pay it forward, it's a gratitude high that lasts for days."
A Lasagna Love recipient from Long Island, New York, who asked to remain anonymous, received a lasagna meal through the program. She had experienced long-term health issues after COVID-19 and had unrelated major surgeries this year.
"Lasagna Love has been helping us more than emotionally and physically. It's the healing power of love and caring that feeds your soul," she told "GMA."
Menn's goal for the holidays is to feed as many families as they can. For the new year, they plan to launch a kindness challenge to inspire folks to be kind to others and themselves.
"People … want to share kindness no matter what time of the year it is," Menn said.