Tiffani Thiessen's 'Here We Go Again' cookbook delivers recipes to level up leftovers, scraps and more
Recipes to level up your leftovers
Tiffani Thiessen is widely known from her days as Kelly Kapowski on "Saved by the Bell," but the actress, who authored her first cookbook in 2018, is back at it with a new title to add to her culinary collection.
"Here We Go Again: Recipes and Inspiration to Level up your Leftovers" aims to refresh the idea of amplifying odds and ends from the snack drawer to the back of the fridge.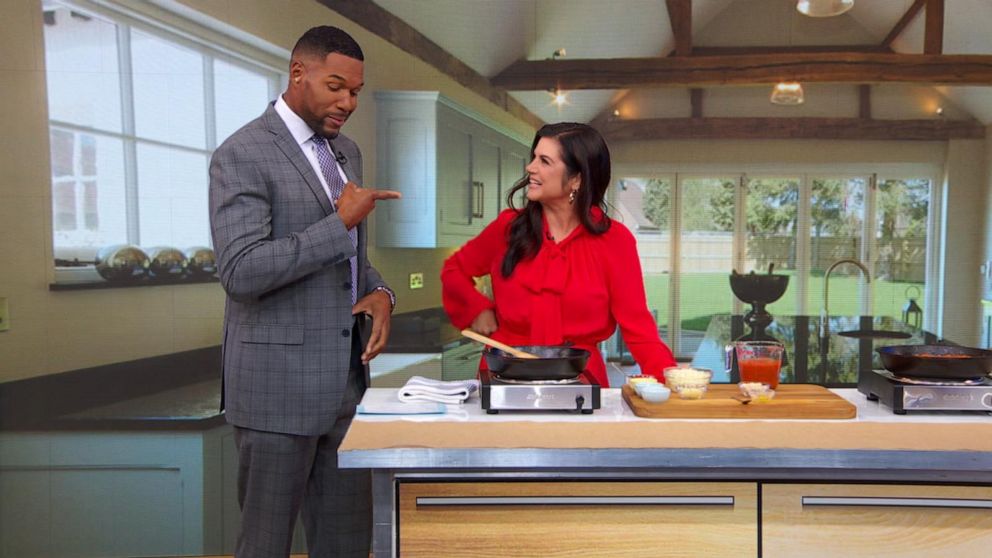 To show how she puts the concept into practice, Thiessen joined "Good Morning America" on Tuesday with two recipes that use up pantry staples and ingredients that many home cooks likely already have on hand to create something special out of otherwise ordinary materials.
Cornbread Skillet Sloppy Joes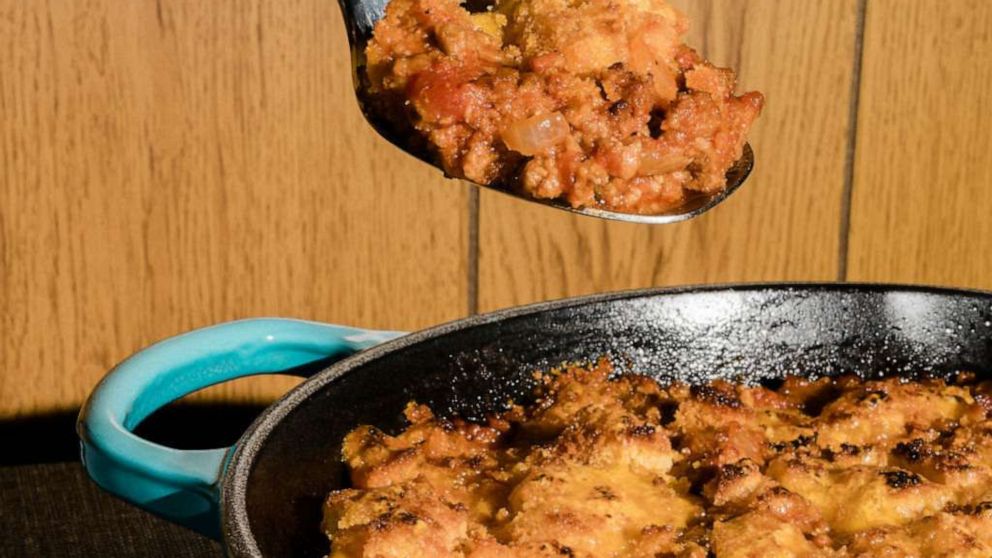 Ingredients
3 tablespoons extra-virgin olive oil
1 pound ground turkey
1 tablespoon tomato paste
2 teaspoons kosher salt
1 teaspoon paprika
1/4 teaspoon freshly ground black pepper
1 medium yellow onion, diced (about 1 cup)
4 garlic cloves, minced
1 1/4 cups prepared or store-bought tomato sauce
2 tablespoons light brown sugar
1 teaspoon yellow mustard
1 cup shredded cheese (I like yellow cheddar here)
1 heaping cup cornbread roughly broken up into small pieces
Directions
Set a baking rack 6 to 7 inches from the broiler. Preheat the oven to the low broil setting.
Heat the oil in a 10- or 12-inch cast-iron pan (or other ovenproof pan) over medium heat. Add the turkey, tomato paste, salt, paprika and pepper and use a wooden spoon to break up the turkey into smaller pieces. Cook, stirring constantly, until the liquid released by the turkey has evaporated and the meat has browned, about 10 minutes. Add the onion and garlic and cook until the onion has softened and begins to brown, about another 3 minutes. Stir in the tomato sauce, brown sugar and mustard, and bring the mixture to a simmer. Cook until the mixture has thickened (the wooden spoon should leave a trail behind it when you stir), 5 to 6 minutes. Remove the pan from the heat and sprinkle 1/2 cup of the shredded cheddar over the top. Set aside.
In a small bowl, combine the cornbread and the remaining 1/2 cup shredded cheddar, using your hands to gently combine them. Top the skillet with the cornbread mixture and place it under the broiler for 4 to 5 minutes, until the cheese is melted, the cornbread is deep golden brown in spots, and the Sloppy Joe mixture is bubbling around the edges. Let it rest for 5 minutes before scooping into a bowl and serving.
Tips
I cook this recipe in a skillet with cornbread crust instead of on a bun. The bread always gets so soggy.
An easy swap out if you don't want to do turkey would be to use ground beef or ground chicken.
When I buy tomato paste, I prefer a product with no added salt. If yours does have salt, adjust the seasoning in the recipe.
The mustard and brown sugar adds a saucy and tangy flavoring.
Berry-glazed Sour Cream Doughnuts
Ingredients
Doughnuts
1 cup all-purpose flour
1 teaspoon ground cinnamon
1/2 teaspoon baking powder
1/2 teaspoon baking soda
1/8 teaspoon freshly ground nutmeg
1/2 cup sour cream or plain Greek yogurt
1/2 cup packed light brown sugar
1/4 cup vegetable oil, plus more for greasing
1 large egg
1 tablespoon pure vanilla paste or extract
Pinch of kosher salt
Glaze
3/4 cup sifted powdered sugar
1/4 cup jam/preserve of your choice
Sprinkles, freeze-dried fruits, breakfast cereal, for topping (optional)
Directions
Make the doughnuts: Preheat the oven to 350 F. Grease 8 molds in a nonstick doughnut pan with vegetable oil and set aside.
In a medium bowl, whisk together the flour, cinnamon, baking powder, baking soda and nutmeg.
In another medium bowl, whisk together the sour cream, brown sugar, oil, egg, vanilla and salt. Use a rubber spatula to fold in the flour mixture. Stir until the flour is completely incorporated. Use a piping bag or spoon to divide the batter evenly among the doughnut pan molds, making sure not to fill over the center so your doughnuts come out with a hole.
Bake for 15 to 18 minutes, until the doughnuts are golden brown and a toothpick or skewer inserted into the center comes out clean. Let the doughnuts cool in the pan until they are easily handled, about 15 minutes, before removing them from the molds and transferring them to a cooling rack to cool completely while you make the glaze.
Make the glaze: In a small bowl, whisk together the powdered sugar and preserve syrup until smooth. Depending on the preserves you're using, you may need to add 1 to 2 teaspoons water to thin out the glaze.
Dip the tops of the doughnuts into the glaze and return them to the cooling rack. Immediately add toppings, if using. Let the glaze set for 5 minutes before serving. These are best enjoyed the day they are made.
Recipes reprinted with permission from "Here We Go Again."