Robin Roberts and Lupita Nyong'o surprise all-girls STEM school in Atlanta
Students at an all-female STEM school in Atlanta received a huge surprise and a "Wakanda Forever" salute from Oscar-winning actress Lupita Nyong'o Thursday after being awarded with the "Most Likely to Succeed" superlative from our first-ever "GMA" Yearbook.
Nyong'o gave the students an inspiring pep talk and awarded the school with a $25,000 check from DonorsChoose.org to go toward school supplies, classroom projects and more.
"I feel like I'm looking into the faces of the future and it gives me deep hope to see how open, how alive and how positive that future could be," Nyong'o told the all-female student body at the Coretta Scott King Young Women's Leadership Academy.
"When I look into this room I see problem solvers. I see creative thinkers. I see activists," she said. "But most importantly I see women who are learning how to learn and learners change the world."
"The ability to learn is what will get you through school but it's also what's going to get you through life," Nyong'o, a graduate of Yale University, said, while also telling students to "nurture" and "protect" their curiosity.
Your superpower is learning
"Your superpower is learning," the "Black Panther" star told the students. She then joined the cheering students and "GMA" co-anchor Robin Roberts in the "Wakanda Forever" salute from the "Black Panther" movie.
"GMA" is honoring hardworking teachers, like those at the Coretta Scott King Young Women's Leadership Academy, this week by partnering with DonorsChoose.org to help fund teachers, students and schools around the country. The non-profit announced a new campaign called #ISeeMe to fund classroom projects from underrepresented teachers and all project requests that reflect their students' identities. Google.org is currently matching donations to #ISeeMe projects. Learn more here about how to get your donation matched.
The 200 bright young women at the academy, in the heart of Atlanta, Georgia, are already working to make a positive impact in their communities. Plus, the entire student body of the first STEM-certified all-girls school in the state is entirely made up of girls of color, who are already changing gender and racial diversity within science and tech fields.
The young women at the middle and high school challenge themselves every day with a rigorous curriculum focusing on science, technology, engineering and math.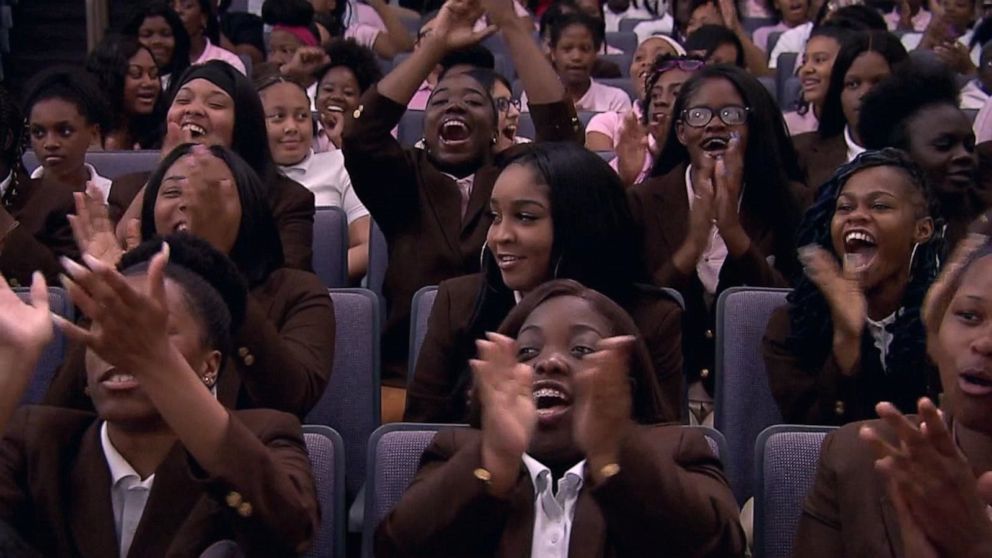 The school's motto is, "Every girl has a dream with her name on it."
Bernice King, the youngest child of Coretta Scott King and Martin Luther King Jr., was also a special guest at the school Thursday and told the students how proud her mom would be of them.
"My mother would be super proud today because she said 'women are the soul of the nation and to be saved you must become a soul' and these young ladies are the soul of our nation," King said.
Don't give up and don't let anybody tell you you can't
When asked for her advice for the students, King said, "Don't give up and don't let anybody tell you you can't because you were put on this Earth for a reason. Each one of you are an answer to a question and a solution to a problem, so go out there and solve whatever it is that's in your heart and go out there and answer those difficult questions in our world."
One of the students setting out from Coretta Scott King Young Women's Leadership Academy with big goals is Ayanna Danielle Prather, the school's 2019 valedictorian. Prather said she hopes to study psychology and pre-med in college "and become a psychiatrist."
"I have to keep my dream in the back of my head when I'm in class studying, when I'm working, because I know that all of this work that I'm doing is going to pay off," she told "GMA."
Fellow student Dailyn Sade Scott told "GMA" she hopes to attend the University of Georgia and major in biology.
The school's students are making a positive impact in their community.
A group of sixth graders at the school, dubbed the "Quail Guardians," have been raising and selling quail eggs in their community, which is located in a neighborhood where many residents have limited access to fresh food.
In addition to raising the quails, the students also supply their community with fresh fruits and vegetables from their school's own organic garden.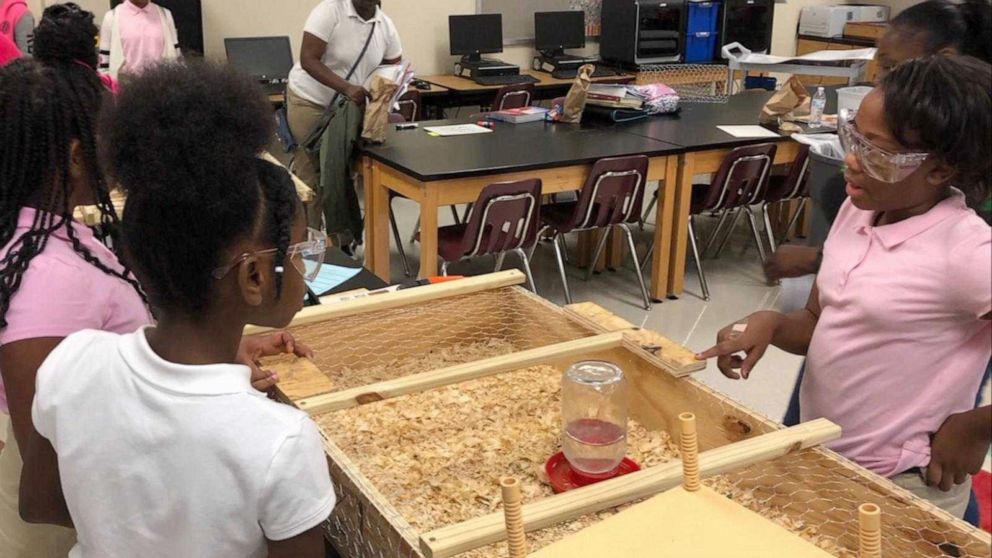 "So I knew that the school that I'm in is in a food desert, and the way I like to engage students is to look into the community for a problem and become problem solvers," Laura Pena, the school's STEM program specialist and instructional coach, told "GMA" earlier this month.
Quail Guardian Shavonta Nickles described the program as "helping out the community and the community is also helping us out."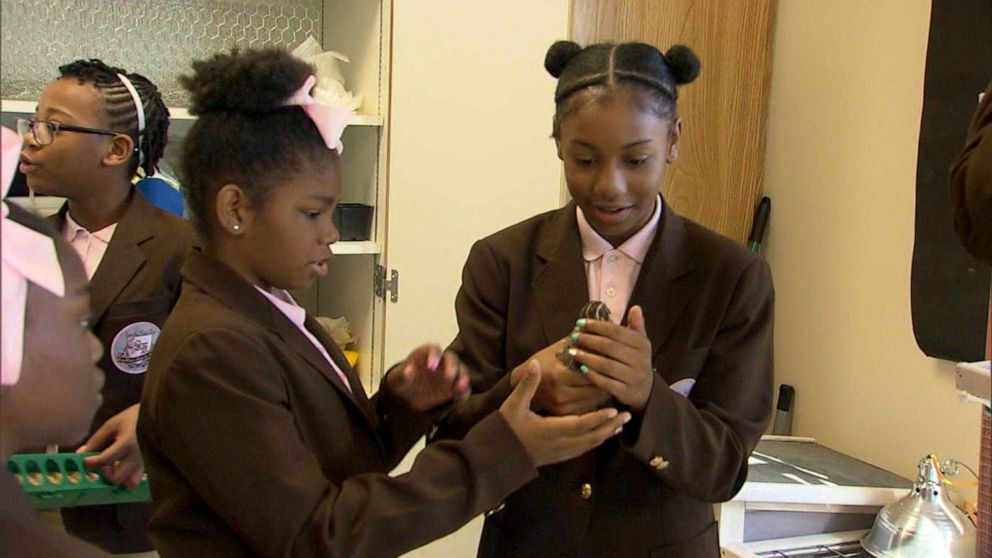 For all that the students do in and out of the classroom to make a positive impact in their local community and beyond, the young women of Coretta Scott King Young Women's Leadership Academy are our "Most Likely to Succeed."
Scott, the student who hopes to pursue a career in biology, said if there is one message she would share to her fellow students, it's to "never give up, no matter how hard it may seem."
Visit DonorsChoose.org for information on how to help fund educators, students and schools around the country.