Halloween is only a few short weeks away, and if you are still wondering how to get into the spirit, nail art is a great way.
While this year may look a little different and a full-on costumes may not be top of mind, why not try your hand at a scary good spider web-themed manicure?
If you aren't sure where to start, not to worry. "Good Morning America" tapped nail technician and vlogger Denise Heavner, better known as Denisejohn65 on YouTube, for her top tips on how to get the look.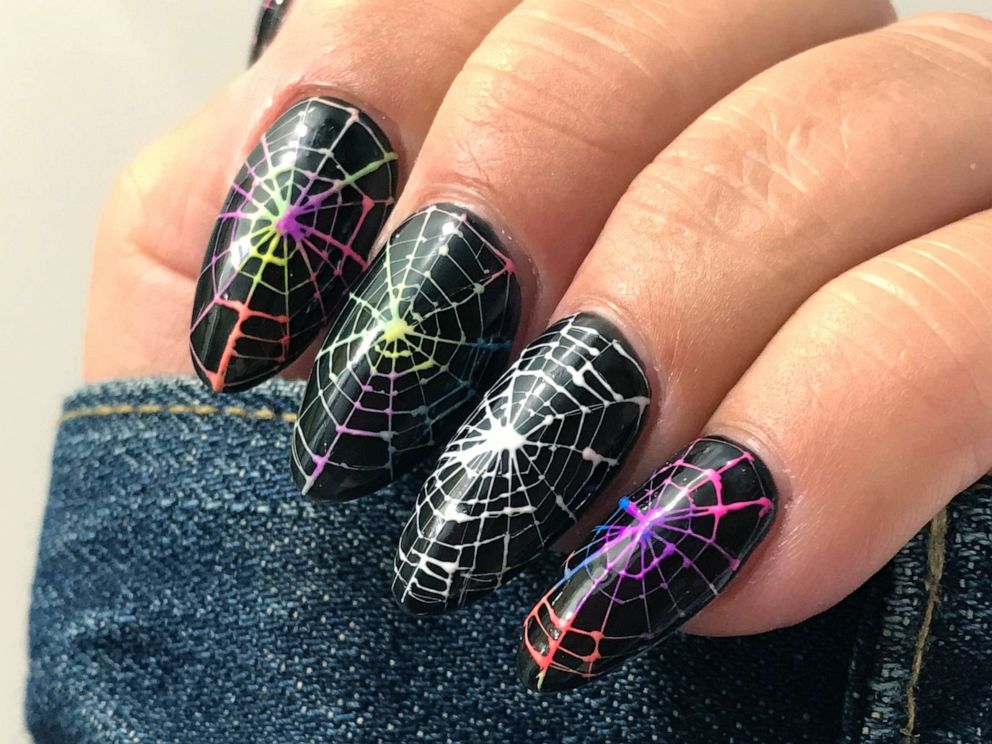 "I chose to do spider web nails because I think they are very popular with the whole Halloween theme," Heavner told "GMA." "I wanted to change it up a bit with the neon coloring instead of the common black and orange colors that traditionally go with Halloween.This is one is a hip and an up-to-date spider web."
Check out Heavner's recommended products, tools, and step-by-step tips for creating your very own spider web nails.
Products:
- UV/LED nail lamp 48 Watt (24 lights)
- Nail art liner nail brush
- Nail needle tool
- 1-step gel polish in black
- UR Sugar 5ml Spider Silk Gel Nail Polish Elastic Drawing Nail Art Soak Off Gel Polish in white/Born Pretty Store
- Neon Powder Pigments
- No-wipe gel top coat
- Sponge applicator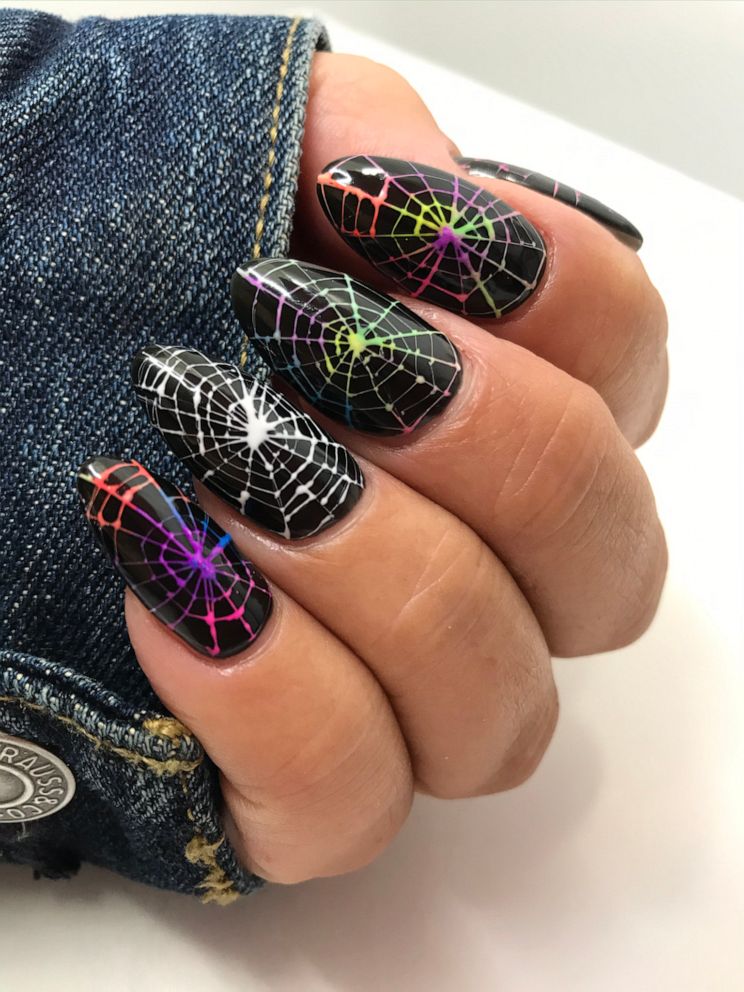 Get the look:
Step 1: Buff the surface of the nails and apply two layers of 1-step gel black gel polish. Cure each layer under the UV/LED lamp for 1 minute.
Pro Tip: "Remember there is no tacky layer to the one-step gel polish," advises Heavner. "One-step gel polish is quick and it keeps the nails nice, thin and natural looking without adding bulk. Normal gel polishes take more time to apply and can look bulky if not applied thinly because of the additional layers of the base, two layers of color and the top coat."
Step 2: Apply white spider gel and stretch it with a liner brush or a needle tool to create a web. Once each web is done, cure it for one minute.
Step 3: Use a sponge applicator to apply neon pigments on top of each nail web. Brush off any excess powder.
Step 4: Apply a no-wipe top coat to seal in pigments, and cure each nail for one minute.
For more nail tips and techniques, follow and subscribe at Denisejohn65 - Nail Ed on YouTube.
Editor's Note: This story originally posted on October 16, 2019.