Get the look: How to transform into a fierce, beautiful 'Tiger Queen' for Halloween
"Tiger King" was unquestionably one of the most talked-about docuseries of 2020, and as a result many are wondering how to show off their own tiger stripes this Halloween.
Whether you are Team Joe Exotic or Team Carole Baskin, it's hard to deny the cutest characters on the show: the tigers! With that, channeling your own big cat energy can be done using the power of makeup.
Makeup artist Megs Cahill knew exactly how to "go get 'em tiger" with a glammed up look that's equal parts gorgeous and fun.
"I wanted something feline for Halloween, but something more edgy than just a cat look, so I went for a standout tiger look," she told "GMA" about her tiger glam.
The California-based beauty influencer said the key to getting the look is having a good eyeliner pen. "You need something jet black and easy to curve and feather out edges," she said. "I'd also say you can really switch up the eye look with any you want. I do suggest staying with a cat eye though."
Cahill's biggest advice for attempting tiger queen vibes is to have fun with it. "Remember, makeup comes off so experiment and have fun," she said. "If you mess up, no worries! Grab a makeup wipe and reduce that line. Make sure your liner isn't transferable if you're wearing it out to avoid getting your stripes on others."
Keep scrolling for a step-by-step breakdown outlining exactly how Cahill works her cool cat makeup magic.
Key products:
- Karity 21 Shadow in Matte eyeshadow palette
- Lime Crime Diamond Dew Liquid Eyeshadow
- Girlactik Mechanical Eyeliner
- Girlactik Precise Marker Liner
- Lancome Dual Finish Highlighter in Luminous Gold
- Milani Cosmetics Amore Matte Lip Creme -- Halloween Edition in Vixen
Get the look:
Step 1: Outline and fluff eyebrows using a small-angled brush. Follow with a concealer to underline, define and clean up
Step 2: Sweep yellow eyeshadow over each eyelid, and apply an orange shade to each eye crease.
Step 3: Use a small brush to layer on black eyeshadow to creases, and use the same shade to create buffed-winged shape past the outer edge of each eye.
Step 4: Apply concealer on top of eyelid creases to create a "cut crease" look, and cover each with liquid glitter.
Step 5: Intensify smoky wings with more black eyeshadow using a bullet brush, and trace black-winged liquid liner on top of each.
Step 6: Use a makeup sponge to tap in foundation all over your face.
Step 7: Add dimension to the face by using concealer to highlight under the eyes, down the center of the nose and blend.
Step 8: Blend on a warm shade of bronzer along the cheekbones.
Pro tip: "Think of pulling everything up to keep the look feline -- never down, says Cahill. "Pull the eyes up with a wing to create more feline features. Make sure to have the lowest point of the stripes be the point so the sides can really pull up and add lift to the face.
Step 9: Contour nose by tracing lines down the sides to make it appear wider.
Step 10: Sweep highlighter along your cheeks for added glow.
Step 11: Brush on rose-toned blush to the apples of the cheeks.
Step 12: Underline eyes with yellow and orange eyeshadow to mirror shades on on eyelid.
Step 13: Use black eyeliner to trace under your eye waterlines. Extend past center of eye and create a point shape.
Step 14: Shade in the tip of your nose using black eyeliner.
Step 15: Use black liquid eyeliner to draw a tiger stripe under your nose connecting to the upper lip and more wide V-shaped squiqqly stripes your on forehead and cheeks.
Step 16: Use black liquid eyeliner to line and fill in top lip. Apply a deep plum-colored lipstick to bottom lip.
Step 17: Add a few additional strikes of eyeliner to eyebrows.
Step 18: Finish the look by applying faux eyelashes and mascara.
Final look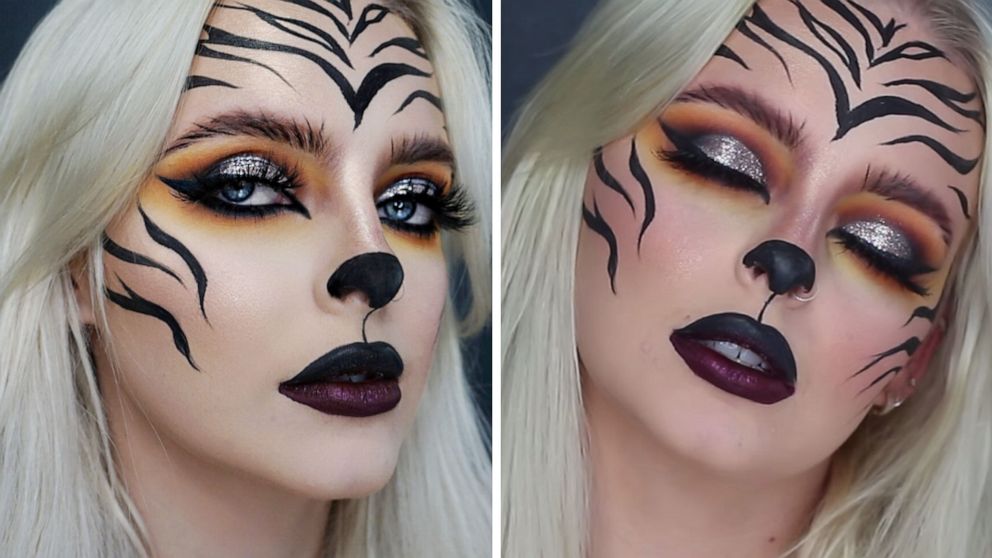 For more makeup tips, follow Megs Cahill on YouTube and Instagram @themegscahill.
Editor's Note: This story was originally published on October 7, 2020.