Get the look: How to transform into Beetlejuice for Halloween
October is here and that means the scariest season of the year is upon us.
One way to get festive this year is by using the power of makeup to transform into anyone you choose. Beetlejuice anyone?!
Colorado-based makeup artist Baylee Madison knew exactly how to put her skills to work in creating a glammed-up version of the classic creepy 1988 film character.
"'Beetlejuice' has always been one of my favorite films, and I wanted to create a body paint based on a different look, rather than the classic striped outfit we see him in and most of the film," she told GMA. "So I chose his guide outfit from the cemetery scene."
After briefly brainstorming, Madison went for it and absolutely wowed social media fans.
"I really just have fun with the process and enjoy the journey of creating," she said.
Keep scrolling to see Madison's tips, tricks and best technique for catching her Beetlejuice vibes.
Key products:
- Mehron Paradise Makeup AQ eyeshadows in light brown, brown, red, black, white, amazon green and lime shades.
- Mehron Illusion by Mimi Choi 12 Shade Makeup Palette
- Peachy Queen Never Trust the Living Eyeshadow Palette
- Morphe P.Louise Makeup Academy Base Shade
- Hot Topic Beetlejuice Handbook For The Recently Deceased eyeshadow palette
- LA Splash Cosmetics Matte Liquid Lipstick in Mummy
- Palladio Beauty Fifty-Fifty Cat-Eye Liquid Liner + Smoky Kajal Liner
- Clear lip gloss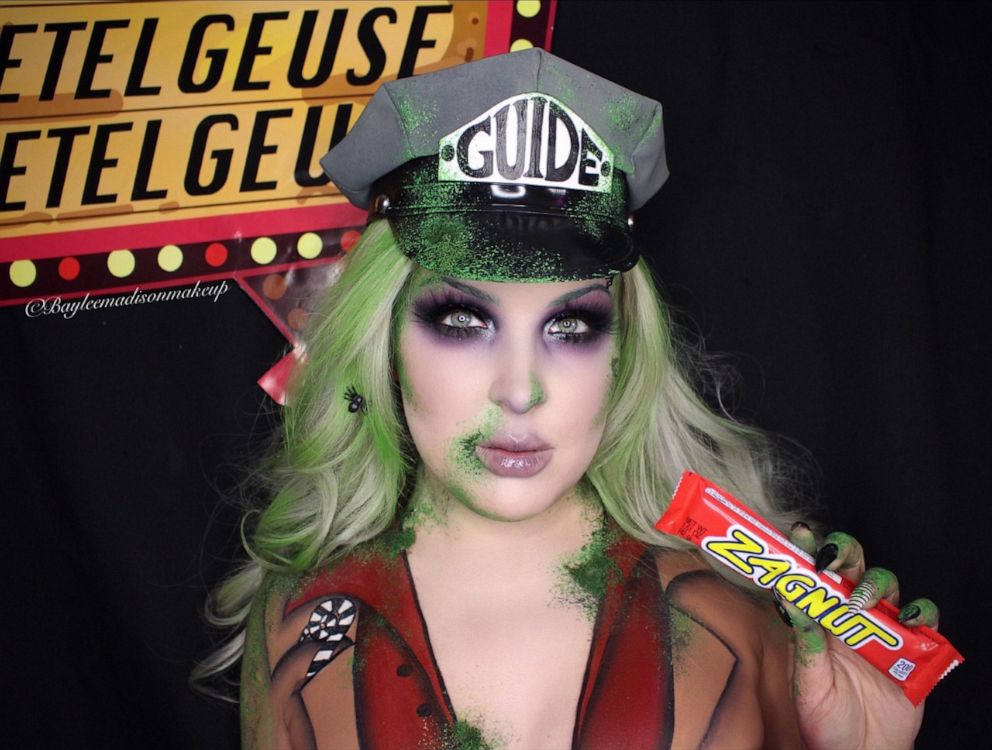 Get the look:
Step 1: Base your face with foundation.
Step 2: Contour cheeks and nose.
Step 3: Use a concealer or base shade to lighten eyebrows and eyelids.
Step 4: Apply heavy layers of purple and black eyeshadow on and around eyelids.
Step 5: Trace on black winged eyeliner.
Step 6: Apply nude lip color.
Step 7: Use aqua-based body paint to create the outfit. Pro tip: Start by blocking out the shapes and then adding in details like shading and highlight with eyeshadows and fine lines.
Step 8: Apply and blend glitter-toned eyeshadow on top of the eyelids.
Step 9: Color in eyebrows with a green pencil.
Step 10: Add a pop of highlighter to the inner corners of the eyes and bridge of the nose.
Step 11: Sweep on touches of purple eyeshadow to the tip of your nose and lips.
Step 12: Use a sponge to dab on splotches of green body paint on areas of the face.
Step 13: Finish the look with a green and blonde wig and fun accessories.
For more makeup tips, follow Baylee Madison on TikTok and Instagram @bayleemadisonmakeup.