4.9 million Fabuloso products recalled over bacteria risk
Jeff Greenberg/Getty Images, FILE
A number of popular Fabuloso cleaning products were recalled Wednesday by the Colgate-Palmolive Company due to risk of bacteria contamination, according to the Consumer Product Safety Commission.
About 4.9 million units -- as well as about 56,000 units in Canada -- of various Fabuloso Multi-Purpose Cleaner products were impacted by the recall, according to the CPSC. The affected products were produced from Dec. 14, 2022 through Jan. 23, 2023, according to the company.
"We are voluntarily recalling certain Fabuloso products because a preservative was not added at the intended levels during manufacturing," Fabuloso said in a statement on its official recall website. "With inadequate preservative, there is a risk of bacteria growth in the recalled products. The recalled products can contain Pseudomonas species bacteria, including Pseudomonas aeruginosa and Pseudomonas fluorescens, which are environmental organisms found widely in soil and water."
According to the company, the manufacturing issue has since been corrected.
The recalled products were sold at online retailers like Amazon and at other nationwide retailers, including Dollar General, Family Dollar, The Home Depot, Sam's Club and Walmart, from December 2022 through January 2023.
According to Fabuloso, the company's antibacterial multipurpose cleaning products and "select other variants of Fabuloso multi-purpose cleaning products" not listed in Wednesday's announcement are not subject the recall.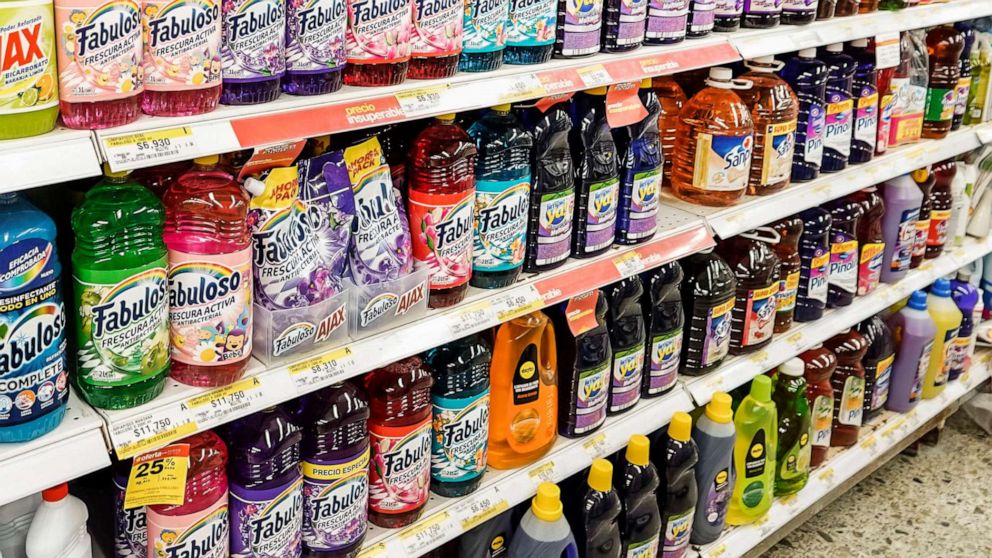 Exposure to Pseudomonas aeruginosa, a bacteria which is highly resistant to many antibiotics, can cause infections in the blood, lungs or other parts of the body in humans, according to the Centers for Disease Control and Prevention.
The CPSC noted in a recall announcement Wednesday that those "with weakened immune systems, external medical devices, or underlying lung conditions who are exposed to the bacteria face a risk of serious infection that may require medical treatment."
"People with healthy immune systems are usually not affected by the bacteria," the company statement read.
At the time of the recall, no injuries or illnesses have been reported, according to the CPSC.
The CPSC has urged consumers to immediately stop using the recalled Fabuloso products and contact Colgate-Palmolive Company for a full refund or a free replacement, noting that consumers should not empty the product prior to disposal.
Some of the affected products include:
Lavender Scent cleaners
Refreshing Lemon Scent cleaners
Passion of Fruits Scent cleaners
Spring Fresh Scent cleaners
Ocean Scent cleaners
For a full list of products impacted by the recall, visit www.fabulosorecall.com.