Eye drops recalled over bacterial infection, 1 death
Two types of artificial tears eye drops have been voluntarily recalled following 55 reports of adverse use effects, including eye infections, vision loss and even a bloodstream infection that led to one death, according to federal officials.
The affected eye drops were distributed by Aru Pharma, EzriCare and Delsam Pharma under Global Pharma Healthcare.
According to a health alert released by the Centers for Disease Control and Prevention Wednesday, federal, state and local health agencies have identified at least 55 individuals -- some in health care facilities -- across 12 states who had been infected with a strain of Pseudomonas aeruginosa that expresses bacterial enzymes, making it highly resistant to many antibiotics.
Those impacted were in California, Colorado, Connecticut, Florida, New Jersey, New Mexico, New York, Nevada, Texas, Utah, Washington and Wisconsin.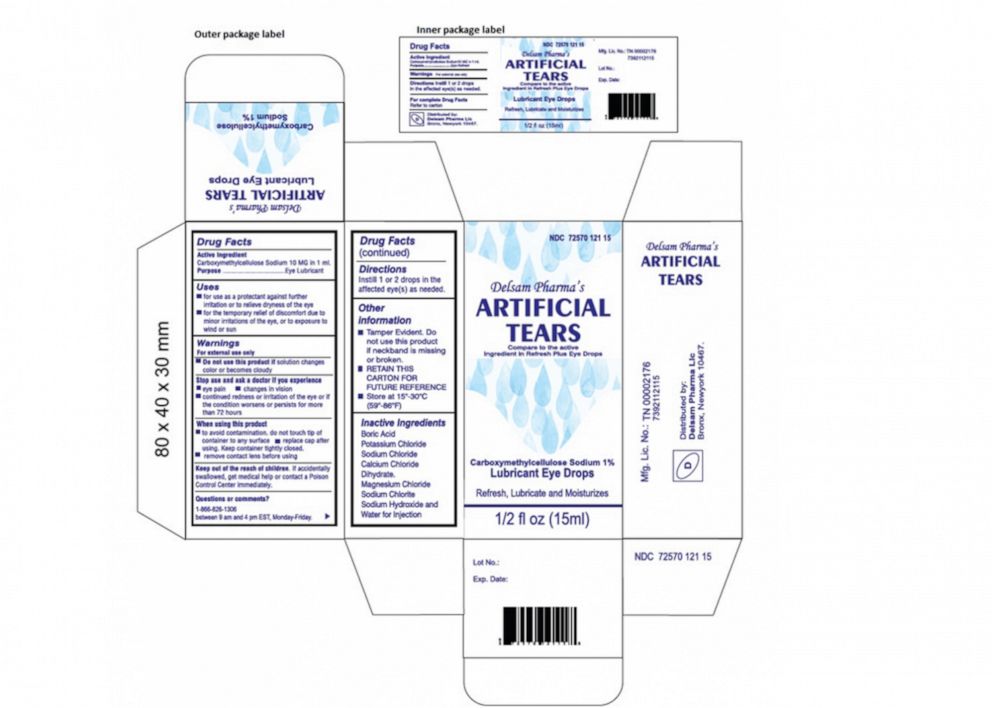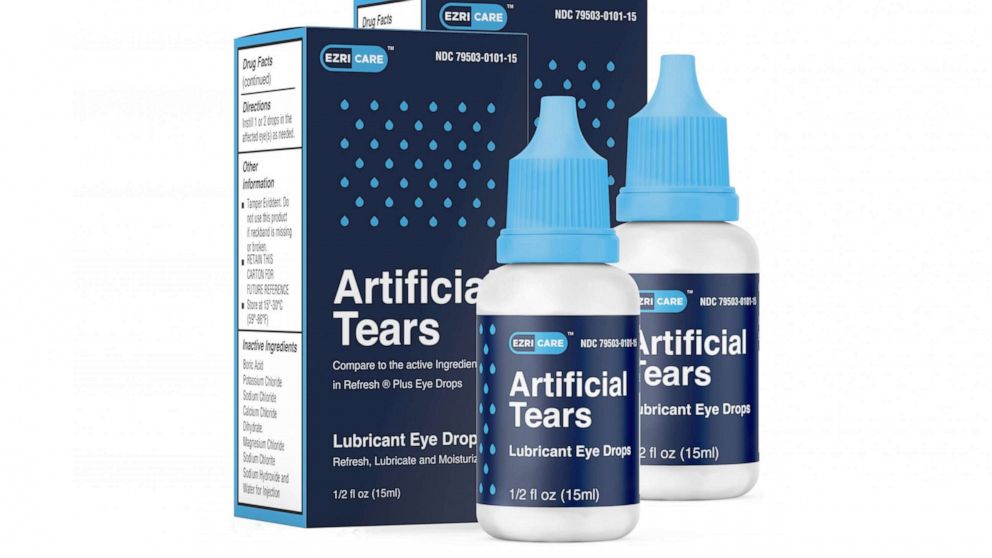 Artificial tears are often used to relieve burning and irritation due to dryness of the eyes and provide lubrication while preventing further eye irritation.
"Use of contaminated artificial tears can result in the risk of eye infections that could result in blindness," Global Pharma Healthcare said in a recall statement posted on the U.S. Food and Drug Administration website Thursday.
"Global Pharma Healthcare is notifying the distributors of this product, Aru Pharma Inc. and Delsam Pharma and is requesting that wholesalers, retailers and customers who have the recalled product should stop use," the statement continued. "...Consumers should contact their physician or healthcare provider if they have experienced any problems that may be related to using these over-the-counter drug products."
The CDC issues similar guidance, stating that anyone who may have used EzriCare's artificial tears and suspects they have an eye infection should seek medical care. Signs of an eye infection may include discharge from the eyes, pain or discomfort, redness of the eye or eyelid, blurry vision, increased light sensitivity, a feeling of something in the eye, according to the CDC.
The CDC also recommended people reach out to their health care providers if they were using the eye drops under the care of a doctor.
EzriCare, one of the distributors of the impacted eye drops, has set up a website with information for consumers.
"We immediately took action to stop any further distribution or sale of EzriCare Artificial Tears. To the greatest extent possible, we have been contacting customers to advise them against continued use of the product. We also immediately reached out to both CDC and FDA and indicated our willingness to cooperate with any requests they may have of us," the company said in a statement.
The artificial tears were available over-the-counter online. The CDC, FDA and EzriCare are advising consumers to discontinue using any recalled eyedrops.
When reached by phone, Delsam Pharma president Kuppusamy Arumugam told "Good Morning America" the eyedrops Delsam distributed were recalled after the company was notified of a problem with Ezricare's eyedrops. Arumugam said any recalled eyedrops from Delsam can be sent back to the company for a refund.
According to the FDA, the recalled eye drops were packaged in bottles with safety seals and small cartons, with Ezricare drops having the NDC number 79503-0101-15 and UPC number 3 79503 10115 7, and Delsam Pharma drops labeled with the NDC number 72570-121-15 and UPC number of 72570-0121-15.
Consumers can direct questions to the distributors via email or phone. Aru Pharma and Ezricare can be reached at arupharmainc@yahoo.com or at@ezricare-info.com or at 1-518-738-7602 while Delsam Pharma is available at delsampharma@yahoo.com or 1-866-826-1306.
The FDA is also encouraging anyone impacted to file a report with the agency's MedWatch Adverse Event Reporting program.
"GMA" has reached out to Aru Pharma for comment on the recall.