A community college professor in Virginia is doing all he can to make physics "phun" for his students.
David Wright, Ph.D., has been a professor of physics and astronomy at Tidewater Community College in Virginia Beach, Virginia, for the past 45 years.
And over the course of teaching more than 8,000 students, he has done thousands and thousands of experiments -- including starting a fire, laying on a bed of nails and rolling himself down a hallway -- to show his students the very real role physics plays in our every day lives.
"The world is a wondrous place and it's all understandable with mathematics and physics," Wright told "Good Morning America." "I hope that's what students take away."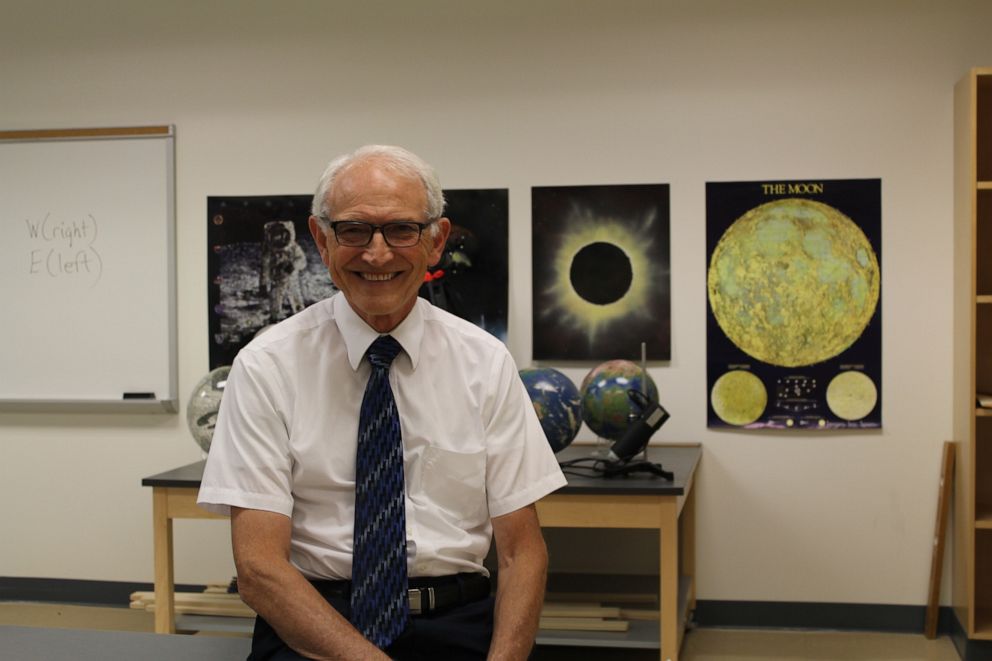 Wright, a 69-year-old father of four and grandfather of seven, is now a viral star thanks to a video montage that shows all the experiments he did in this past semester of a physics class.
One of Wright's students, Erica Church, a sophomore at Tidewater Community College, posted the video on Twitter Wednesday. It now has more than eight million views and counting.
"I honestly never really post on Twitter and if I do I get two or three likes," said Church, 18, who emailed Wright to let him know he'd gone viral. "The fact that it has eight million views is really mind-blowing to me."
"I really think that it shows that if you love what you do it'll radiate to other people," she said. "And that learning doesn't have to be boring and hard and if you make it more interesting then students will be more engaged and learn more."
Church said she took the Elements of Physics class with her best friend Kierra Brothers after reading good reviews of Wright's class. The friends took videos of Wright's experiments throughout the semester because they couldn't believe all he was doing to make sure they learned about physics.
"The first class, he ended the class by walking on a bed of broken glass and I knew from that moment he was going to be an amazing professor," Church said. "He's made physics more practical so it means more to you than a whole bunch of words on a PowerPoint that you have to memorize for a test."
Wright said the students in his physics classes are typically taking the class as a prerequisite -- meaning they are not physics majors -- so he wants to make sure they understand and can apply physics concepts.
To teach them about one of Newton's Laws of Motion, he rolls a 16-pound bowling ball down the hallway to show that an object in motion stays in motion. To teach about convection, he takes the class outside and starts a fire.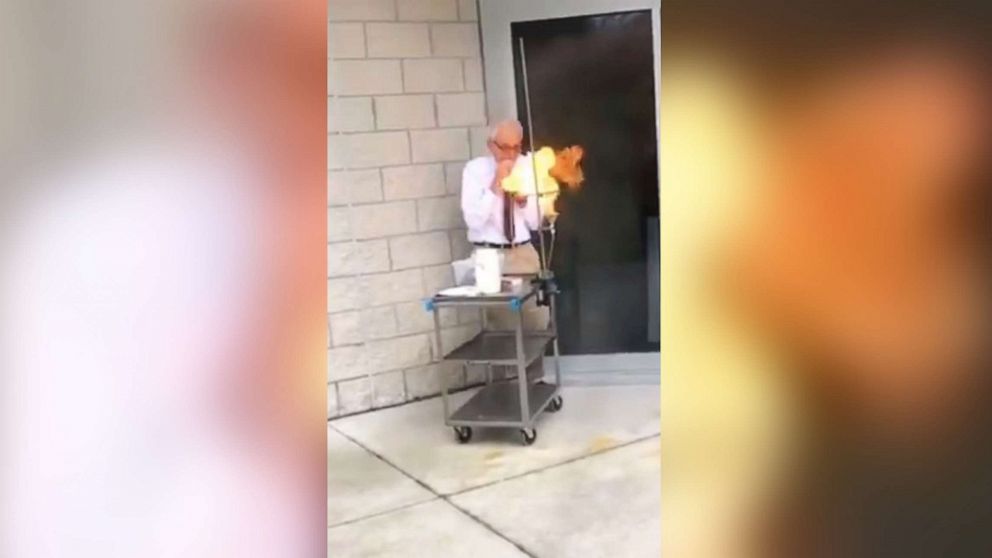 "I figure if I'm not having fun teaching the course they're not going to have any fun either," Wright said of his students. "You should be really passionate in what you're doing and I hope I serve as an example of that."
Wright, named Tidewater Community College's professor of the year in 2017, was described by a college spokesperson as getting "more passionate and energetic with the years."
"Dr. Wright's teaching philosophy grew out of his experience in a high school physics class, where the textbook was by an author named Dull and his teacher, though knowledgeable, was equally dry," the spokesperson told "GMA." Obviously, he's anything but, and we're proud he is here to serve our students."
Both Wright and Church said they also hope the number of people watching the video of Wright's experiments puts a positive spotlight on community colleges, their professors and students.
"The best education does not have to come from a four-year university and I think it's really important for people to see that," said Church. "I want Dr. Wright to get the attention he deserves because he is an amazing professor."
"We have amazing students here who are very sharp, very engaged in what's going on," said Wright. "They really energize me."