Bride shares wedding photo book fail in hilarious video
A bride in Texas is going viral for the hilarious way her wedding was captured in a photo book.
Niki Hunt, a registered nurse in Houston, married her husband Daniel in April.
Earlier this month, Hunt's mom Sherry Noblett took Hunt and her sister out to lunch to show them her thoughtful wedding gift, a photo book she made of Hunt's wedding on Shutterfly.
The only problem, according to Hunt, was that her mom forgot to take out the generic captions that are auto-generated by Shutterfly.
"When she handed me the book, [my mom's face] was a little red," Hunt told "Good Morning America." "She was like, 'Um, I may or may not have messed up a little bit.'"
Hunt continued, "She's very crafty so usually when she says something like that, it's something really small. I'm thinking some of the pictures are askew, or whatever."
The photo book featured Hunt alone on the cover, without her new husband, a result of her mom using the auto shuffle option instead of placing the photos in specific spots herself.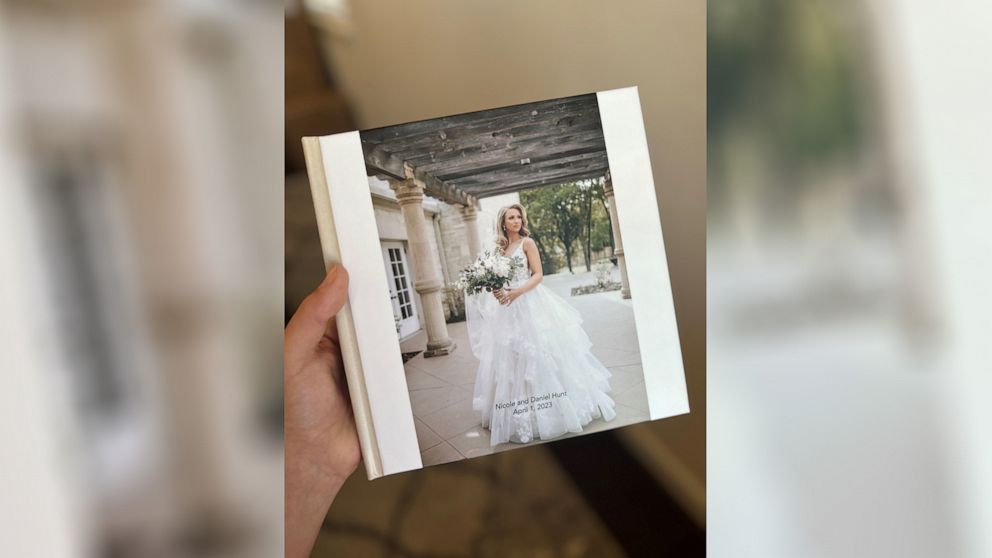 Inside, Hunt said she started flipping through the book and saw her wedding photos had auto-generated captions such as "a day at the beach," and "all bundled up."
A photo of Hunt with a bridesmaid, for example, was captioned, "The girls had so much fun with their cousins. They built sand castles, swam and splashed water on each other (and on us!)."
Photos of Hunt's husband with his dad and groomsmen were captioned summer, spring, winter and fall.
Hunt said she began recording on her phone as she looked through the photo book for the first time to capture the group's reactions.
"We were laughing so hard. We had tears coming down our faces," Hunt said. "We had everyone in the restaurant looking at us."
Hunt posted the video on TikTok, where it quickly went viral with over 3.5 million views.
Hunt said her mom, a dentist, was a good sport about the whole thing, joining her and her sister in laughing at her mistake.
"She doesn't get embarrassed easily and she has a great sense of humor," Hunt said of her mom. "She knows that this is one of the many reasons why we love her, because she does things like this that obviously bring us endless laughter."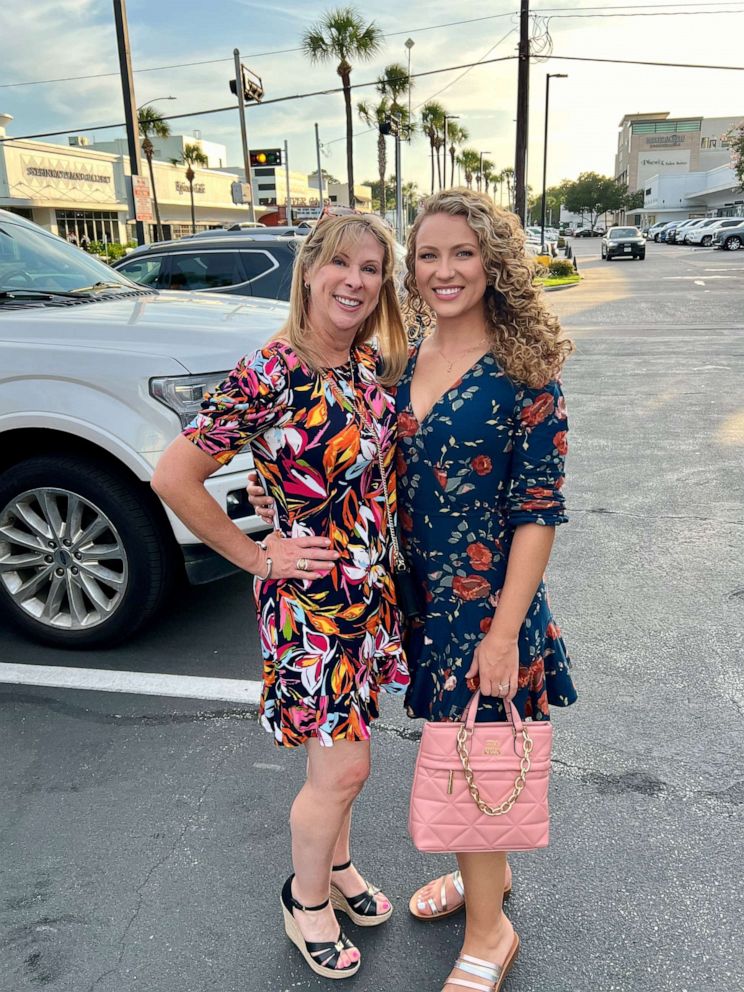 Hunt said one of her favorite captions from the book is a solo shot of her husband that reads, "The joy of life." She said he has since framed that photo and hung it on a wall in their home.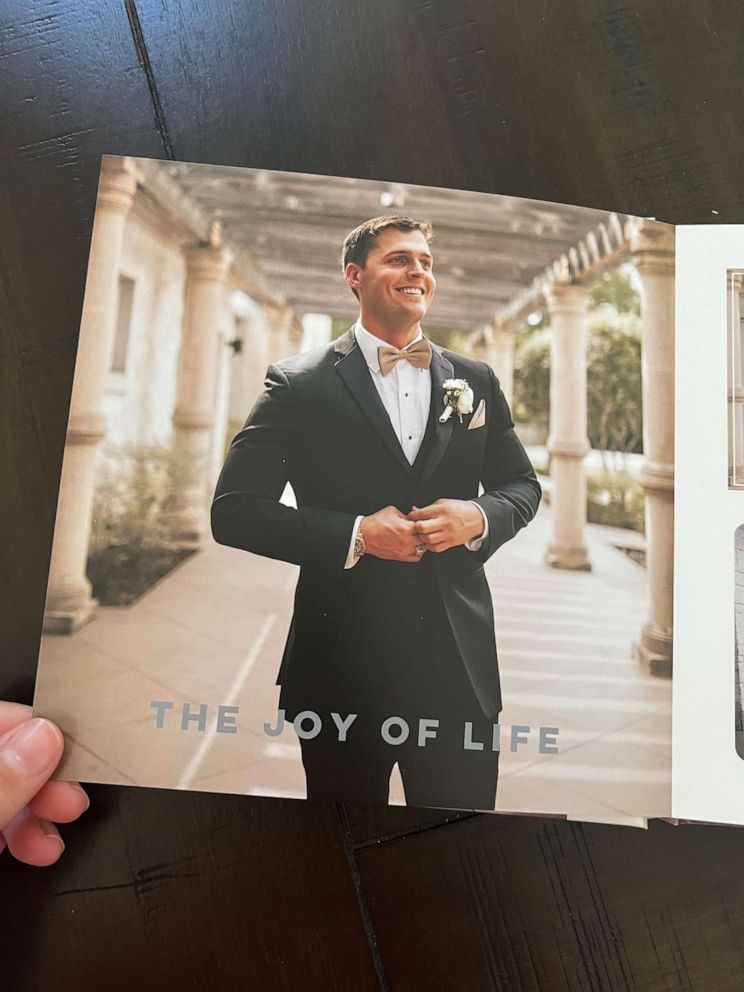 She said her very favorite in the book, however, is a family photo captioned, "No campout is complete without snacks."
"That one really boiled everything over for us," Hunt said. "We were laughing so hard that no sound was coming out. It was so funny."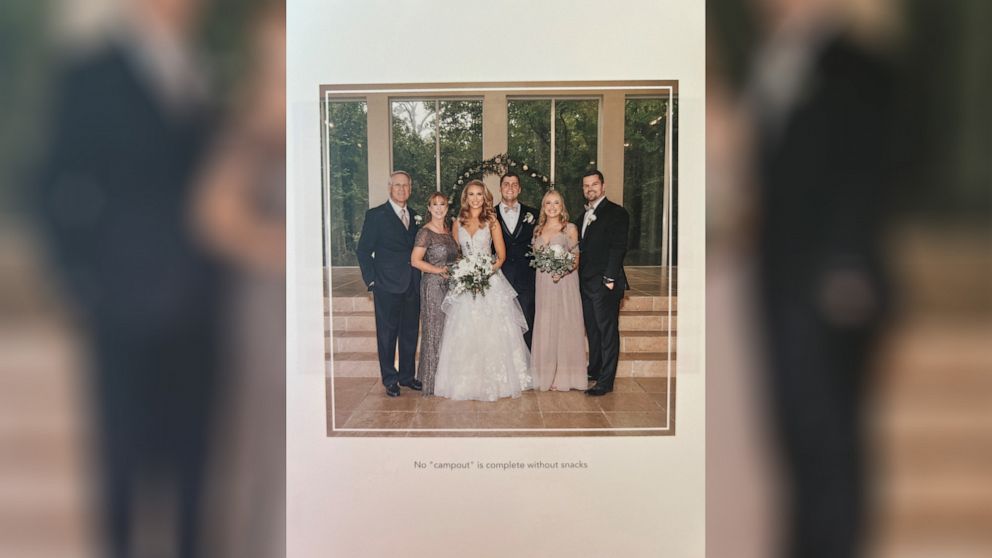 Hunt said the comments on her TikTok video also made her laugh, as many people shared their own favorite "mom blunders." She said she also received messages from people who identified themselves as Shutterfly employees and said that people forgetting to remove the generic captions happens quite often.
Hunt said she and her husband have the book on their coffee table and plan to leave it there, saying, "It is never being removed. It is never being replaced."
Hunt's mom is making a new photo book for the couple, she said, because Shutterfly reached out and gave her an account credit, which said she'll put toward the new book.
"I said, 'Just wait until I can come over and we'll make it together,'" Hunt said with a laugh. "She said next time she's definitely going to click the preview button."
Shutterfly told "GMA" in a statement the company was happy to help Hunt and her mom recreate their wedding photo book.
"Nothing is sweeter than reminiscing over photos and Niki's reaction definitely caught our attention. As a result, we can confirm that we've worked with Niki and her mom by offering to create another Shutterfly book that captures the magic of the wedding without any unintended 'added commentary,'" the company said. "Experiences like Niki's inspire us to continually improve. That's why we're actively exploring ways to enhance our Photo Book creation process. We're committed to providing a seamless and enjoyable experience for our customers, from start to finish. And when in doubt, customers can always have a Shutterfly designer curate their photos and design their book for free using our 24-hour Make My Book designer service."
The statement continued, "Being part of our customers' milestone moments is a true honor. Congratulations to Niki and Daniel on their wedding!"