'Brown girl, brown girl' poem celebrates Kamala Harris making history as 1st woman of color vice president
'Brown girl' poem celebrates Kamala Harris' historic VP win and #blackgirlmagic
When Leslé Honoré, a poet and mother of three, received a text message Saturday alerting her that now President-elect Joe Biden and Vice President-elect Kamala Harris were the projected winners of the 2020 presidential race, she said she pulled over in her car and started crying.
Honoré was in the car with her 20-year-old daughter and as they celebrated the victory that will make Harris the first woman and woman of color vice president, Honoré also began to pen an update to a poem she originally wrote in 2016 for her book of poetry, "Fist & Fire."
The poem, which starts out with the lines, "Brown girl, brown girl, what do you see," is a take on the classic children's book, "Brown Bear, Brown Bear, What Do You See?" by Eric Carle and Bill Martin Jr.
On Saturday, on her cellphone, Honoré rewrote her poem to reflect the new reality of girls of color across the country who now see Harris, the daughter of an Indian mother and Jamaican father, at the highest level of government.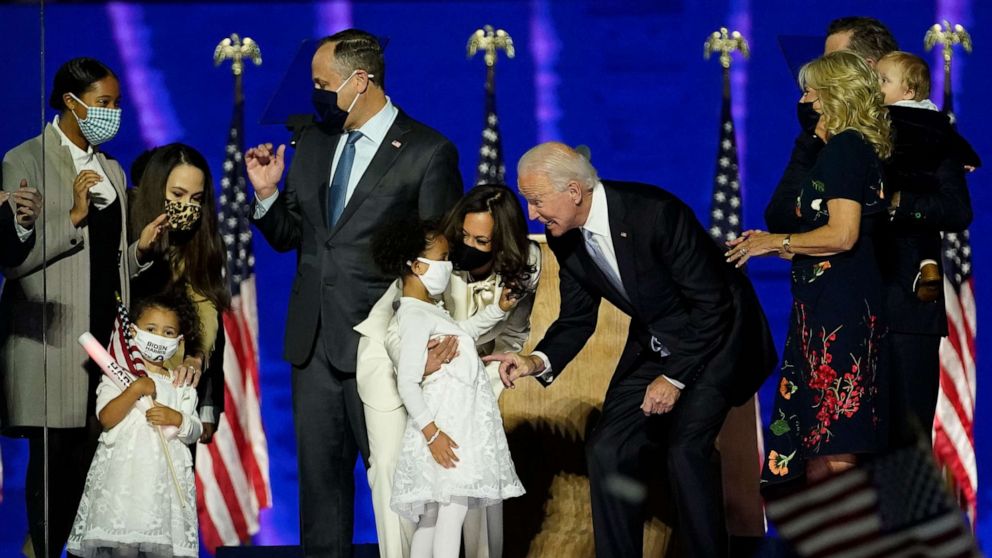 "Brown girl brown girl, what do you see," the poem reads. "I see a vice president that looks like me."
"Brown girl brown girl, what do you know," the poem continues. "That there are strong women who want me to grow."
Honoré, whose mother is Mexican and whose father is Black, said she saw so much "meaningful identity" for herself and her daughters with Harris' win, that she wanted to capture the moment.
"In the midst of a double pandemic, of everything everyone has been enduring, it was such a huge piece of tangible that I just wanted to acknowledge it and encapsulate it and hold onto that," she said. "I was just over the moon. I am still tingling thinking about it."
Honoré shared the poem on Instagram alongside a snapshot of a video that Harris's niece, Meena Harris, shared last week showing Harris talking with Meena Harris' young daughter about her ability to become president when she grows up.
Honoré, who also has a 17-year-old son, said when she was writing poetry for her book in 2016, she was reflecting on the instances of police brutality that captured headlines that year and writing about being a young man of color in the U.S. Her now-20-year-old daughter reminded her that women of color have perspectives, too, and from that conversation, the "Brown Girl" poem was born.
"We know that the world isn't always full of representations for Brown and Black girls. We do not see reflections of ourselves," she said. "It's just now starting to happen and it is so celebratory because we've never had that before. We've never had this ability to see it and inspire to be it."
Honoré's poem has gone viral and she said she's been flooded with requests from parents and teachers and groups to share the poem with young girls, requests she happily obliges.
Beth Hamilton reached out to Honoré to see if her daughter Avalyn, who is deaf, could recite the poem using American Sign Language (ASL), a video of which Honoré shared on her Instagram.
"At the end, she puts her hands behind her back and smiles and sways side to side with a sense of pride, and I just lose it when I watch it," Honoré said of Avalyn's video. "As an artist, that's all you can ever hope for, that you create something and it touches people so much that they make it their own."
Hamilton told "GMA" that Avalyn and her two younger sisters, who are also deaf, were "overjoyed" at seeing Harris become Vice President-elect and said Honoré's poem "spoke the truth."
"[Avalyn] wanted the BIPOC deaf community to feel connected to the poem and proud of their skin," said Hamilton. "I love it so much as a mother to three Black deaf daughters. I felt it gave them hope and shows them that we are still pushing for change for the better."