A striking illustration showing Kamala Harris walking alongside a young Ruby Bridges, the first Black student to integrate an elementary school in the South, has gone viral with Harris's projection to be the first woman and woman of color to serve as vice president of the United States.
The illustration shows Harris wearing a suit and walking with a briefcase in hand next to a silhouette of Bridges as she was depicted by artist Norman Rockwell in his famous painting "The Problem We All Live With."
The painting, which Rockwell made in 1964, showed Bridges as she walked to school in 1960 on her first day at a once segregated elementary school in Louisiana.
Sixty years later, San Francisco-based artist Bria Goeller used the image of Bridges to help show how Harris, a current U.S. senator from California and former California attorney general, has moved forward.
Goeller told "Good Morning America" she created the design after a conversation she had with the founder of Good Trubble, a San Francisco-based business that makes what it describes as "satirical political t-shirts."
"We wanted to represent this moment in history for what it was: a victory of compassion against oppression," Goeller told "GMA" in an emailed statement. "The design symbolizes two powerful women in history who overcame the odds and stood with strength against everyone who didn't want to see them succeed... We hoped it would inspire young women, young activists -- and hopefully make people smile."
The illustration was shared by Bridges herself on Instagram. Bridges, now 66, tagged Harris and President-elect Joe Biden in her caption, writing, "I am Honored to be a part of this path and Grateful to stand alongside you, Together with Our fellow Americans, as we step into this Next Chapter of American History! @kamalaharris @joebiden"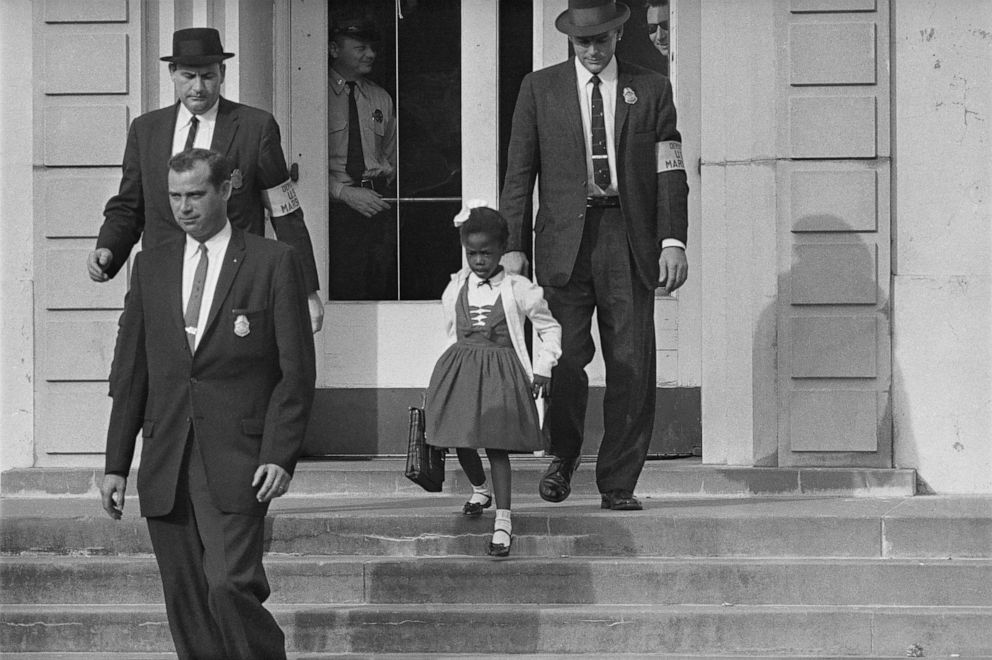 In addition to shattering the glass ceiling as vice president-elect, Harris, whose mother was Indian and father is Jamaican, has already achieved several historic milestones throughout her career. In 2004, she became the first Black woman to be elected as the district attorney of San Francisco. She remained in the role from 2004 to 2010.
In 2011, she became the first woman, first Black person and first Asian American to serve as California's attorney general.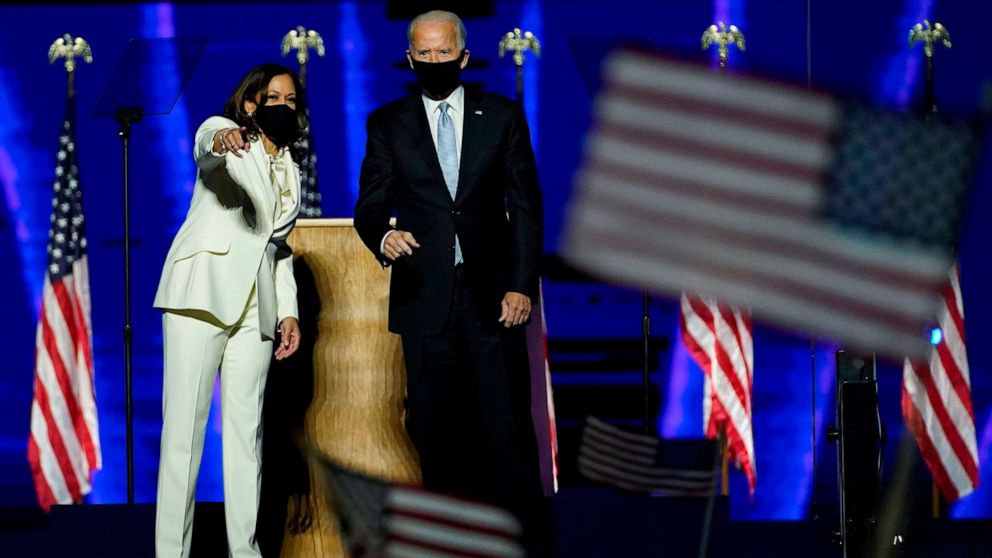 Harris has spoken publicly about her experience with school integration as a young student in California. She most notably spoke about it in a Democratic presidential primary debate last year against Biden, before they joined together on the presidential ticket.
"There was a little girl in California who was part of the second class to integrate her public schools and she was bused to school every day. That little girl was me," Harris said in the June 2019 debate.
Goeller, who said she was "floored" by the response to her artwork of Harris, has described the vice president-elect as a "true public servant."
"History shows how people of color and women have had to fight for a seat at the table," Goeller and her partner on the artwork wrote to Harris in a letter they shared on Instagram. "However, you not only have a prominent seat but are moving the needle ahead to expand the invitees. Yet this has not been because of your culture, race or gender but instead due to your concerted efforts to be a true public servant."