How Mariachi is taking over school programs
Will Yurman via Mariachi del Sol, Springfield High School
October 06, 2023, 8:27 am
Mariachi has always been an instrumental part of Hispanic culture, and now a new generation is discovering the joys of the music at school, thanks to the growth of specialized mariachi music programs.
At KIPP Sol Academy in Los Angeles, spots in the mariachi program are so coveted that middle school students must enter a lottery to be selected. There's a waitlist of over 100 students to join, band director Arlette Morales told "Good Morning America."
Students don't refer to it as the mariachi band, but instead the mariachi family, according to Morales.
"Connecting to each other through culture has taken down the wall kids may put up at school, making them feel more connected to each other and more engaged in school," she said. "Parents tell me that mariachi helped their kids get through COVID, which hit our community very hard, and is the reason why they're excelling academically now."
Morales said the music has also been instrumental in helping her students connect with their culture.
"This band, so connected to students' culture and heritage, has shown that if students feel fully seen for who they are and are encouraged to connect to their heritage, they will thrive," she continued.
"My lead singer, Genesis Trinidad, she does not speak Spanish and her grandpa plays Norteño, [a genre of Mexican music], so to see their bond grow stronger ... it reminds me of my bond with my grandpa."
Genesis, a seventh grader, added, "I'm excited every day to come to school because of mariachi. When I got into mariachi, my love for music expanded, like, 10 times more."
Jon Bridges, the mariachi director for Springfield High School's Mariachi del Sol in Oregon, has also seen his school's program, as well as interest in it, grow over the last seven years.
"The first couple of weeks of high school, I get students who come up to me out of nowhere and say, 'You're the director of mariachi! How can I join? I can't wait to be in mariachi!'" he said.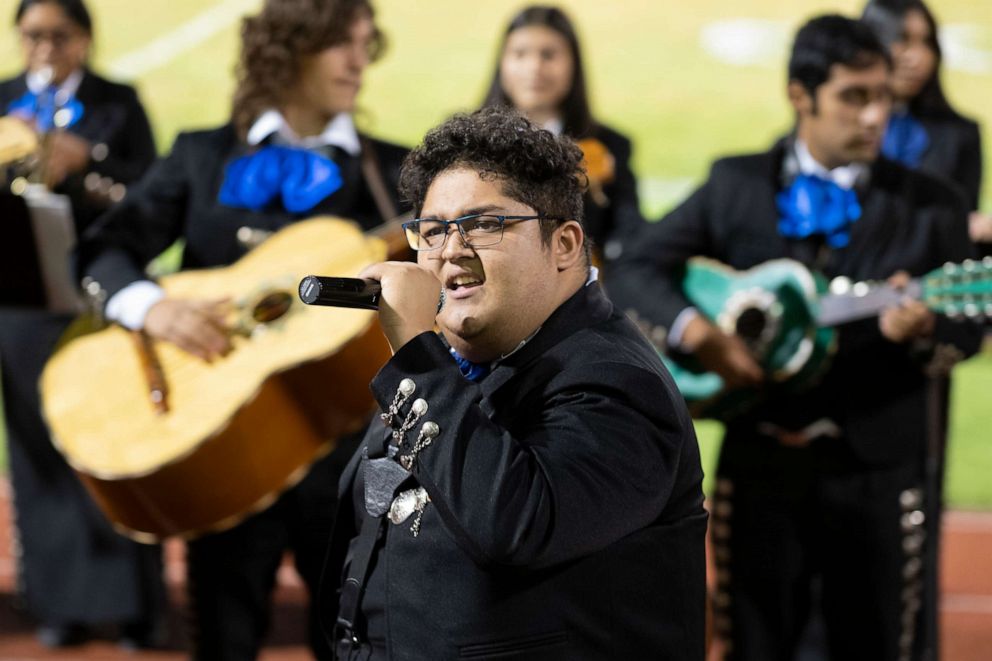 Bridges said the program has helped kids, especially post-pandemic, learn how to re-engage and foster a sense of community, purpose and strength.
Davis Elementary's Mariachi Las Aguilitas in Tucson, Arizona, an after-school program, was created more than 30 years ago and has been led by the Valenzuela family ever since.
"You see a lot of adult mariachis. You don't see youth mariachis, elementary mariachis. It's very rare," said Jaime Valenzuela, the school's current mariachi director.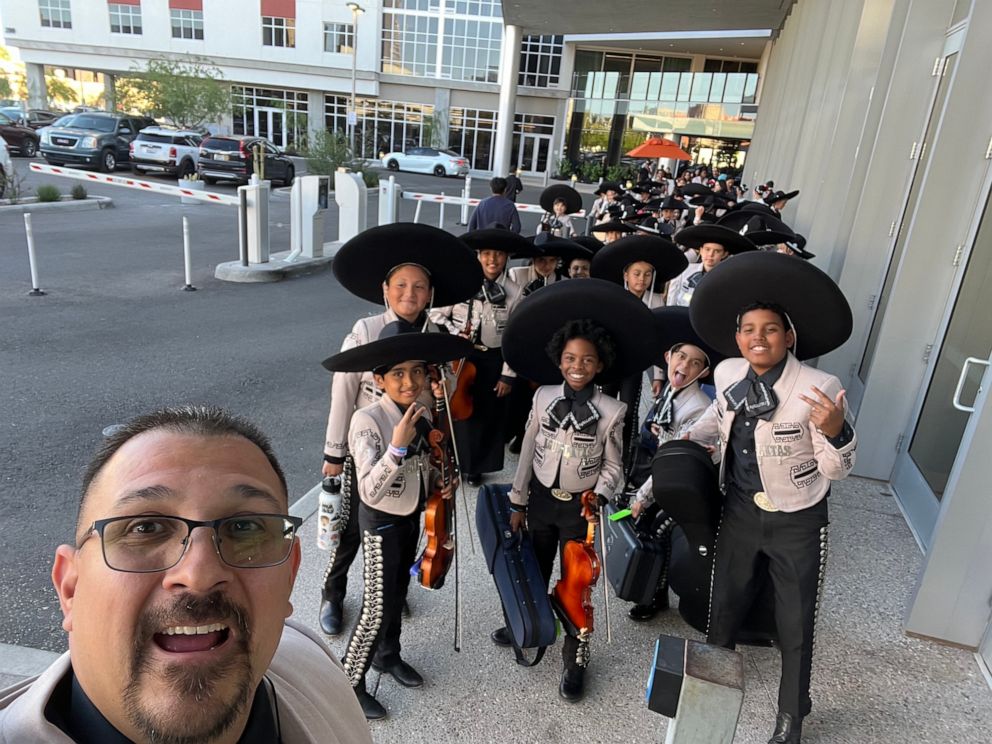 To celebrate Hispanic Heritage Month, "GMA" featured three mariachi programs who are bringing their communities together.
Meet the mariachi bands
Mariachi Las Aguilitas de Davis Bilingual Elementary School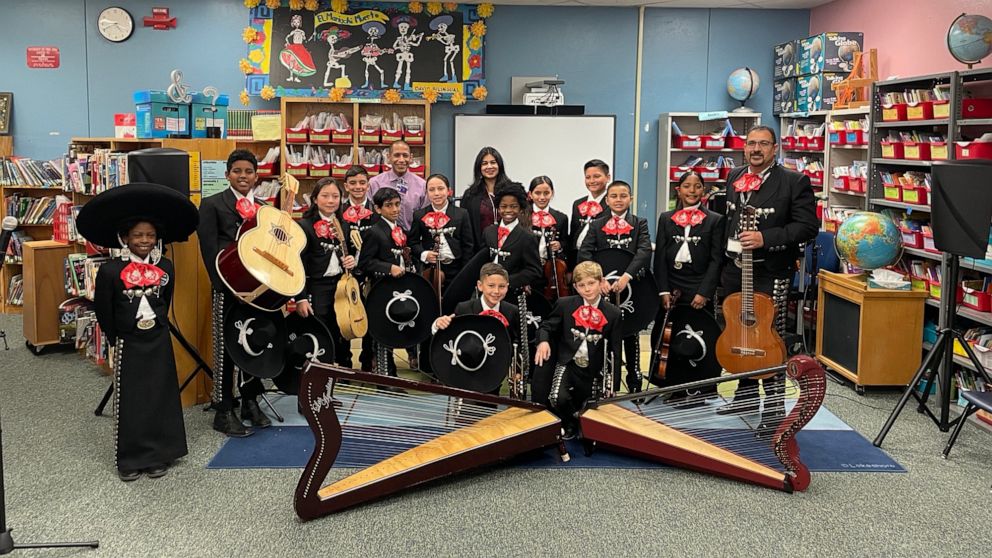 The aforementioned Mariachi Las Aguilitas de Davis Bilingual Elementary School is a K-5 mariachi group. Started in 1985 by a small group of guitarists called Los Guitarristas, the group has since grown to 65 members, making it one of the largest elementary school mariachis in the country. The school is currently fundraising for uniforms, instruments and aid to take its students to conferences and other activities. Learn more about the program here.
Mariachi del Sol, Springfield High School
After the former band director at Springfield High School witnessed the impact a nearby district's mariachi band had on a group of students, the director collaborated with the school's music and multicultural programs and created Mariachi del Sol.
Since its inception in 2008, the group has grown to more than 80 students and performs around the region and in multiple competitions. Mariachi del Sol is currently raising funds to purchase new uniforms and to fund a trip to Washington, D.C., to perform in the 2024 Memorial Day Parade.
Learn more about the program here.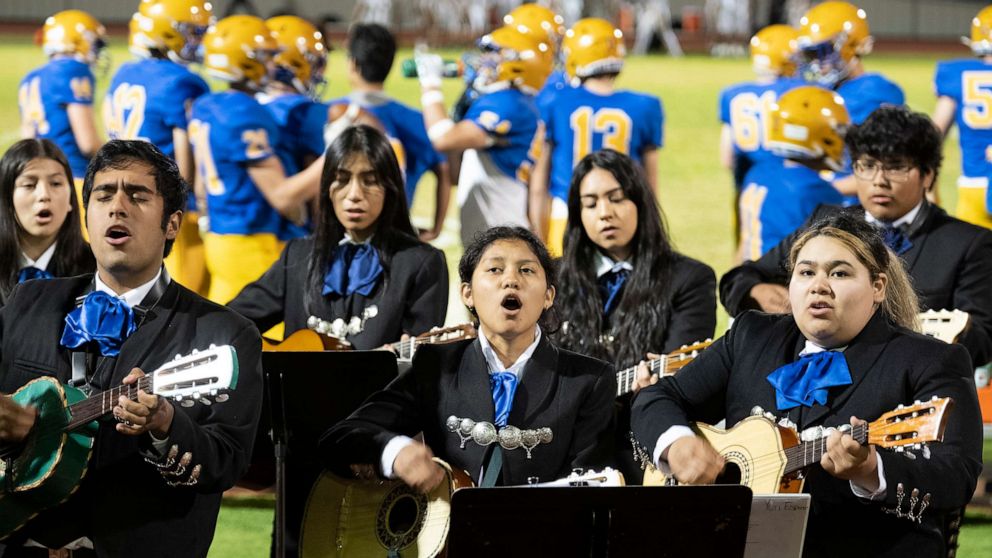 KIPP Sol Academy Mariachi Program
The KIPP Sol Academy Mariachi band initially started with just a few students, but as band director Morales stated, it now has a waitlist of over 100 students. Based in East Los Angeles, where mariachi culture is a cultural staple, the band helps students connect with their roots and bond with family members across generations.
Learn more about the program here.