A pit bull named Melvin spent nearly two years waiting to find his forever home, and in early March, he finally found it.
Melvin, approximately 3 years and 10 months old, was originally a lost dog in the care of the Long Beach Animal Care Services and was then transferred over to the Society for the Prevention of Cruelty to Animals Los Angeles (spcaLA) due to a partnership between the two organizations. He had been there ever since, for a total of 667 days.
Luckily, he was recently adopted by Patricia Nevi-Maguire and her family, and is now part of a loving home with two other pit bull siblings, Tibbs and Luna.
Sara Taylor, spcaLA's director of animal behavior and training, told "Good Morning America" that breed was a factor in Melvin's long-term stay.
Pit bulls are viewed as aggressive and dangerous dogs, which can hinder their chances of adoption. In a study published by "PLOS One," researchers found that on average, dogs labeled as pit bulls wait three times as long to be adopted than dogs that look similar to them but aren't labelled as pit bulls. They're also seen as less attractive by potential adopters.
"He was also pretty high energy -- in a friendly way," Taylor said. "But to the average person looking for a dog, that might be a bit too much energy. And the way he greeted people was he would jump out toward our body to say hello."
To keep him stimulated during his stay at spcaLA's Long Beach location, Melvin received training and daily enrichment, which included commands, exercise and playtime, both in and out of the kennel.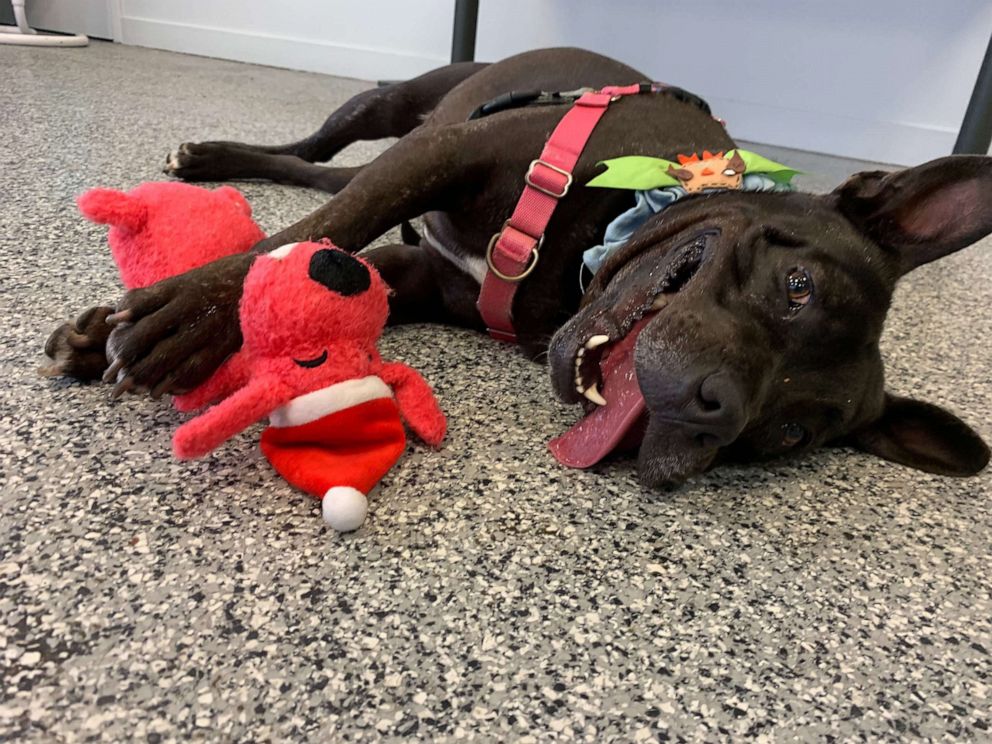 "He didn't really need behavioral modification. He didn't have any major issues like that. He just needed some basic training," Taylor said. "And he's also a very intelligent dog. So the combination of high intelligence and high energy meant he needed more enrichment in the shelter."
Melvin had previously come close to adoption a couple of times, Taylor mentioned, but they all fell through for some reason or another. It wasn't until Nevi-Maguire came along that his chance solidified.
Nevi-Maguire, from California, is no stranger to raising pit bulls. Including Melvin, who now goes by Loki, she has had eight pit bulls and usually has three at any given time.
"I love them to death and they have such a bad rap," she told "GMA." "And it's unfortunate. They're such great family dogs."
After one of their pit bulls, Romeo, passed away over the holidays, Nevi-Maguire and her family grieved and then began reaching out to shelters to bring a new family member into the mix. She looked at spcaLA and an adoption counselor there told her about a dog that had been looking for a home for a long time, and asked if she'd like to meet him.
Then, after speaking with people directly at the Long Beach location, Nevi-Maguire agreed to meet and adopt Melvin.
"They were like, 'Well you haven't seen him or what he looks like.' And I'm like, I really don't care what he looks like. As long as he's a pit bull, I'll take him," she said.
She and her family specifically look for pit bulls when the time to adopt their next dog comes around.
"I think so many people are nervous about pit bulls, no one understands them and since me and my family do, that's why we go to rescue those dogs as opposed to any other dog," she said. "They're the ones that are left there last, so I feel like we're the ones that need to kind of adopt them and rescue them."
Nevi-Maguire believes that most behaviors in pit bulls, such as extreme high energy and jumping, are to be expected when they first arrive in a new environment, but they're easily correctable.
She underscored the importance of time, patience, and proper socialization with other dogs and humans, saying, "I think so many people get a dog and they assume the very first day it should just melt into your home, know all the rules, and know what you like."
"They're wonderful and they're so loving and just so happy to be part of your life," she added. "They really want to be part of a family and a pack."
With only a few weeks in his new home under his belt, Melvin, now Loki, is already sleeping and eating together with his new siblings.