A family has raised more than $250,000 for a Domino's delivery driver, who was injured while delivering the family's food on Feb. 3.
Barbara Gillespie's fall was caught on the family's home security video and has since gone viral, being viewed over 3 million times on TikTok.
The 72-year-old can be seen struggling after the fall and apologizing for dropping the food while a member of the household rushed to help.
"I open the door and there she is just laying on the ground trying to get up," Kevin Keighron, the homeowner, told "Good Morning America." "She was more worried about [the food] than anything else. And I was like, 'I don't care about the food. I care about you.'"
Kevin Keighron and his wife Lacey Klein, of South Carolina, set up a GoFundMe to leave an extra "tip" for Gillespie and over 14,000 people have since donated.
Over $250,000 has been donated to the campaign for Gillespie, who has worked for Domino's for five and a half years.
"We thought we would get her a bigger tip and bring it to her. We never expected to get as much as we did," said Lacey Klein. "We were just so excited and thrilled [to] be able to tell her the next day."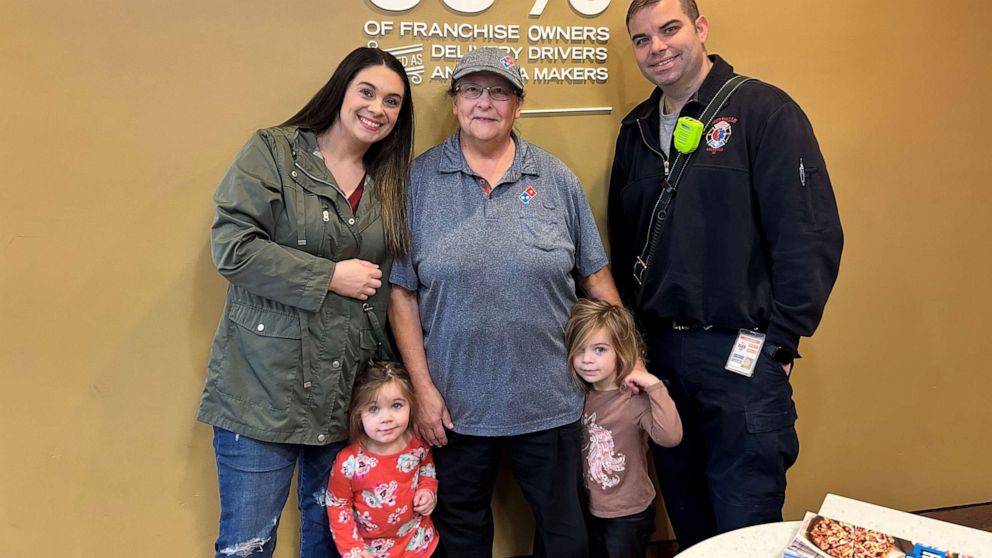 Gillespie said she is in awe of the amount of money donated to her by strangers.
"I almost gave up on people because so many people out there today are so mean," said Gillespie. "And here we got people loving, caring people. They care about someone else… about an elderly woman."
Domino's told "GMA" that they're grateful that "caring customers were able to help her transform her life so meaningfully."
"Barbara is a beloved member of our family and she was recently honored with Team Member of the Year for 2022 within the company. She is also a favorite of our customers and always has a smile on her face," the company said in a statement, adding, "We are very happy for her."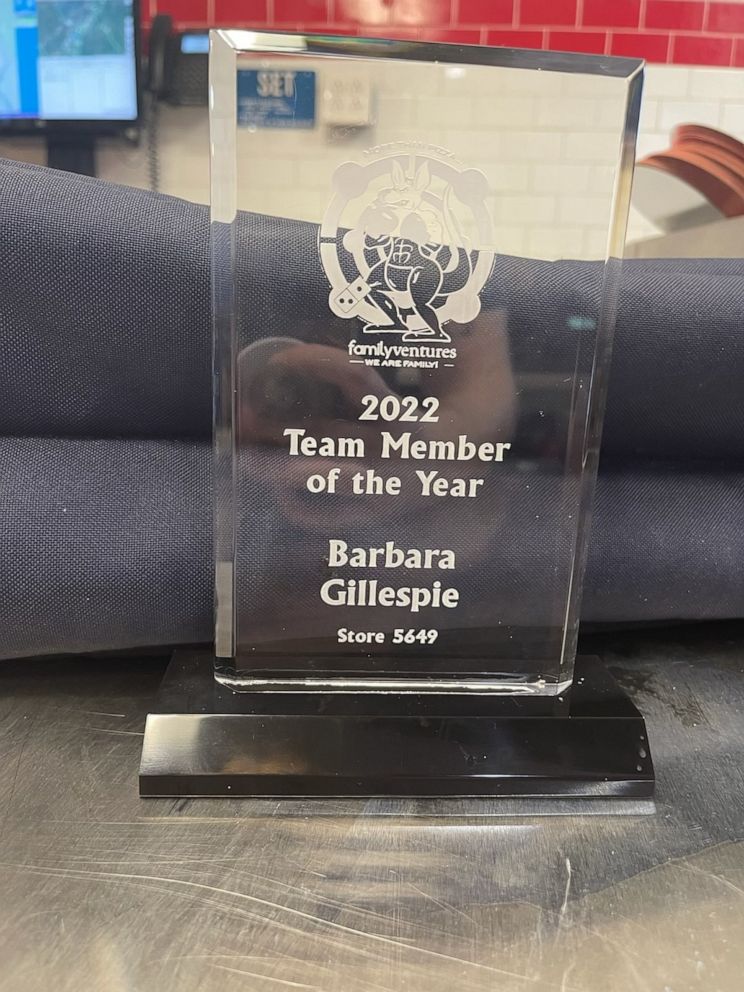 A spotlight on older Americans working past retirement age
While the community showed up to support Gillespie, her situation sparked a larger conversation about many Americans having to work past the retirement age to afford the cost of living.
Gillespie told ABC News that thanks to strangers' donations, she plans to retire and submitted her two-week notice to Domino's on Feb. 8.
In their fundraising description for Gillespie, the Kleins wrote, "Let's show her some kindness and take off some of this burden that our economy is causing the older generations especially."
The couple told "GMA" they watched both their fathers work right up until their deaths, and don't want the same for Gillespie, whom they said they now consider family.
"We want her to retire right now," said Lacey Klein. "Stop working and enjoy her grandkids.. her kids, her great-great-grandkids. Go on a cruise, take a vacation, whatever she wants to do, but not do something that's physically not good for her."
In recent months, several campaigns set up to help older workers be able to retire have gone viral. In one example, strangers raised over $133,000 for an 82-year-old Walmart employee after a TikTok video of her at work went viral.
GoFundMe told "GMA" there has been a "ripple effect" recently of fundraisers to help people reach retirement.
"Our community has created a ripple effect of good by starting fundraisers to help people reach their well-deserved retirement," GoFundMe said in a statement. "We are in awe of our community's kindness, generosity, and empathy, especially in moments like this. We wish Barbara the best in her retirement."
Over the past three decades, American workers are retiring at later ages. According to a 2022 Gallup poll, in 1991 the average retirement age was 57; the most recent Gallup poll reported that the average retirement age is up to 61 in 2022. Non-retirees' target retirement age has also increased from 60 in 1995 to 66 in 2022.
Older adults are staying in the workforce due to a "confluence of factors," according to the Office of Disability Employment Police.
"The economic downturn, shifting perceptions of retirement, increased workplace flexibility, and the aging of the 'baby boom' generation are all contributing to people working longer," the U.S. Department of Labor reported.
Support for older adults in the workforce comes from organizations such as the AARP Foundation which serves older adults, especially those who are low-income, by providing resources and helping secure the essentials, which includes a good job; eligible benefits; crucial refunds and sustaining social connections, according to the organization's website.
Mindy Feldbaum, vice president of the AARP Foundation, said there's been an increase of demand for AARP Foundation programs across the board including programs that help older unemployed adults find work like AARP's Back to Work 50+, Work for Yourself at 50+ and Senior Community Service Employment Program.
"Even though it's a tight labor market, one of the tightest labor markets ever and unemployment rates are low, there still remains a huge need for our services," Feldbaum told "GMA." "In fact, there actually has been an increase in demand for our services over the last year."
Feldbaum also said that older adults who want, or need, to go back to work face age discrimination in the workplace and lack confidence in being able to find another job within three months, if needed. Feldbaum cited a recent study done by the AARP Foundation that found nearly one-third of older workers worry that they will lose their job within a year, primarily because of a weak economy. The same study also found that 64% of older workers report age discrimination in today's workplace and 41% report experiencing some type of ageism at work in the past three years.
"We've been running workforce programs for over 55 years at the foundation," Feldbaum said."[We] support unemployed, underemployed and low wage workers to help them get back to work, help them start a business, but ultimately build their confidence and get them on the pathway to economic security."