Lizzo surprises class that went viral performing her song
Pittsburg Unified School District
The California teacher and second-grade students who went viral with their rendition of Lizzo's hit song "Truth Hurts" received a special message Friday from the singer herself.
"Hey kids, It's Lizzo. I saw the wonderful video that y'all made. Your teacher is very cool," Lizzo said in a message played on "Good Morning America." "I wanna thank you so much for supporting me and I wanna let you know that you are 100% the future."
"You're so bright and so beautiful and so talented so keep it up and I hope to see y'all one day," she said. "I wanna drop in on your class so hopefully we can make that happen. In the meantime, stay bright"
The teacher, DorothyHoney Mallari, chose "Truth Hurts" for her class's morning song this year after the kids reacted to hearing it played on Kidz Bop, a music brand for kids.
"It's really important that I find a song that the kids know, they're engaged in, they get hype on," Mallari said Friday on "GMA." "As soon as I saw them dancing to it I was like, 'Ah, I'm going to do this song.'"
The song is about boy problems, but Mallari reworked the lyrics to focus on empowering her students at Los Medanos Elementary School in Pittsburg, California.
"Let's be great, 'cuz I know we are great," the students sang with their teacher. "I just took an ELA test, turns out I'm 100% that smart... even when I'm feeling lazy."
"Yeah, I got math problems that's the student in me. Buzz, buzz then I solve them, that's the worker [bee] in me," the lyrics continue. "You want to have a good friend, who's committed. Help you with your homework, just a little."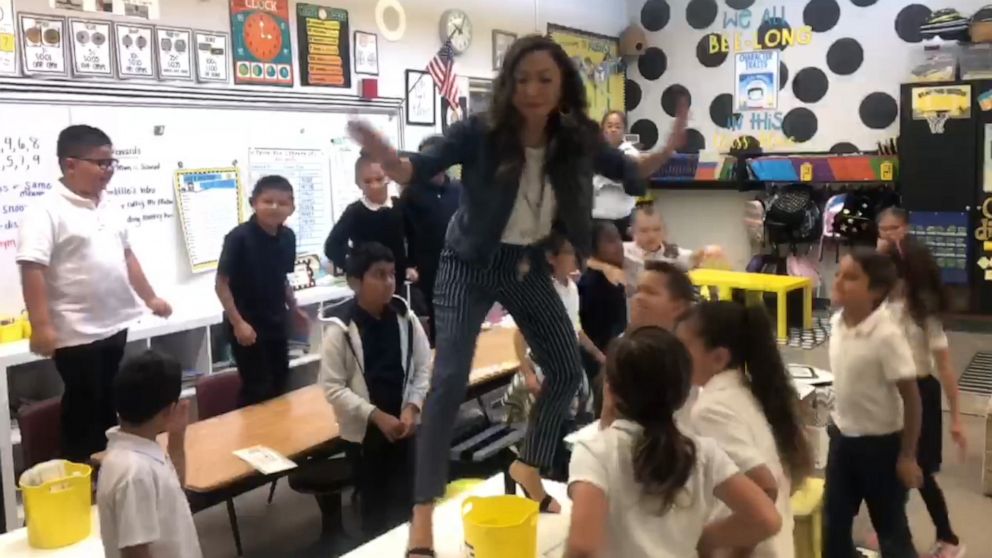 "You know I'll hold you down, because you got my back. And that's the sound of the yellow and black," the students sing, referring to the school's colors. "Let's be great, 'cuz I know we are great. Let's hurry, we don't want to be late."
"Choose a crate or a wobbly chair. Let's take turns so we know it is fair. In this class you'll never catch us fighting. Time's up we need to start our writing. Smart spots make learning more exciting," the song concludes.
The video of Mallari and her students quickly went viral after it was shared on social media by the Pittsburg Unified School District.
"Ms. Mallari uses a Lizzo song to teach her students to be GREAT. This video is less than 90 seconds long...and you'll be glad you watched!," the school district wrote on Twitter. "Help us make this video go viral! This is a teacher connecting with her kids in the classroom. #PittsburgPride."
Lizzo gave the students and Mallari an A+ after seeing the video for the first time herself.
"This IS the best thing I've watched today," she tweeted Wednesday.
"Truth Hurts" made history last month as the longest-running No. 1 single from a female rap artist.