"GMA" celebrates the heroes who rose to challenges on the front lines, in the classroom, in their communities and beyond amid the COVID-19 pandemic of 2020.
As novel coronavirus spreads, millions across the country are washing their hands to prevent contracting the disease. Some individuals, however, don't have that opportunity.
Atlanta native Terence Lester decided to help the city's homeless population by placing portable handwashing stations around the region.
Lester came up with the idea as COVID-19 updates were first being released. He knew something had to be done to assist the underserved during this time of crisis.
"As the world was talking about sanitizing and washing your hands, I knew there was an entire community of people experiencing homelessness who couldn't do any of those things," Lester told "Good Morning America."
Lester is the co-founder of Love Beyond Walls, a nonprofit that advocates for those experiencing homelessness. With the help of volunteers from the organization, more than a dozen portable sinks have already been set up throughout Atlanta.
"It's needed now more than ever. If libraries, restaurants and other public spaces are all closed, then how would people who live on the streets get access to water?" he asked. "They are a part of the community whether they have a home or not."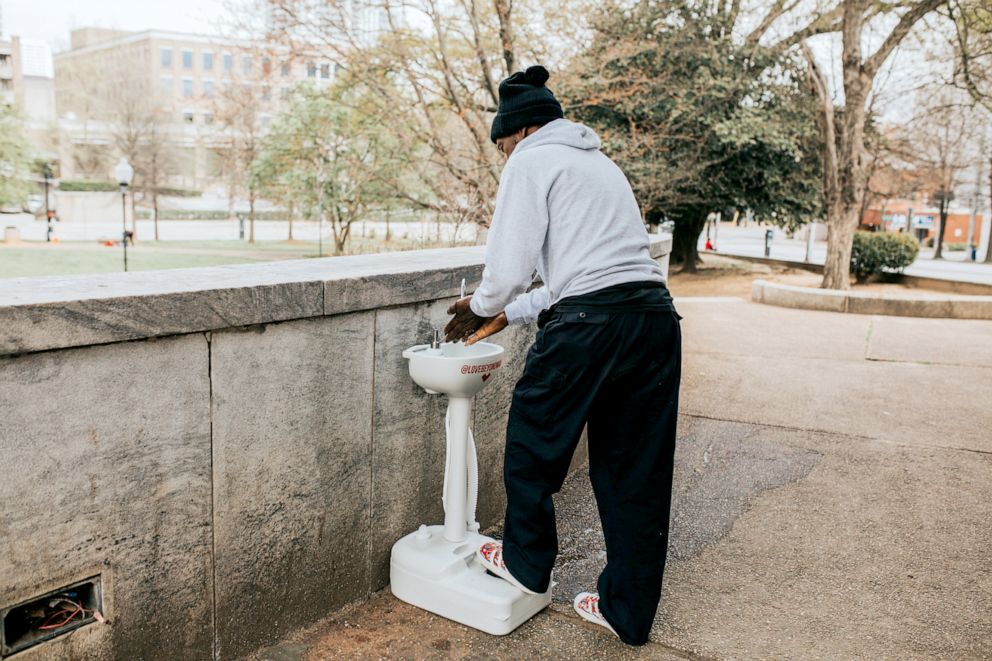 According to the Centers for Disease Control and Prevention, people who sleep outside or in places not meant for human habitation may be at greater risk for infection when there is community spread of COVID-19.
Each handwashing station is filled with soap and holds anywhere from 5 to 10 gallons of water. Lester and the Love Beyond Walls volunteers clean and refill each unit daily.
For many, these sinks are essential in killing off bacteria and potentially lethal viruses such as COVID-19. Lester understands the challenges of trying to stay safe on the streets as he was once homeless himself.
"When I was 16 years old, I stayed in parks and abandoned buildings off and on for over half a year," he told "GMA." "Doing a campaign like this helps to educate people about the invisibility of a community of people that's overlooked."
Many around the Atlanta region have now joined Lester in supporting the campaign, including Grammy Award-winning gospel artist Lecrae, who purchased additional stations for the city.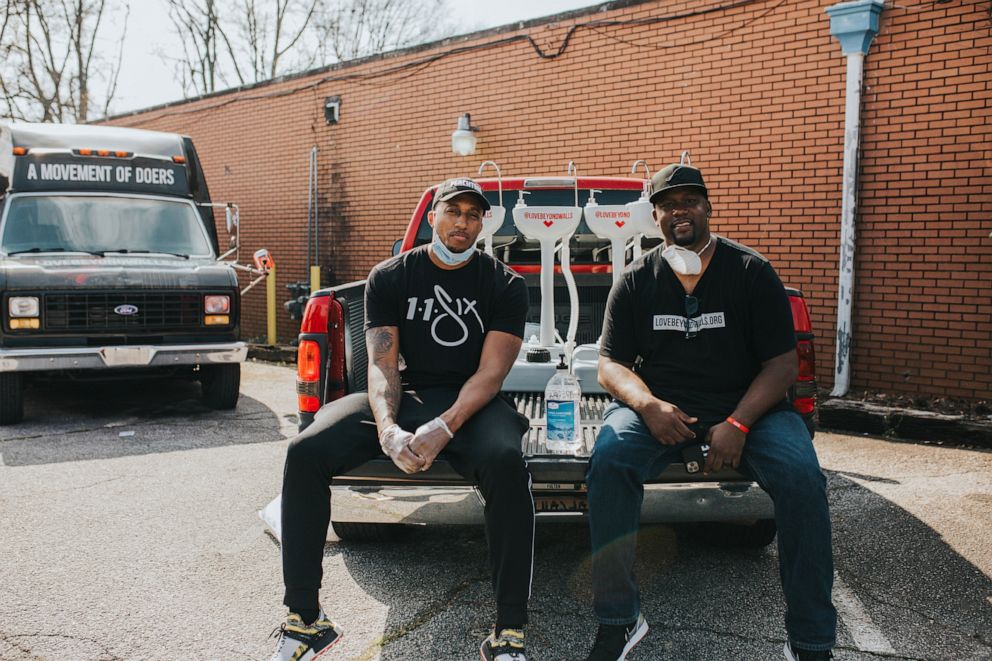 "People experiencing homelessness are just as concerned, if not more, about the issues at hand," Lecrae said. "I'm just excited that we are able to ease some of their panics."
New York City, Austin, Texas, and Oakland, California, are among the cities that have recently agreed to join the initiative and provide portable sinks for homeless individuals. Lester, Lecrae and the entire Love Beyond Walls team hope this will grow into a national campaign.
"Recognizing those experiencing homelessness as 'people' and not 'problems' is important," Lester said. "I hope this leads us to think about how we can adequately address this issue nationally."
Editor's note: This was originally published on March 25, 2020.