One nurse found a fun way to spread joy beyond the walls of the hospital using TikTok to share upbeat dance videos amid the coronavirus pandemic.
Kala Baker, a nurse at Mercy Hospital in Springfield, Missouri, joined "GMA" via FaceTime on Wednesday along with her colleagues to talk about those videos that quickly gained millions of views on the social media platform.
"We are doing good. We're a little bit stressed out, but we're doing it together and we're happy to be serving," Baker said of their work amid the coronavirus outbreak.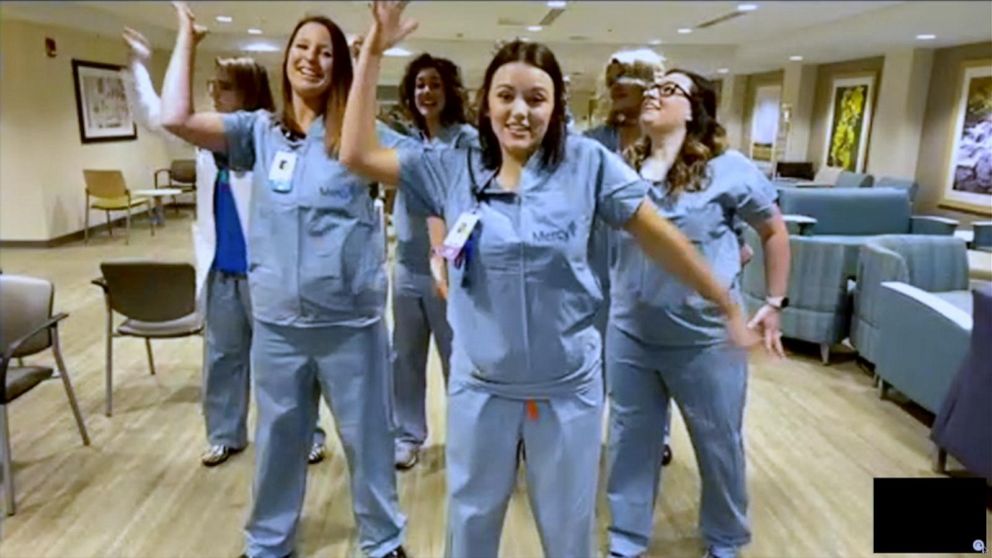 Baker's dance videos have racked up over three million views and she said the outpouring love from people who have watched has been "amazing."
"Honestly we are just still so shocked. We're honored that people even want to watch us dance because we are not dancers," Baker said, laughing. "It's been amazing to see all the people around the world watching them and sending us their love and support."
Baker was inspired by other videos she had seen online and got the idea to create her own short snippets to help spread joy.
"Obviously it's just been a little bit stressful around here -- it was a good way just to step away from our work for a second and bring some joy to the people around us and just to my co-workers that we could all get together and do something fun," she said.
When it comes to choosing the right song or choreography, Baker said, "I try to find things that are upbeat and joyful."
"I try to find easy ways that we can memorize them because we don't have all day," she added.