Less than 48 hours after an on-campus shooting left a faculty member dead at the University of North Carolina at Chapel Hill, the fear felt by students during the shooting is getting front-page attention.
The front page of Wednesday's edition of The Daily Tar Heel, the university's student newspaper, features dozens of text messages sent and received by students as they barricaded themselves inside classrooms, bathrooms and other locations during a three-hour lockdown Monday.
"Are you safe? Where are you? Are you alone?" the first text messages on The Daily Tar Heel's front-page graphic read, followed by dozens of others describing everything from students' and loved ones' pure fear to the sounds students were hearing around them.
The UNC students' lockdown Monday was prompted by a shelter-in-place alert following reports of shots fired around Caudill Laboratories, police said.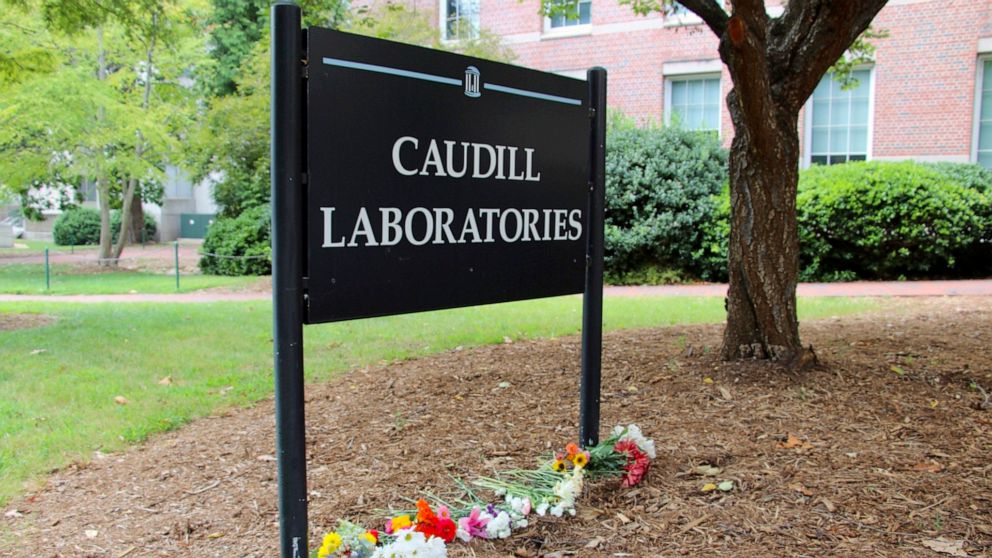 The victim in the shooting was later identified as Zijie Yan, a father of two and an associate professor in the university's department of applied physical sciences in the college of arts and sciences. The suspect in the shooting, Tailei Qi, was arrested after a brief search and charged with first-degree murder and misdemeanor possession of a gun on an educational property, police said.
Qi appeared in court Tuesday and was ordered to be held without bail. He did not issue a plea.
Caitlyn Yaede, The Daily Tar Heel's print managing editor, said she and the newspaper's other editors were planning to publish their fall football preview issue this week when they switched course to cover the deadly shooting, which happened at the start of the second week of school.
"We sat down after Monday and said we have to do something that matters to people and we have to tell the story," Yaede told "Good Morning America," adding that it was the newspaper's editor-in-chief, Emmy Martin, who had the idea to tell the story through students' own words.
Yaede said the editorial staff of nearly 40 people reached out to their friends and classmates to compile the text messages, which were displayed on the front page in black, white and red text.
"We just wanted to make it in a way that tells the story of the stress and anxiety and fear that people felt in those three hours," Yaede said. "That's the narrative that we were hoping to communicate."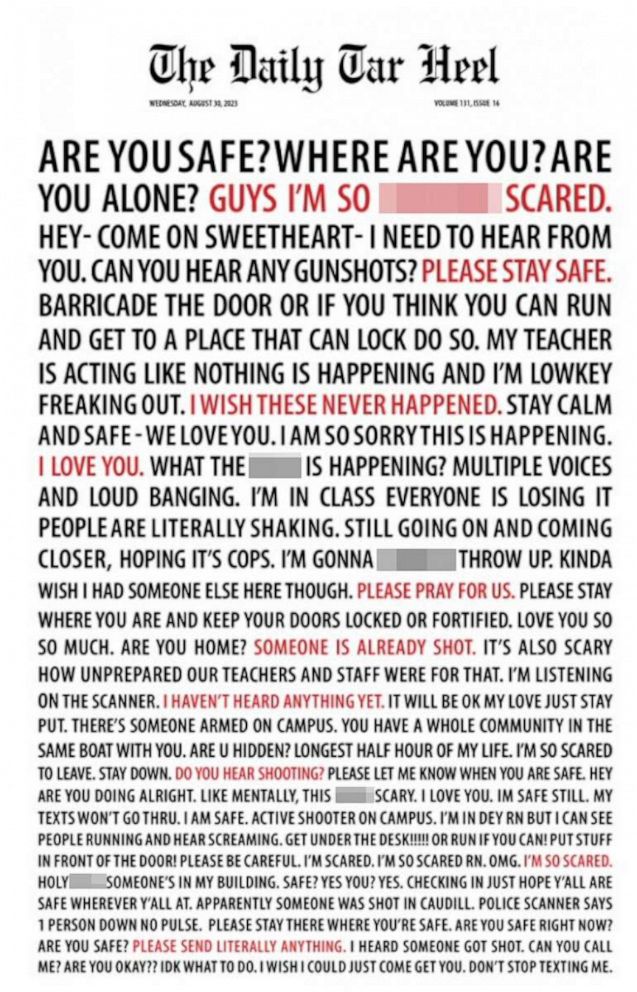 Yaede shared a first look at the front page Tuesday night in a message on X, formerly known as Twitter, that now has more than 6 million views.
"I shed many tears while typing up these heart-wrenching text messages sent and received by UNC students yesterday," Yaede wrote in her message, adding, "Beyond proud of this cover and the team behind it."
Yaede said she believes the cover image has resonated with people because so many could relate to the feelings of fear described by students and their loved ones.
As of Aug. 1, at least 25,198 people have died from gun violence in the U.S. this year, according to the Gun Violence Archive -- an average of 118 deaths each day.
Of those who died, 879 were teens and 170 were children.
"I think it's come to a point where a lot of people have sent or received messages like that in their lifetime and they can recognize the fear," Yaede said. "There is something so human about seeing people in these situations."
She continued, "To see the inside, nitty-gritty reality like that, I think that means a lot to people -- I hope it means a lot to people."
In a press conference following the shooting, UNC chancellor Kevin M. Guskiewicz acknowledged that Monday was a traumatic experience for students and faculty.
"I am devastated and saddened by today's shooting in one of our campus buildings, a place where we conduct our important work of teaching, mentoring and research every day," Guskiewicz said. "Our hearts are with the family of our fellow faculty member, those who are personally connected to the victim and those traumatized by this senseless act of violence."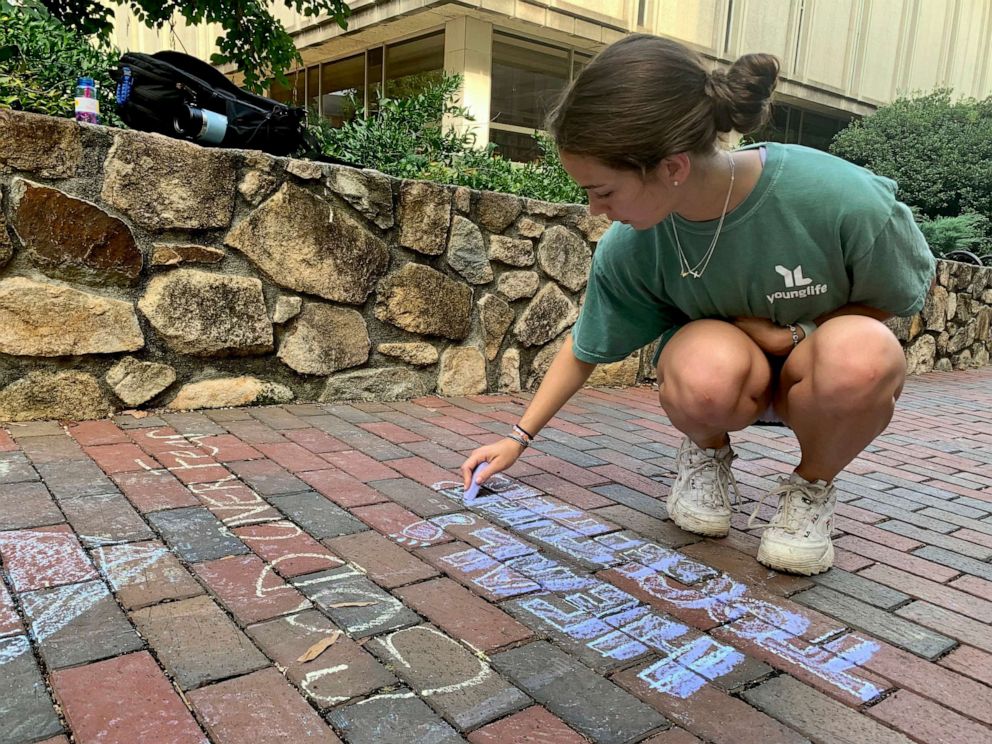 Yaede added that as people see the Daily Tar Heel's front page image shared widely, she hopes they dig deeper into the shooting and the issue of gun violence.
"If you liked our front cover, turn the page. Keep reading," she said. "We have so much work ahead of us to tell the story and to tell it right, so I would really encourage anyone who felt moved by the cover to see the work we're doing here at The Daily Tar Heel."
ABC News' Ivan Pereira and Josh Margolin contributed to this report.