These parents are tackling a common football injury that took their son's life: 'We are trying to continue his legacy'
These parents are tackling a common football injury that took their son's life
The Taylor Haugen Foundation
For one Florida couple, their life's work to prevent injuries among young athletes is motivated by the loss of their son, Taylor.
Every parent's worst nightmare came true for Kathy and Brian Haugen when they lost their son when he was just 15 years old. He died while doing what he loved most: playing football.
"He was very proud to be a starting wide receiver on the JV squad [at Niceville High School]," Brian Haugen shared with "Good Morning America."
During the season's opening game, Taylor jumped up in the middle of the field to catch a pass when he was hit by two defenders.
"He got hit simultaneously while catching the ball from the front and back in a way that it basically crushed his liver," Brian Haugen said.
"This is an injury that does happen and it needs to be out in front just like every other injury out there," Kathy Haugen shared with "GMA." "These are vital organs just like the brain that you can't live without."
After learning that this type of abdominal injury is not rare among athletes like football players, the Haugens felt compelled to create a foundation that would honor their son and bring awareness to this issue.
The Taylor Haugen Foundation
With the help of their friends, family and the community, Kathy and Brian Haugen created the Taylor Haugen Foundation.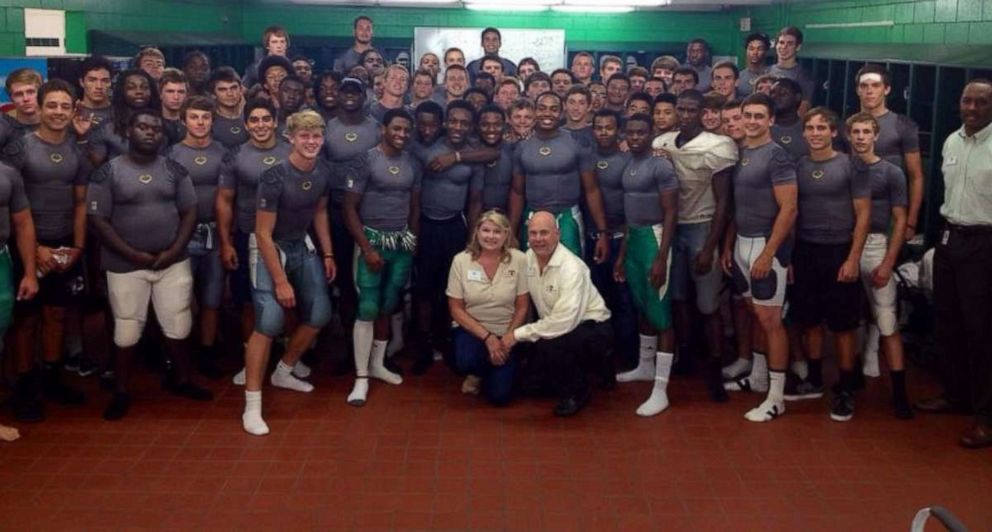 "I didn't want another parent to have to go through what we have gone through, go through every day," Kathy Haugen said. "I can't sit back and watch this happen to another child."
"Our son had a big heart and a big community service belief," Brian Haugen said. "In many ways, we are trying to continue his legacy by living up to his legacy because this is is what he would want us to do."
The foundation is committed to educating athletes, coaches, schools, trainers and players about how to protect athletes from abdominal injuries.
Kathy and Brian Haugen have even learned about protective tactics such as proper blocking and tackling, which the organization speaks about.
'You are your child's best advocate'
In 2011, the couple expanded their efforts even further by creating a Youth Equipment for Sports Safety Program (YESS) program under their foundation to help provide young athletes and schools with high-tech equipment to help shield them against deadly abdominal injuries.
The Haugens have helped provide protective gear to more than 5,000 football players in middle and high schools across 14 states.
The couple has heard from other parents who have children that play other sports, such as soccer, where abdominal injuries are also common.
"Kathy gets phone calls and emails from people all the time across the country, from parents who have a child who sustained an abdominal injury from athletics, because there's nothing else out there that covers this," Brian Haugen shared.
"We just felt like that was our calling, like that was our time to step up and do something," he added.
The players themselves also tell the Haugen family how much they love the equipment.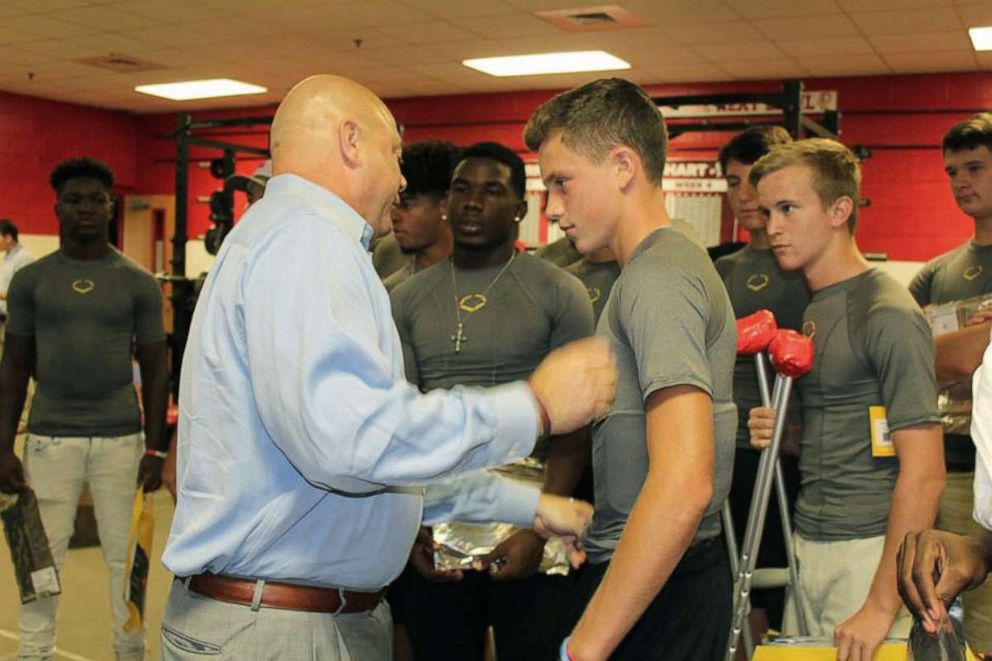 "They tell us they feel like Superman and it gives them confidence and support," Brian Haugen said.
The Taylor Haugen Foundation has even received support from professional athletes such as former NFL player Matt Stover, and Drew Stanton, quarterback for the Cleveland Browns who wears abdominal protective gear.
"We receive several phone calls a year from players or former players," Brian Haugen said. "[They'll say,] 'I'm familiar with your foundation. What can I do to support?'"
The foundation likes to call its work with players "protect it forward" as a form of "pay it forward."
The Haugen family also started #PledgeToProtect in 2018 as another form of awareness for coaches and parents. These are things that can be done to "better protect young athletes."
"Don't be afraid to talk to your coach, ask questions," Kathy Haugen said. "You are your child's best advocate."
"A lot of people out there are astounded that we would support football after losing our son in a football game, but it's so much more than a sport for so many," she said. "For many, it's the only avenue that they have to a better life."