The hottest beauty and fashion trends for 2018
This season, sporty stripes are showing up in unexpected places, from oversized sweaters to sleek denim, making simple pieces feel effortlessly styled. Find your favorites from this list, and pair them with solids already in your wardrobe. When you do, your whole look will fall in line.
These products were curated by the Hinted editorial team. Hinted is the social shopping platform that lets you create lists of what you want to buy, and discover what's new and trending. Use Hinted to keep track of anything you want to buy from anywhere online, including fashion, trips, and experiences. "Good Morning America" has affiliate partnerships, so we will get a small share of revenue from your purchases through these links. All product prices are determined by the retailer and subject to change. By visiting these websites, you will leave GoodMorningAmerica.com and any information you share with the retailer will be governed by its website's terms and conditions and privacy policies.
1. The Sleek Knit
Price: $110
Make a head-turning exit in this playfully chic take on the trend.
Style Hint: Pair with dark denim jeans or a corduroy pencil skirt to keep the streamlined look.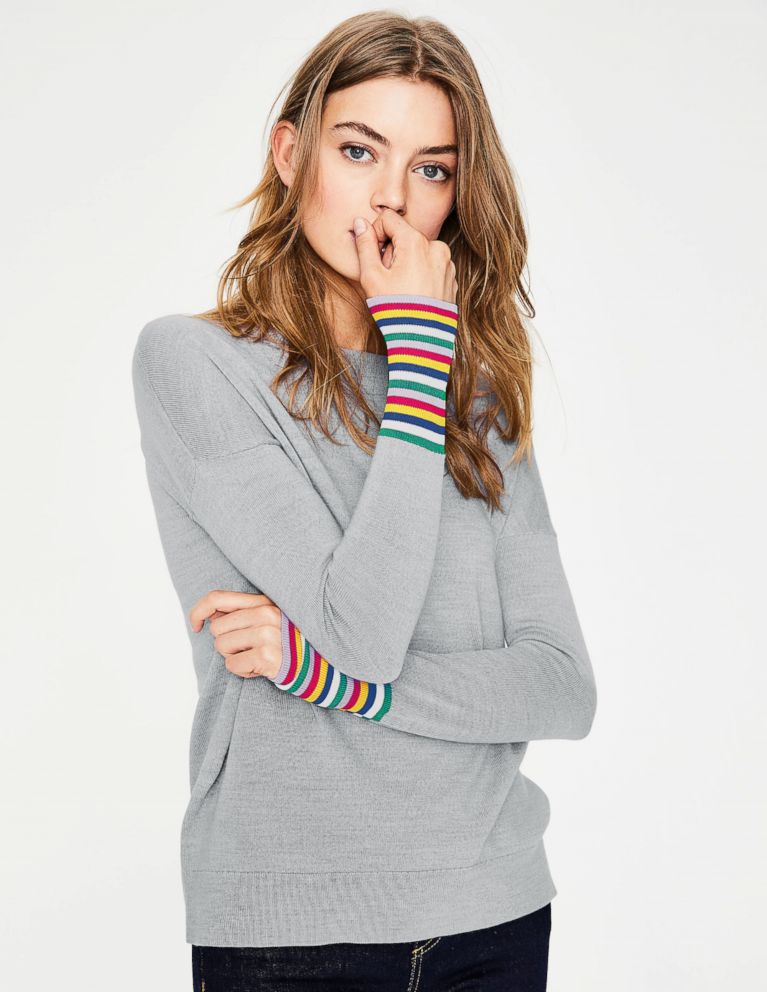 2. The Dream Duo
Price: $198
Imagine spending your weekend in this sumptuous set?
Style Hint: We love this dreamy pairing but can easily see wearing sweater separately with jeans and the pants with comfy tees.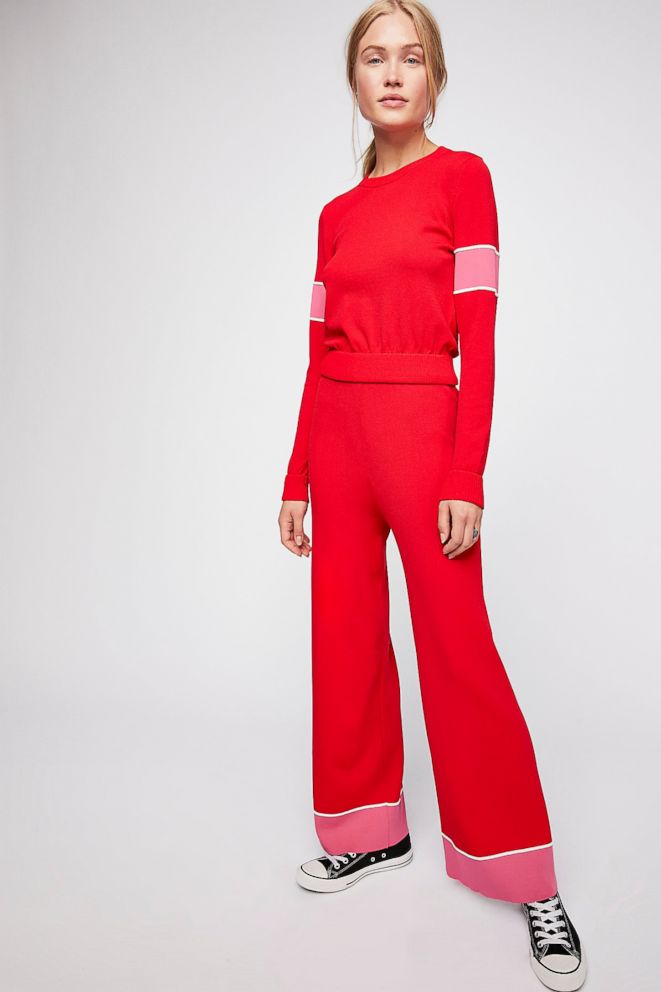 3. The Racing Sweater
Glamourous, Varsity Sweater
Price: $63
shopbop.com
When your day is a race to the finish line, slip on the trim sweater that has a friendly competitive edge.
Style Hint: We love to see it with skinny skirts to keep the look lean, or wide trousers to play with proportions.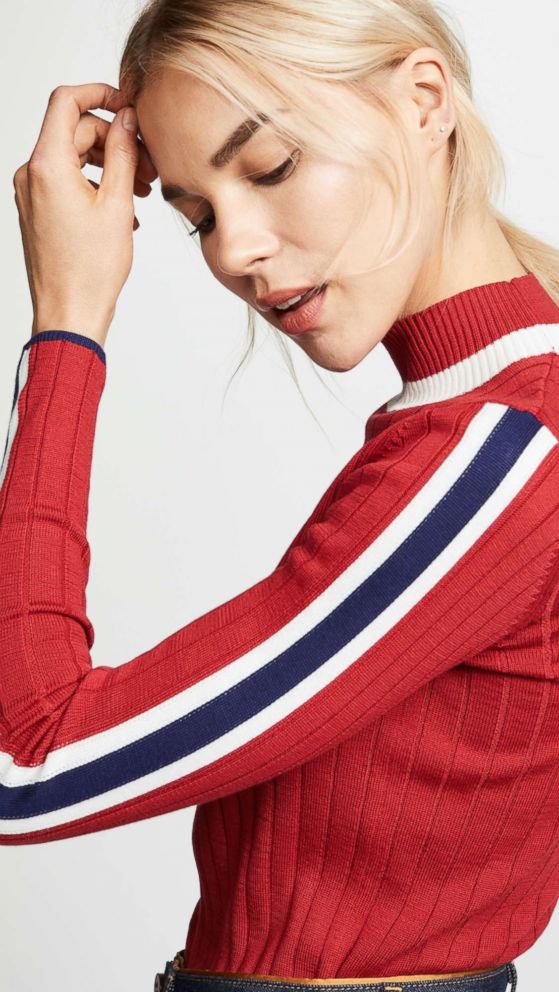 4. The Eye-Catching Belt
Boden, Women's Classic Belt
Price: $70
bodenusa.com
Belts are everywhere this fall.
Style Hint: Pair this rainbow number against white or black to make the colors pop. Watch as it transforms your classic white shirt and jeans, or takes center stage with head-to-toe black.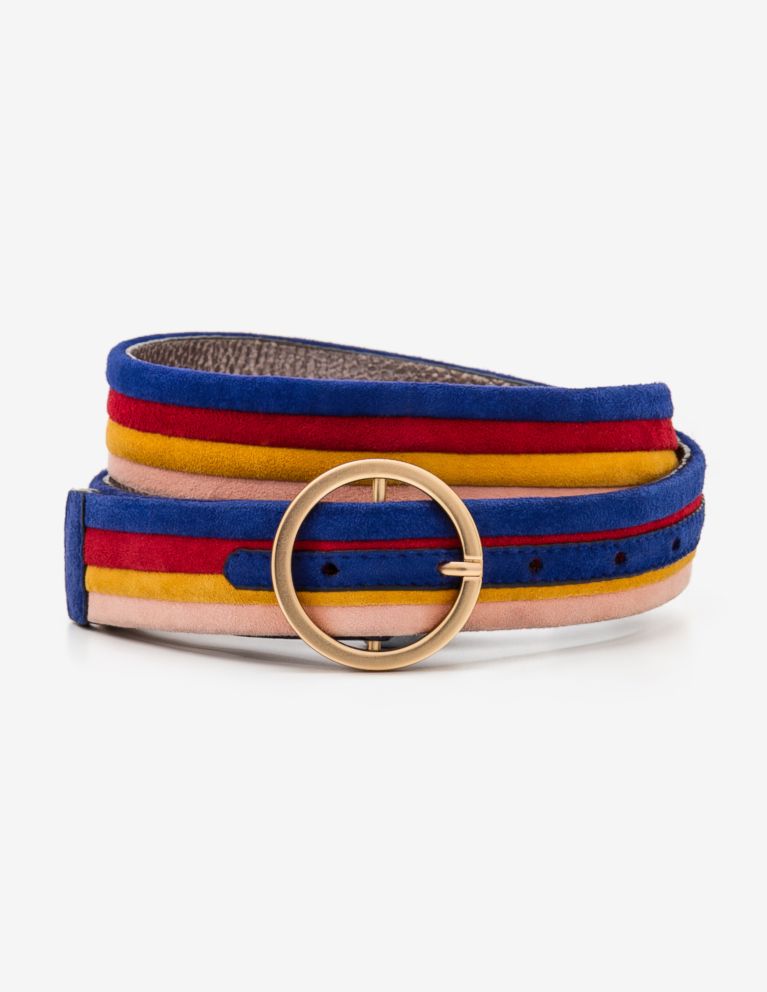 5. The Classic Reimagined
English Factory, Button Down with Ribbing
Price: $73
shopbop.com
A yoke of ribbed knit detailing converts a plain white blouse into a conversation piece. We love that the fashion-forward design does all your styling for you.
Style Hint: Pair with simple dark jeans or glen plaid trousers and you're good to go.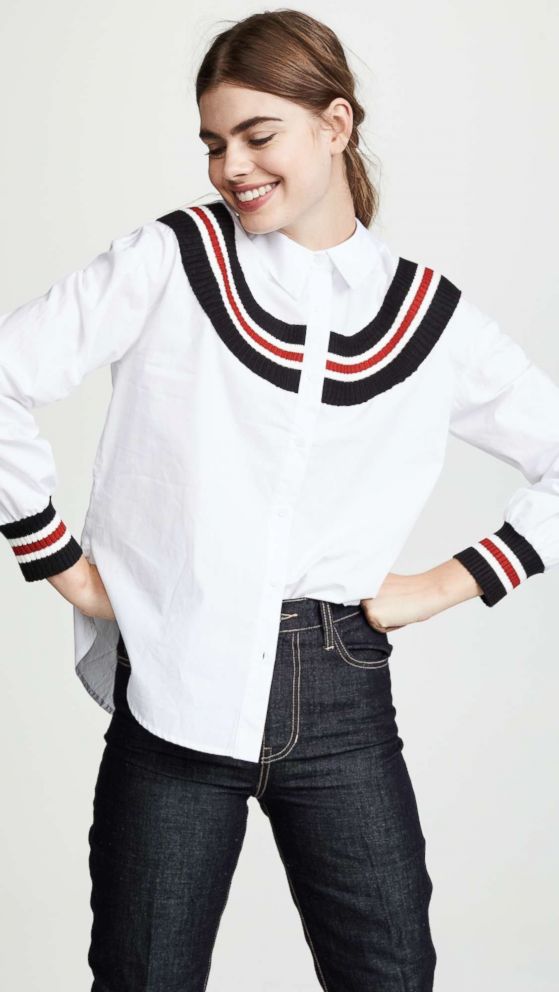 6. The Striped Hoop
Anthropologie, Daria Earrings
Price: $38
anthropologie.com
Nod to the trend with this colorful hoop that can be paired with both office and weekend looks.
Style Hint: Pull your hair back to accentuate the bright stripes.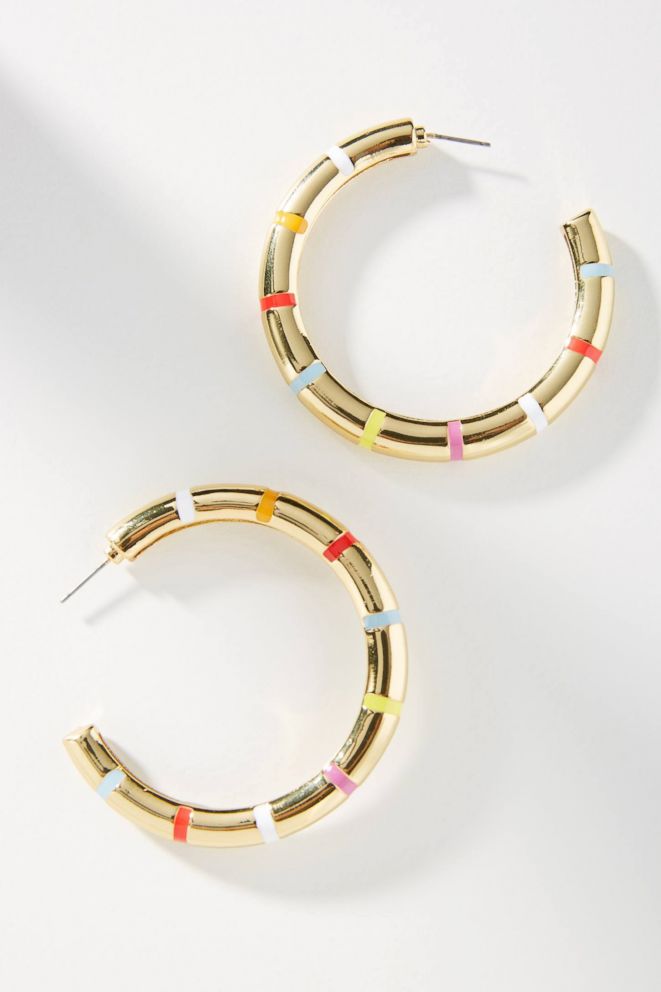 7. The Cool Kid Pants
Mother, Misfit Pants
Price: $228
shopbop.com
Camo and stripes are a fashion-forward combo that begs to be dressed up or down.
Style Hint: We can see these with a lacy white top (yes!) or a graphic tee. Either way, the effect is the epitome of cool.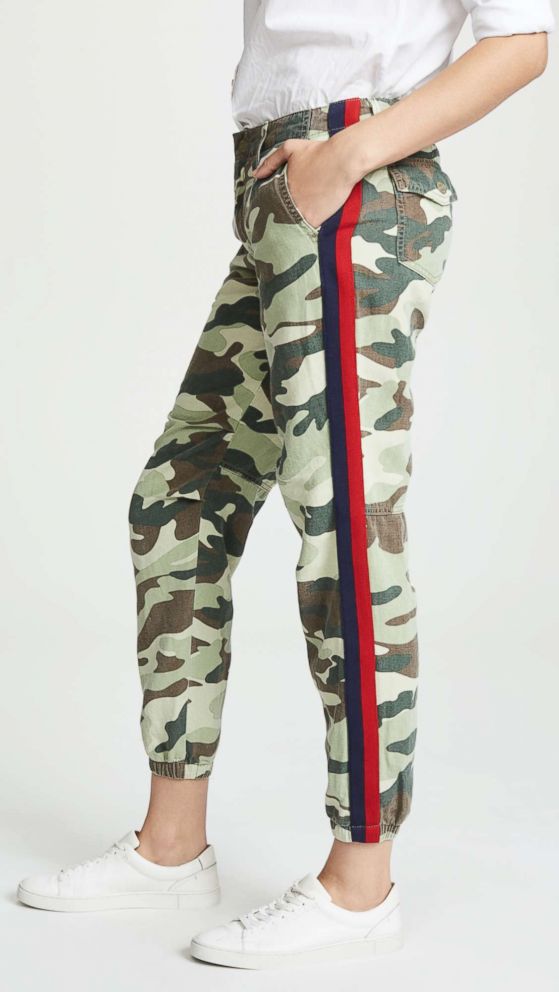 8. The Weekend Must-Have
Tory Sport, Ruffled Striped Low-Tops
Price: $228
neimanmarcus.com
Fall in love with this feminine take on the classic tennis shoe.
Style Hint: Yes, they're a splurge but consider that they'll be your weekend go-to and they'll match pretty much everything you'll wear.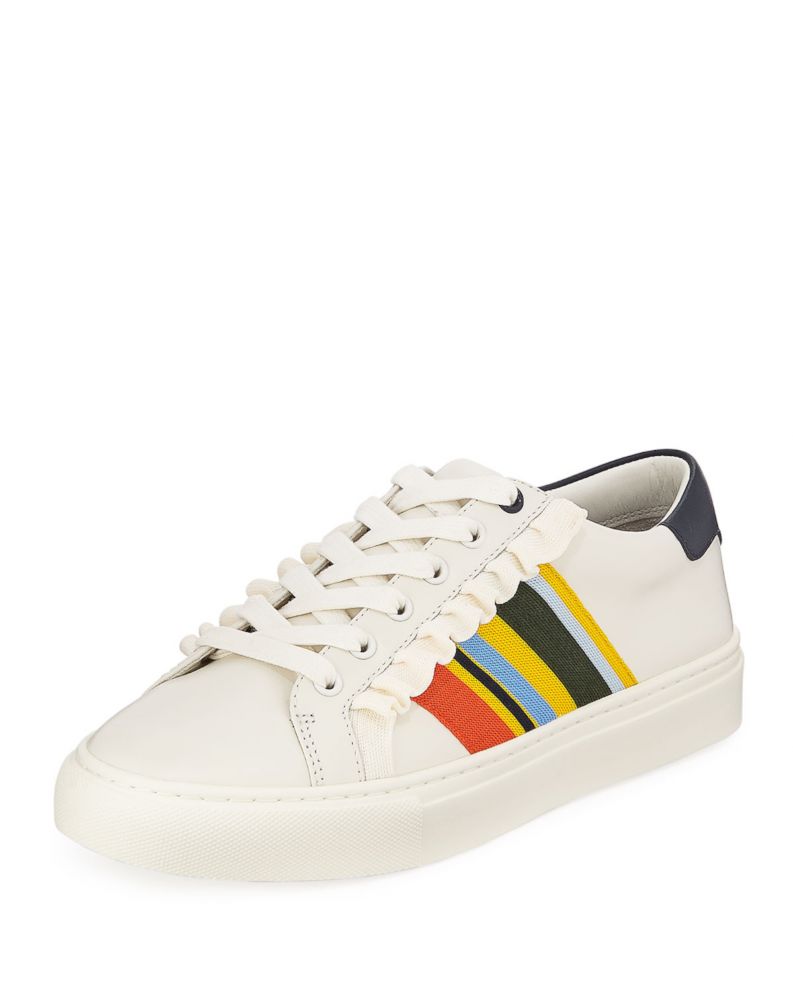 9. The Next Best Thing
Gola, Coaster Rainbow Striped Sneaker
Price: $65
nordstrom.com
If you love the look of the Tory Sport tennis shoe, but it's not in your budget, try these look-a-likes without the ruffle.
Style Hint: They're made of comfortable canvas and play well with all your weekend looks.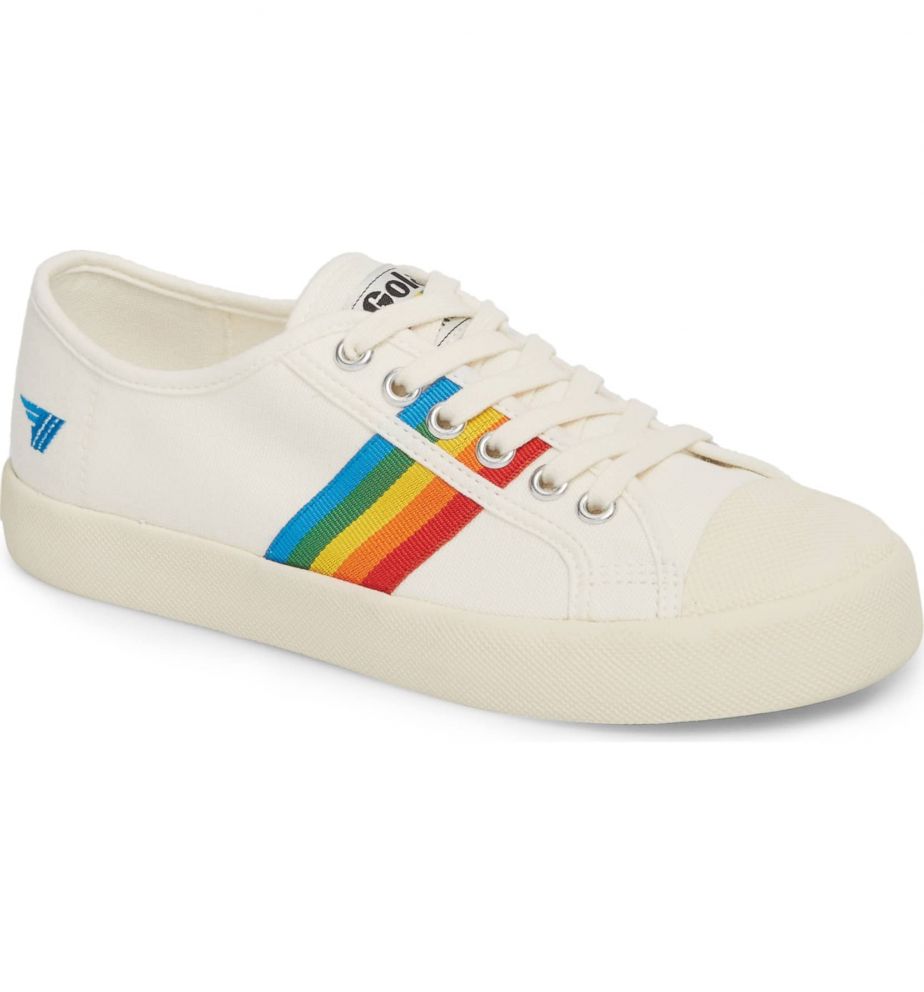 10. The Power Pullover
Truly Madly Deeply, Caroline Striped Sweater
Price: $69
urbanoutfitters.com
Pendleton-inspired stripes turn a boxy sweater into a statement piece.
Style Hint: Pair with dark denim to play up the color contrast.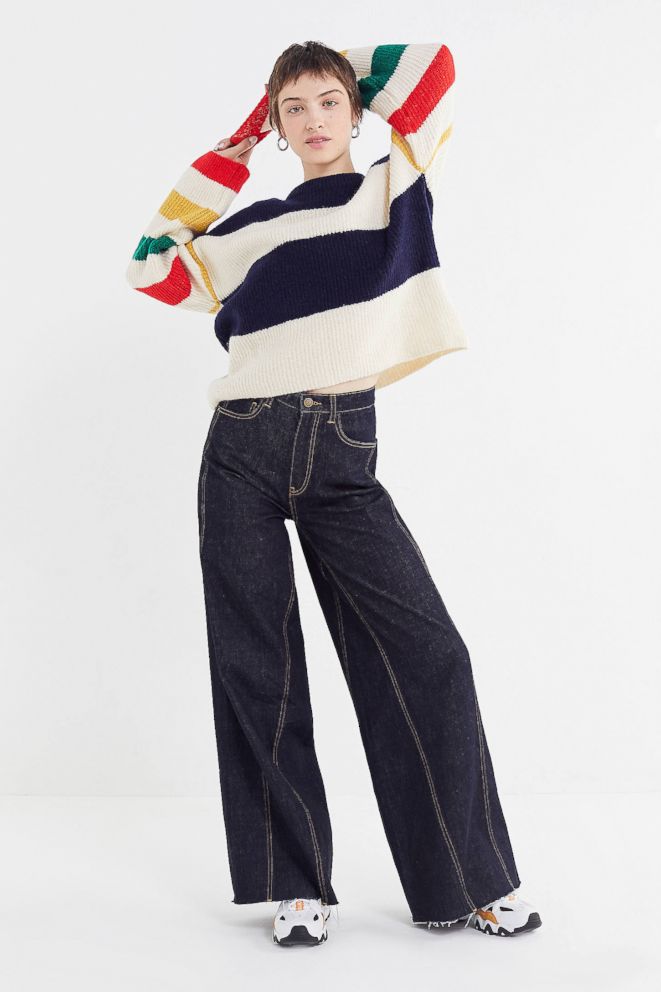 11. The Easy Dress
Free People, Colorblock Swit Mini Dress
Price: $148
freepeople.com
The snuggliest sweater dress we've found, with just a hint of forgiving stretch.
Style Hint: It is short, so wear it over skinny jeans or opaque tights. Tall boots look best.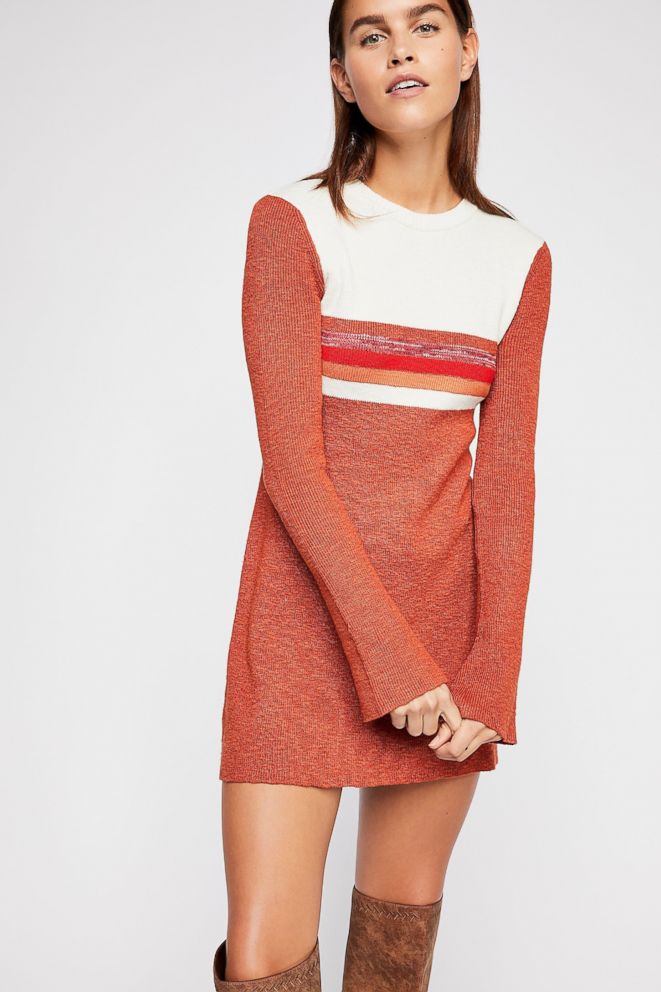 12. The Iconic Scarf
Isabel Marant, Helona Ski Knit Scarf
Price: $195
shopbop.com
Sometimes splurging on a striking designer piece is all you need to tie your fall look together. We love this scarf for its sporty-meets-luxe vibe.
Style Hint: Throw it over a denim jacket, a tidy trench or a cozy teddy coat to elevate your style in an instant.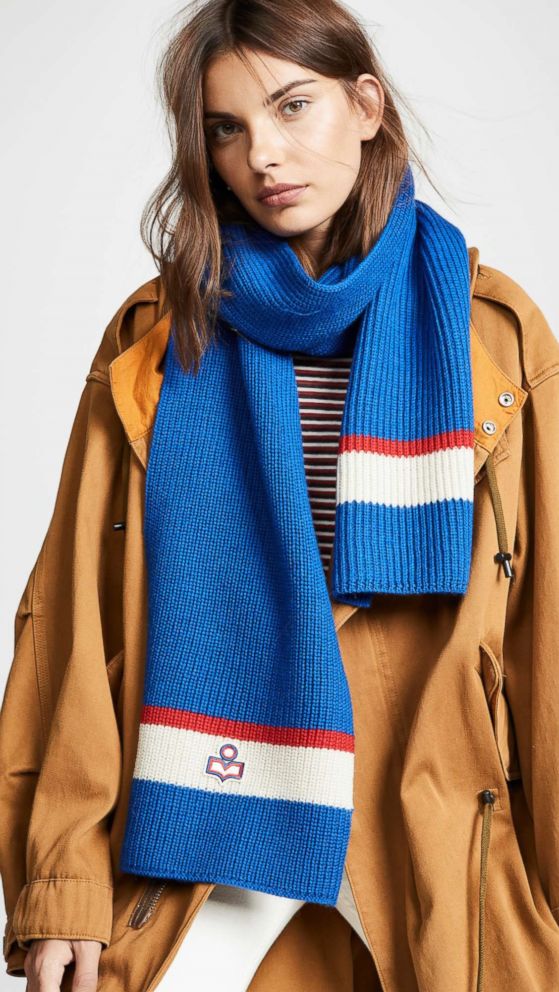 13. The Trendy Tight
Free People, Striped Tight
Price: $28
freepeople.com
As temps drop, opaque tights are coming back in a big way. We love the surprise flash of racing stripes.
Style Hint: Wear them on your busiest days with a mini corduroy or denim skirt to feel like you're winning.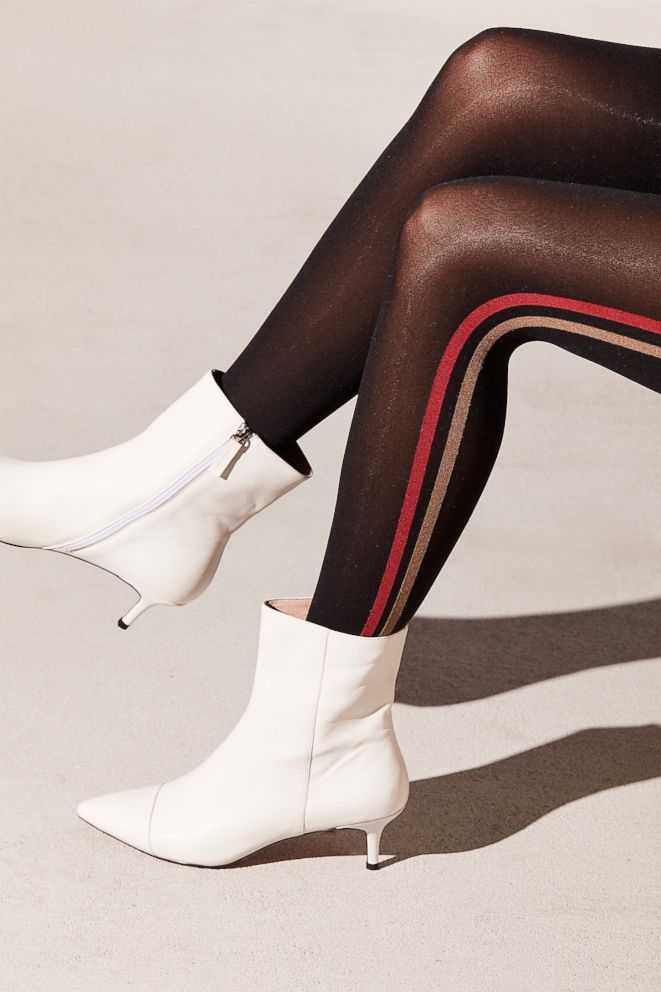 14. The Denim Upgrade
DL1961, Margaux Jeans
Price: $209
nordstrom.com
We love the tuxedo-inspired velvet trim on these dark denim jeans.
Style Hint: Pair them with high-collar blouses and booties for evenings out.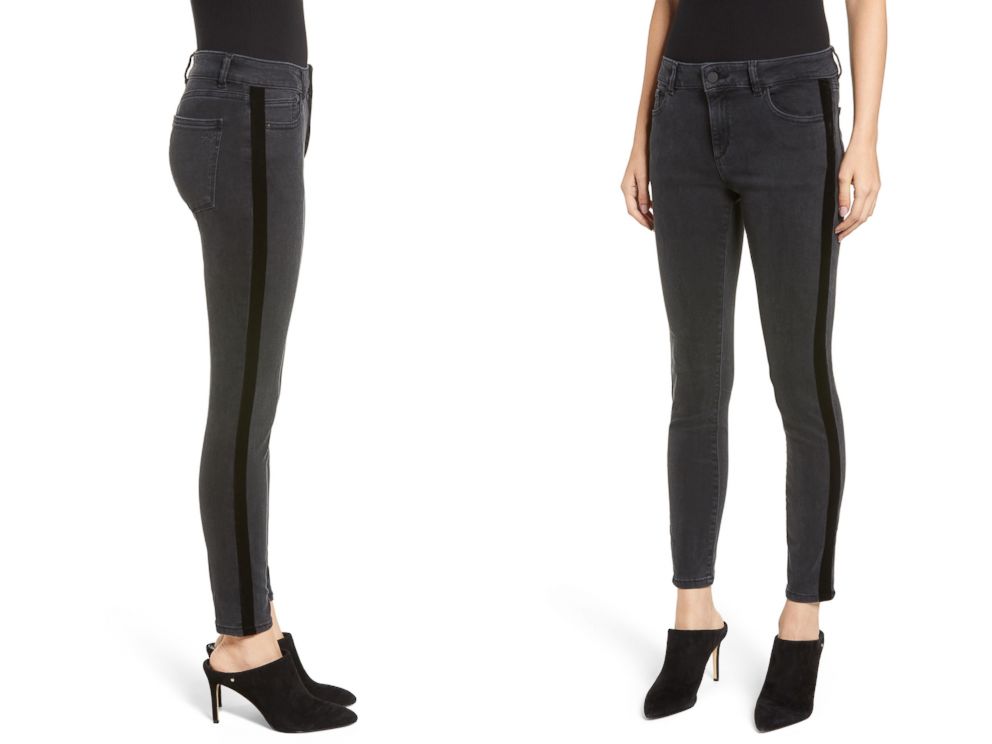 15. The Mini Clutch
Boden, Leather Keepsake Poch
Price: $45
bodenusa.comSleek stripes enliven this petite purse.
Style Hint: Stash a few essentials and let the pale palette mix effortlessly with all your going out looks.