This Wednesday, June 8, is World Ocean Day.
The international celebration, powered by the World Ocean Day Youth Advisory Council, "supports collaborative conservation" and connects a "global network of youth and organizational leaders in [more than] 140 countries" to provide and promote "actionable resources" for those seeking to take part in conservation efforts, the World Ocean Day website explains.
This year, the council's goal is to work toward protecting a minimum of 30% of the world's oceans by 2030.
"By supporting 30×30, we can protect our planet's life support systems -- specifically the interconnected issues of ocean, climate, and biodiversity," the website states. "Currently, less than 17% of land and 8% of the ocean worldwide is protected."
A number of retail brands are also working to achieve planet- and ocean-friendly goals. Brands like Biossance and Project Reef, for example, have found ways to make strides within the beauty industry. And popular leggings-brand, Girlfriend Collective, uses recycled water bottles and fishing nets to make their activewear.
Continue below for more information and shop mindful picks from sun care to beach towels and more.
Sign up for our new "GMA" Shop newsletter to get the latest deals delivered to your inbox and discover more products to help you live your best life.
By clicking on these shopping links, visitors will leave Goodmorningamerica.com. These e-commerce sites are operated under different terms and privacy policies than Goodmorningamerica.com. ABC will receive a commission for purchases made through these links. Prices may change from the date of publication.
Biossance
This year, Biossance has launched two new limited-edition products to benefit the nonprofit conservation group Oceana.
"Our mission of clean beauty saves 2 million sharks per year with our vegan squalane, and with our partnership with Oceana, we've been able to donate more than $300k to help keep our oceans safe, healthy, and abundant," Biossance's website reads.
Five percent of every purchase of the limited-edition Biossance products will support Oceana during World Ocean Month.
Biossance 100% Squalane Oil - Oceana Limited Edition Jumbo
The sustainable, vegan squalane oil helps save sharks, and the packaging is made from 100% post-consumer recycled materials, Sephora explains.
Girlfriend Collective
"Girlfriend Collective is on a mission to create a positive impact with customers, the planet, and within the apparel industry by outfitting, inspiring and empowering those in pursuit of a better world," the brand said. "Girlfriend believes good things come to those who don't waste."
Girlfriend says it uses old water bottles and fishing nets to create its athletic apparel, to avoid polluting oceans. From now through June 16, the brand has partnered with payment platform Catch to donate 10% of every Girlfriend x Catch order to Clean Ocean Action, a nonprofit working to protect and restore the marine water quality off the New York/New Jersey coast.
Girlfriend Collective Midnight Compressive Pocket Legging
Project Reef
Project Reef, a suncare brand "that seeks to leave things better than [they] found them," uses ingredients that won't damage the ocean's coral reefs, its website says.
"Beyond our reef positive products, we believe in helping the oceans return to a pristine and safe environment -- one action at a time. Each purchase from Project Reef removes 1 [pound] of plastic from the world's oceans -- the equivalent of 22 water bottles -- through partner organizations such as ReSea and PlasticBank. Additionally, our packaging is made from plastic waste collected from the shorelines or oceans and used to create our sunscreen tubes."
This year, Project Reef has collaborated with Four Seasons Resort Maui at Wailea in Hawaii to offer Project Reef sunscreens to its guests.
"We encourage our guests to experience the natural wonder that our incredible island offers. Making connections with the ocean, whether it be through our outrigger canoe program, a snorkel, or one of the many other ways to enjoy our waters, creates a bond to this place and encourages stewardship," the resort's director of cultural programs, "Aunty Wendy" Tuivaioge, said in a press statement. "Now, we're proud to offer a truly reef-safe product that protects our guests as well as our ocean."
La Mer
Skin care brand La Mer is committed to giving back to the ocean and protecting it, too: The brand raises awareness, partners with environmental advocates and makes donations through its La Mer Blue Heart Oceans Fund.
"We're committed to helping protect marine habitats across the globe in hopes of ensuring flourishing seas for generations to come," the company states on its website.
Over the years, La Mer says it has also worked with The Nature Conservancy to plant 400,000 mangroves in the Caribbean and supported GreenWave's "mission to scale regernative ocean farming to coastal and Indigenous communities around North America," among other things, according to its website.
Love Beauty and Planet
In 2021, Love Beauty and Planet announced its plan to make 100% of its ingredients in all products biodegradable by 2030, saying it hoped to "[minimize] our impact on water and aquatic ecosystems."
"In 2022, we're proud to say that all of our shampoo, conditioner and body wash formulas are now 100% biodegradable, which means their ingredients break down to basic components after use," the brand states on its website.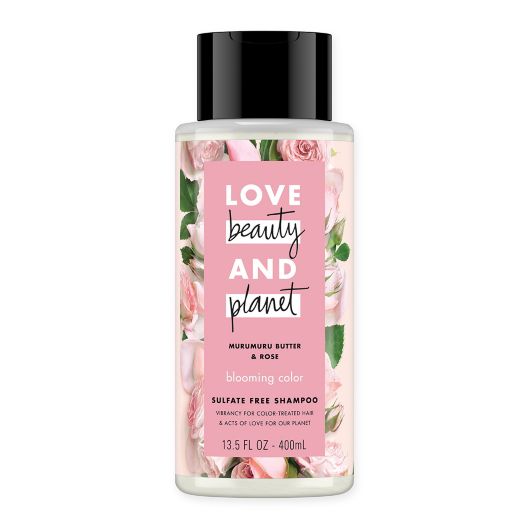 Love Beauty And Planet 13.5 fl. oz. Muru Muru Butter & Rose Shampoo
Sand Cloud
Looking for a new set of beach towels? Support marine life with a Sand Cloud towel purchase.
According to Sand Cloud's website, the company aims to protect marine life by donating 10% of profits to marine conservation efforts.
"From our packaging to our products, everything is designed with sustainability in mind," the website states. "By providing consumers better lifestyle options, we aim to conserve our precious oceans and marine life."
UpCircle Beauty
UpCircle Beauty, an ethical and certified Plastic-Negative skin care brand, is also working to make a positive impact on the environment. The brand says it uses only natural ingredients that won't harm marine life and its products are made from upcycled planet waste, with packaging that is 100% recyclable.
The brand's Floral Blend Facial Coffee scrub, for instance, uses repurposed coffee grounds rather than harmful microplastics often found other scrubs.
One Ocean Beauty
In honor of World Ocean Month, One Ocean Beauty, in partnership with 4ocean – which works to remove harmful marine debris from the seas – says 1 pound of trash will be pulled from the oceans, rivers and coastlines for every One Ocean Beauty product purchased, the brand says.
Moreover, One Ocean Beauty says its products "are formulated with high performance Blue Biotechnology, so there is no harvesting ingredients from the sea."
One Ocean Beauty is also a committed partner to Oceana and aims to "shape the way beauty consumers can connect and respect the sea."
One Ocean Beauty Blue Light Protection + Hydration Elixir Spray