We all know Bed Bath & Beyond is the mecca of all things storage and organization.
After a tumultuous 2020, we are now faced with the start of returning to work, school and other everyday errands coming this fall. With all new tasks on our to-do lists, time to organize your space might fall to the bottom priority. To help make the process less stressful, we found these five versatile, affordable and highly rated products that you can add to your kitchen or bedroom in an instant. With quick installation, there is little prep needed to have your space looking like Marie Kondo spent a day working with you.
We tapped Holly Blakey, an organization and design expert from Breathing Room Organization, to help share some pro tips on how she recommends utilizing these products to help create more breathing space in your home and mind.
Sign up for our new "GMA" Shop newsletter to get the latest deals delivered to your inbox and discover more products to help you live your best life.
By clicking on these shopping links, visitors will leave Goodmorningamerica.com. These e-commerce sites are operated under different terms and privacy policies than Goodmorningamerica.com. ABC will receive a commission for purchases made through these links.
1. A divided turntable
Blakey shared, "A divided turntable works for almost any area of the home -- a kid's craft space, a laundry room for detergent pods, sponges, etc. ... It's really a perfect solution to organize any cluttered area of the home."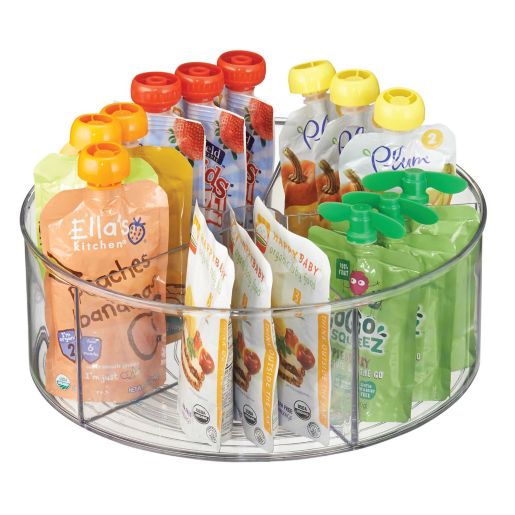 iDesign® Divided Turntable
Useful in cabinets and pantries, the iDesign Divided Turntable is an easy glide organizer allowing you access to multiple items in just a spin. High sides keep items safely in place while spinning. Clear plastic allows you to view labels easily.
2. Spice rack organizer
A spice rack can easily be one of the most unsightly and unorganized parts of the kitchen. Blakey said, "This product makes for a big impact with very little effort. I also love that it's expandable, which takes out any guesswork for fitting it into different-sized drawers. Upgrade your drawer one step further with spice labels to create a super clean and cohesive look!"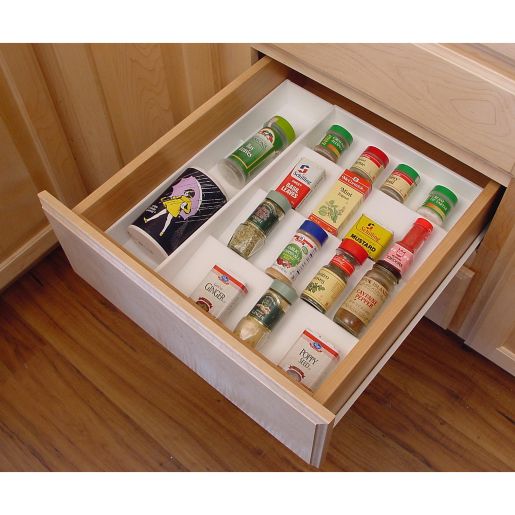 Drawer Organizer Spice Rack
Store round and square spice containers next to the stove for convenience while cooking, food prepping or baking in this Drawer Organizer Spice Rack. The expanding side panels adjust from 12" to 23", and fits up to 36 containers.
3. Drawer dividers
For under $20, these dividers are everything. Blakey shared, "Bamboo drawer dividers are some of my most used products for client projects. They are a low investment for a big return kind of product. Because they are spring-loaded, they adjust to fit any size drawer, and have a good grip so they don't budge."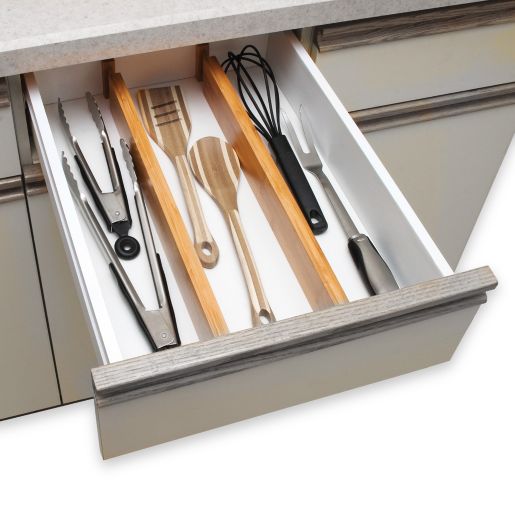 Lipper International Bamboo Drawer Dividers (Set of 2)
These wood dividers are a great alternative to drawer divider trays. They give you the flexibility of creating compartments to a size you prefer.
4. Refrigerator bins
Who doesn't love TikTok content of creators organizing their fridge? Well now you can have that, too. Blakey admitted, "I have a big sweet spot for an organized fridge -- and these containers are an easy way to create more room and organization in a crowded space. If you have kids, use these bins on a low shelf for their snacks so they know what are the 'anytime' snacks, and they can be easily accessed. It's a great way to maximize fridge space, which gives everything a home."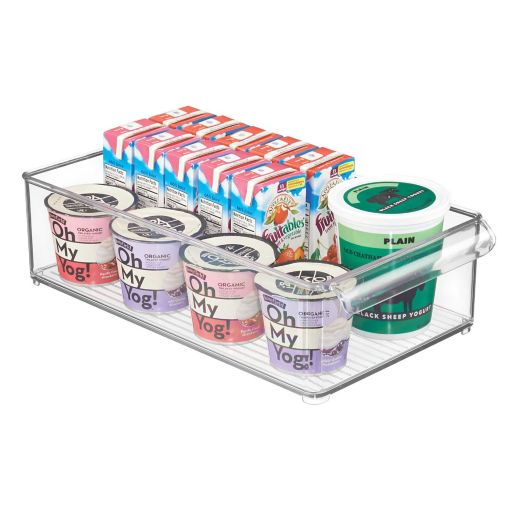 InterDesign® Fridge Binz™ 8-Inch x 15-Inch Stackable Refrigerator Bin
Make the most of your refrigerator space with the InterDesign Fridge Binz Stackable Bin. This handy bin creates an extra section to keep everything clean and organized. It is perfect for storing produce, soda cans, condiments, and more.
5. Shoe storage
Blakey recommended, "I love anything that stacks to optimize vertical space. These shoe boxes instantly uplevel your closet by organizing shoes, which were likely scattered all over the floor before. They also keep your shoes in better condition, and protect your space from any dirt that shoes might bring in."
Pro Tip: Think outside of the "box" by using these in other spaces, such as stacked in a hall closet for toiletries or in a craft closet for stickers and paintbrushes.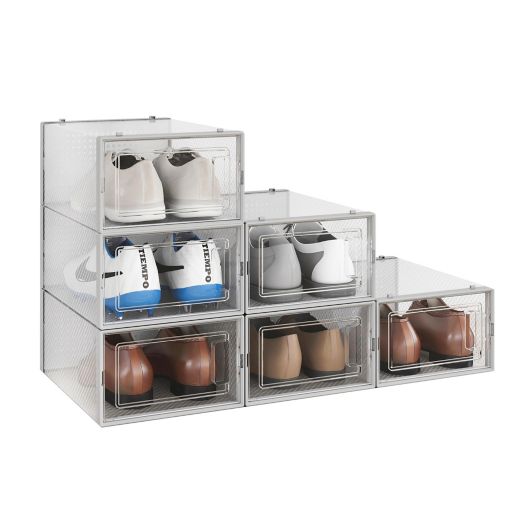 Simply Essential ™ Swing-Front Shoe Storage Box (Set of 6)
The stackable swing-front design allows easy access to your orginized shoes inside.