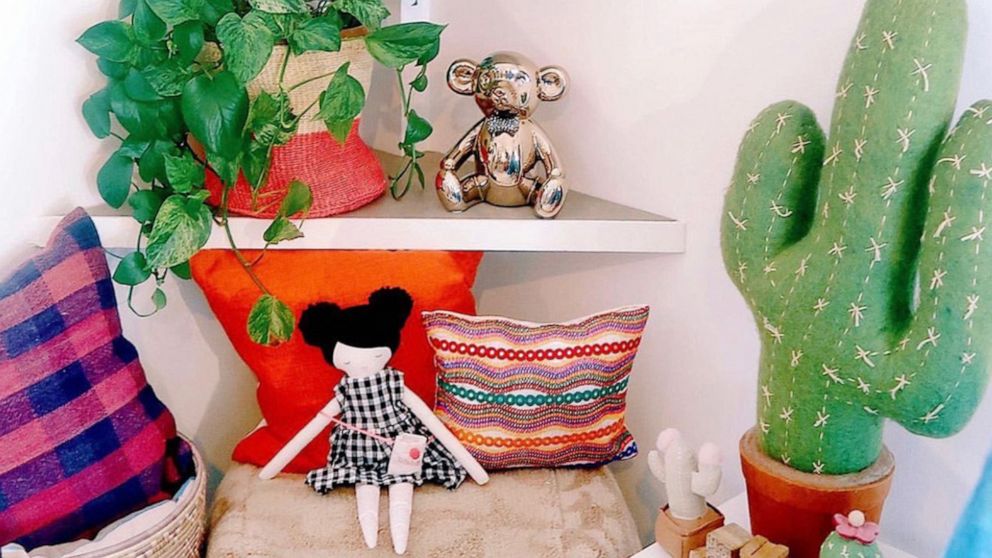 When it comes to decorating your home, nature can be a beautiful source of inspiration.
Just ask sisters Tanya Willock and Temidra Willock-Morsch, who draw inspiration from their Antiguan heritage and highlight under-represented creators and artists at their Southampton homeware and lifestyle boutique, Hidden Gem.
"Nature-inspired decor elevates a space by adding another level of texture and depth to your home. It's a great way to bring freshness and create balance to a space without it feeling too 'styled,'" they said.
To find the right products for your personal space, Willock and Willock-Morsch say to focus on what brings you joy.
"Is it the waves of the ocean, the lush greenery, or the fresh air? Draw from what inspires you and find elements in the decor to incorporate into your home," they said.
"Growing up in the Hamptons and visiting Antigua, we are constantly inspired by coastal living," they continued. "We love to use decor items made from raffia and rattan to bring in natural texture. This can be in small accessories like coasters or a vase, and can be used for bigger pieces of furniture like a side chair or coffee table."
Colors and prints work well too; The sisters suggested using them for layering pieces, like with pillows and blankets.
Of course, you can quite literally bring the outdoors inside as well.
"If you have a green thumb, adding natural plants is a great way to bring the outdoors indoors," they said. "Plants can be as big or as small as you need to fit the space you're working with. We love the leaves of the monstera plant, the easy maintenance of a snake plant or succulent pot, a fun running vine, or a beautiful colored orchid. There are many ways to get creative with plants and incorporate them into your home decor. If plants aren't your thing, we also love the use of dried flowers and grass."
Once you've found your favorite pieces, think about how you want to style them. Willock and Willock-Morsch explained that it's helpful to "carry the elements throughout the room from the ground up."
"For example, use a textured rug with a rattan mirror and a woven bookend on your bookshelf," they said. "Doing this helps carry the eye throughout the entire space as each piece connects to the other."
Finally, both Willock and Willock-Morsch said they like mixing seasonal pieces with classic ones. "It's nice to have one or two classic pieces as the base of your decor so that you can add seasonal pieces without redecorating your entire space," they said.
At the end of the day, your home is yours, so don't get too caught up in what's trending. Your pieces should make you feel good, the sisters said.
Continue below to shop our picks for nature-inspired home decor and learn more tips from Willock and Willock-Morsch.
Sign up for our new "GMA" Shop newsletter to get the latest deals delivered to your inbox and discover more products to help you live your best life.
By clicking on these shopping links, visitors will leave Goodmorningamerica.com. These e-commerce sites are operated under different terms and privacy policies than Goodmorningamerica.com. ABC will receive a commission for purchases made through these links. Prices may change from the date of publication.
"You can be specific or abstract in your print and color choice," said Willock and Willock-Morsch. "For example: finding a pillow with a literal wave motif vs. finding a pillow with colors that represent the water."
"When sourcing nature-inspired items, look for pieces that aren't only made from natural materials but also have a natural finish, such as lamps made from windowpane shells or pearls, natural wood side tables or benches, raffia mirrors or baskets," the sisters said. "If looking for smaller items, look for things that have nature-inspired motifs; ocean-inspired designs, or floral patterns."
"Wood is also another way to add texture to a space," Willock and Willock-Morsch said. "Try something unexpected by adding a wood light fixture or a wood-inspired print on a rug. There is so much variety when it comes to wood furniture that you'll be able to find a piece for every design style."
"Don't forget to add special pieces to your nature-inspired decor!" Willock and Willock-Morsch said. "One way to do this is to include art pieces. This can be anything from a photograph of nature, a woven wall hanging, oyster tea candles, a wooden bowl, or driftwood. We love these wooden candle holders for an organic touch. Adding these elements gives that extra personal touch that will make a space feel 'yours.'"
"We enjoy changing around our pieces for the spring and fall seasons," they added. "Adding a faux fur blanket, for example, just screams winter cozy lodge, which is something we can't resist."
Finally, Willock and Willock-Morsch said that "if you're not trying to do a full revamp of your space, try adding a nature-inspired mirror opposite the wall of a window that has a great view."
"That way," they said, "whenever you're in your space, you have a beautiful reflection of the light and of the view."