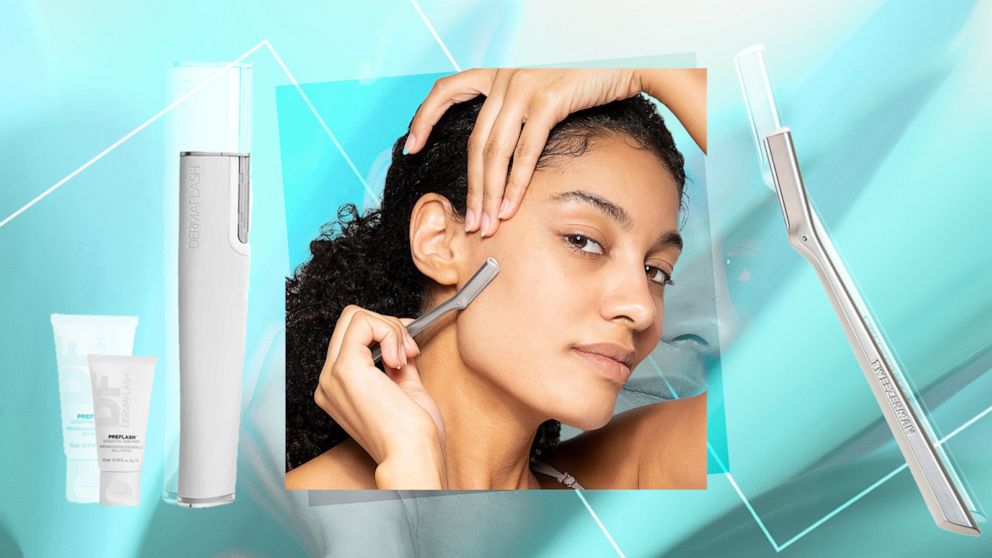 There is something so satisfying about watching a tiny dermablade slide across peach fuzz to reveal sleek, glowing skin.
If you follow any skin care enthusiasts on social media, you are probably no stranger to the dermaplaning trend.
To help answer all your questions about conquering the process at home, "Good Morning America" chatted with Dr. Michelle Henry, a board certified dermatologist, to break it down.
What is dermaplaning?
"Dermaplaning is a cosmetic procedure aimed at achieving a smoother, more radiant complexion by gently scraping off the top layer of dead skin cells and fine facial hair using a sterile surgical scalpel," Henry explained.
What are best practices?
Step 1: Prepare your skin
According to Henry, you should always thoroughly cleanse your face and remove any makeup or oils before starting the procedure. "Use a clean, sterile blade with a tool that provides a safety mechanism," she said. "Ensure you have a blade specifically designed for dermaplaning, and make sure it is sterile. Replace the blade after each use to maintain cleanliness."
Step 2: Stretch the skin
Gently stretch the skin with your fingers to create a taut surface, allowing better control during the process. Use light, feather-like strokes: Hold the blade at a 45-degree angle and use short, downward strokes in the direction of hair growth. Avoid applying excessive pressure to prevent skin irritation.
Step 3: Moisturize after the procedure
Apply a soothing moisturizer or hydrating serum to calm the skin and aid in healing.
What are the benefits?
"Dermaplaning can be beneficial for specific skin types and concerns," Henry told "GMA".
Those concerns may include the following:
Dull or uneven skin texture: "Dermaplaning helps eliminate dead skin cells, leading to a smoother and more even skin tone."
Dry or rough skin: "By exfoliating the skin, dermaplaning allows for better absorption of moisturizers and other skin care products."
Fine lines and wrinkles: "The exfoliation process can minimize the appearance of fine lines and stimulate collagen production."
"Although dermaplaning is generally safe when performed by a trained professional, it carries risks when attempted at home. Remember to consult with a dermatologist or skin care professional before attempting any new skin care products or procedures to ensure they are suitable for your individual needs and skin condition."
Get more shopGMA! Sign up for our newsletter, and follow on Instagram and TikTok.
By clicking on these shopping links, visitors will leave Goodmorningamerica.com. These e-commerce sites are operated under different terms and privacy policies than Goodmorningamerica.com. ABC will receive a commission for purchases made through these links. Prices may change from the date of publication.
Dr. Michelle Henry's dermaplaning picks
"The StackedSkincare Dermaplaning Face Exfoliating Tool is also specifically created for at-home dermaplaning and features a replaceable blade. It provides good control and safety features to minimize the risk of cuts."
"The Dermaflash Facial Exfoliating Device is designed specifically for dermaplaning, providing gentle exfoliation and hair removal. It comes with a selection of blades and skin care products to enhance the dermaplaning experience."
More picks to shop: