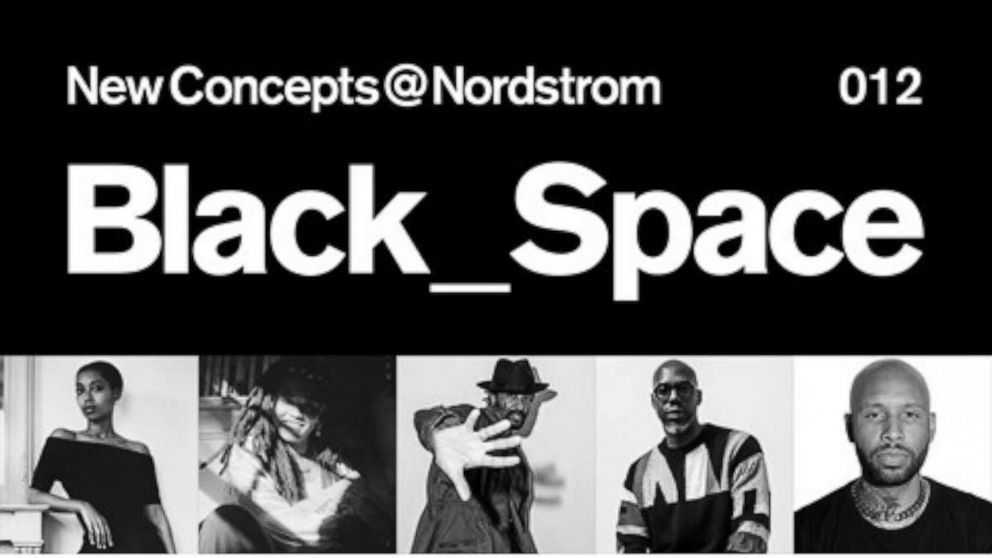 A number of fashion and beauty retailers are celebrating Black History Month by putting an emphasis on Black-owned brands, and now you can add department store Nordstrom to that list.
The 12th installation in the New Concepts & Nordstrom series, Black_Space is a collaborative effort between five Black creatives: Creative director Harris Elliot, designer Beth Birkett, fashion editor Azza Yousif and stylists Matthew Henson and Marcus Paul. The collection, available in select stores from Feb. 11 through early May, honors Black culture, fashion and beauty through several unique points of view. You can also shop the entire collection online.
Black_Space aims to bring recognition and value to these individual talents, as well as the entire Black community. Don't have time to browse the entire collection but want to support the businesses? We've also highlighted some of the collection as well as the best Black-owned brands available from Nordstrom below.
By clicking on these shopping links, visitors will leave Goodmorningamerica.com. These eCommerce sites are operated under different terms and privacy policies than Goodmorningamerica.com. ABC will receive a commission for purchases made through these links.
Coral of Liberty Graphic Tee
Standing tall on this cotton tee is Lady Liberty carrying a torch branching with coral, a symbol of community from which the brand takes its name.
100 Wolves x New York Sunshine x Coral Studios Install Team Graphic Hoodie
A collaboration between three NYC-based creative collectives, this cotton-blend hoodie features co-branding at the chest and Wolphy hammering at the back.
Beach Sanitation Fleece Sweatshirt
Pitch in for the planet with this cotton-blend fleece sweatshirt that encourages everyone to do their part in cleaning the environment.
Black skate culture is celebrated on this easy-fitting crewneck tee from fashion icon Andre Walker.
Black Magic Poise Color Palette
A palette filled with hypnotic, high-octane, high-impact eyeshadow shades to unleash your goddess within. UOMA Beauty was founded by Sharon Chuter, a Nigerian born former beauty executive based in Los Angeles and London.
Black Magic Carnival Bronzing Highlighter
A limited-edition 3D strobing, light sculpting face and body bronzing highlighter with a supersoft, creamy formula.
Badass Icon Matte Lipstick
A concentrated, highly pigmented, lightweight lipstick that makes the ultimate lip statement.
Lock & Seal Anti-Breakage Serum
An anti-breakage serum blend engineered to seal down damaged hair cuticles. Sienna Naturals was founded by Hannah Diop and is co-owned with Issa Rae of HBO's "Insecure".
Issa Rae's Wash Day Ritual Set
A curated selection of Sienna Naturals' scalp treatment and textured hair care products to restore scalp health and repair your hair.
Dew Magic Leave-In Conditioner
A dynamic do-all leave-in treatment that conditions hair without weighing it down.
Protect & Smooth Emollient Rich Hand Cream SPF 15
An emollient-rich hand cream with broad-spectrum SPF 15 UVA/UVB sun protection. This clean sunscreen brand was founded by Katonya Breaux in 2016.
Mineral Tinted Face Sunscreen Lotion SPF 30
A 100% mineral sunscreen primer and color-corrector in one.