As New York Fashion Week kicks off, we're ready to channel a fashion editor's eye.
We've gathered go-to looks that will be seen on editors and stylists from New York to Milan. The big story isn't simply about what's trendy. What we love about these looks is that they're surprisingly practical -- fashion editors are known for being stylish schleppers. They can be mixed with what you already own, and they show you how to tap into the essence of chic.
These products were curated by the Hinted editorial team. Hinted is the social shopping platform that lets you create lists of what you want to buy and discover what's new and trending. Use Hinted to keep track of anything you want to buy from anywhere online, including fashion, trips and experiences. "Good Morning America" has affiliate partnerships, so we will get a small share of revenue from your purchases through these links. All product prices are determined by the retailer and subject to change. By visiting these websites, you will leave GoodMorningAmerica.com and any information you share with the retailer will be governed by its website's terms and conditions and privacy policies.
Style Secret 1: Bold Color
There once was a time when the color black was synonymous with fashion editors, but not anymore. NYFW street style reveals editors in a rainbow of eye-catching color in unexpected pieces. Here's how to wear bold color as naturally as neutrals.
Who What Wear, Puff Sleeve Dress
Price: $34.99
Style Hint: This fall, bold colors rule. We love how the saturated shade of this dress make a statement -- no need to bother with fussy patterns. Wear it with paired-down accessories and comfortable shoes to play up its minimalist appeal.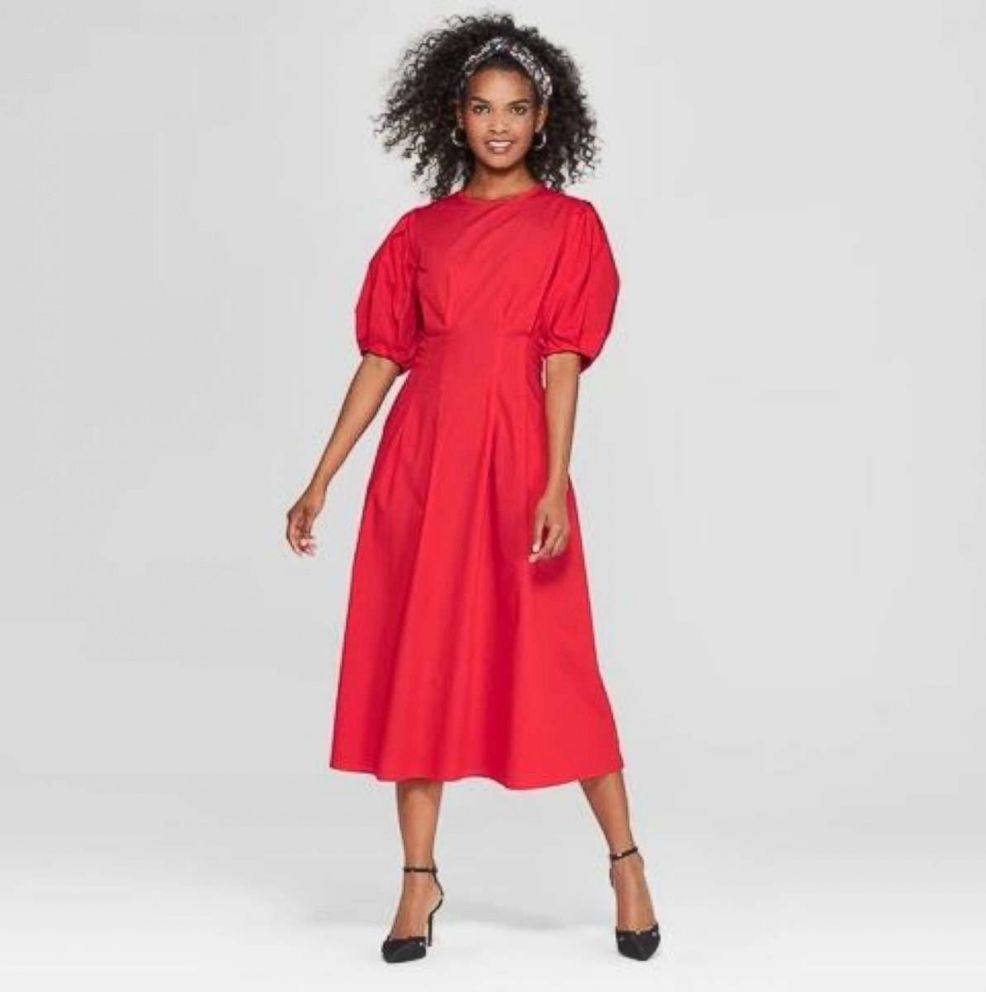 Topshop, Ria Hi Skinny Sandal
Price: $75
nordstrom.com
Style Hint: Plan your outfit from the bottom up with these eye-catching sandals. Yellow is still going strong for fall, and we like these because they have a touch of fashion forward neon -- a fall trend we're wearing in small doses. Editors love juxtapositions, so feel free to pair these with the unexpected outfit, say, gray menswear-inspired trousers for work. Come the weekend, try them with wide-leg white jeans. Either way, the color will pop.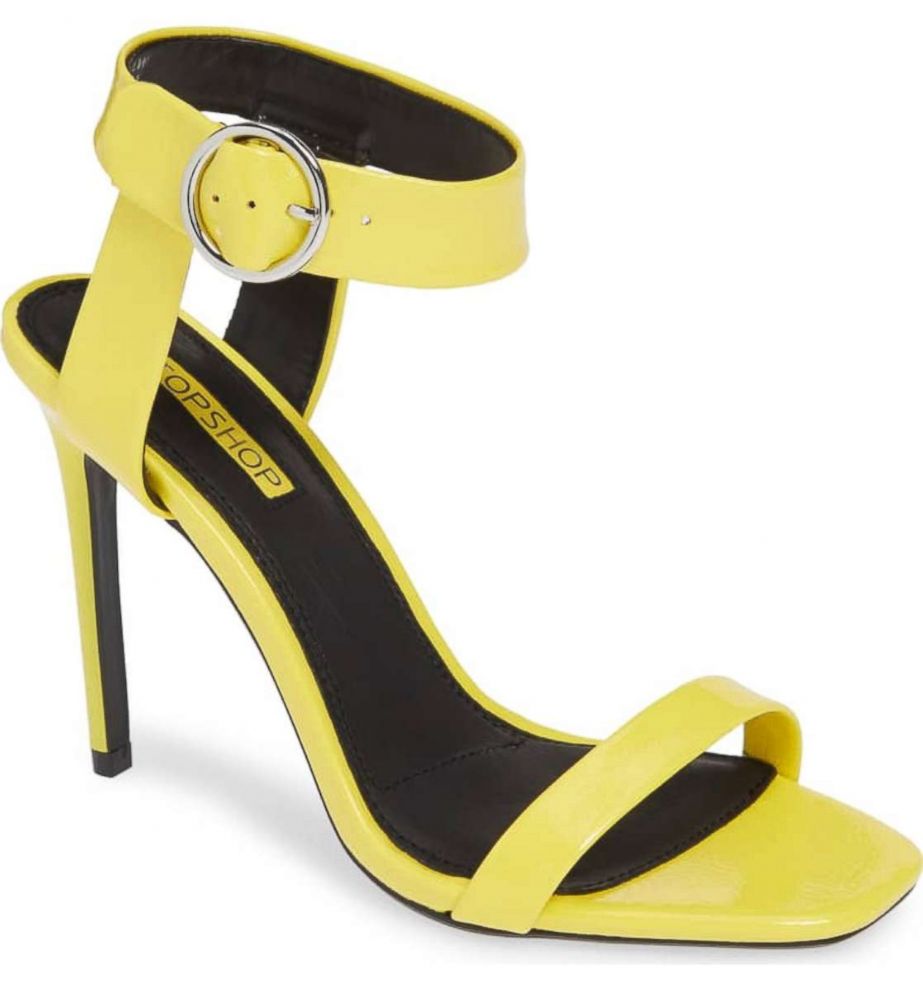 Price: $209
Style Hint: This clutch lets you have your color fix two ways. Pair it with a monochrome dress like the one above, or just treat this knock-out color combo like a neutral and wear it as your everyday purse.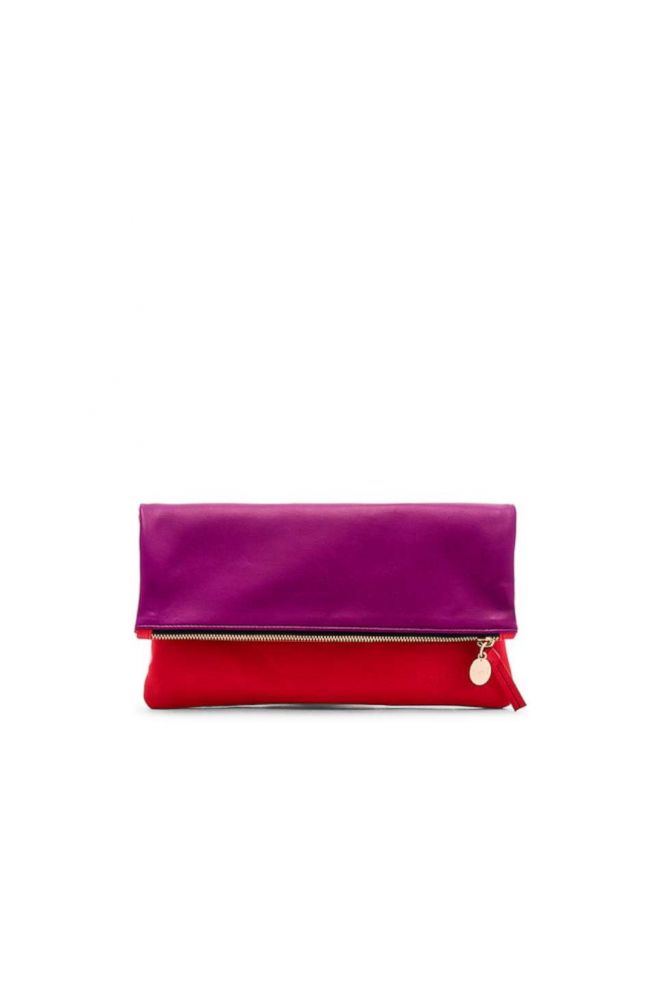 Style Secret 2: Unconventional White Blouses
While color is the biggest trend this fall, fashion is all about contradictions. When editors need a palate cleansing, they'll go for a dramatic or unconventional white blouse. The reason: It makes as much of a statement as any color, while looking clean and crisp.
Mango, Buttoned Cotton Blouse
Price: $59.99
mango.com
Style Hint: The trick to making monochrome interesting is to wear one color in varied shades. For instance, pair this stark white blouse with cream colored trousers to create a warmer, more autumnal look.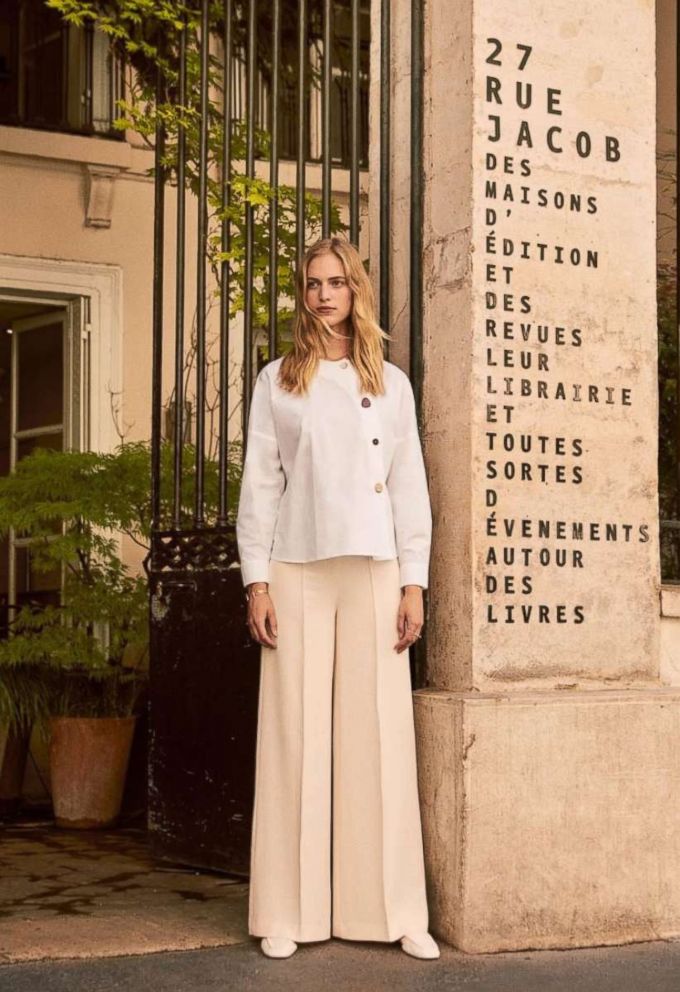 H&M, Balloon Sleeve Blouse
Price: $49.99
hm.com
Style Hint: Gotta love dramatic sleeves in clean white! This blouse does all your styling for you, whether you're wearing jeans or skirts. If you want to embellish the look, add a gold layered necklace or a belt, but that's it. Let the blouse steal the show.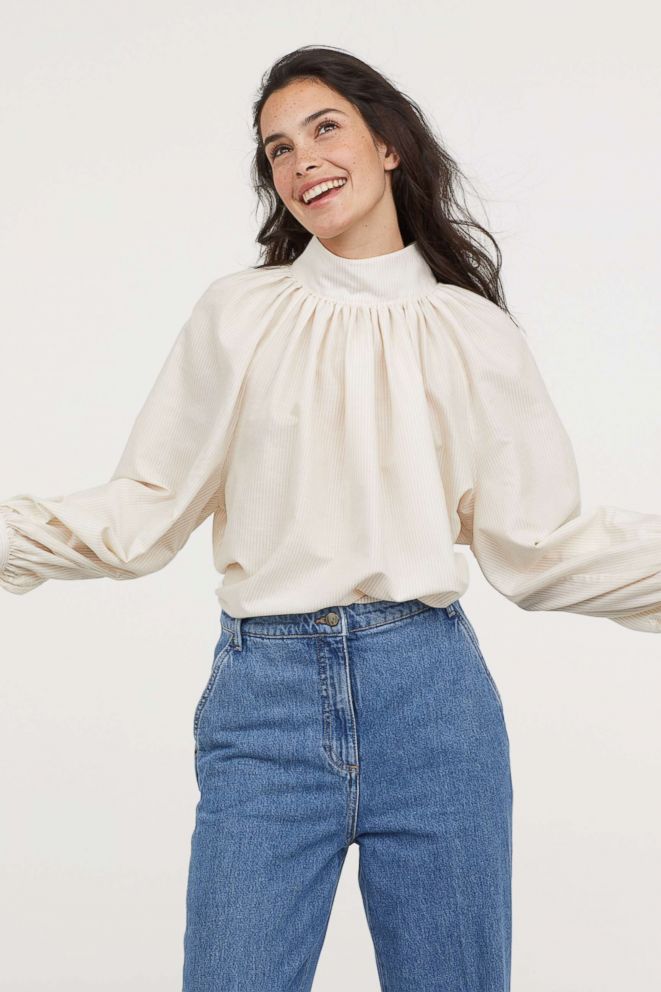 Frame, Tie Neck Silk Blouse
Price: $285
nordstrom.com
Style Hint: Channel your inner Parisian with this feminine tie-neck blouse. You can dress it up with luxe velvet pants, as shown, or pair it with casual denim. Like all things French, this blouse looks chic without trying.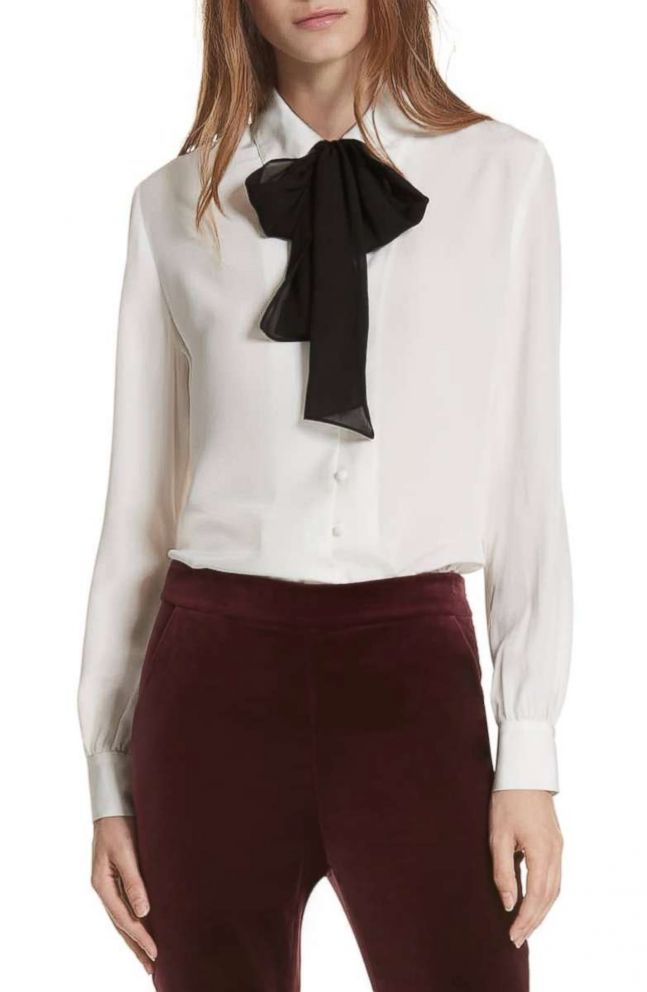 Who What Wear, Long Sleeve Button Up Tunic
Price: $32.99
target.com
Style Hint: Step out in an extended white tunic that lets you do the dress-over-jeans trend comfortably and effortlessly. Add heels to lengthen your legs and let the tunic flow. (We love it with the yellow sandals on this list).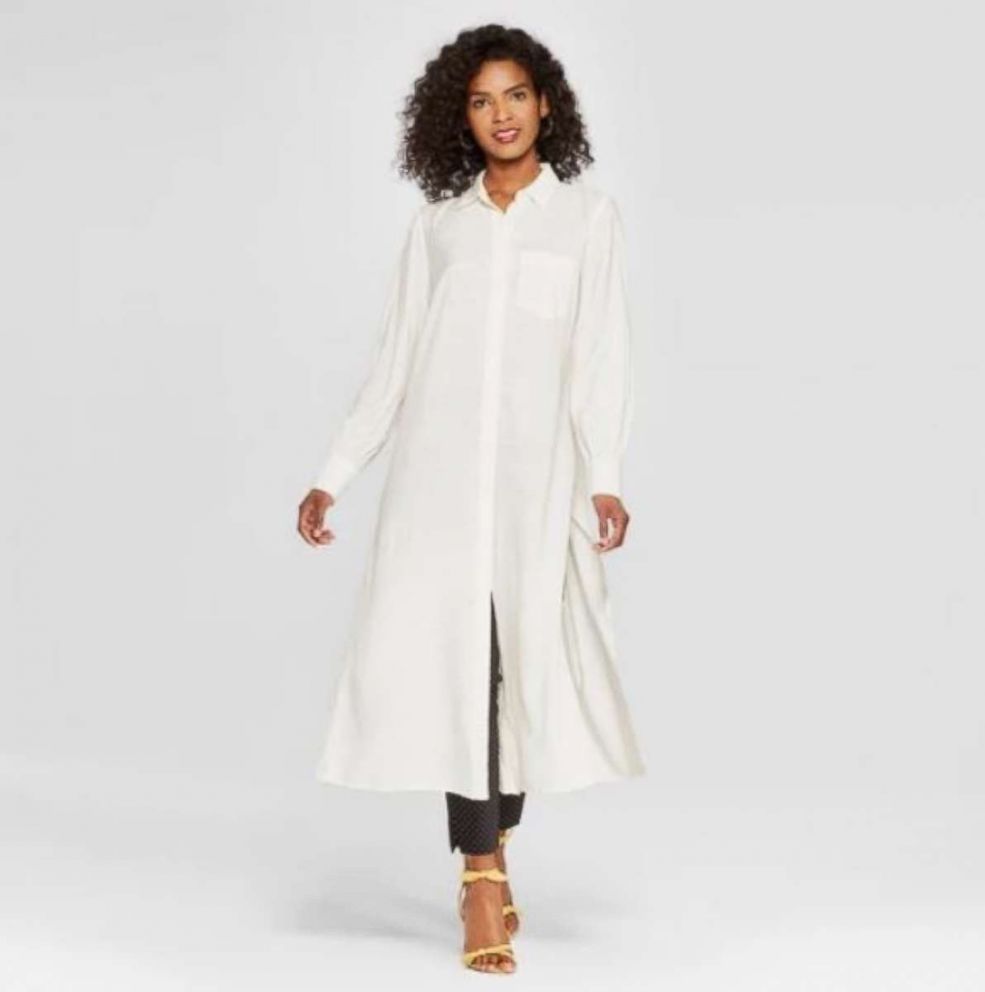 Style Secret 3: Comfortable Shoes
Sure, editors love high heels, but the idea of teetering on them all day long has worn thin, especially during Fashion Week. This fall it's all about comfortable shoes that have interesting details like stacked heels, pointed toes and unexpected details.
Everlane, The Day High Heel
Price: $165
everlane.com
Style Hint: Comfort is the name of the game, and that starts with an elasticized back that prevents blisters. Everlane sells this shoe in a wide range of colors, but we like dark ivy. It's an unsung color that feels more sophisticated than black.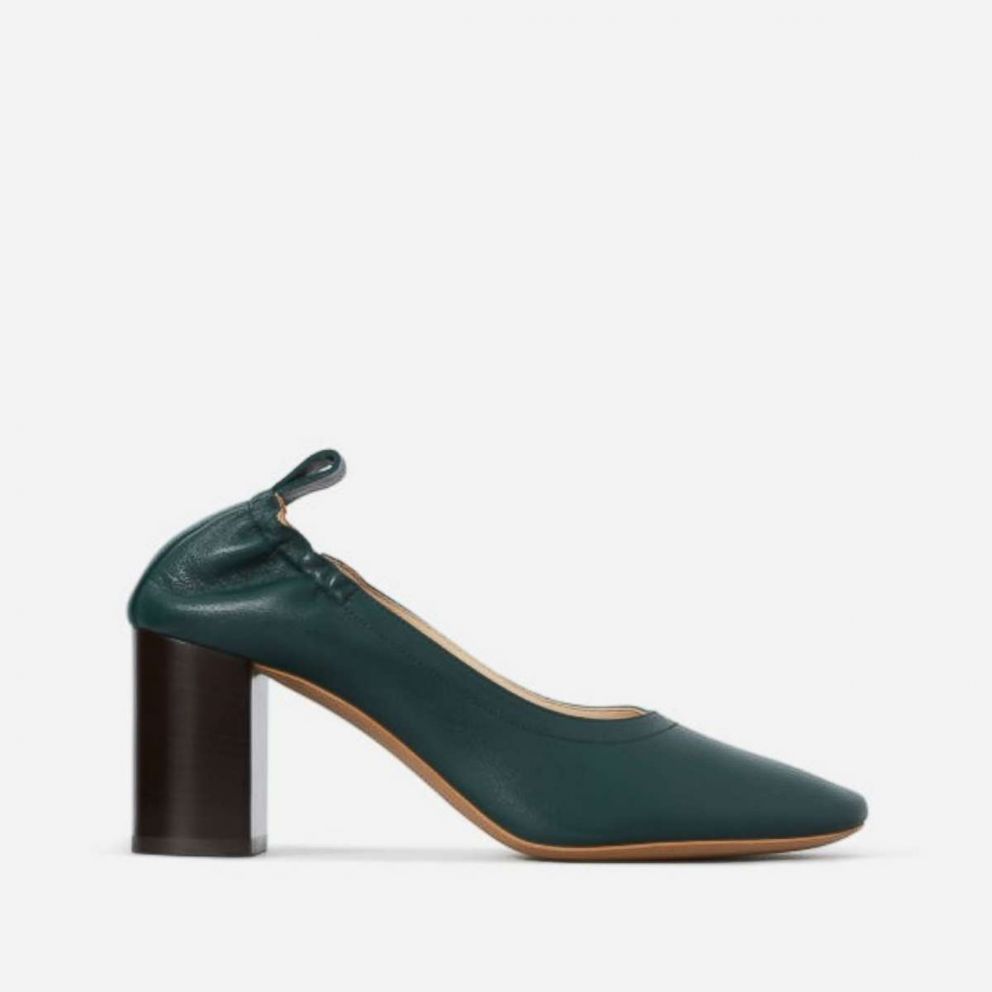 Mango, Pointed Toe Leather Shoes
Price: $79.99
target.com
Style Hint: White shoes are everywhere we look. Upgrade your summer sandals with this fall must-have -- in a pointy version. Slingbacks are comfortable by design, and clean white can be worn with skirts and suits alike.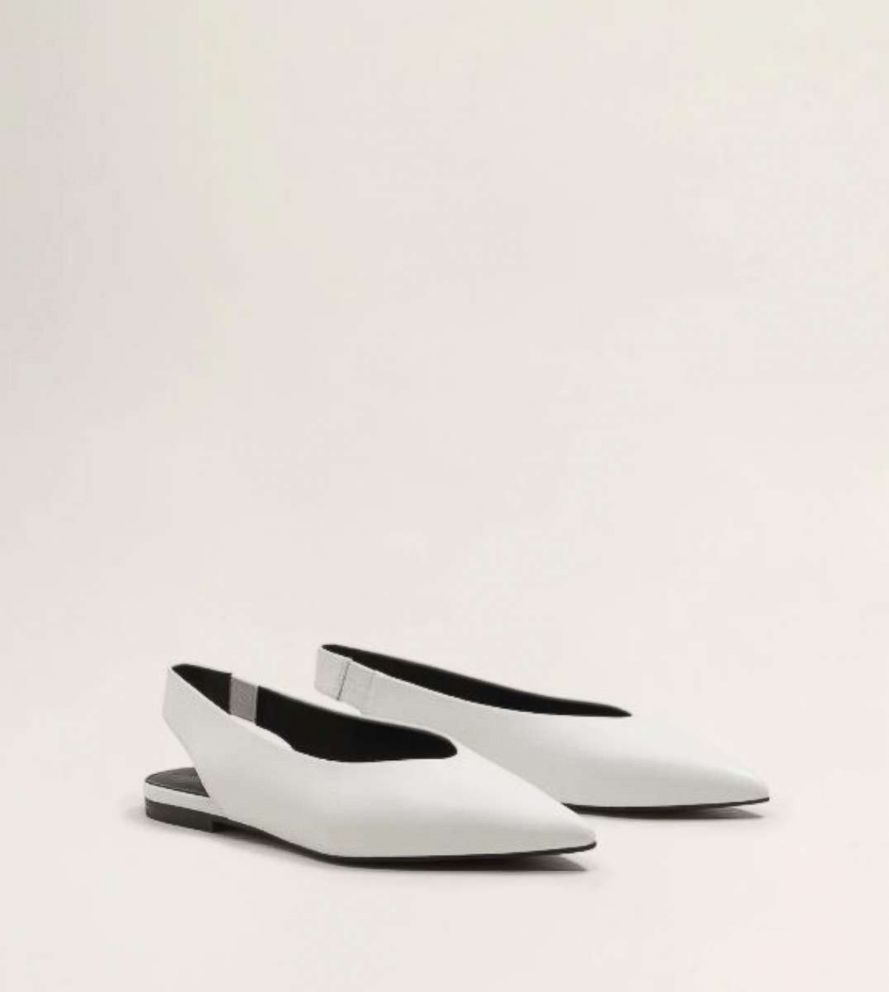 Jeffrey Campbell, Cryptic Statement Heel
Price: $97.46
nordstrom.com
Style Hint: Mules are ideal for these transitional days, but what is catching our eye is the trend of unique heel silhouettes. We also love this fresh take in lavender -- a color that flatters all skin tones.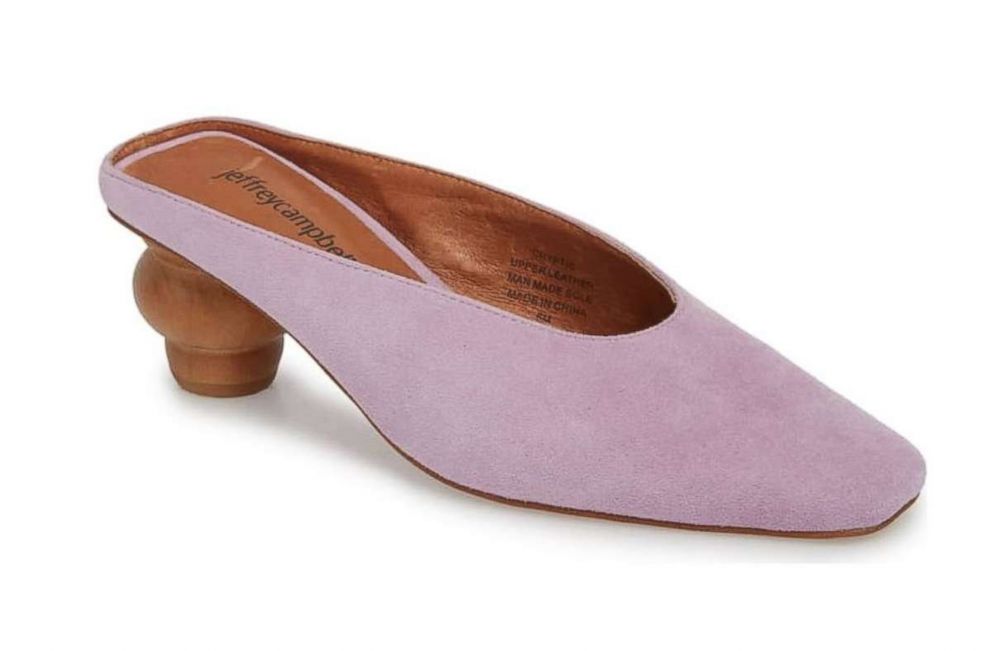 Style Secret 4: Adventurous Skirts
While dresses have been the editor's summer staple, things are shifting to midi skirts -- they hit just below the knee -- for fall. The cuts and patterns are unexpected -- think asymmetrical lines, knife pleats and sequins for day -- accents that and make an outfit in and of themselves. Choose one -- or all three -- of these, mix with mules and a crisp top, and you're ready to go.
Cos, Pleated Asymmetric Skirt
Price: $125
cos.com
Style Hint: File this skirt under one-and-done. The outfit-making red in lightweight chiffon manages to be both office and date-night friendly. We love to see it with a clean white sneaker for the cool, casual vibe.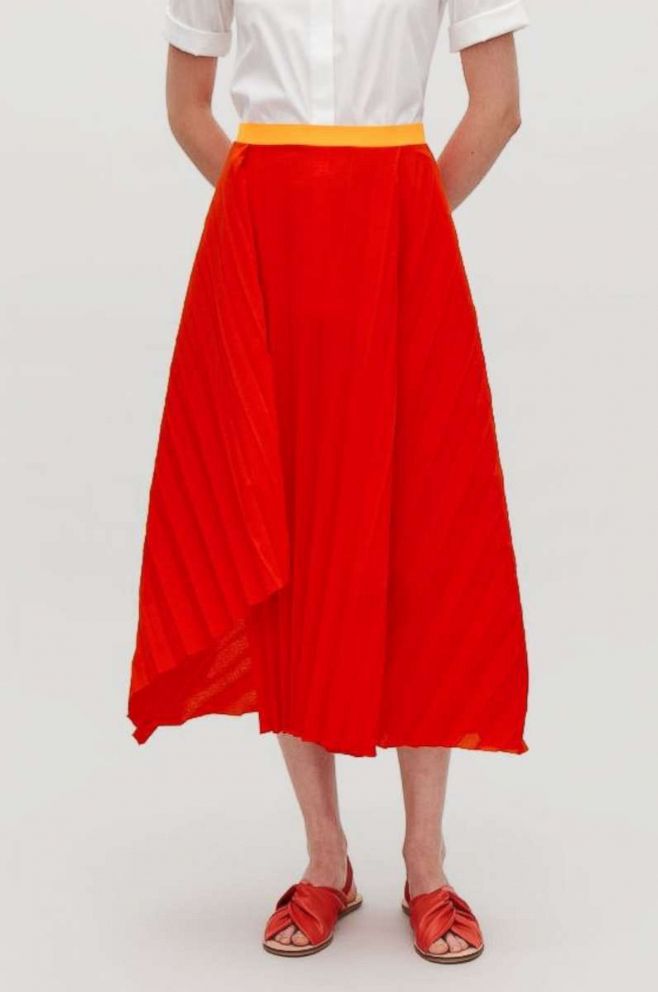 Who What Wear, Seamed Asymmetric Hem Slip Skirt
Price: $29.99
target.com
Style Hint: If you buy one leopard item this fall, make it this skirt. The asymmetric hem feels floaty and relaxed and plays well with everything. One trend we are loving is mixing leopard with textured leather. For instance, mix this with a pair of faux croc mules, as shown, or suede booties.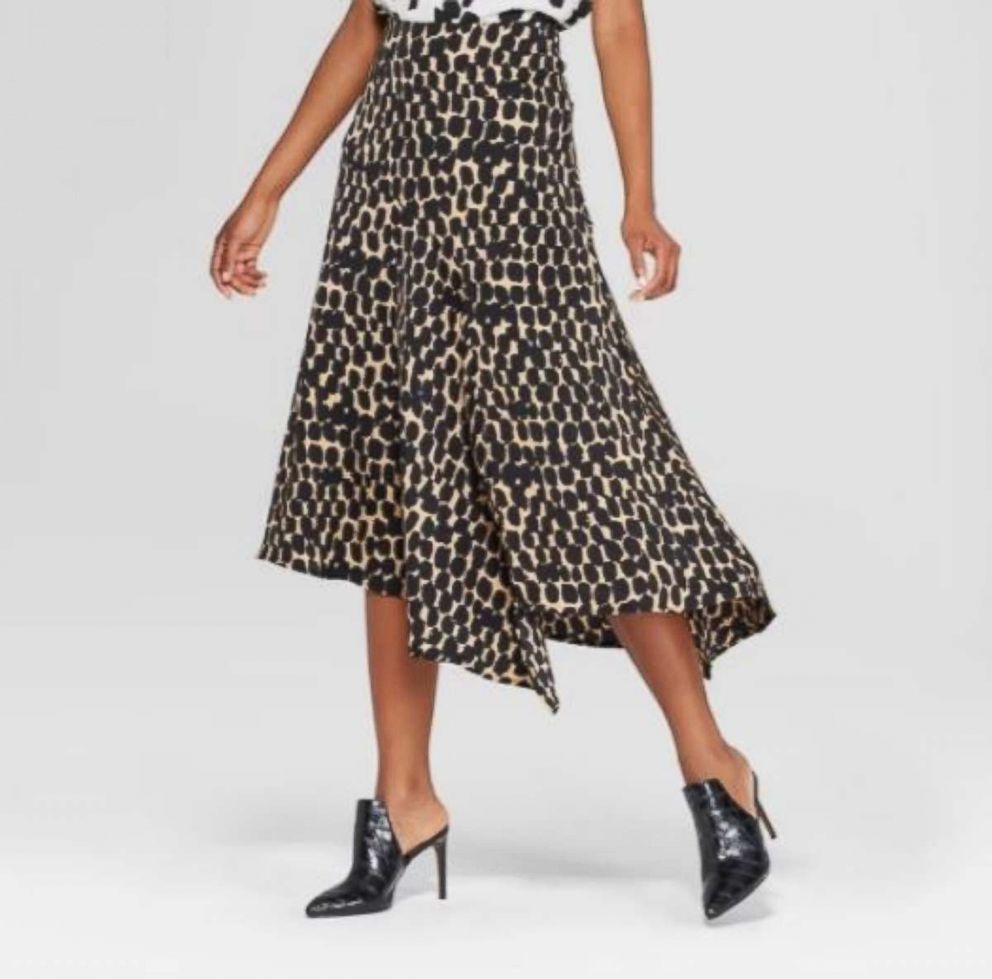 J.Crew, Sequin Midi Skirt
Price: $198
jcrew.com
Style Hint: This skirt serves as a daily dose of happiness. Of course, you can do the white tee and matching white booties, but you can also make it party-worthy with a bold blouse or casual with sneakers.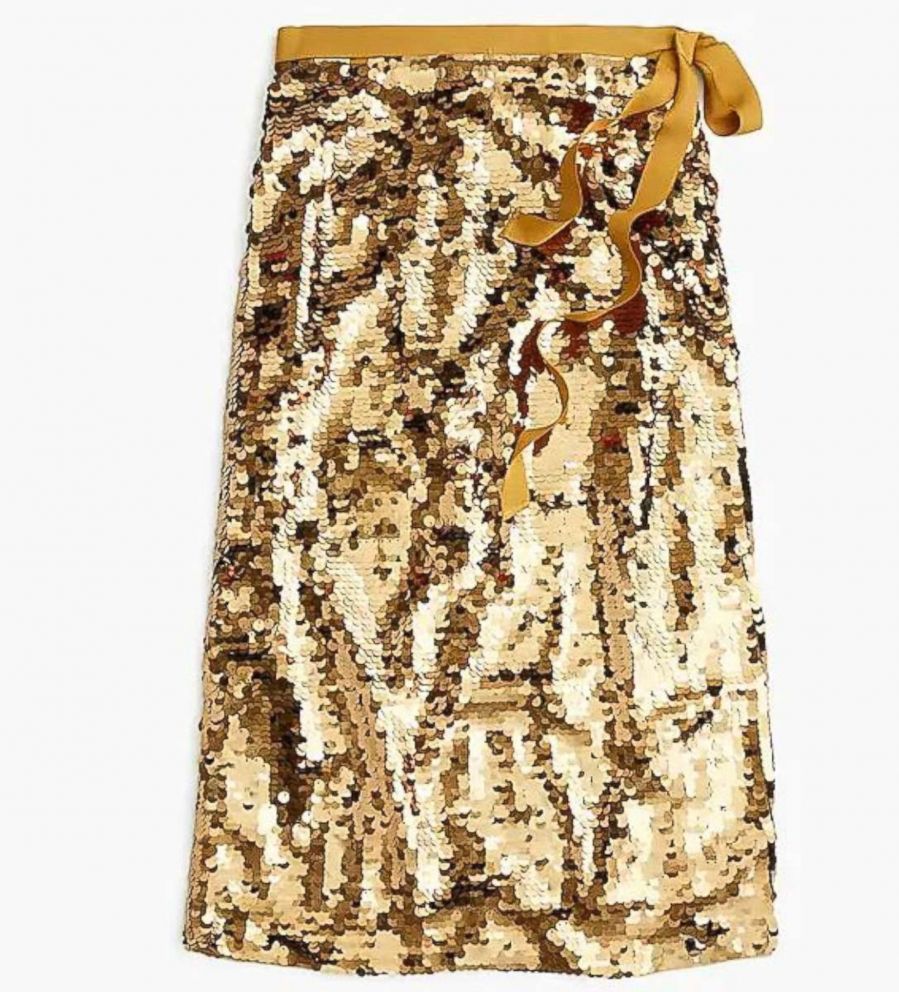 Style Secret 5: Menswear-Inspired Pieces
The fashion editor's antidote to fall's slouchy knits and wide pants is to tighten things up with tailored pieces in menswear-inspired fabrics. It's a lasting combo that feels effortlessly chic.
Reformation, Valero Oversized Blazer
Price: $228
nordstrom.com
Style Hint: The secret to looking pulled together without trying: The plaid blazer. The lightweight linen fabric is ideal for transitional weather and can be worn well into fall over drapey knits.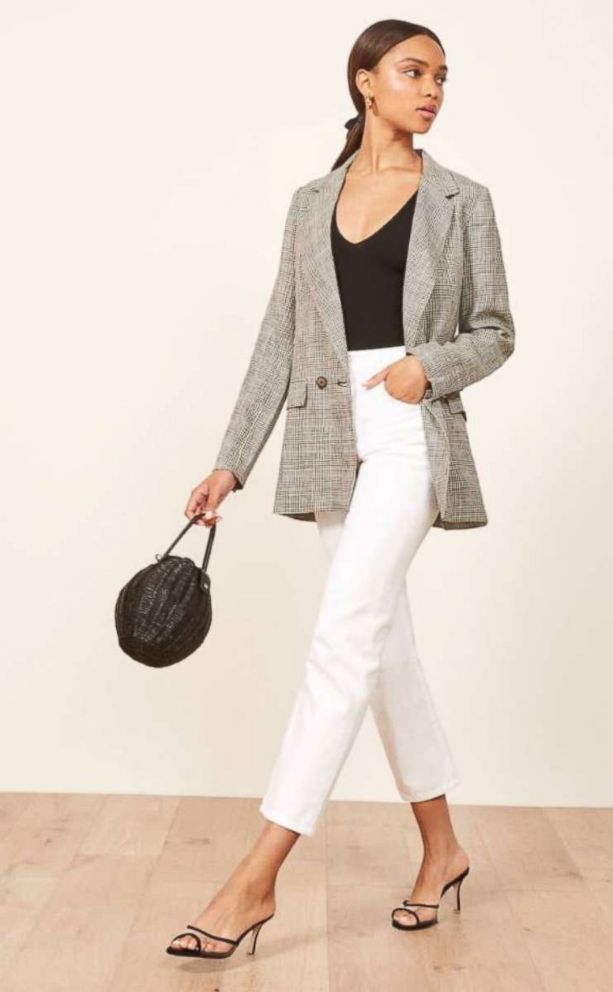 J.Crew Funnelneck Striped Shirt
Price: $68
jcrew.com
Style Hint: The classic men's stripe is reimagined in a cool funnel-neck blouse. Pair it with a pencil skirt at work to mix and match proportions. Note: Reviews say it runs a little large so order a size smaller than usual.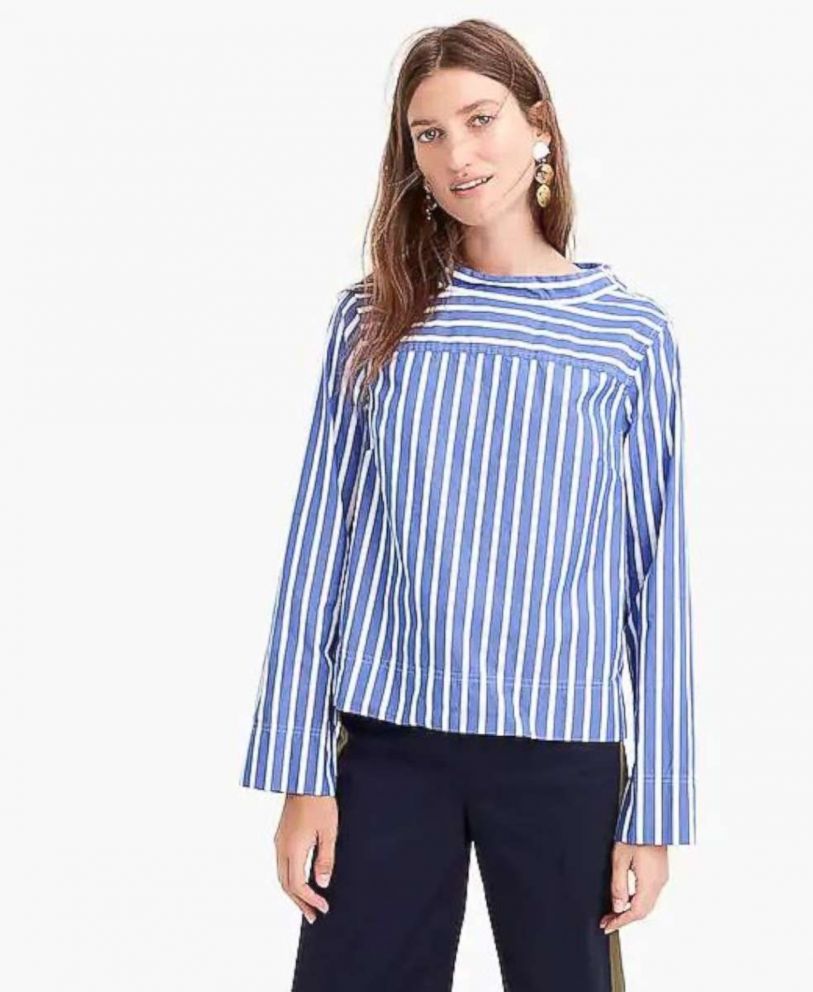 Mango, Suit Cropped Trouser
Price: $49.99
mango.com
Style Hint: Pinstripes get sleek and sporty in a cropped trouser. Wear these with brightly colored booties to make them less serious or slip on sneakers when you're ready to relax.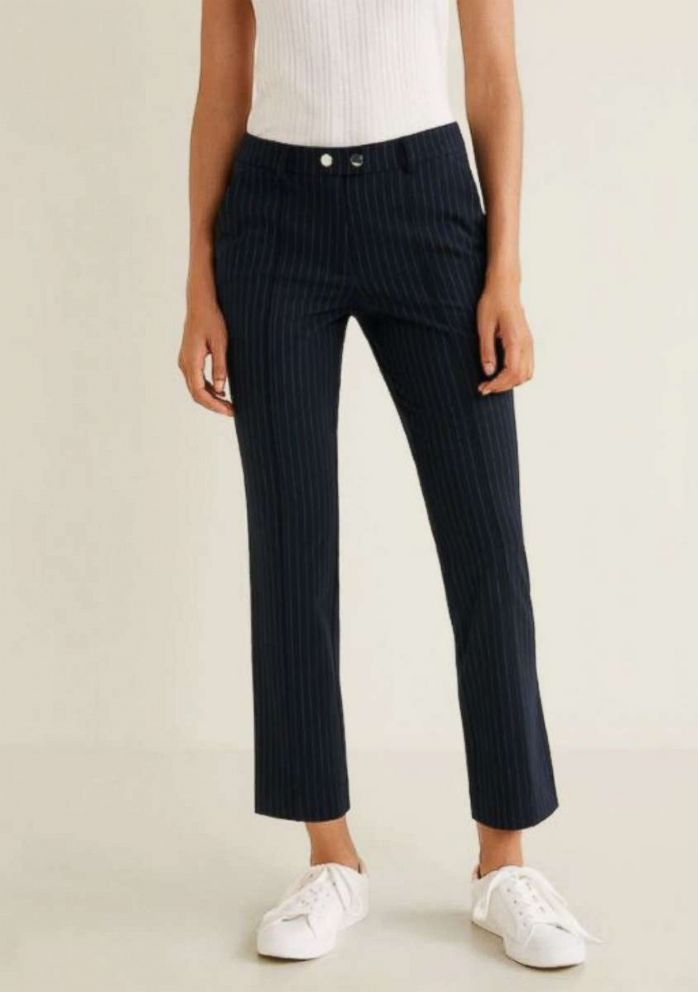 Style Secret 6: Jewelry that Feels Personal
You've seen us reporting on all the big jewelry trends: Bling for day and mod lucite, but what editors will be wearing this fall are layered necklaces that look and feel like family heirlooms -- even if they bought them last week. The trend includes lockets, mystical stones and vintage charms. See our favorites below.
Madewell, Spark Pendant Necklace Set
Price: $42
nordstrom.com
Style Hint: Wear these two delicate chains together or separately. We suggest you show them off while the weather is still warm with an off-the-shoulder top. Come fall, wear them over a turtleneck for a touch a vintage shine.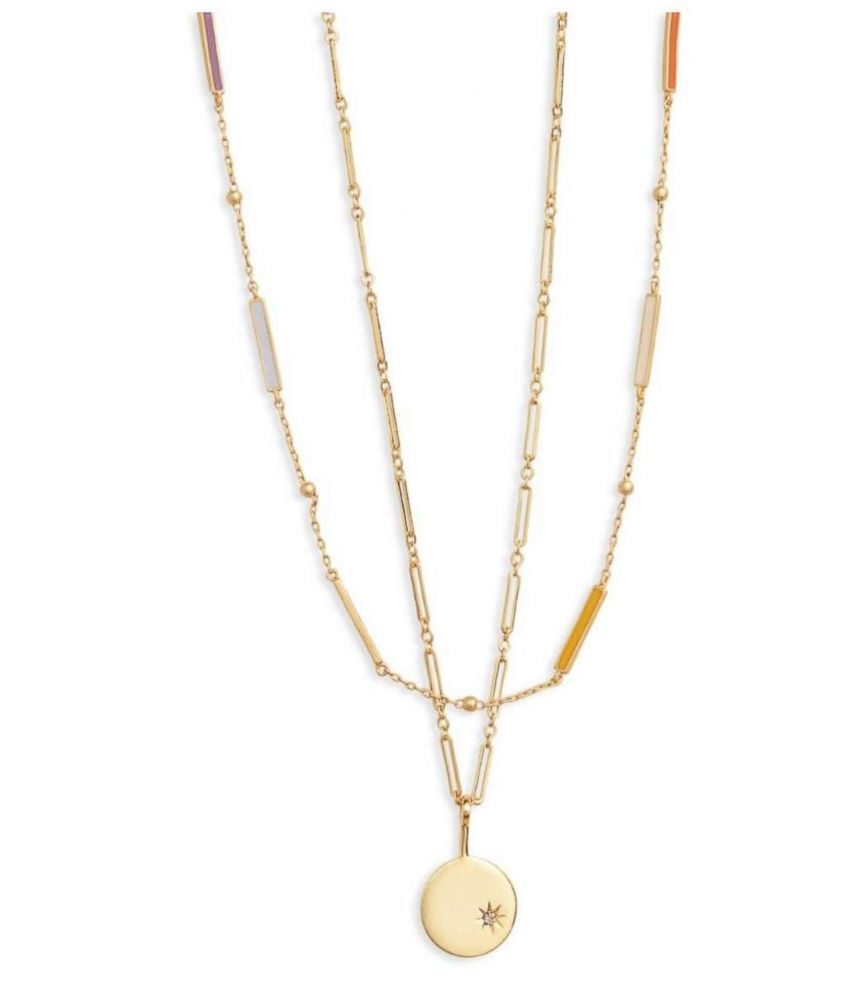 Wanderlust + Co Zalea Locket Necklace
Price: $59
revolve.com
Style Hint: What could be sweeter -- and more charmingly vintage -- than a locket designed to hold photos of your nearest and dearest? Wear it over a clean white tee and prepare to show off those pictures, as it's sure to be a conversation starter.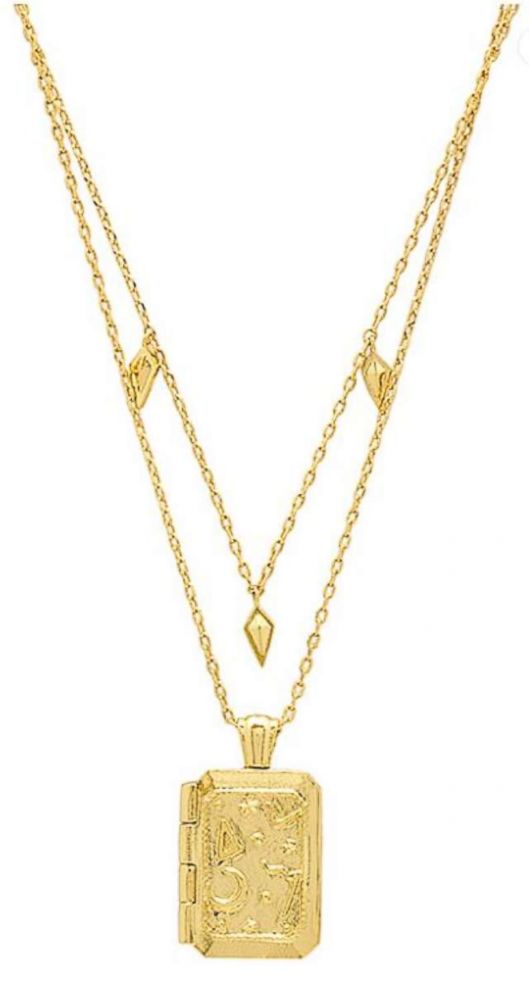 Anthropologie, Seville Charm Necklace
Price: $58
anthropologie.com
Style Hint: It's hard to resist the antique appeal of these charms. Wear them to dress up a denim shirt dress, and feel free to make up a story about how you "collected" each one on your travels.