Expectant mom Meghan Markle scales back on her public appearances
Daniel Leal-Olivas/Pool via Getty Images
Meghan Markle, the Duchess of Sussex, is not old by any means at 39, but when she announced her pregnancy earlier this month, she immediately fell into the category of being an "older mom," according to the medical community.
Like her first pregnancy at age 37 with son Archie, Meghan's pregnancy will be treated by the medical community as -- and called by many doctors, much to the derision of their patients -- "geriatric" because she'll be giving birth past the age of 35.
When Amanda Candy, a mom of two from Bethesda, Maryland, was told she was geriatric at age 34 with her first pregnancy, she suggested the doctor find a new adjective.
"I remember being like, 'Whoa, I [work] in communications, and you need a better term,'" Candy, a public relations professional, told "Good Morning America" at the time Meghan's first pregnancy was announced in 2018. "You can say I'm 'classic,' 'vintage' or 'experienced,' but please not 'geriatric.'"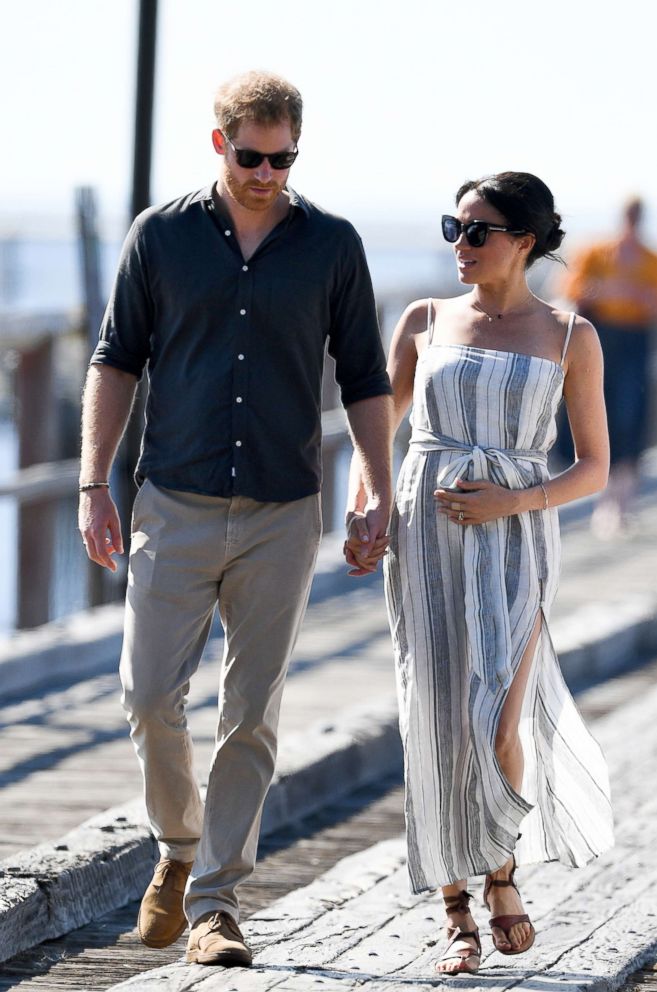 Candy said the term "geriatric pregnancy" is now a running joke with her mom friends, most of whom are giving birth closer to Markle's age.
Although the medical classification is something women joke about, Candy sees the real impact it has on women like herself.
"The unfortunate thing about a term like 'geriatric' is it really puts pressure on women," she said. "It keeps you thinking about the clock ticking, and the second it starts to get in your head, that's usually when you start to have problems getting pregnant."
Giving birth later in life is a growing reality in the United States. Since 2007, the birth rate has risen 19% for women in their early 40s, 11% for women in their late 30s and just 2% for women in their early 30s. Birth rates for women in their 20s declined from 2015 to 2016, according to the Centers for Disease Control and Prevention (CDC).
Why 'geriatric'?
"Geriatric pregnancy" is a term most women seem to know, or fear, but it is not a term used by all doctors.
"Advanced maternal age" is the accepted term in the medical community, according to a spokesperson for the American College of Obstetricians and Gynecologists.
The code used by doctors for billing purposes is one that may not be too pleasing to women either: elderly primigravida, for a first pregnancy, and elderly multigravida, if the woman has been pregnant before.
Although the terms "geriatric," "advanced age" and "elderly" are not beloved by women of childbearing age, they do reflect a medical reality, experts told ABC News.
"It is a bit of an arbitrary cutoff, but at the same time we do understand that aging does affect pregnancy and pregnancy outcomes," said Dr. Shilpi Mehta-Lee, a maternal fetal medical specialist at NYU Langone Medical Center. "And there are more risks even after you get over the age of 40."
The age of 35 was chosen decades ago by researchers trying to decide which pregnant women should get an amniocentesis, a prenatal test in which a small amount of amniotic fluid is removed from the sac surrounding the fetus for testing, according to Mehta-Lee.
At the age of 35, women were determined to have a greater risk of having a baby with Down syndrome than the risk of pregnancy loss from amniocentesis.
Decades later, the terms geriatric, advanced age and elderly are still attached women to 35 and above who are pregnant, but the science has advanced to the point where that age cutoff may seem arbitrary.
"Women are worried about much more than Down syndrome," Mehta-Lee said. "And some really healthy 35-year-olds are going to have better outcomes than some 34-year-olds."
Women 35 and older, though, do have to deal with the reality of time and aging.
Meghan, who lives in California with Prince Harry and Archie, will turn 40 next August. She and Harry have not publicly shared her due date and did not say in their pregnancy announcement how far along Meghan is in her pregnancy.
"All women have had our eggs since fetal life, and those are the same eggs we've had all of our lives, and they just begin to divide more abnormally over time, so there are genetic risk factors," Mehta-Lee said. "And diabetes, hypertension and obesity all disproportionately affect women who are older, and those can affect how we carry pregnancy."
Women who are pregnant in their mid-30s and beyond face risks including miscarriage, genetic abnormalities, fetal growth issues, preterm birth, preeclampsia and stillbirth, according to Mehta-Lee.
What to expect from a 'geriatric pregnancy'
Although the risks can sound scary, there are benefits of having a closely monitored pregnancy.
Candy, the Maryland mom of two, found the care she received reassuring. She had a total of 10 sonograms during her pregnancy with her older son, Brooks.
"As much as I hated the term 'geriatric,' getting so many sonograms was awesome," she said. "It totally put my mind at ease."
Mehta-Lee said the first thing she does with her patients of advanced maternal age is to talk to them about the pregnancy and what they can expect.
"We spend a long time talking about what their risks are and we talk to them about the available screening tests," she said. "Some choose to meet with a genetic counselor to make the decision for an invasive test, and that access may be different than for a younger patient."
"Most women are reassured after that conversation. They don't tend to be nervous," she added.
Women in their 30s and 40s are first screened for Down syndrome and other chromosomal abnormalities in their pregnancy, according to Mehta-Lee.
After that, they may have more ultrasounds throughout their pregnancy and more frequent doctor's visits and testing as their due date approaches, as compared to younger women.
"When someone is over 35, her doctor is going to look for things a little bit more, just to make sure things are going well," Mehta-Lee said. "It offers an opportunity for the doctor to look one more time, to think about it one more time, and that's not necessarily a bad thing."
Editor's note: This article was originally published on Oct. 23, 2018.