Supreme Court grants full stay in mifepristone case: What it means for access across the country
Supreme Court maintains abortion pill access
Robyn Beck/AFP via Getty Images
Well before a federal judge in Texas issued his ruling on the abortion drug mifepristone, abortion providers across the country said they had been preparing for what they called a "worst-case scenario."
In an April 7 decision, Judge Matthew Kacsmaryk of the Northern District of Texas ruled in favor of Alliance Defending Freedom -- a conservative Christian legal advocacy group -- which had asked the court to reverse the U.S. Food and Drug Administration's approval of mifepristone, an oral medication typically taken with misoprostol to end a pregnancy.
The group's lawsuit claimed mifepristone is unsafe and that the FDA didn't study it closely enough before approving its use. The FDA and mainstream medical doctors insist this isn't true, and that there have been no safety concerns during the 23 years the drug has been on the market.
"This is something that can cause confusion. It's something that can cause fear," Dr. Gopika Krishna, a board-certified OB-GYN in New York, told ABC News of both the lawsuit and the judge's decision at that time. "And that affects our patients and our patients' understanding of what's available to them and what options are safe."
Kcasmaryk's ruling went onto the New Orleans-based 5th Circuit Court of Appeals, and then to the U.S. Supreme Court.
Here are six questions answered as the legal challenges continue.
1. Is mifepristone still available in the US?
Yes. The Supreme Court on Friday granted a full stay in the case, which preserves access to mifepristone across the country under the existing FDA rules.
The court's decision only preserves access though as the Biden administration and mifepristone's manufacturer appeal a lower court ruling that would impose restrictions on the drug.
The lower court, the 5th Circuit Court of Appeals, is scheduled to hear oral arguments in the case on May 17.
2. What was the appeals court's decision?
In an April 13 decision, a three-judge panel on the 5th Circuit Court of Appeals partially blocked Kacsmaryk's ruling, allowing continued access to mifepristone in the U.S., with several notable restrictions.
Under the ruling, mifepristone would be available only up to seven weeks instead of 10 weeks of pregnancy.
Three in-person office visits would be required: the first to administer mifepristone, the second to administer a second medication, misoprostol, and the third to assess any complications and ensure there were no fetal remains in the womb.
The use of mifepristone would also require the supervision of a qualified physician and the reporting of all adverse events from the drugs.
In short, the appeals court ruling puts back in place restrictions on mifepristone that haven't been in place since 2000, when it was first approved by the FDA.
3. Would abortion medication still be available by mail?
The appeals court ruling would prevent mifepristone from being sent to patients through the mail.
The ruling contradicts actions taken by the FDA, which in 2021 permanently lifted its restriction requiring providers to dispense mifepristone in person, citing the need to "reduce burden on patient access and the health care delivery system."
4. If I live in a state where abortion is legal, do the abortion pill rulings impact me?
Yes, both the Texas judge's initial ruling and the subsequent appeals court's ruling on mifepristone are nationwide, affecting even states where abortion, including medication abortion, is legal.
In states where abortion is legal, a medication abortion using mifepristone would, under the appeals court's ruling, require three in-person office visits, the supervision of a qualified physician and only be available only up to seven weeks of pregnancy.
5. What is mifepristone and what role does it play in medication abortion?
A medication abortion involves the use of two medications, mifepristone and misoprostol, taken orally.
It is not a surgical procedure, and the FDA says both medications are safe enough to be mailed to a patient following a telehealth or in-person visit from a certified provider.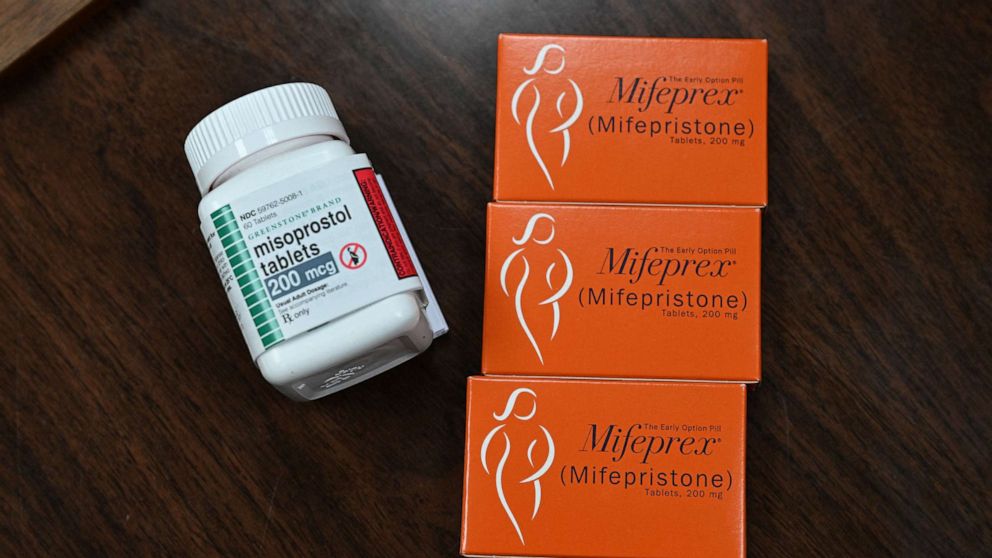 In most cases in a medication abortion, mifepristone is taken first to block the hormone progesterone. Then 24 to 48 hours later, a second pill, misoprostol, is taken to empty the uterus.
"Mifepristone is a medication that's been on the market for decades. It has many, many scientific articles and research that have supported it's safety, and it's something that is used quite often for abortion care but in other situations as well," said Krishna, also a fellow with Physicians for Reproductive Health. "Misoprostol is a medication that, again, has been used for many, many years, has lots of good evidence and data supporting its safety, and it's a medicine that we use not only in abortion care but in other aspects of OB-GYN care as well."
In addition to its use in abortion care, mifepristone is also used currently for miscarriage care, according to Krishna. It remains unclear how the court rulings will impact miscarriage care.
Mifepristone is also FDA-approved to treat patients with Cushing's syndrome, a disorder in which the body makes too much of the hormone cortisol, according to the National Institutes of Health. That medication, however, is manufactured and provided to patients at a different dose. The judge's ruling would still allow for the availability of that drug.
Guidelines from the FDA, which first approved medication abortions in 2000, advise that abortion-inducing pills are safe to use up to 70 days, or 10 weeks, of pregnancy, though evidence shows it can be safe even later in pregnancy, according to the American College of Obstetricians and Gynecologists.
While the FDA has continued to approve mifepristone for abortion care, individual states can still set laws about dispensing mifepristone within their state.
Currently, at least 13 states have mostly banned the use of abortion pills.
6. Is medication abortion possible without mifepristone?
Yes, medication abortions can be done using only one other medication, misoprostol, but the FDA has not approved misoprostol to be used for abortions on its own.
Misoprostol is a medication that the FDA currently approves for the use of treating gastric ulcers.
However, there are several off-label uses for obstetrical and gynecological purposes including treating postpartum hemorrhaging and softening and opening the cervix for patients ready to give birth vaginally, experts told ABC News.
When it comes to its use in pregnancy, misoprostol causes the uterus to contract and dilates the cervix, which will expel an embryo.
A misoprostol-only regimen for abortion not only takes longer to complete, but can also come with more side effects, including nausea and diarrhea, Dr. Laura Laursen, an OB-GYN at Rush University Medical Center in Chicago, previously told ABC News.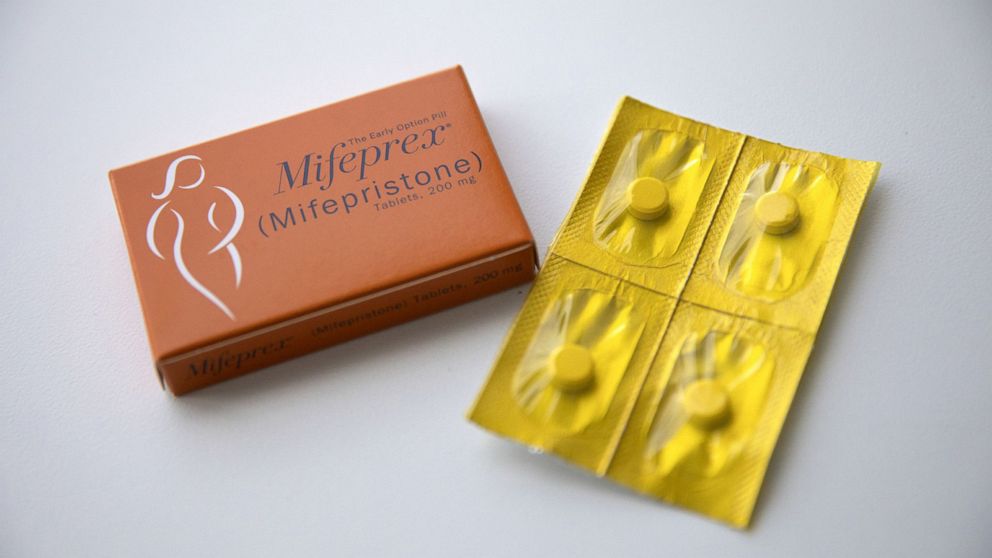 Studies though show that while using misoprostol with mifepristone is more effective, using misoprostol-only is safe. One 2019 study found "misoprostol alone is effective and safe and is a reasonable option for women seeking abortion in the first trimester," while a larger review of data published in 2020 also found it safe and effective in terminating a pregnancy.
Abortion providers told ABC News that they are prepared to offer misoprostol-only medication abortions in states where it is allowed.
"We are preparing a misoprostol-only regimen," said Dr. Ashley Jeanlus, a board-certified OB-GYN in California. "The misoprostol regimen is a bit longer and it utilizes more pills to complete it, so we're just adjusting our clinic to be able to help patients that way."
Rachel Jones, principal research scientist at the Guttmacher Institute, said in many cases, it will not be a quick fix for abortion providers to pivot to using a misoprostol-only regimen.
"It's not a regimen that has been used in clinical settings in the U.S. very often," Jones said, adding, "And anytime a medical practice is changed, it takes it a while for everything to get in place and running smoothly."
Krishna said she worries that judicial decisions restricting or banning mifepristone mean providers like herself will not be able to offer patients comprehensive reproductive care.
"As clinicians, we really want to make sure that we are offering our patients all of these options and they can make a decision based on what they feel is best for them, not a decision that they have to make because of what's limited to them by law," she said. "So there are options for medication abortion with the removal of mifepristone, but it is still something that we're really worried about because it's the medically unnecessary removal of a medication that we know is safe."
ABC News' Mary Kekatos, Anne Flaherty and Nadine El-Bawab contributed to this report.